Americans Cast Choices on Favorites to Win Golden Globes
According to Morning Consult/Hollywood Reporter polling, the Golden Globe goes to ...
Key Takeaways
With 19 nominations, streaming platforms made up the plurality (35%) of television nods for the first time ever.

Americans are rooting for FX's "The Americans" (16%) for best drama series and Amazon's "The Marvelous Mrs. Maisel" (17%) for best comedy.
Viewers are over the moon with over the top.
With the 76th Golden Globes airing Sunday, a new Morning Consult/Hollywood Reporter survey shows which series and stars the public wants to win the television portions of the awards — and they largely hail from streaming studios.
Respondents were shown trailers from each nominated show or limited series and asked to vote which one they thought should be a winner. The survey, conducted Dec. 7-9, 2018, among 2,201 U.S. adults, has a margin of error of 2 percentage points.
FX Networks LLC's "The Assassination of Gianni Versace: American Crime Story" led with four nominations, but shows such as Amazon.com Inc.'s "Homecoming" and "The Marvelous Mrs. Maisel" were close behind with three nominations each.
For the most part, audiences were fairly ambivalent — with nearly half offering no opinion on who should win. But when respondents did choose a winner among the nominees, Americans opted for streaming studio productions in every performance category save two: best drama series (FX's "The Americans") and best actress in a comedy (Kristen Bell in NBC's "The Good Place").
This makes sense, given that streaming services such as Netflix Inc., Amazon and Hulu LLC had a record number of nominations — 19 nods, or 35 percent of the pool — in small screen categories this year.
Streaming beat out premium stations such as HBO and cable networks in television nominations for the first time ever. Last year, the streaming trio earned 15 nominations in television, while premium snapped up 19 nods.
FX's "The Americans," on its sixth season, earned three nominations this year, while the network earned the most nominations (10) among television networks. Other cable networks earned a combined six nods.
As for who had the best performances on television, the public chose both highly decorated actors and actresses, as well as nomination newcomers.
"The Marvelous Mrs. Maisel" swept the 2018 Emmys in September, winning eight of the 14 categories in which it was nominated and tying with "Saturday Night Live" for second-most wins.
But the public wasn't as certain in this category as it was for best drama, with "The Marvelous Mrs. Maisel" receiving 17 percent of support and 16 percent of U.S. adults vying for "The Good Place" to win.
Audiences love Kristen Bell as the protagonist -- and oftentimes antagonist -- in the "The Good Place." The sitcom earned NBC two of its three Golden Globe nominations, and Bell her first ever.
Jim Carrey takes on a more serious, but still comedic, role in Showtime Network Inc.'s "Kidding," which nabbed two of the premium channel's six nominations. Carrey has been nominated seven times and won twice -- but all for his work in film.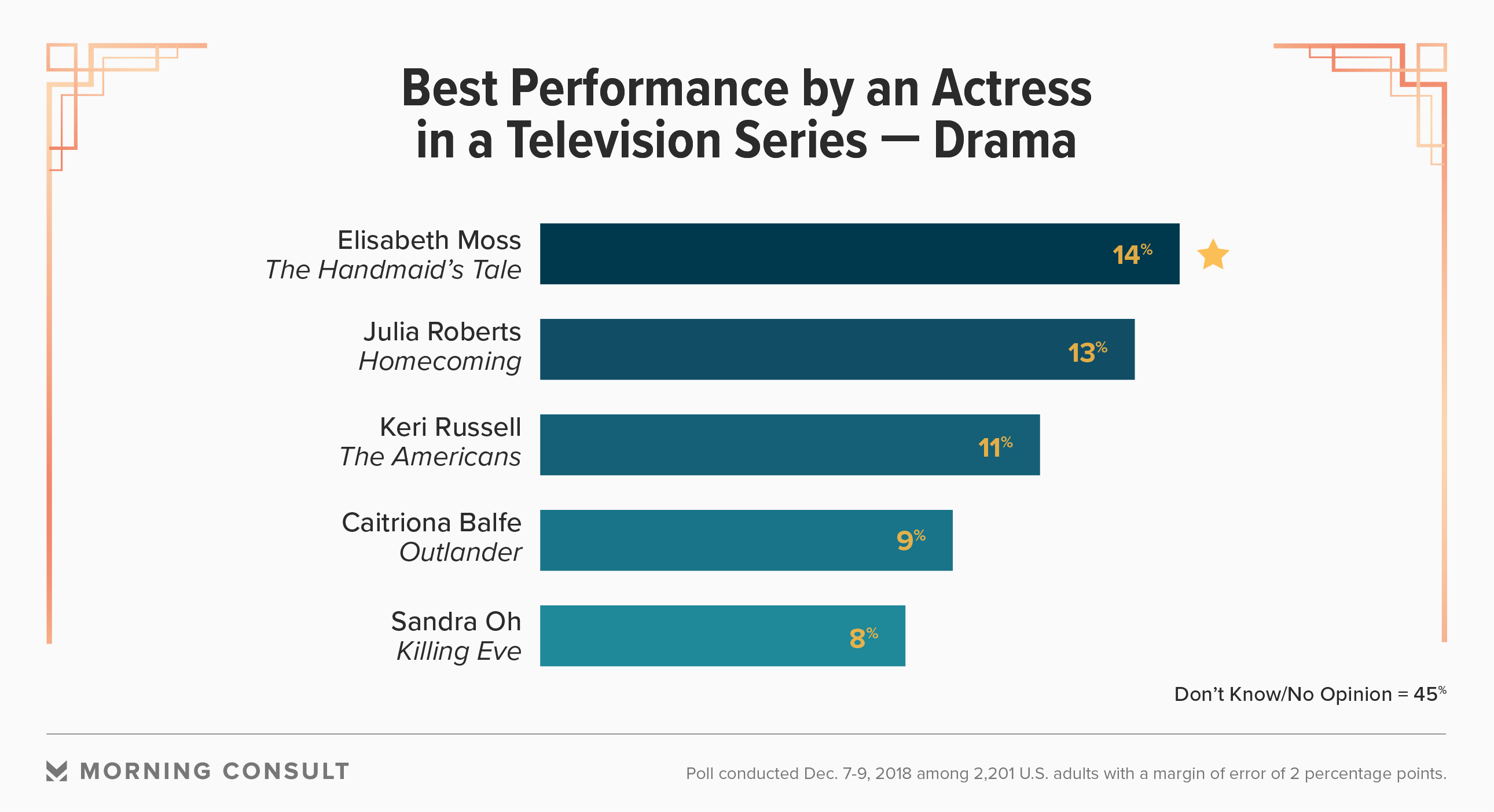 Elisabeth Moss won this category last year for her role in Hulu's "The Handmaid's Tale." Moss has also taken home Screen Actors Guild awards for her work in "Mad Men," and a Golden Globe for her performance in the BBC Two series "Top of the Lake."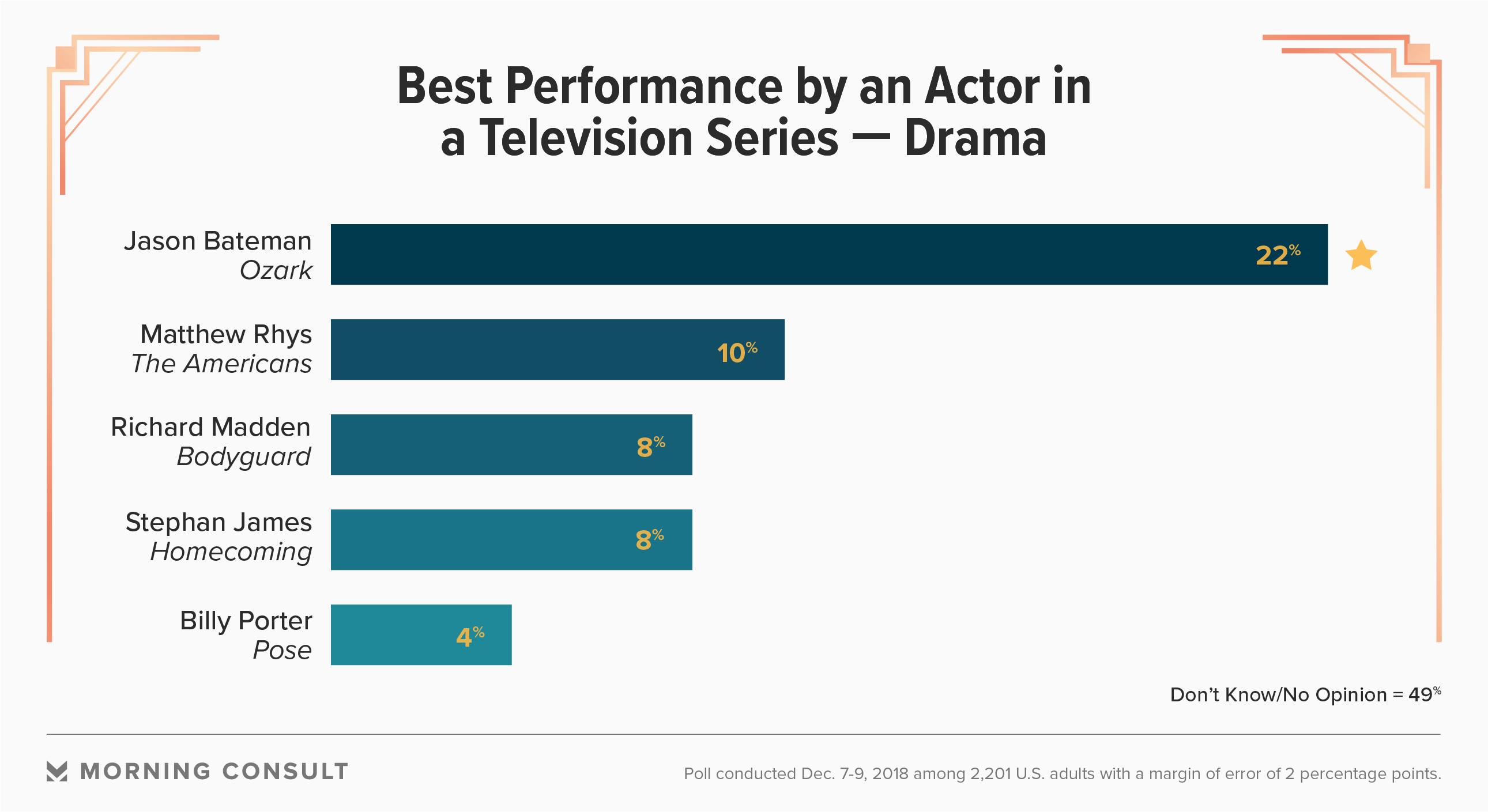 With nearly one-quarter of the public rooting for his role in Netflix's "Ozark," Jason Bateman earned the highest support for a Golden Globe win. But the series received little love from the Hollywood Foreign Press Association overall: Bateman's nod was the only one for the series.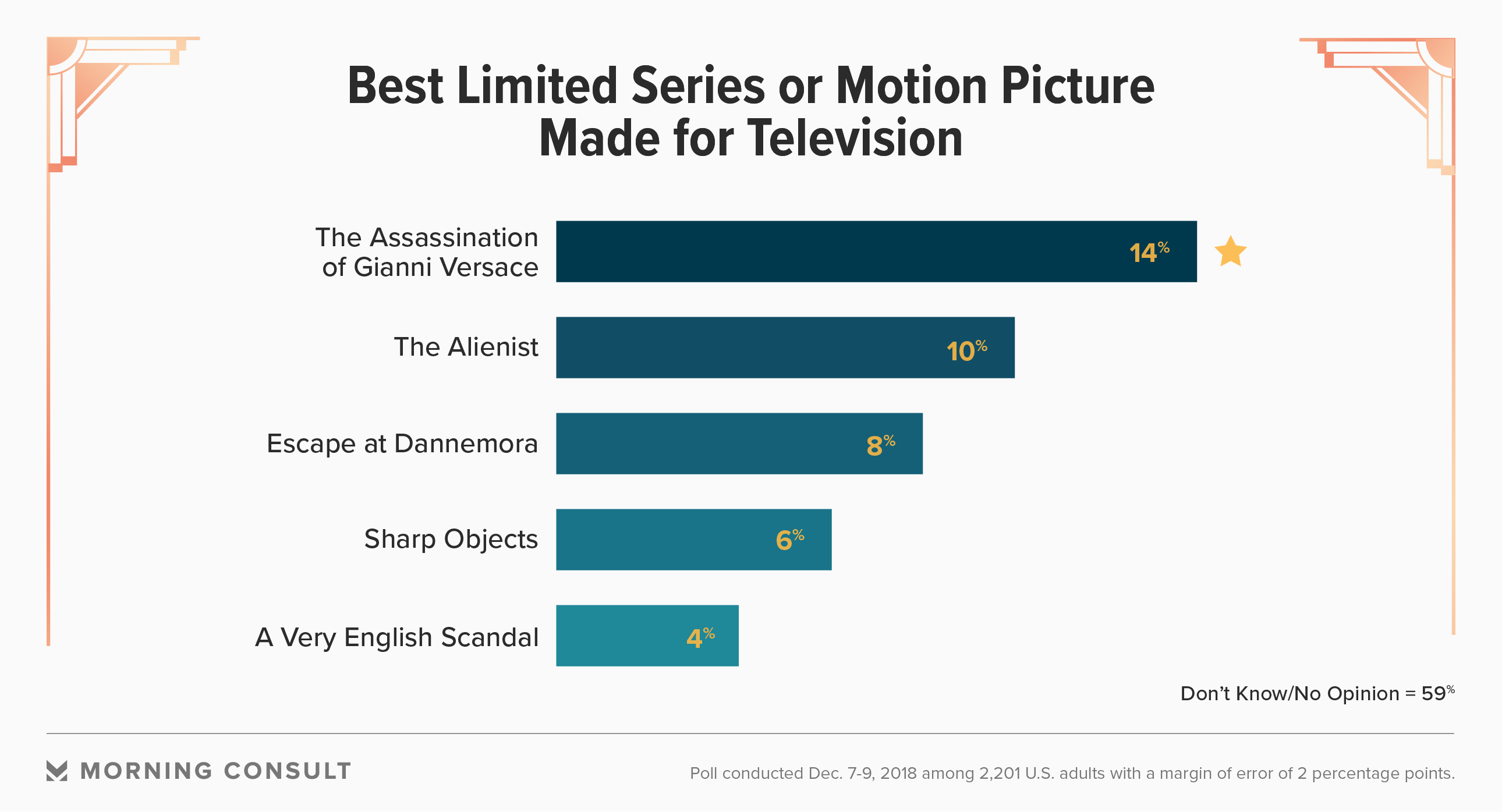 Nominations in this year's Golden Globes were a bit more well-distributed among shows than in past years, but "The Assassination of Gianni Versace: American Crime Story" won the title of most nominated with four — and the public backs a win for it as best limited series.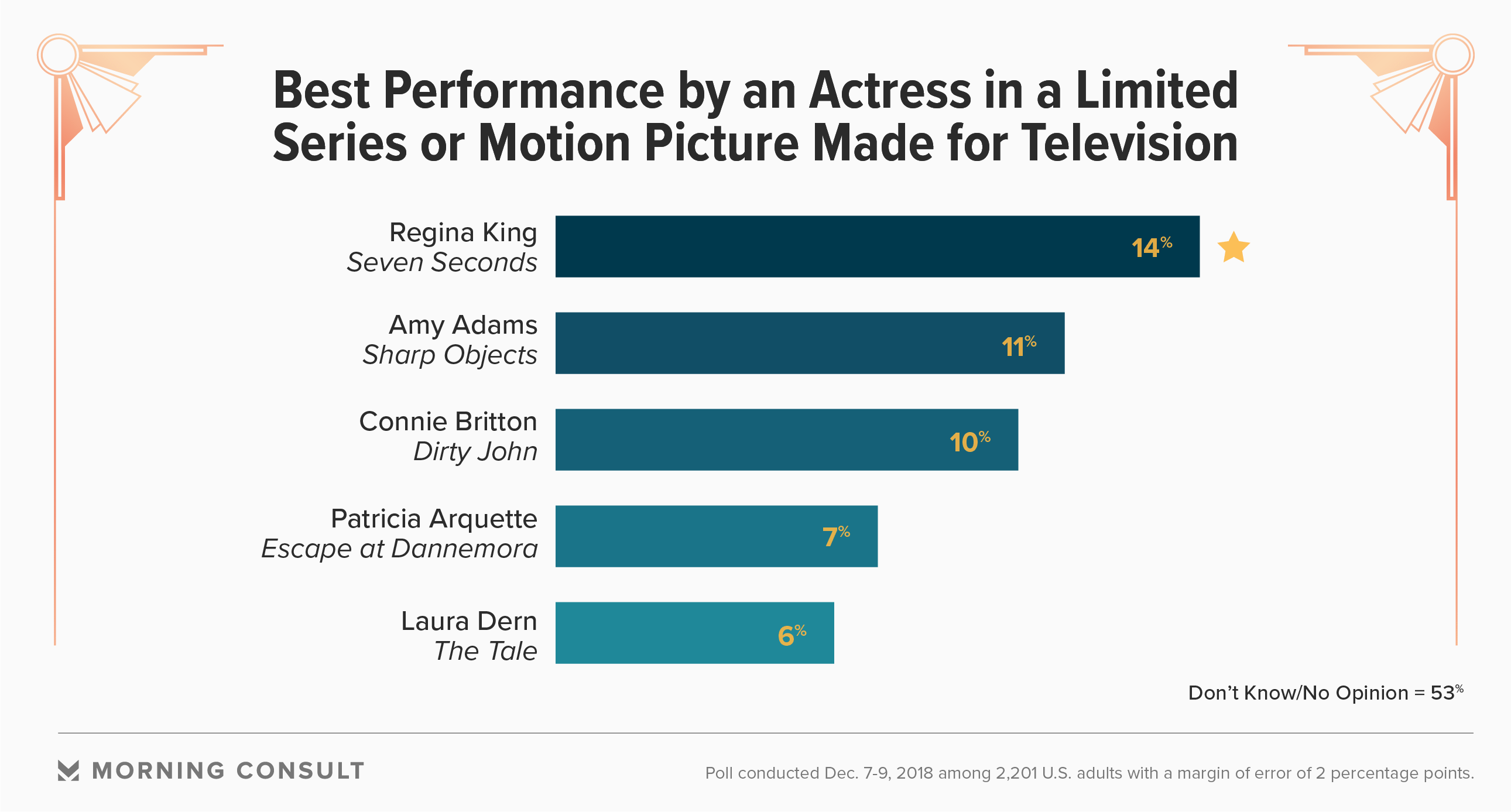 "Seven Seconds" earned its one and only nomination for best actress in a limited series, and Americans chose Regina King to win the category — following her win in the 2018 Emmys for the same category.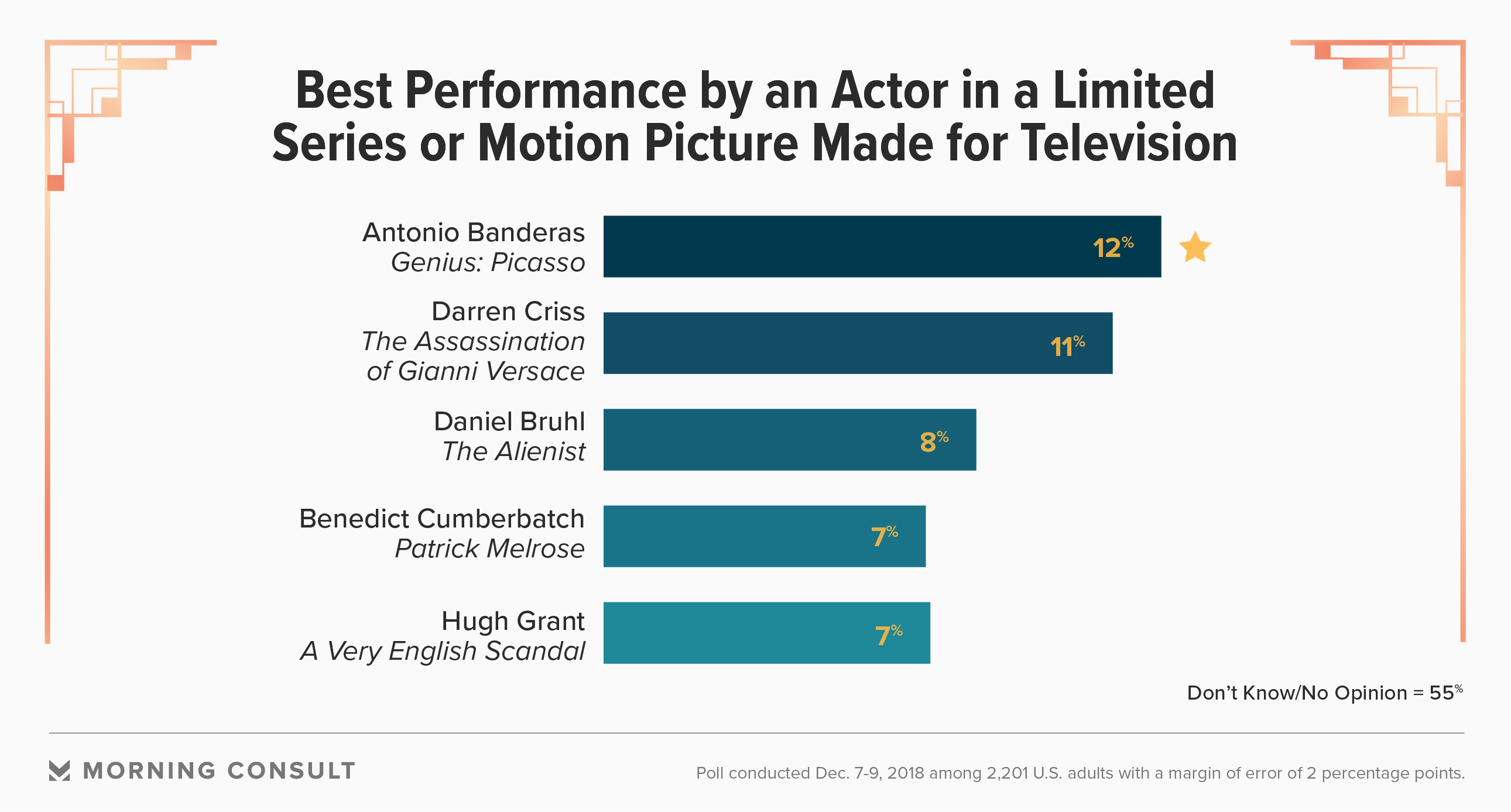 Mirroring the category above, Antonio Banderas won "Genius: Picasso" its only nomination and the only nod for its television network: National Geographic Enterprises Inc. This is NatGeo's second Golden Globe nomination ever. The network was nominated, but lost, last year for the debut of "Genius," chronicling the life of Albert Einstein.
The public thought "The Marvelous Mrs. Maisel" should win two of the three categories for which it was nominated, including giving actress Alex Bornstein a win.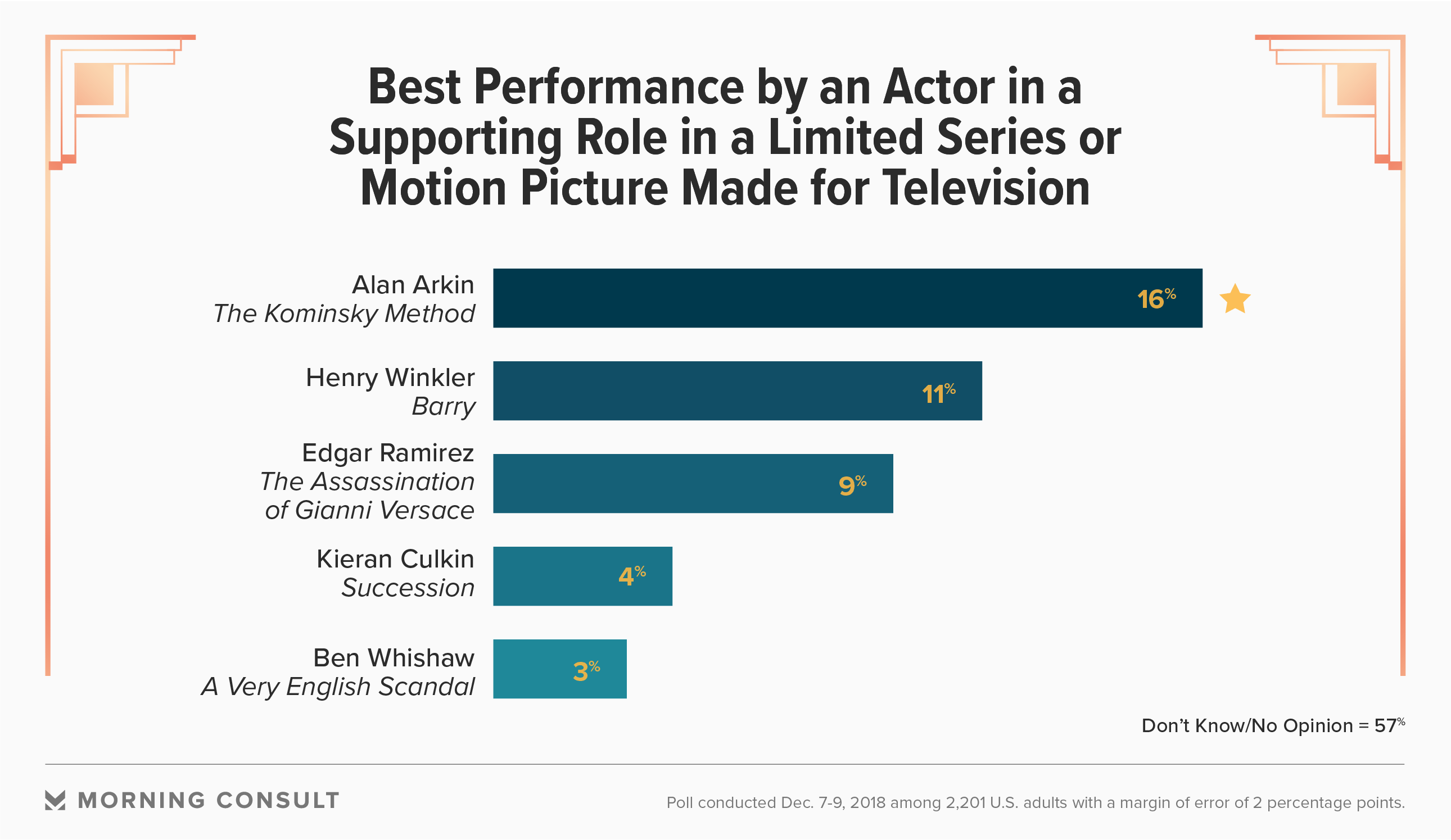 But audiences only gave Netflix's "The Kominsky Method" one win of its three nominations. Michael Douglas was also nominated for his role in the Netflix show, and the series was also nominated for best comedy.
Sarah Shevenock contributed.
Joanna Piacenza leads Industry Analysis at Morning Consult. Prior to joining Morning Consult, she was an editor at the Public Religion Research Institute, conducting research at the intersection of religion, culture and public policy. Joanna graduated from the University of Wisconsin-Madison with a bachelor's degree in journalism and mass communications and holds a master's degree in religious studies from the University of Colorado Boulder. For speaking opportunities and booking requests, please email [email protected].
We want to hear from you. Reach out to this author or your Morning Consult team with any questions or comments.
Contact Us