Amid GameStop Frenzy, People Believe the Stock Market Is Stacked Against the Little Guy
64% of adults say stock market is rigged in favor of large investors; half say hedge funds not regulated enough
Key Takeaways
Among Democrats and millennials, about 7 in 10 believe the stock market is rigged against amateur investors, compared with about 3 in 5 Republicans and baby boomers who said the same.

45% of the public says Wall Street isn't regulated enough.

Adults were split on whether Robinhood's trading restrictions were necessary, with 34% saying they were and 36% saying they were not.
Last week's trading frenzy delivered to Wall Street a new spin on an old morality play: a David vs. Goliath tale of small investors taking on -- and in some cases prevailing -- against giant hedge funds.
One of the biggest takeaways of the GameStop Corp. market mayhem so far, according to new Morning Consult polling, is that Wall Street remains the public's top villain. 
Overall, most adults (64 percent) either strongly or somewhat agreed that "the stock market is rigged against amateur investors in favor of large, professional investors." That's compared to 36 percent who somewhat or strongly disagreed with the statement, according to the survey, which was conducted Jan. 29-Feb. 1 -- in the middle of the GameStop price boom -- among 2,200 U.S. adults and has a margin of error of 2 percentage points.
And despite some theorizing in the media about the GameStop drama's connection to the undercurrent of populism in the Trump movement, Democrats and Biden voters tended to agree more that the stock market is rigged compared with Republicans and Trump voters. Millennials, compared to Gen Xers and baby boomers, also agreed with the statement at a higher rate. 
Hedge funds, which played a major role in the GameStop story by shorting stocks in the video game retailer, garnered the highest calls for regulation, the new survey shows. Fifty percent of adults said hedge funds aren't regulated enough, while 45 percent said the same about Wall Street.
Appetite for oversight of the markets has grown slightly over the past two years. In a November 2018 poll, 40 percent of adults said Wall Street was not regulated enough, 5 points less than what the new poll found. However, the share of adults who believe large banks are not regulated enough has fallen to 38 percent from 47 percent over that same time period.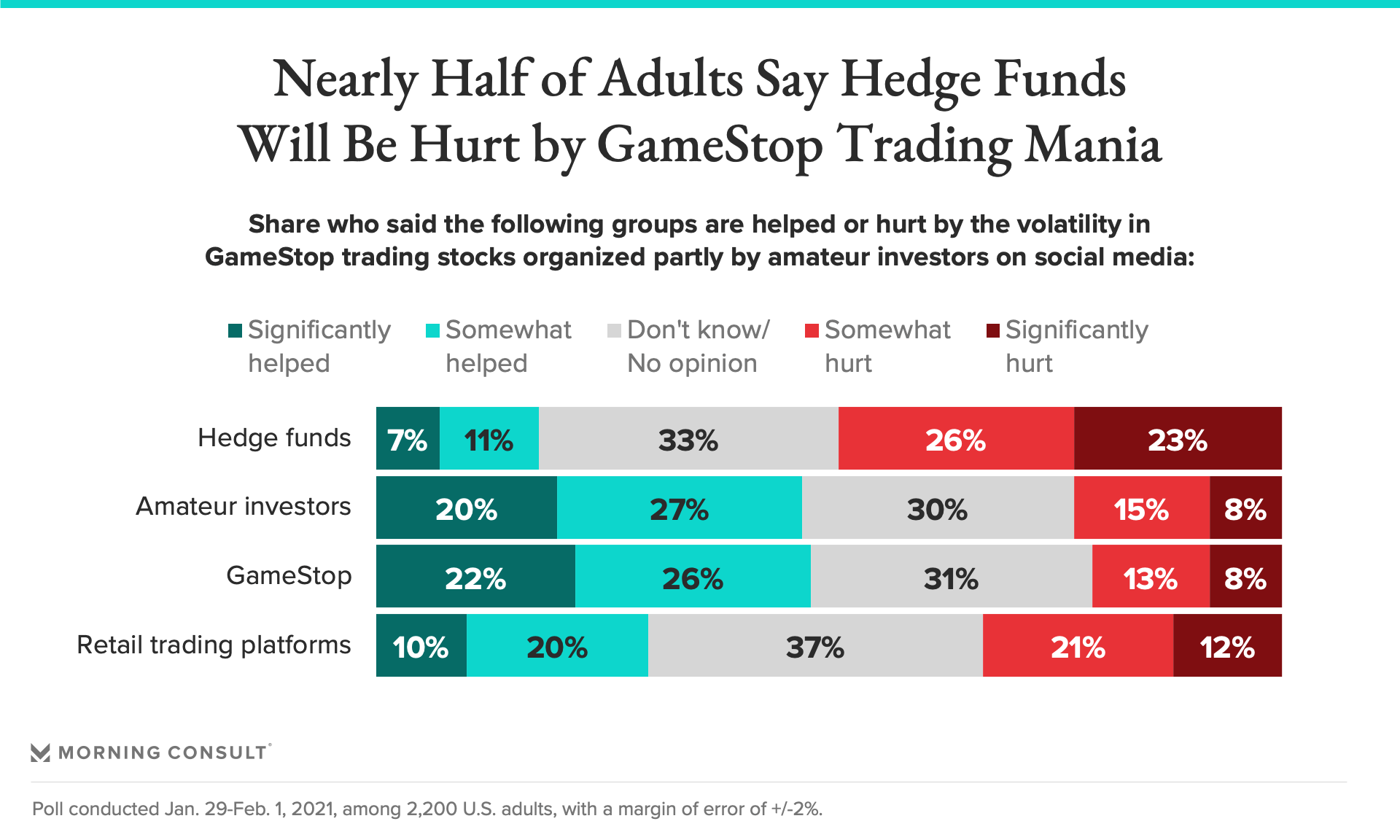 The sentiment around hedge funds is reflected more specifically in the GameStop story. Forty-nine percent of adults said that hedge funds will be "somewhat" or "strongly" hurt by the GameStop trading, while relatively few respondents thought amateur investors (22 percent) or GameStop itself (21 percent) would be harmed by the trading volatility. Since the poll was conducted, GameStop shares have tumbled, which could end up coming back and harming the retail investors.
A third of respondents, meanwhile, said that retail trading platforms such as Robinhood, which has restricted trading of certain stocks including GameStop, would be strongly or somewhat hurt by the frenzy. 
Robinhood Markets Inc., for its part, said it needed to restrict trading of certain stocks because the trading volatility triggered its clearinghouse to ask for more cash to cover potential losses. Still, the restrictions enraged some traders and lawmakers, who saw the move as Wall Street closing ranks. The chief executive of Robinhood, Vlad Tenev, will testify before the House Financial Services Committee on Feb. 18 after Chair Maxine Waters (D-Calif.) said she was "concerned about whether or not Robinhood restricted the trading because there was collusion between Robinhood and some of the hedge funds that were involved with this."
The public was largely split on whether they thought the restrictions were necessary. Thirty-four percent said they "definitely" or "probably" were, compared to 36 percent who said they weren't. Even among those who said the stock market is rigged, there wasn't a significant difference.
Active investors -- defined as those who said they have gotten into actively trading stocks in the past month, the last year or have been doing it long term -- were more sympathetic to Robinhood: Half said the restrictions were necessary, while 39 percent said they weren't. 
Among those who get their investment advice on social media, the answers on Robinhood trended largely with those who actively trade stocks. This suggests there isn't a huge difference in how most retail investors feel compared to those who were the most exposed to the GameStop and Reddit rhetoric.
How Robinhood's decisions amid the market chaos will impact its business remains a bit unclear.
Twenty-four percent of those who said they actively trade stocks said they will use Robinhood more going forward, compared with 14 percent who said they would use it less, 31 percent who said there will be no change in their usage and 31 percent who haven't used it before and don't plan to start using it now.
The figures were similar among those who get their investing advice on social media, where criticism of Robinhood was at its loudest.
Claire Williams previously worked at Morning Consult as a reporter covering finances.
We want to hear from you. Reach out to this author or your Morning Consult team with any questions or comments.
Contact Us