As Consumers Feel Comfortable Again, Amusement Parks Could Be in Line for a Busy Summer
More than half of parents expressed comfort with attending an amusement park, according to recent polling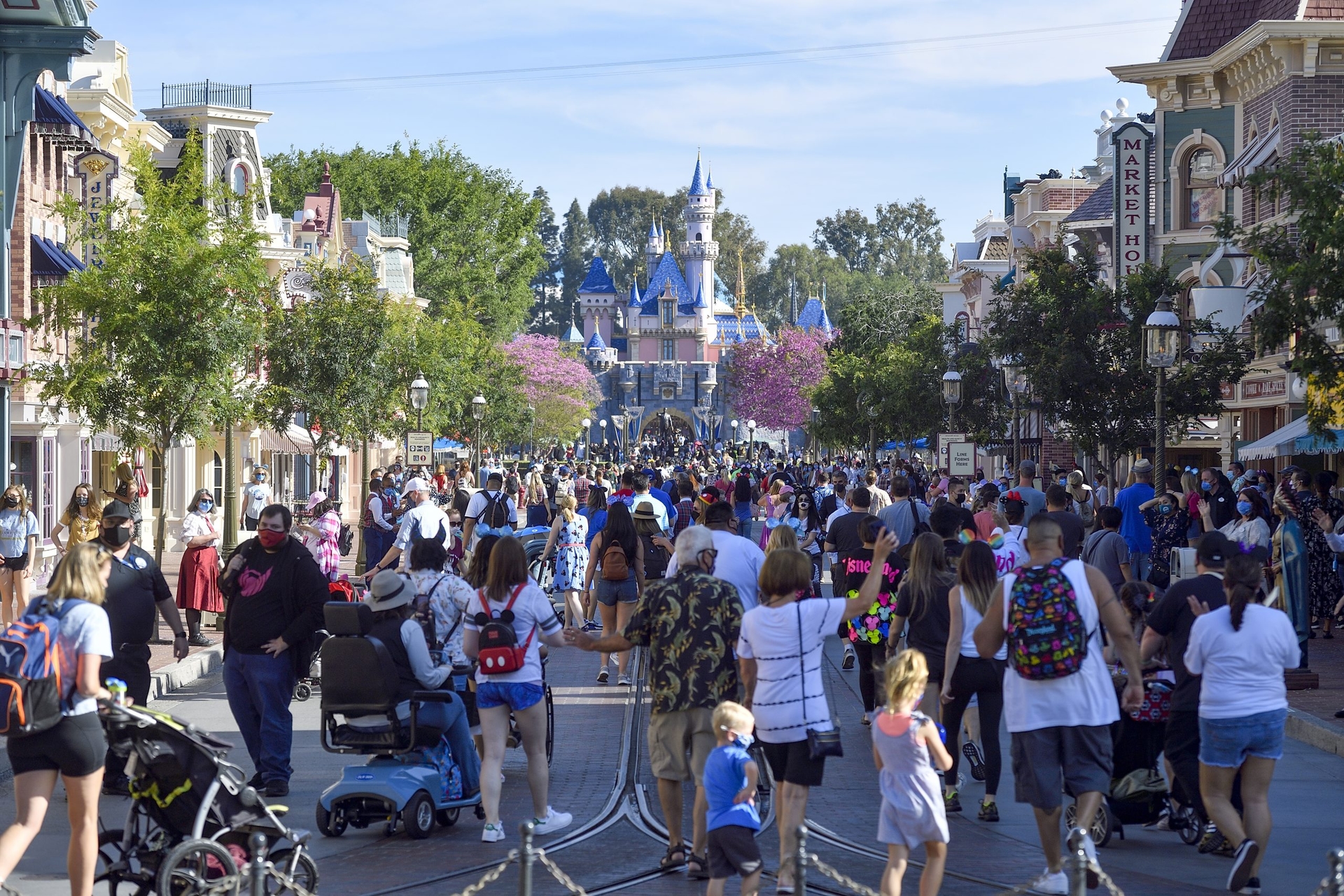 Key Takeaways
49% of U.S. adults said they feel comfortable visiting an amusement park, while one-third said they'd feel comfortable heading to one in the next month.

Millennials (55%) and members of Generation Z (58%) are most excited to return to amusement parks.
As millions of Americans prepare to hit the road this summer, one popular attraction is spurring interest among consumers of all ages: amusement parks. And as parks, big and small, welcome back visitors, this summer presents an opportunity for the industry to get back on track after a painful 2020. 
Forty-nine percent of U.S. adults said they currently feel comfortable heading back to an amusement park, according to the latest figures from Morning Consult's Return to Normal tracker. That's a 30 percentage-point increase from a 2021 low of 19 percent hit on Jan. 2.
Even better for the amusement parks: At 53 percent, parents had a slightly higher comfort level than adults overall.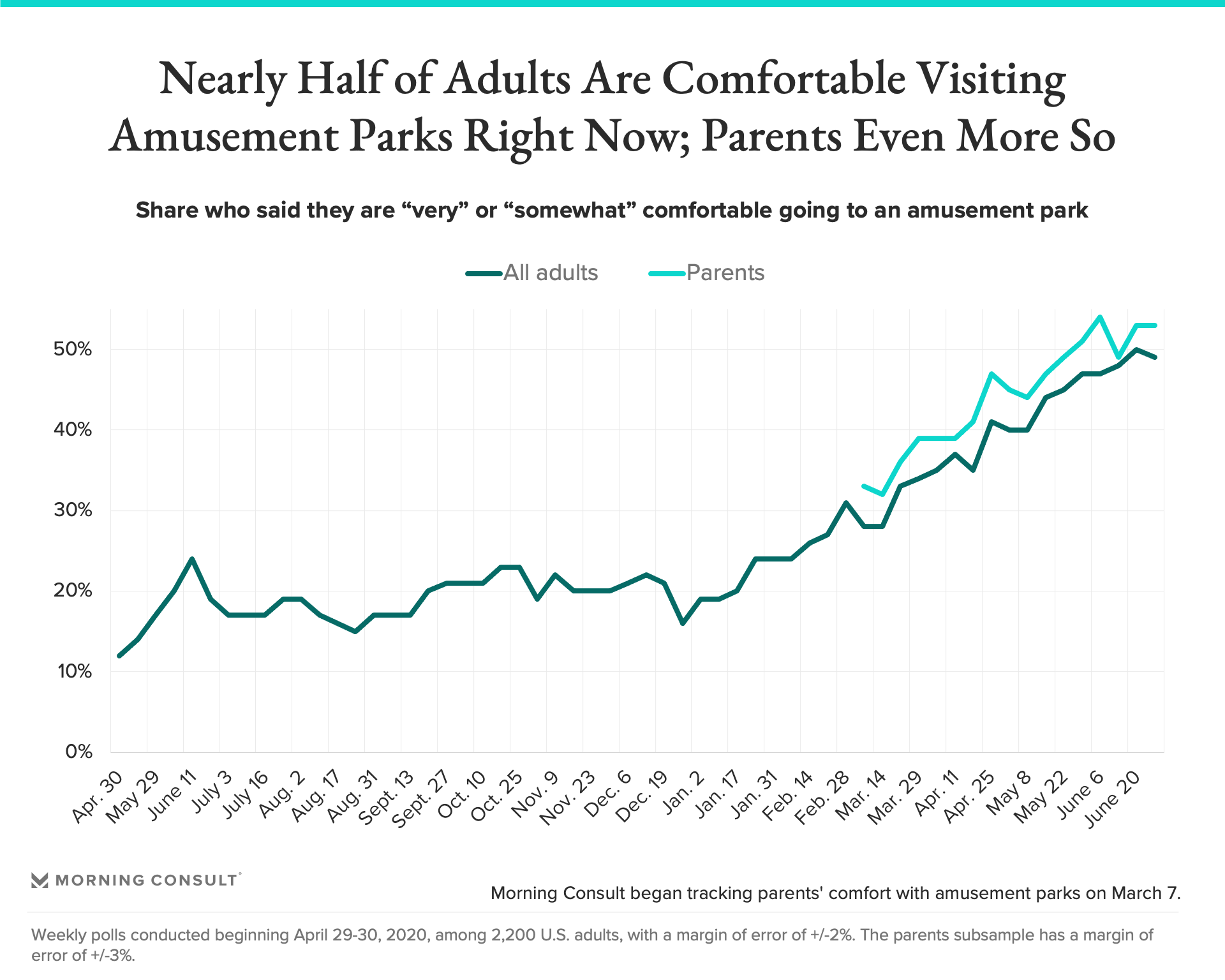 Nikida Metellus, who runs the ThemeParkHipster blog and podcast, has been back to Disney World and Universal Studios since they reopened on multiple occasions. She said she has noticed that many parkgoers have one thing in common: "I have seen a lot of families. It seems like they're like, 'Hey, we didn't get to go anywhere last year. We're going to do it big this year.' " 
Americans' comfort with going to amusement parks will be key to the entertainment companies this summer because U.S. theme parks won't be able to rely on international tourists as they have in the past, said Ethan Chernofsky, vice president of marketing at Placer.ai, a company focused on location analytics and foot traffic data. 
"We have all this pent-up demand to kind of get out of the house and go somewhere, so there is a really powerful opportunity within domestic tourism to drive those visits," he said. 
Like other in-person entertainment industries, amusement parks were hit hard by the lockdowns related to the coronavirus pandemic. 
For the fiscal year ending Oct. 3, 2020, The Walt Disney Co.'s Parks, Experiences and Products division reported revenue of $16.5 million, a 37 percent year-over-year decrease, which the company blamed, at least partially, on closures and reduced capacities of its theme parks. Comcast Corp. also saw revenue for its Universal Studios theme parks fall nearly 63 percent year-over-year in the last quarter of 2020, though the company managed to lessen the drop to 33 percent in the first quarter of this year.  
Still, there's a sense around the industry that a recovery is on the horizon. Since reopening on April 30, Disney's Disneyland Resort has been packed with visitors. Reservations to enter the resort's Disneyland Park or its Disney California Adventure Park are fully booked several days this week. 
Major amusement parks are looking to win over consumers with new additions. Disneyland and Disney World's Star Wars: Galaxy's Edge attractions opened in the months leading up to the pandemic, while Disneyland's Avengers Campus opened earlier this month. Universal also unveiled the new Jurassic World VelociCoaster at its Orlando resort. 
Making sure potential visitors are aware of new park offerings will be key for the parks to maintain their momentum after the initial rush of returnees, Chernofsky said.
"The question is, Can they find the right marketing and product mix to create a draw?" he said. "From promotions to partnerships, rising above the noise could be the difference between a rapid comeback and a missed opportunity." 
Joanna Piacenza, head of industry intelligence at Morning Consult, said travel and hospitality brands can also win over consumers by appeasing any lingering anxiety they may have. 
"What brands can do is really publicize the efforts that they are taking to maintain a safe space," Piacenza said, citing regular sanitation and signs noting sanitizing policies as examples. "That publicity of it is really important to let consumers know that this is a brand that's going to take care of them."
Theme parks should be able to capitalize on the fact that they already have earned the confidence of consumers. In Morning Consult's recent "Most Trusted Brands: Travel and Hospitality" report, two of the most trusted brands were theme parks, with Disneyland Resort and Walt Disney World Resort ranking fourth and fifth, respectively. 
Sarah Shevenock previously worked at Morning Consult as a reporter covering the business of entertainment.
We want to hear from you. Reach out to this author or your Morning Consult team with any questions or comments.
Contact Us