Summer Looks Bright for Domestic Travel. Here's How Americans Are Planning Their Vacations
68% of Americans plan to travel domestically this summer, while 18% expect to take an international trip
Key Takeaways
28% of U.S. adults intend to travel in the country multiple times this summer.

56% of those with travel plans will go more than four hours' driving distance from home.

59% plan to travel by private car, while 27% said they'll fly.
Memorial Day, the unofficial start to summer, is right around the corner, and after a year of canceled travel plans and stay-at-home orders, many Americans are again planning trips, marking the start on the road to recovery for the travel industry.
Spring 2020 and the months that followed put intense strain on the domestic travel sector, which lost $492 billion last year compared to 2019, a 42 percent annual decline, according to Tourism Economics.
"The travel industry, without question, was the hardest hit of all the industries in the country," said Roger Dow, president and chief executive of the U.S. Travel Association, during a press conference earlier this month.
While nearly half of U.S. adults said they traveled within the country at least once in the past year, according to new polling from Morning Consult, majorities said they haven't done any other travel-related activities, such as booking international trips, plane rides or overnight stays at hotels.
That's likely to change this summer. Sixty-eight percent of Americans said they are planning a trip in the United States between June and September, marking a major shift from the past year in general, and even from early December, when just one-quarter of consumers said they had travel plans for the winter holiday season.
Furthermore, 28 percent of the general population said they plan to travel domestically multiple times this summer, and more people plan to book flights than have in the past year.
While Morning Consult data and insights from industry experts indicate that domestic travel is on track to start its rebound this summer, the needle is moving much more slowly for international trips: Just 18 percent of U.S. adults said they expect to take a trip out of the country in the coming months. (The Morning Consult survey was conducted before the European Union announced that it would open its borders to fully vaccinated travelers from certain countries.)
Data from Tripadvisor Inc. reflects similar trends, with 13 percent of Americans planning to travel internationally in the summer, and 74 percent planning a domestic trip, said Steven Paganelli, Tripadvisor's director of destinations, hotels and online travel agencies for the Americas.
"Advanced booking info shows that that's going to be a continued rising line through the year," he said.
Domestically, for now, people across demographics are venturing farther out as they grow more comfortable vacationing, with 56 percent of those who said they plan to travel at least once this summer anticipating that their trips will take them more than a four-hour drive from home.
That stands in contrast to the trips of summer 2020, when staycations were in vogue.
Four hours also seems to be a "sweet spot" for flights, said Paganelli, who added that he expects American travelers will continue to travel longer distances from home as they get more reacquainted with travel.
Along with international travel, group travel remains fairly limited. The summer vacation crowd will most likely be composed of immediate families -- spouses or partners and parents with children -- as they hit the road and move through airports, according to the Morning Consult poll. Fifteen percent of travelers plan to go alone.
That doesn't mean people aren't going to meet up with a larger group once they arrive at their destinations. Sixty-six percent of vacationers -- and roughly equal shares across all generations -- said the primary reason for their trip is to get away with family and friends, while business travel is much less common, which could be a bigger problem for hotels than airlines and other transportation-focused companies.
Airlines could, however, face a different obstacle this summer. Private cars are still the preferred method of transportation for travelers. Majorities of consumers said they plan to drive to their summer destinations, compared to about one-quarter (27 percent) who will fly, a trend that lingered through the winter after starting last summer, when road trips were particularly popular.
That doesn't necessarily spell trouble for airlines and automotive rental platforms, although the bus industry is still struggling to rebound from the effects of the pandemic.
Memorial Day auto travel is expected to increase by 52 percent year over year, according to the American Automobile Association, but will be 9 percent less than its 2019 levels.
Air travel for the holiday is set to clock in at six times what it was last year, a historically low year for the industry, but airlines still expect to see 750,000 fewer people on planes compared to 2019, according to AAA.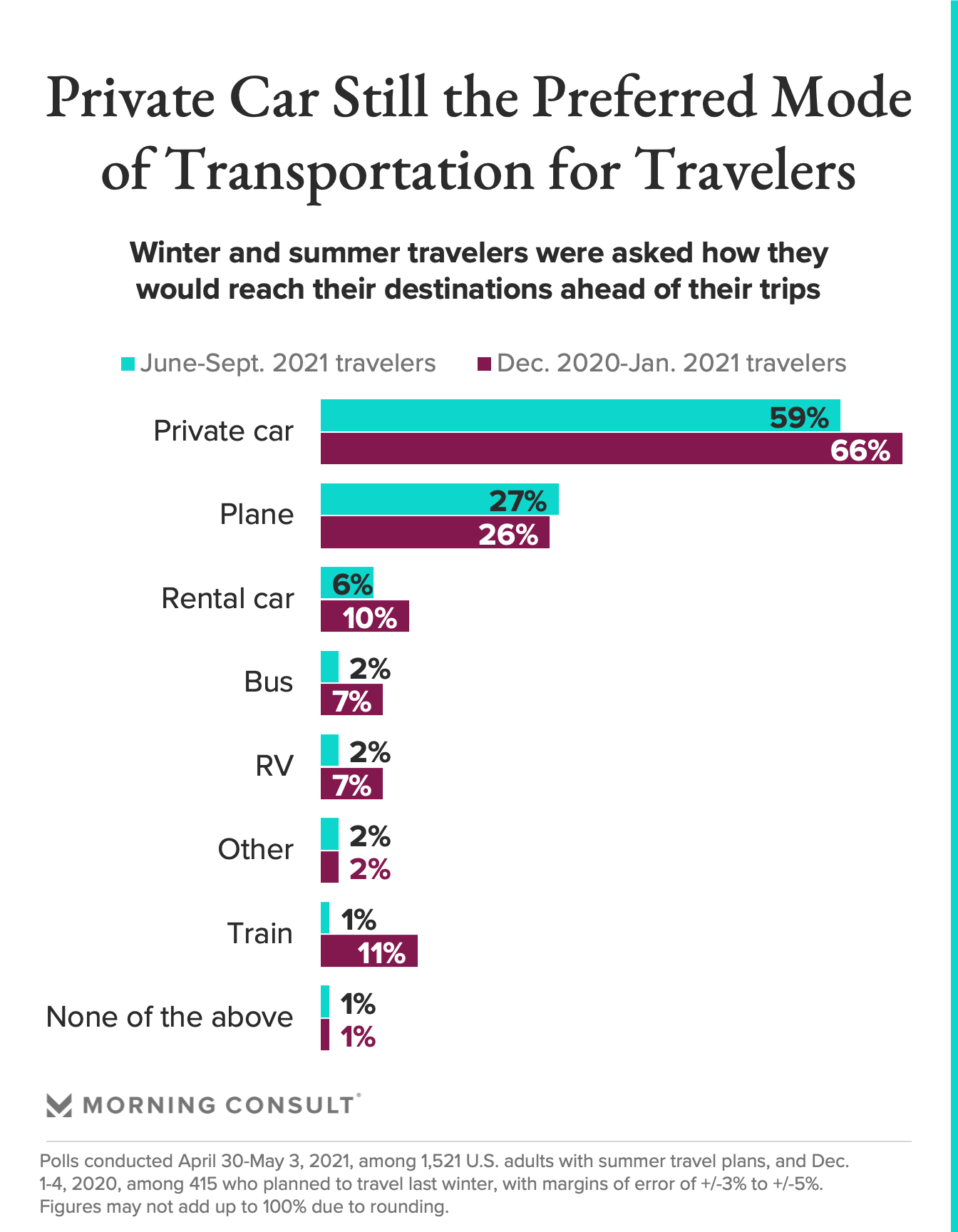 Regardless, airlines are already starting to make a recovery, said Anthony Jackson, U.S. airlines sector leader at Deloitte.
"Some of the anecdotal things I've heard in talking to airlines would suggest we're almost back to where things were in 2019, in terms of bookings," Jackson said.
Southwest Airlines Co. last month reported operating revenue was down by 51.5 percent year over year in its first quarter, but it also brought in a net income of $116 million thanks to federal aid. CEO Gary Kelly said during the company's earnings call that domestic leisure bookings have improved steadily since mid-February.
"While the pandemic is not over," Kelly said, "we believe the worst is behind us, in terms of the severity of the negative impact on travel demand."
Consumer comfort with flying has more than doubled from this time last year, Jackson said, up to 44 percent as of an April 28-29 Deloitte survey. (As of May 15, Morning Consult data shows that 40% of the public feels comfortable flying.)
On May 6, more than 1.6 million travelers passed through the Transportation Security Administration's screenings, the agency reported, which was the highest number since the start of the pandemic, Jackson said. Less than two weeks later, the number exceeded 1.8 million.
But, like the rest of the travel industry, leaders in the airline segment remain relatively unsure when international travel and domestic business travel might return to pre-pandemic levels. Some stakeholders anticipate those forms of travel won't fully recover for at least another year or two, Jackson said.
With group travel still lagging, buses, which are especially popular among groups of international travelers touring up and down the coasts, are not doing business anywhere near the levels they were in 2019, said Peter Pantuso, president and CEO of the American Bus Association.
Some bus companies in the middle of the country have booked about 50 percent of their 2019 capacity, Pantuso said, but for city pairs -- the popular trips to and from East Coast cities such as Washington, New York and Boston -- bookings are at no more than 30 percent of what they were two years ago. For this industry, a rebound isn't likely until 2022 at least, he said, but booms in other segments still make for good news.
"For people to travel, there's got to be somewhere to go, other than just taking a bus ride," Pantuso said. "Cities reopening will help with both group travel on charter buses and scheduled bus services for individuals."
The RV segment, on the other hand, has seen strong growth since the latter half of 2020, and even did well last summer, said Jeff Cavins, founder and CEO of RV rental site Outdoorsy Inc.
RVs aren't as popular as some other more common methods of travel, with just 2 percent of summer travelers planning to vacation in one, according to the Morning Consult survey, but social distancing has made them more attractive.
This year, bookings are up 145 percent, according to Cavins. Outdoorsy's RV travelers typically take six- to seven-day trips, and are mostly young families with children.
In fact, although the industry has historically been dominated by baby boomers, Cavins said half of Outdoorsy customers are under the age of 45. Many favor national parks in areas such as Southern California and other warm locations like Florida for summer getaways.
All of these developments suggest that this summer is shaping up to be the first milestone on the long journey back to pre-pandemic travel trends.
"Leisure, domestic travel is coming back, and it's coming back fast," Jackson said. "As long as we continue to see somewhat of an improvement in COVID cases, and vaccines continue to increase, I expect we'll see a positive trend continue through the summer for travel."
Alyssa Meyers previously worked at Morning Consult as a reporter covering brands and marketing.
We want to hear from you. Reach out to this author or your Morning Consult team with any questions or comments.
Contact Us