As Americans Plan Summer Trips, a Look at Where They'll Stay, Along With Activities and Travel Budgets
About a third of summer travelers plan to stay at a major hotel chain, an increase from the winter travel season, when majorities planned to stay with family or friends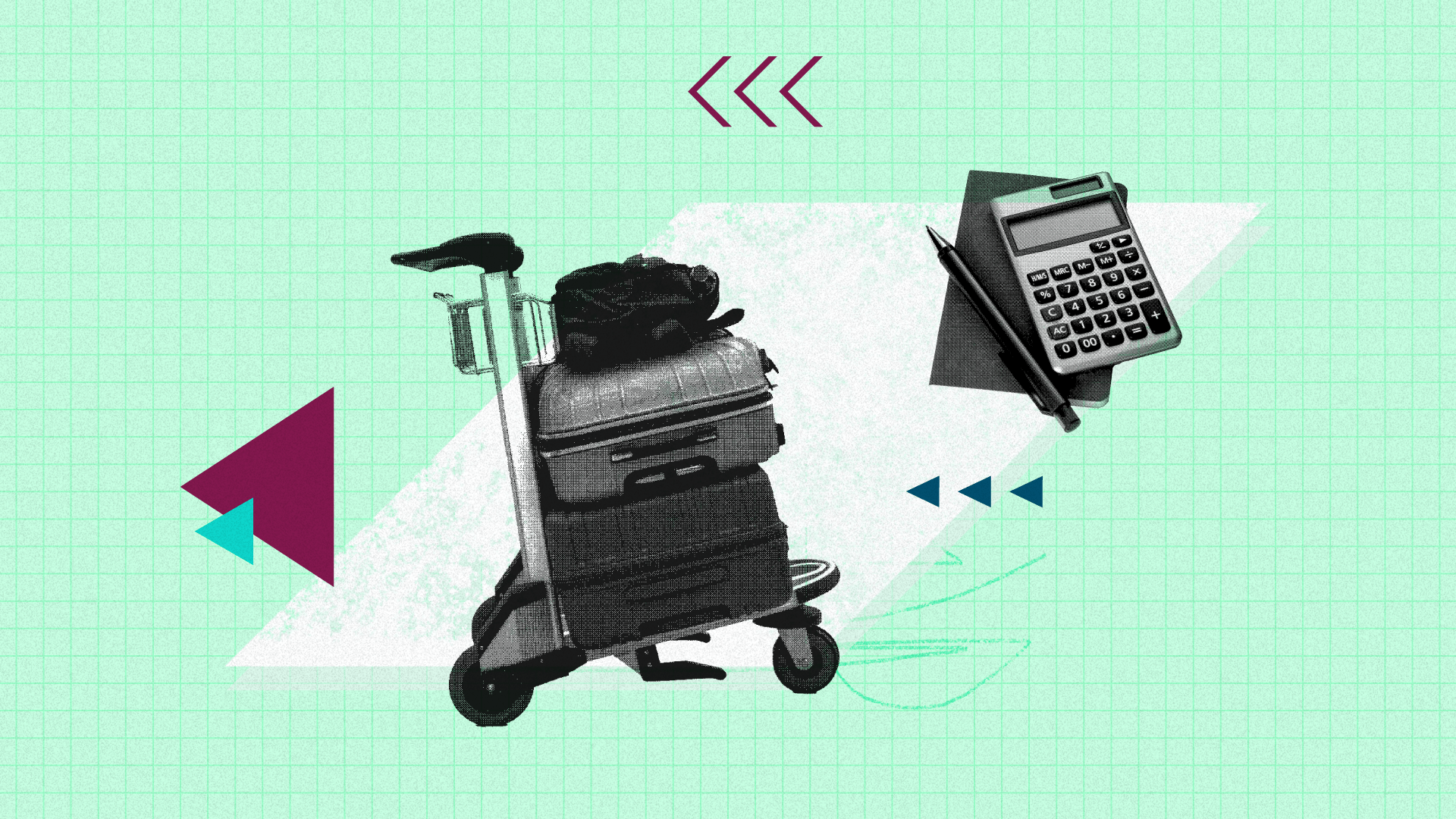 Key Takeaways
30% of those with summer travel plans said they'll stay with friends or family, down from 57% of the winter travel crowd.

43% of summer travelers said they plan to spend more than $1,000 on their trips, including 20% who said they're budgeting more than $1,500.
As more and more locations reopen to travel following pandemic lockdowns, many Americans are eager to act on a pent-up demand for vacations that has been building for the past year, according to new polling data from Morning Consult. But this summer, unlike in 2020, travelers don't plan to just crash on the couches of friends and family.
At hotels, resorts, rental properties and more, bookings have been rolling in for months, and while industry executives are cautiously optimistic about this summer, many say it's only the first step as lodging companies look to get back on track. 
For instance, most of the bookings across lodging accommodations are from domestic travelers, which experts said are not enough on their own to bring the industry back to pre-pandemic standards. Results from a Morning Consult survey conducted April 30-May 3 indicate that far more Americans plan to travel domestically than overseas this summer, while the same is true of consumers across three European countries surveyed by Morning Consult.
The lack of international travelers coming to the United States is a "pain point" for the hotel industry, as that group usually spends more than domestic travelers, said Chip Rogers, president and chief executive of the American Hotel and Lodging Association.
The demand is there, and I think once it opens up, you're going to see it move very quickly.
Roger Dow, president and CEO of the U.S. Travel Association
Some in the growing short-term rental and home-sharing segment of the travel industry — think Airbnb Inc. and Expedia Inc.'s Vrbo — share these concerns. 
"This is a huge step in the right direction, but we're not at a full recovery yet," said Vered Schwarz, president and chief operating officer of Guesty Inc., which operates a short-term rental property management platform. "Only when we start having international travel will we see destinations around the world go back to normal, because some cities and countries are really dependent on that."
The United States could lose $240 billion per year without travelers from overseas, said Roger Dow, president and CEO of the U.S. Travel Association, earlier this month.
"It is going to be so important to get that going," Dow said. "The demand is there, and I think once it opens up, you're going to see it move very quickly."
On May 19, when the European Union announced that it would reopen for international travel, Dow said in a statement that he hoped the decision would encourage the United States to soon do the same. Earlier this month, before the announcement, more residents of the United Kingdom, France and Italy indicated in Morning Consult surveys that they planned to travel within their country than outside of it.
The share of travelers who said they intend to stay at a hotel during their trips has increased from last winter, when staying with family or friends was a much more popular option. 
This summer, about a third of travelers (34 percent) said they plan to stay at a major hotel chain, compared with roughly 1 in 4 who said the same heading into the winter travel season.
Thirty percent said they plan to stay with family and friends this summer, compared to 57 percent who said that was their plan for the winter holidays, according to a separate Morning Consult survey conducted Dec. 1-4, 2020.
Older generations and families with children are more likely to book hotels than younger, solo travelers, according to the more recent survey.
"The places that cater to families are seeing a nice bump," Rogers said, "so family travel is very strong right now." 
Marriott International Inc., which returned to profitability in the third quarter of 2020, said its revenue per occupied room declined by more than 46 percent year over year both worldwide and in the United States and Canada, though it was a smaller drop than the company reported through the second half of last year. 
CEO Anthony Capuano was optimistic during the company's earnings call, pointing to increasing U.S. and Canadian demand. And Julius Robinson, Marriott's chief sales and marketing officer for the region, said earlier this month the hotel's leisure business is up 30 to 40 percent from 2019.
Revenue per occupied room at Hyatt Hotels Corp. was down 48.9 percent from the first quarter of 2020, and Hilton Worldwide Holdings Inc. reported a decrease of 38.4 percent during the same time period.
While Morning Consult trend data suggests that consumers are still more comfortable staying in major hotels than renting a place through platforms such as Airbnb, companies in the home-sharing space are still seeing positive signs for the summer.
Guesty's U.S. summer reservation volume is up 400 percent compared to last year, Schwarz said. That's even higher than pre-pandemic levels in 2019, with reservation volume up 50 percent compared to that summer.
For Memorial Day weekend, that number is 217 percent higher than it was last year, and stays are 24 percent shorter, at about four days on average per booking, according to Guesty. That's a sign of recovery, Schwarz said, indicating travel habits are reverting to their pre-pandemic norms, when long weekend trips were more popular than lengthy getaways. 
Airbnb reported that first-quarter revenue was up 5 percent from 2020, which also represented an increase from the first quarter of 2019.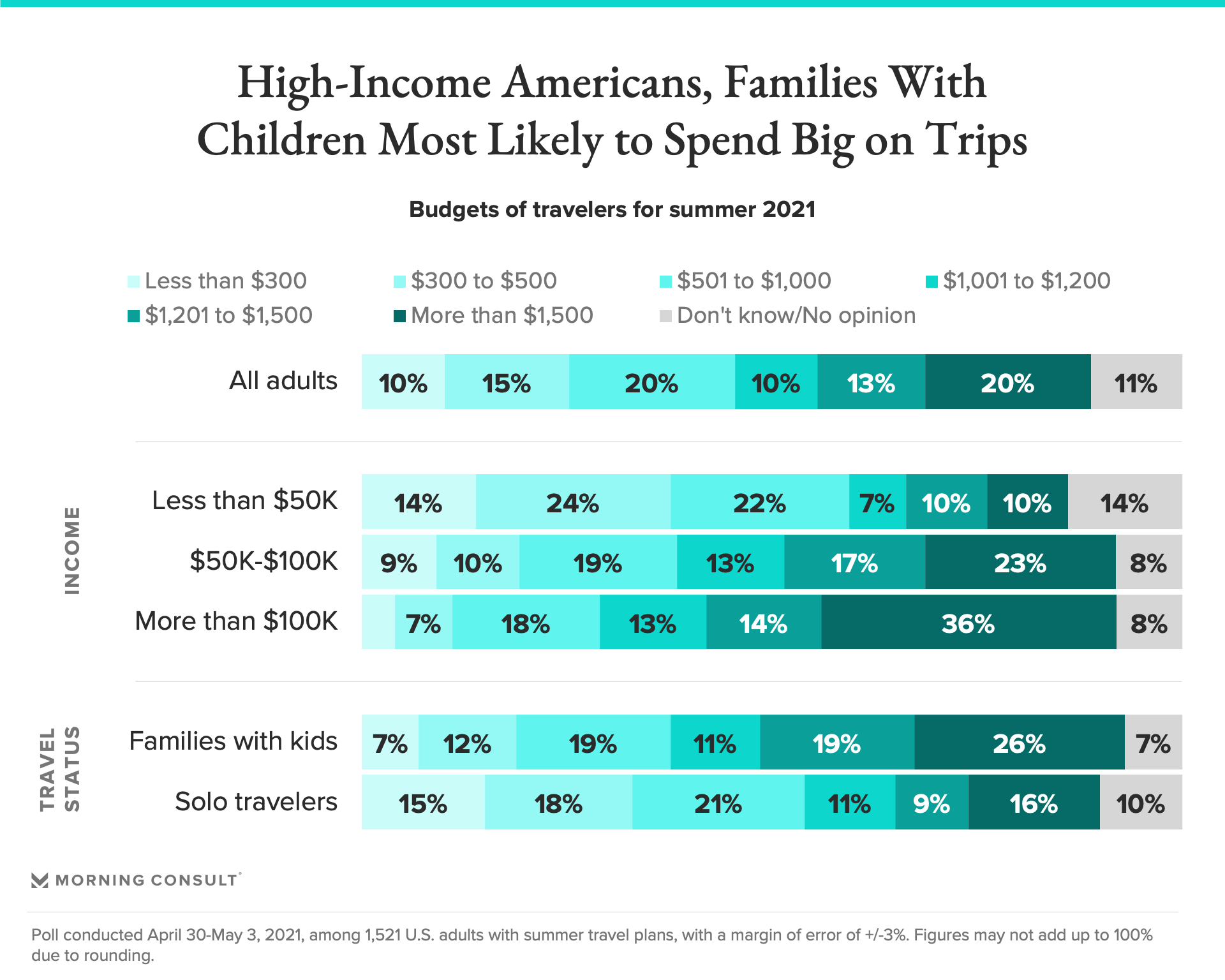 As consumers begin to embark on a season of "revenge travel" -- a pandemic-era term that refers to the desire to make up for lost time with activities that haven't been easily accessible -- some have signaled that they won't skimp on spending for these trips.  
"There's this need for existential vengeance on the events of the past year," said Sarah Unger, founding partner at cultural insights and strategy firm Cultique, who advises clients in the travel sector.
Forty-three percent of summer travelers said their budget comes in at more than $1,000, including 20 percent who said their budget exceeds $1,500, while 45 percent said they'll spend less than $1,000. Those with higher incomes, as well as families with children, are more likely to have higher travel budgets than solo travelers do.
Steven Paganelli, director of destinations, hotels and online travel agencies for the Americas at Tripadvisor Inc., said millennials, a major target demographic for the travel industry, are leading the pack in terms of travel spending. 
"High-income millennials are most likely to spend what they've saved over the past year on travel," Paganelli said. "They're not putting it away for retirement. They're ready to release it and spend it on travel." Just over half (51 percent) of millennials in the recent survey said they have a travel budget of more than $1,000.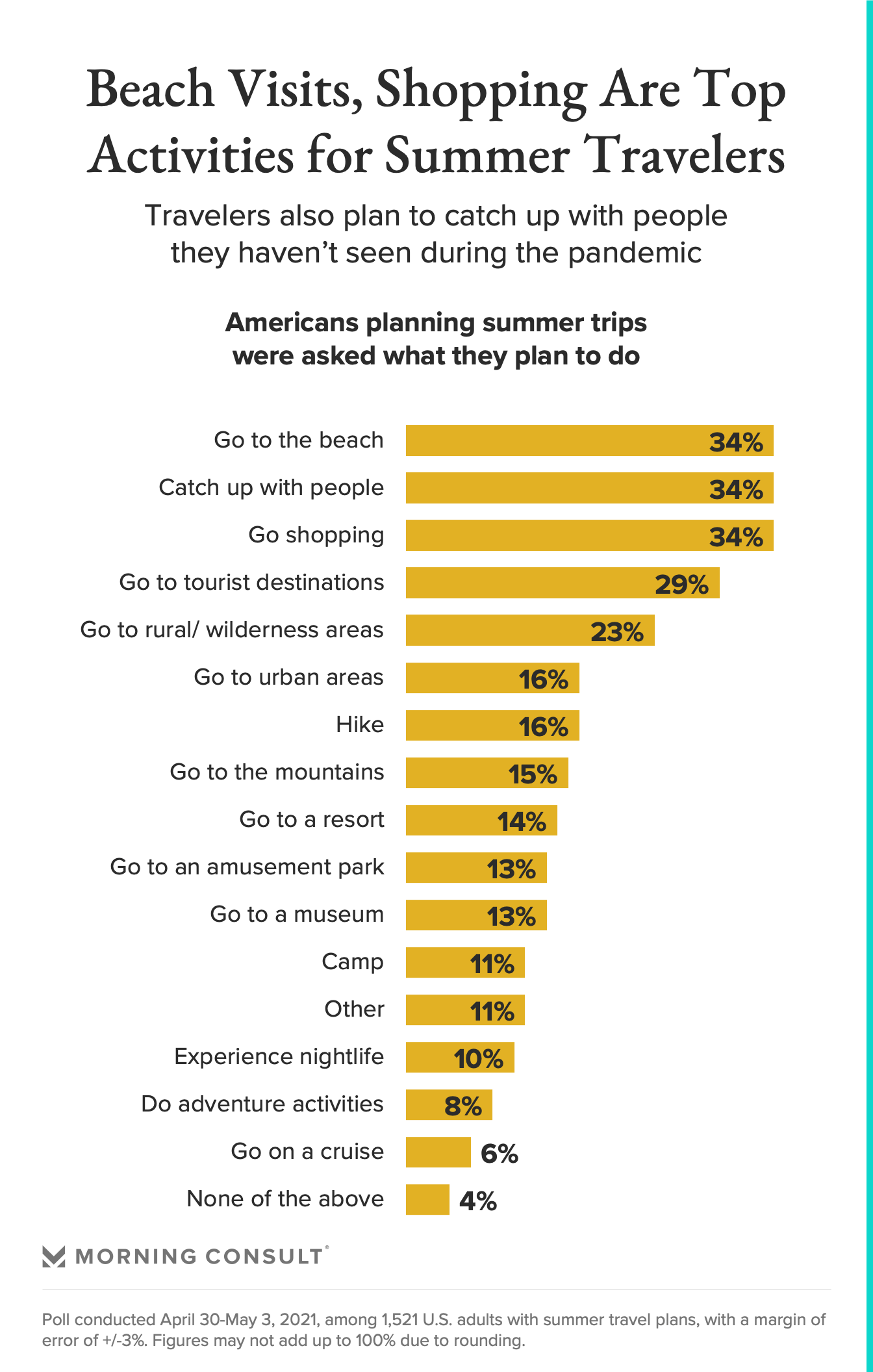 Naturally, prices are especially high in markets with a lot of demand, such as south Florida, which is seeing rates similar to what they were in 2019, according to Rogers. But in places like Manhattan and Chicago, which are not yet attracting as much attention from travelers as rural and beach destinations, rates are still fairly low, he said.
Beaches and similar all-inclusive resorts continue to attract significant interest from travelers. 
They are particularly popular options on Tripadvisor, Paganelli said, though the company has lately seen renewed interest in city destinations, which  are coming in "as a close second to beaches and ahead of other types of nature travel, so I think we're just at the leading edge of this trend." 
Unger expects "domestic exotic destinations," such as national parks, to be popular this summer, as well as Hawaii and Mexico, which are "exciting, but feel safer than international destinations," she said. 
Memorial Day is just the beginning for the return to leisure travel, according to industry experts, who are optimistic that people will only continue to book more trips through Labor Day and beyond, provided that vaccination rollouts continue as planned and travelers stick to recommended safety guidelines.
But the outlook for business travel, like international travel, is murkier, especially for the hotel industry, which makes about 60 percent of its revenue from business trips and meetings, Rogers said. If business travel doesn't start to rebound after the summer, that could spell trouble. 
"On the leisure side, we're probably back to pre-COVID booking levels," he said. "But we can set a record with leisure travel this summer and still struggle without business travel."
Alyssa Meyers previously worked at Morning Consult as a reporter covering brands and marketing.
We want to hear from you. Reach out to this author or your Morning Consult team with any questions or comments.
Contact Us