Analyzing What News Voters Saw, Read or Heard in 2019
Hurricane Dorian, Trump's national emergency had the biggest reach

Key Takeaways
69% of registered voters said they'd heard "a lot" about Hurricane Dorian, and 65% said the same of Trump's invocation of a national emergency at the U.S.-Mexico border.

Democrats were 29 points more likely than Republicans to report hearing a lot about the Trump administration's continued separation of migrant families, the largest partisan gap in 2019.

8% of all voters had heard about a lot about book detailing 43 new allegations of sexual assault and harassment against Trump, the lowest level of awareness in the 2019 review.
News of death, destruction and historic inside-the-Beltway developments were most likely to break through to voters in 2019, a year that saw the deadly Hurricane Dorian, mass shootings across the nation, the longest government shutdown in U.S. history and two major investigations into President Donald Trump, one of which resulted in his impeachment. 
The findings -- based on 47 Morning Consult/Politico polls conducted throughout 2019 that surveyed in total roughly 90,000 registered voters about how much they had seen, read or heard about the top news of the week at the time -- build on last year's project measuring news penetration.
Among more than 230 news events voters were asked about this year, Morning Consult culled the list to 100 noteworthy stories. (See the full interactive here.)
Racial issues occupied a big chunk of 2019's top news events: A third of the 15 news events voters had heard the most about dealt with race, including the stories concerning actor Jussie Smollett's allegedly faked hate crime in Chicago and Trump's tweets that four congresswomen of color known as "The Squad" should "go back to their country."
Special counsel Robert Mueller dominated the news cycle early in 2019. The conclusion of his Russia meddling probe was the most widely heard incident among the various news stories about his investigation, with most Republicans (52 percent) and Democrats (54 percent) alike reporting hearing "a lot" about the submission of his report to Attorney General William Barr in late March.
Mueller's unhappiness with Barr's representation of his findings would later become public, but voters were less likely to hear about that than the report's initial release, and a partisan gap yawned: Democrats were 17 percentage points more likely than Republicans to hear about Mueller's rebuke of Barr.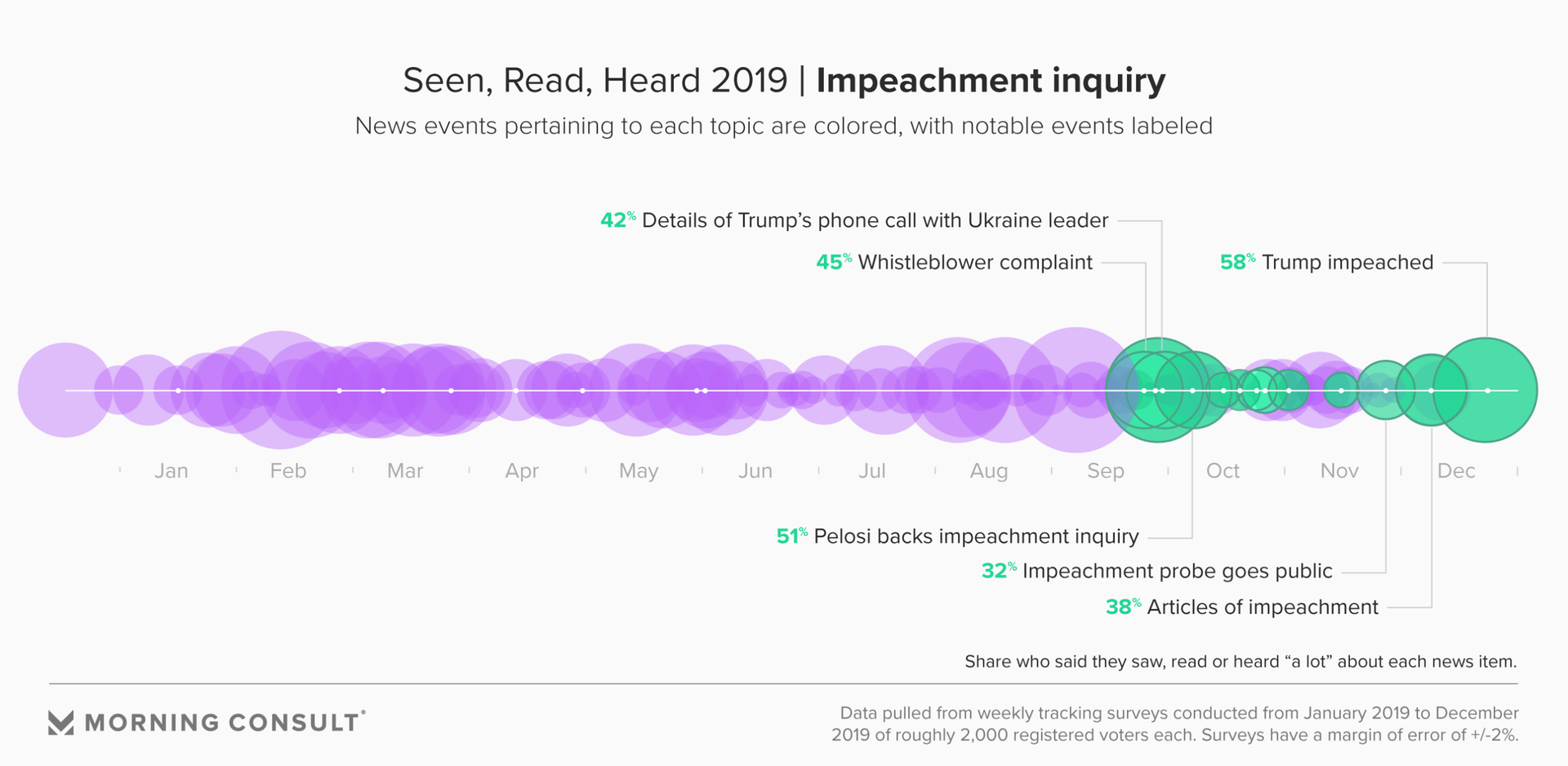 A similar partisan trend emerged in the Ukraine scandal and the House Democrats' impeachment inquiry, which overtook the autumn news cycle shortly after news of the Mueller report fizzled out. 
Democrats and Republicans were almost equally as likely to hear about House Speaker Nancy Pelosi's call for a formal impeachment inquiry into Trump and the House's votes in December to impeach him, two of the news events that attracted the most attention this year, along with the White House's release of a document detailing Trump's July 25 phone call with Ukraine's president, which became the center of the impeachment investigation.  
But Democrats were more likely than Republicans to say they'd heard about other elements of the probe, such as the initial whistleblower complaint. 
The news with the biggest reach tended to find Democrats and Republicans in roughly equal fashion. Hurricane Dorian topped the list for both parties, as did: Trump's impeachment; the college admission scandal, dubbed "Operation Varsity Blues," involving Hollywood actresses, business leaders and other wealthy parents; deadly mass shootings in El Paso, Texas, and Dayton, Ohio; and Georgia and Alabama's controversial moves to restrict abortion.
Democrats were more likely than Republicans to hear about most of the news events polled, with the biggest gap seen on the revelations that the Trump administration continued to separate migrant children from their families apprehended at the U.S.-Mexico border after announcing that it had rescinded the policy.
Trump's attacks on other politicians also created some of the widest perception gaps by political party.
Nearly half of Democratic voters said they had heard "a lot" about Trump's tweet that characterized Democratic Rep. Elijah Cummings' Baltimore-based district as a "rat and rodent infested mess." Most Democrats also had heard "a lot" about Trump's sharp criticism of the late Sen. John McCain (R-Ariz.) and "The Squad," which consists of Democratic Reps. Ilhan Omar of Minnesota, Alexandria Ocasio-Cortez of New York, Rashida Tlaib of Michigan and Ayanna Pressley of Massachusetts.
Compared to Democrats, Republicans were 18 points more likely to hear a lot about Trump's State of the Union address in February and 9 points more likely to hear about accusations of anti-Semitism against Omar over her suggestion that political leaders' support for Israel is driven by funding from pro-Israel lobbying groups.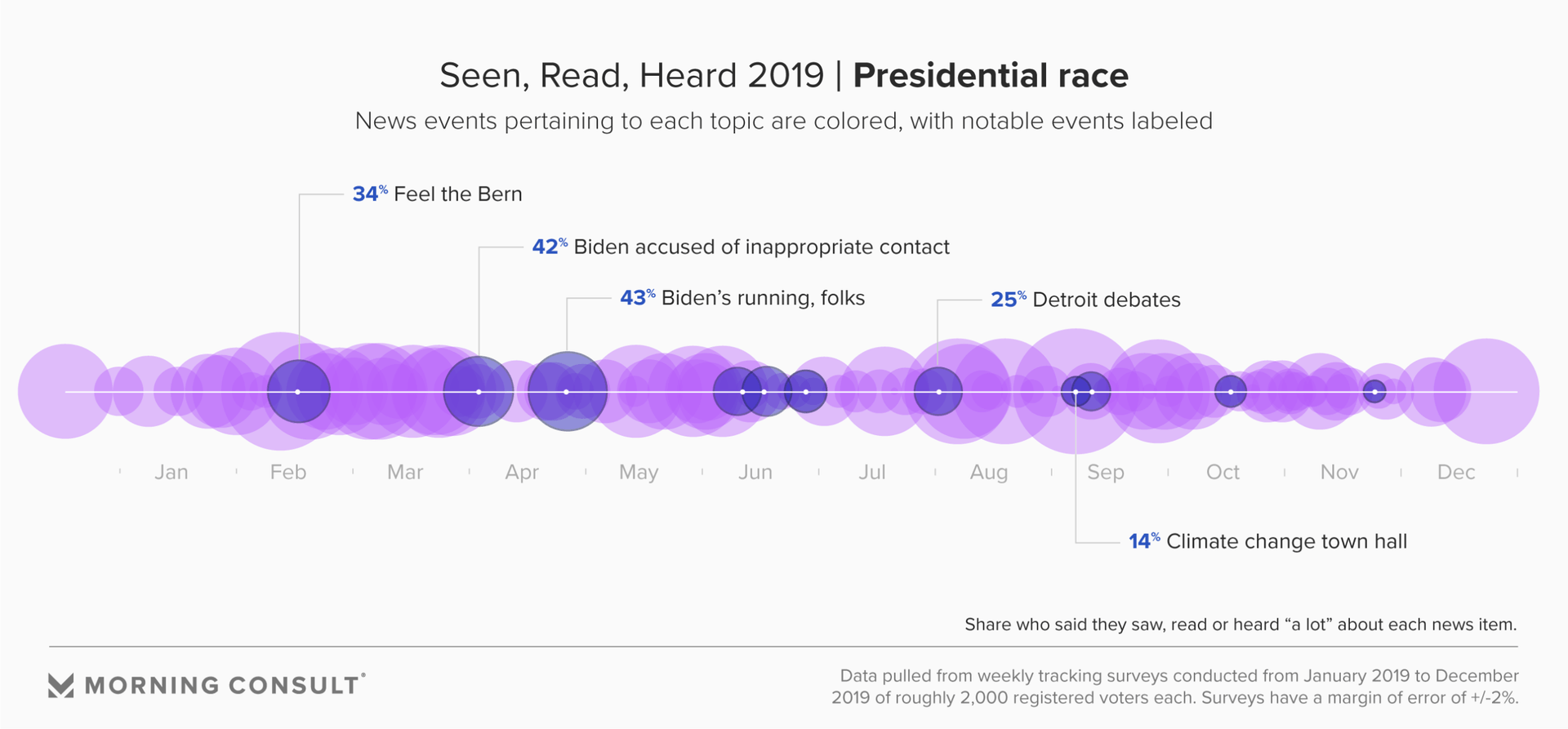 For news connected to the 2020 presidential election, former Vice President Joe Biden's April campaign launch had the most saturation among voters, followed closely by accusations from multiple women who said he'd touched them in ways that made them feel uncomfortable, news that broke just weeks before his official entry. 
The Democratic debates were of little interest to most voters, and Republicans largely tuned out of the primary, unless there was bad news for a Democrat. For example, GOP voters were about half as likely as Democrats to hear a lot about the debates but were just as likely to hear about Biden's Aug. 8 racist gaffe, when he told an Iowa crowd that "poor kids are just as bright and just as talented as white kids."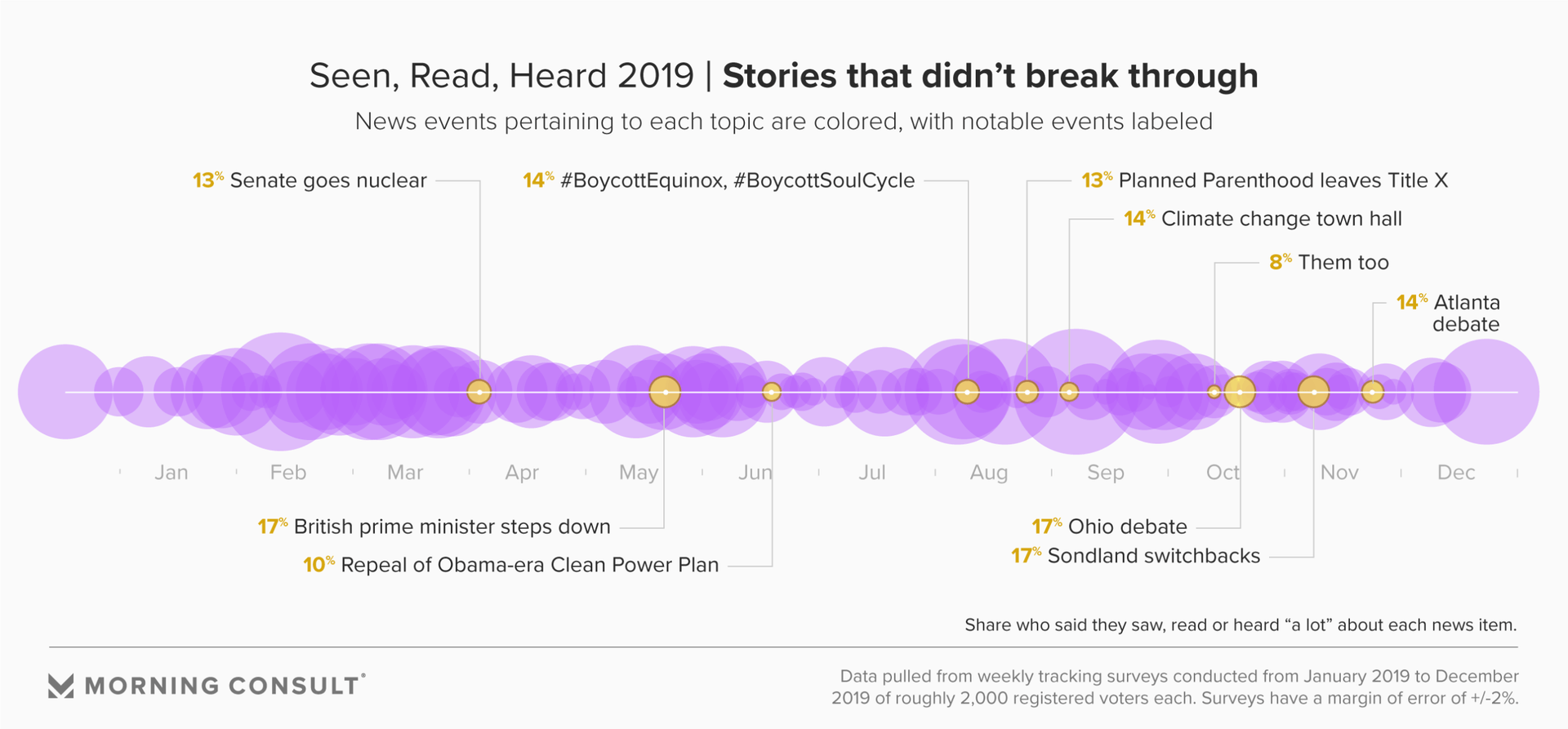 The news that ended up being barely a blip on people's radar was a bit of a mixed bag, but two of the 10 least-heard about events dealt with climate change: CNN's climate change town hall and a new Trump administration policy that cut power plant carbon emissions by less than half of what experts say is necessary.
The news event that drew the least amount of attention was a report previewing the publication of "All the President's Women," a book that contained 43 new allegations of sexual assault and harassment against Trump. Just 8 percent of the country said they had heard a lot about the book.
Download our curated dataset here.
Updated to include the House's votes to impeach Trump.
Eli Yokley is Morning Consult's U.S. politics analyst. Prior to his current role, Eli was Morning Consult's senior reporter covering U.S. politics. Eli joined Morning Consult in 2016 from Roll Call, where he reported on House and Senate campaigns after five years of covering state-level politics in the Show Me State while studying at the University of Missouri in Columbia, including contributions to The New York Times, Politico and The Daily Beast. Follow him on Twitter @eyokley. Interested in connecting with Eli to discuss his analysis or for a media engagement or speaking opportunity? Email [email protected].
Joanna Piacenza leads Industry Analysis at Morning Consult. Prior to joining Morning Consult, she was an editor at the Public Religion Research Institute, conducting research at the intersection of religion, culture and public policy. Joanna graduated from the University of Wisconsin-Madison with a bachelor's degree in journalism and mass communications and holds a master's degree in religious studies from the University of Colorado Boulder. For speaking opportunities and booking requests, please email [email protected].
We want to hear from you. Reach out to this author or your Morning Consult team with any questions or comments.
Contact Us