Analyzing What News Voters Saw, Read or Heard in 2018
Trump's taxes and Stormy Daniels on "60 Minutes" had most uneven saturation among partisans
Key Takeaways
On average, 39% of all voters said they heard "a lot" about 72 major news events selected for the analysis.

Of the top stories selected, a majority of voters heard "a lot" about just 13 of them.

41% said they heard "nothing at all" about Alexandria Ocasio-Cortez's June primary victory.
The deadly Parkland high school shooting, the death of former President George H.W. Bush and Hurricane Florence's battering of the Carolinas were the news events voters were most likely to hear about this year, while many bits of Beltway drama did not break through, according to an analysis of yearlong Morning Consult polling.
Throughout 2018, Morning Consult surveyed roughly 100,000 registered voters about how much they had seen, read or heard about the top news of the day, from major stories such as Democrats winning the House, to news that didn't make much of a dent in voters' minds, such as the arrest of alleged Russian agent Maria Butina.
Among more than 130 events included in surveys this year, Morning Consult narrowed the list down to 72 noteworthy stories. (See the full interactive here.)
Tim Groeling, a professor of communications at UCLA, said consumption of such news items can be discretionary, "depending on how they're connected to people's lives in general." Another thing could be the onslaught of headlines that dominated the news this year, moving from one apparent bombshell to another.
"It is often the case that there are lot of things that happen, and there is less of an attention span to follow up than there used to be, often on the part of the press," he said in an interview.   
Seventy-six percent of voters heard "a lot" about the shooting at the Marjory Stoneman Douglas High School in Parkland, which kicked off the "March For Our Lives" movement, two points higher than the share who heard "a lot" about Bush's death.
Groeling said the Parkland shooting, which killed 17 people, got the attention it did because it was an "especially heinous example of something that's a broader trend," referring to other shootings in the United States. The magnitude of the shooting may have made the difference: Three weeks earlier, just 27 percent of voters heard "a lot" about a school shooting in Kentucky that killed two people.
The Kentucky shooting wasn't alone in low resonance: Of the top stories selected, a majority of voters heard "a lot" about just 13 of them.
"Americans are generally inattentive," said Karlyn Bowman, who studies public opinion at the American Enterprise Institute, in an email. "People have so much to do in their daily lives."
People's attention also varied by party. A New York Times report alleging the family of President Donald Trump participated in dubious tax maneuvers in the 1990s was the most uneven among partisans, with 40 percent of Democrats hearing a great deal about it, more than double the 16 percent of Republicans who said the same.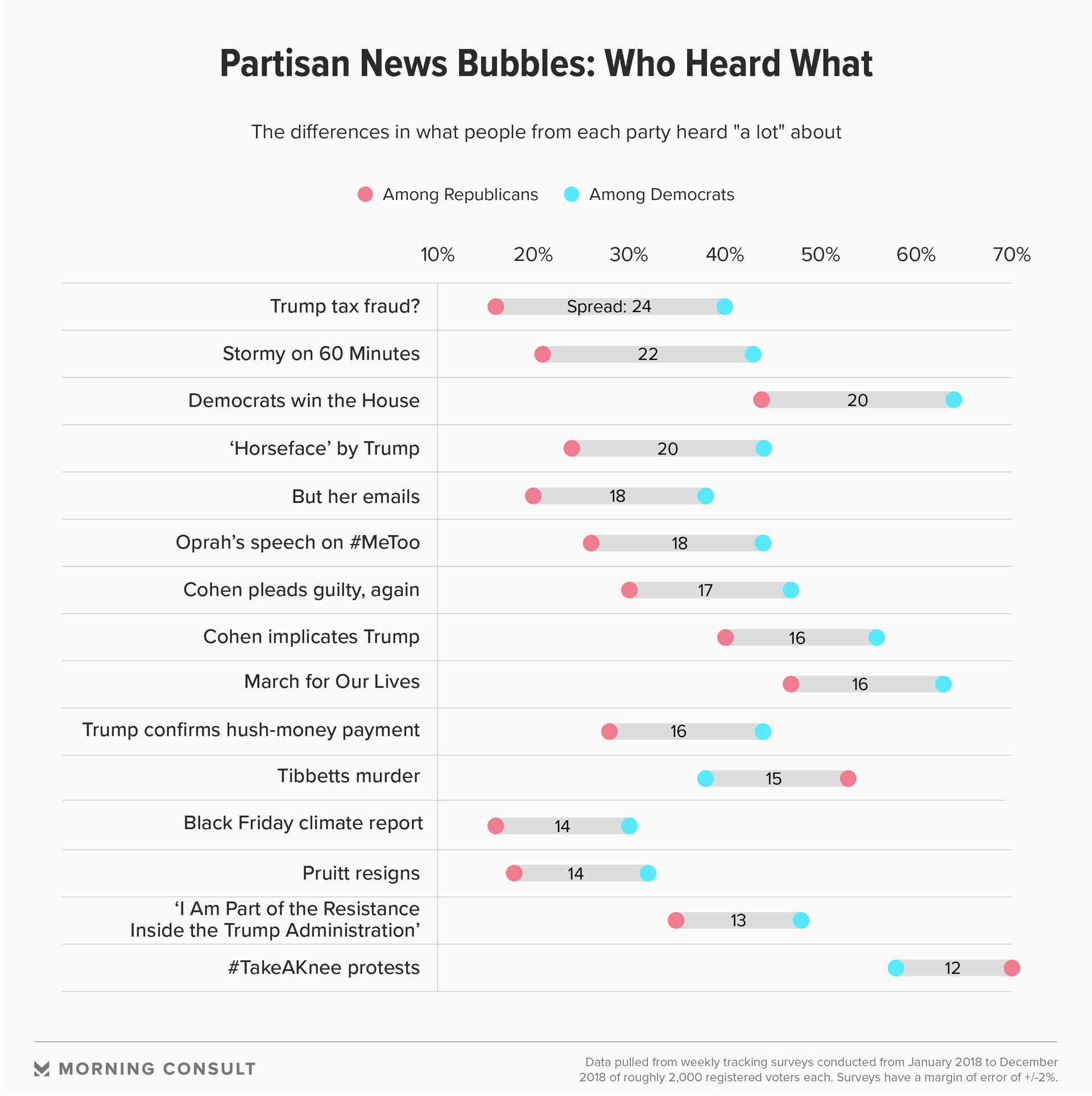 And another news item that was negative toward the president -- Stormy Daniels recounting her alleged affair with Trump in an interview on CBS' "60 Minutes" – also made a bigger impact on Democrats, with about twice as many of them hearing a lot about it compared to Republicans.
Party ideology also helped drive news consumption of the process to confirm Judge Brett Kavanaugh to the Supreme Court. More Republicans said they heard a lot about the good news for him – such as his nomination and his confirmation – than heard about the bad news, when Christine Blasey Ford accused Kavanaugh of sexually assaulting her in the 1980s and testified on the same day as him before the Senate Judiciary Committee.
In general, more Republican voters heard about stories where their party saw a political advantage – including the migrant caravan at the height of the election, the #TakeAKnee protests in the National Football League, and a critical Department of Justice report on former Federal Bureau of Investigation Director James Comey. And 53 percent of Republicans heard about an undocumented immigrant being charged with the murder of University of Iowa student Mollie Tibbetts, 15 points higher than the share of Democrats who heard about it.
In the same vein, Democrats generally heard more about bad news for Trump.
Groeling said voters from the two parties have different news-search strategies and trust in sources that reflect their prior beliefs about what is true, and also what they enjoy consuming.
"This could be based on what news sources they are consuming or emphasizing, but they're also consuming these sources because they give the type of news they think is better news," he said about the partisan discrepancies. He said studies have shown that partisans will report seeing or hearing stories that did not actually exist if they agree with the stories' conception.
Democrats were also more likely to hear about the majority of other news events in the poll, which included a fair amount of neutral stories – but also many items that could be considered negative for the Trump administration and Republicans.
On average, 39 percent of all voters reported hearing a lot about the 72 major news events selected – including 44 percent of Democrats and 38 percent of Republicans.
But the partisan divide narrowed when it came to stories people heard "nothing at all" about.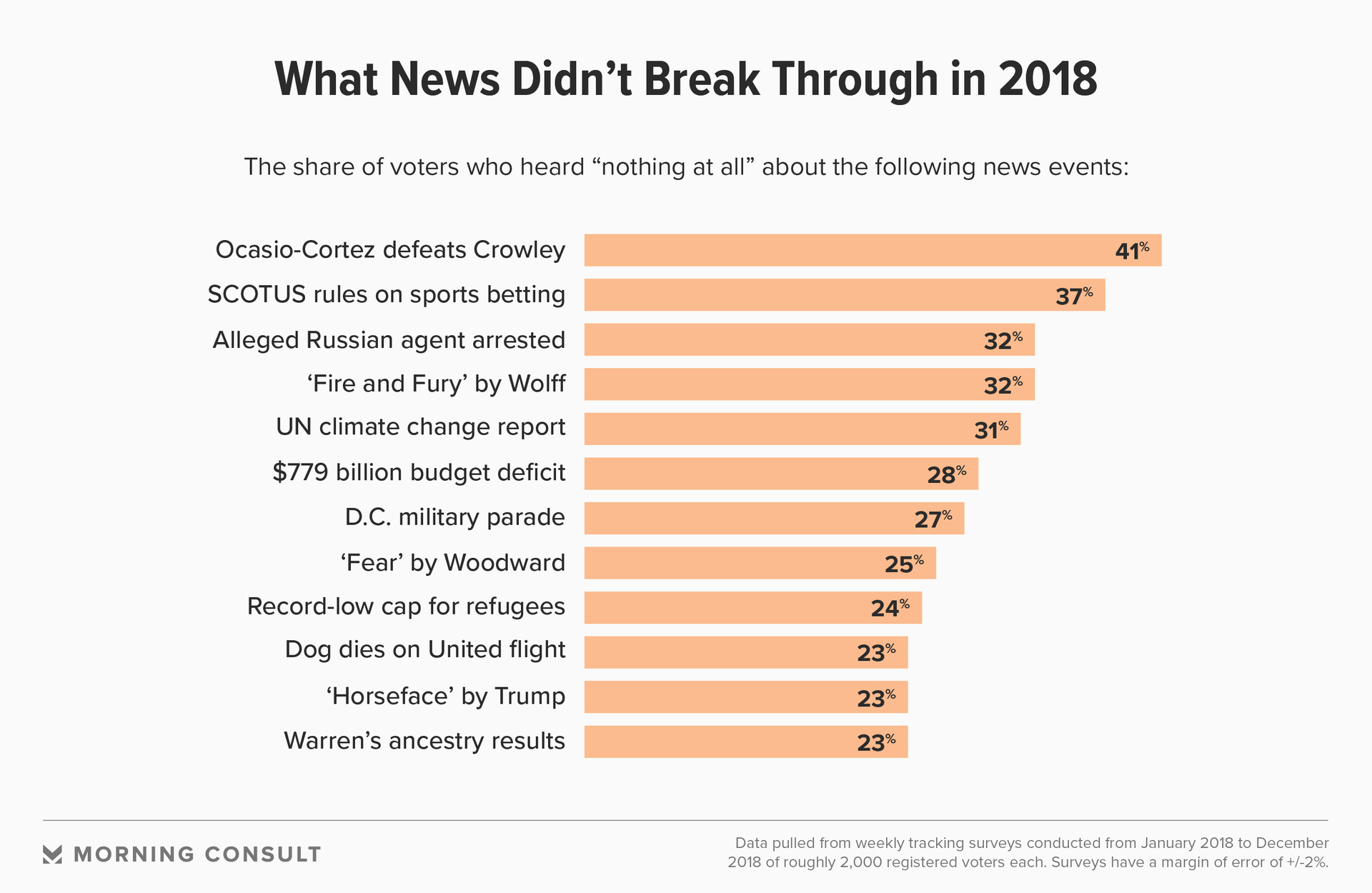 The largest share of voters who said they heard "nothing at all" about a story came in response to Alexandria Ocasio-Cortez's June primary defeat of House Democratic Caucus Chairman Joe Crowley of New York. Overall, 37 percent of voters said they hadn't heard about the story that shook up Washington, eliminating Democratic Leader Nancy Pelosi's expected successor-in-waiting.
But the news did make more of an impact with Democrats, 26 percent of whom hadn't heard the story, 12 points lower than the share of Republicans who didn't know about it. Republicans were also less likely to hear about the release of the United Nations Intergovernmental Panel on Climate Change report predicting dire consequences from global warming.
Among other events selected, 37 percent heard nothing about the Supreme Court decision overturning a federal law outlawing sports betting, a key ruling with nationwide impact. About a third of voters (32 percent) also heard nothing about the release of a book that made a big splash inside the Beltway: Michael Wolff's "Fire and Fury," which covered Trump's campaign and early presidency.
"What interests the political class doesn't always interest the public," Bowman said.
See our curated dataset here.
Cameron Easley and Joanna Piacenza contributed.
Eli Yokley is Morning Consult's U.S. politics analyst. Prior to his current role, Eli was Morning Consult's senior reporter covering U.S. politics. Eli joined Morning Consult in 2016 from Roll Call, where he reported on House and Senate campaigns after five years of covering state-level politics in the Show Me State while studying at the University of Missouri in Columbia, including contributions to The New York Times, Politico and The Daily Beast. Follow him on Twitter @eyokley. Interested in connecting with Eli to discuss his analysis or for a media engagement or speaking opportunity? Email [email protected].
We want to hear from you. Reach out to this author or your Morning Consult team with any questions or comments.
Contact Us