Appetite for Impeachment Surges Among Democratic Voters
14-point increase in Democrats who say impeachment should be "a top priority"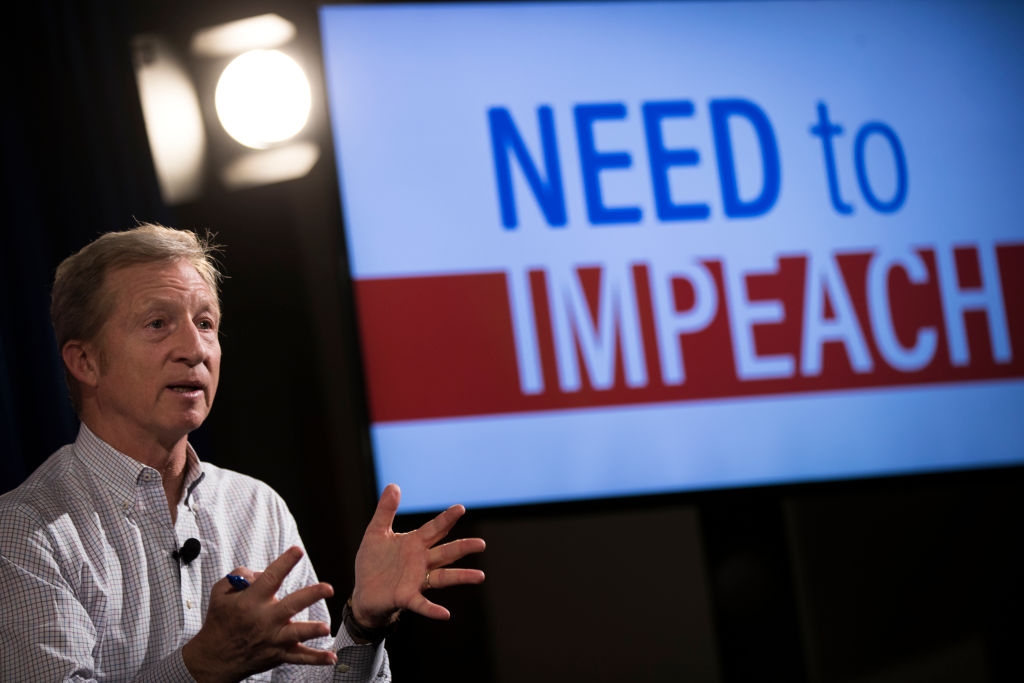 Key Takeaways
53% of Democrats said Congress should prioritize impeaching Trump, up from 39% in early January, compared with 29% of independents and 5% of Republicans.

General support for impeachment has remained relatively steady, but proponents of beginning the process have grown more likely to say it's because the president had committed an impeachable offense.
Democratic leaders have resisted congressional efforts to impeach President Donald Trump, but they may be facing a growing problem outside of Washington: The base is getting hungrier for it.
According to Morning Consult tracking, the share of Democratic voters who say Congress should make it a "top priority" to begin impeachment proceedings to remove Trump from office has increased 14 percentage points, to 53 percent, since the party took control of the House early last month.
"There's this enormous disconnect," said Kevin Mack, lead strategist for Need to Impeach, the anti-Trump group funded by hedge fund billionaire Tom Steyer, in a Tuesday interview. "We're actually the mainstream. The members of Congress are the outlier."
For the perspective of congressional Democrats to change, Mack noted, "they're going to have to get pressure from their districts."
The Steyer group is doing work to build that pressure. Along with national television commercials, Need to Impeach is funding door-to-door efforts, direct mail and town halls in districts represented by key House Democrats, including the chairmen of the House Intelligence, Oversight and Reform, Ways and Means and Judiciary committees.
Mack said Need to Impeach will be expanding its efforts to target other key Democrats with two messages: that Democrats support impeachment and what lawmakers can do to help, urging Ways and Means Committee members to move on getting Trump's tax returns and pushing Judiciary Committee members to begin impeachment proceedings.
House Democratic leaders have thus far managed to stifle impeachment efforts, even after a resolution was introduced and freshman Rep. Rashida Tlaib made headlines for her expletive-laced pledge to remove Trump from office.
Speaker Nancy Pelosi (D-Calif.) has said Congress will have to "wait and see" what happens with special counsel Robert Mueller's Russia probe, which has some of the president's closest associates in its crosshairs and has exposed the president to allegations of obstruction of justice.  
"We shouldn't be impeaching for a political reason, and we shouldn't avoid impeachment for a political reason. So we'll just have to see how it comes," Pelosi told NBC in an interview last month.
The share of independents who call impeachment a "top priority" has also risen since the beginning of the Congress, from 22 percent to 29 percent. But at the same time, the share of independents who say it should not be done has also increased, from 29 percent to 34 percent. With Republicans, the share who said impeachment should not be done has risen 18 points, to 79 percent.
The issue ranks near the bottom of the priority list for voters overall, but it ranks near the top among Democrats – just behind passing a health care reform bill and enacting new gun regulations, according to the latest tracking.
Among voters overall, polling conducted throughout the Trump presidency has found that support for impeachment has been mostly steady, though voters' reasoning for their support has varied slightly.
In May 2017, following Trump's firing of Federal Bureau of Investigations Director James Comey, 38 percent of voters said they supported Congress beginning impeachment proceedings to remove the president from office, while 46 percent of voters opposed it. That 8-point gap was identical to a poll conducted in mid-January amid news about Cohen, when 39 percent supported impeachment and 47 percent opposed it.
Among Democrats, support has hardly moved: Sixty-eight percent of voters supported it in the May 2017 poll, while 71 percent supported it in the mid-January poll. With independents, the trend was similar: Thirty-three percent supported it then, while 36 percent supported it in January.
When it came to Republicans, opposition has risen 8 points, from 78 percent in May 2017 to 86 percent in the mid-January poll.  
Gary Jacobson, a University of California San Diego professor who has studied public opinion polling on President Bill Clinton's impeachment, said views on Trump, generally, have been stable but polarized, and views on impeachment shouldn't be expected to be different.
"He's been able to convince his supporters that Mueller's investigation is a witch hunt and that the mainstream media make up fake news about him," he said. "We'll see what happens if evidence of collusion is undeniable."
Five of the nine polls on the subject since May 2017 have asked those who backed impeachment a follow-up question to see if they supported it because they thought Trump had committed impeachable offenses or because they think he has proven himself to be generally unfit to serve.
The January 2019 poll found half of voters who backed impeachment said they did so because they believed Trump had committed an impeachable offense, while 47 percent backed it because they thought he was unfit to serve. It marked a 14-point net swing between the two options since a poll conducted in May 2017, when 43 percent said he'd committed an impeachable offense and 54 percent said he was unfit to serve.
Among Democrats who support impeachment, there was a 16-point net swing toward impeachable offense, similar to the 17-point net swing among independents.   
Voters could get some clarity on the extent of Trump's legal or political exposure when Mueller wraps up his investigation -- if Congress gets its hands on his report. That report could also turn up the heat on lawmakers who would find themselves deprived of a favored talking point.
"Both parties have been hiding behind the Mueller report for about a year," said Mack. "When those findings come out, then what?"
Eli Yokley is Morning Consult's U.S. politics analyst. Prior to his current role, Eli was Morning Consult's senior reporter covering U.S. politics. Eli joined Morning Consult in 2016 from Roll Call, where he reported on House and Senate campaigns after five years of covering state-level politics in the Show Me State while studying at the University of Missouri in Columbia, including contributions to The New York Times, Politico and The Daily Beast. Follow him on Twitter @eyokley. Interested in connecting with Eli to discuss his analysis or for a media engagement or speaking opportunity? Email [email protected].
We want to hear from you. Reach out to this author or your Morning Consult team with any questions or comments.
Contact Us