As Kids Go Back to School, 47% of Parents Show Interest in Bulletproof Backpacks
Worries about school shootings on par with parental concern about bullying
In March 2018, Lisa Pfeiffer Jones received a text from her son, Andy, that there was a gunman in his building at Utica College in upstate New York. Six months later, she received another text from her son saying there was an active shooter at his workplace in Cincinnati. 
Jones, a Central New Jersey resident, was terrified that her 22-year-old son had been in two active shooter situations in one year, but she didn't see any solution -- until July, when she came across a viral Facebook post of bulletproof backpacks being sold in a store.

She's still searching for the right model, but Jones is planning to buy one for Christmas at Andy's request. "It just rips my heart out that a 22-year-old is asking for a bulletproof backpack for Christmas," she said.
Jones' son is no longer in school, but with the return of the fall school semester -- and the deaths of 53 people in mass shootings last month -- these backpacks are drawing considerable media coverage and interest from parents. A Morning Consult survey conducted Aug. 12-13 showed that 47 percent of people with children ages 17 and younger in their home said they were likely to consider buying these products specifically for their kids. That contrasts with 26 percent of the overall public, including those without children, who would consider buying a bulletproof backpack in general.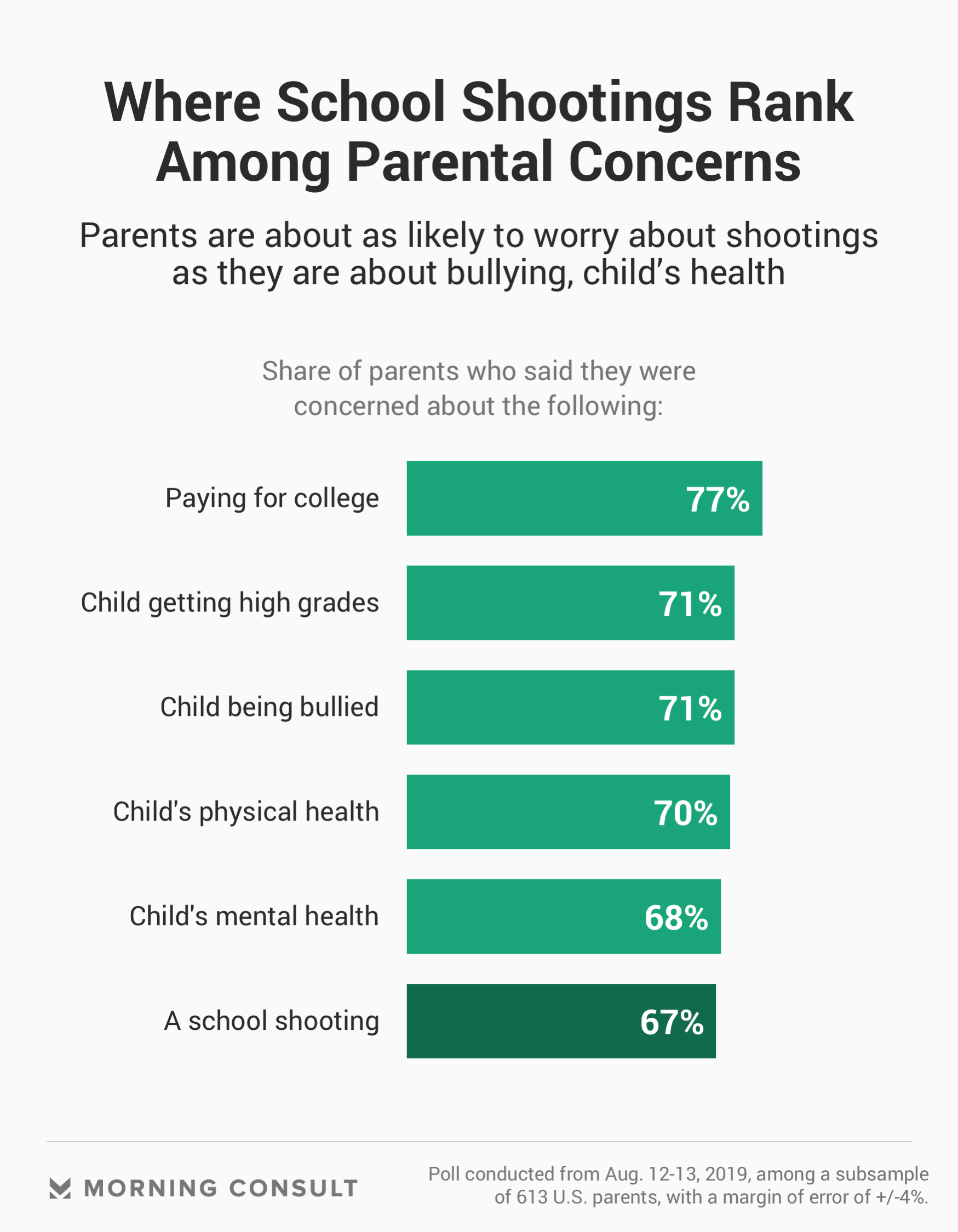 Parents were also far less likely than people overall to rule out buying a bulletproof backpack. Among all adults, 39 percent said they were "not likely at all" to contemplate a purchase, compared to 19 percent of parents. The survey's national sample of 2,201 adults includes 613 U.S. parents. The margin of error is 2 percentage points for the overall sample and 4 percentage points for the subsample.  
The poll showed 41 percent of all adults have heard of these protective backpacks, with that number going up to 47 percent among parents with school-aged children in their household. 
A potential school shooting is a common concern among parents, right up there with worries about bullying and their child's physical or mental well-being, according to the poll.
While gun control may be a sharply partisan issue, buying a bulletproof backpack is not: Parents who identified as Democrats were slightly more likely, at 52 percent, to buy one for their child compared to 44 percent of Republicans and 46 percent of independents.
Though these products are widely sold as bulletproof backpacks, a spokesperson for the National Institute of Justice, which is the research and development agency of the Justice Department, said items such as backpacks or blankets cannot be marketed as bulletproof certified by NIJ because the agency only conducts ballistic tests for body armor for law enforcement or corrections purposes.
Three makers of these backpacks -- Bullet Blocker, TuffyPacks LLC and Guard Dog Security -- say their products meet the National Institute of Justice's Level IIIA standard, which stops .357 SIG and .44 Magnum ammunition fired from longer-barrel handguns (they do not protect against rifle ammunition). These retail from $119 to $490 for backpacks. 
Bullet Blocker's sales rose 200 percent after the El Paso, Texas, and Dayton, Ohio, shootings during the weekend of Aug. 3-4, said Michael Curran, marketing director of Bullet Blocker. Often parents were requesting next-day shipping so that their child could wear it on the first day of school, he said.
Steve Naremore, CEO of TuffyPacks, said sales rose over 300 percent in the week after the two shootings. Guard Dog Security declined to disclose its sales figures, but all three companies said they see spikes in sales after mass shootings and during the back-to-school shopping season. 
Guard Dog Security's CEO, Yasir Sheikh, said that the company saw increased demand for its anti-ballistic products after the Sandy Hook school shooting in 2013, but that customers wanted a children's version of its adult backpacks, which range in price from $174 to $299.
This is the first year that the personal Scout model, designed for schoolchildren, is on the market, he said. The model comes in three colors and can be bought for $119.99 on Guard Dog Security's website.
These backpacks aren't as widely available as the typical bookbag. All three manufacturers said Amazon.com Inc. once allowed their backpacks and inserts to be sold on its website, but over time those items were reclassified as "body armor," a restricted product whose sale is prohibited.

Guard Dog Security still sells some of its wares on Amazon, but its backpacks have moved elsewhere. It is the only brand that is found in big box stores, such as those owned by Office Depot Inc., and on websites for well-known retailers such as The Home Depot Inc., Bed Bath & Beyond Inc. and Walmart Inc.
Bullet Blocker and TuffyPacks sell online, over the phone and via wholesale to companies that sell guns, ammunition and sporting goods.
Marketing these kinds of backpacks can be tricky, as playing on people's fears for their children could appear ghoulish. The three retailers said that while the specter of school shootings has helped boost sales, their marketing is focused on adults, business travelers, security companies, the Federal Bureau of Investigation and anyone who would want some extra protection. Curran said that anytime there's something dangerous reported in the community -- even protests -- Bullet Blocker's sales rise.

TuffyPacks' Naremore likened the backpacks to tools to be used in case of an emergency. "So throw me in the same boat as the fire extinguisher salesman or the alarm company," he said. 
Curran said Bullet Blocker advertises its wares as a product akin to a seatbelt. "You aren't buckling up thinking, 'All right, just in case I get into a car accident today,'" he said. "You're buckling up just on the understanding that this is a possibility."
Clarification: The proportions of the graphic have been updated.
Kasey Meredith previously worked at Morning Consult as a reporter covering brands.
We want to hear from you. Reach out to this author or your Morning Consult team with any questions or comments.
Contact Us