As Trump Questions Fauci's COVID-19 Handling, Voters Give the Doctor Good Marks
62% say Dr. Fauci's coronavirus response has been excellent or good; 36% say same of the president's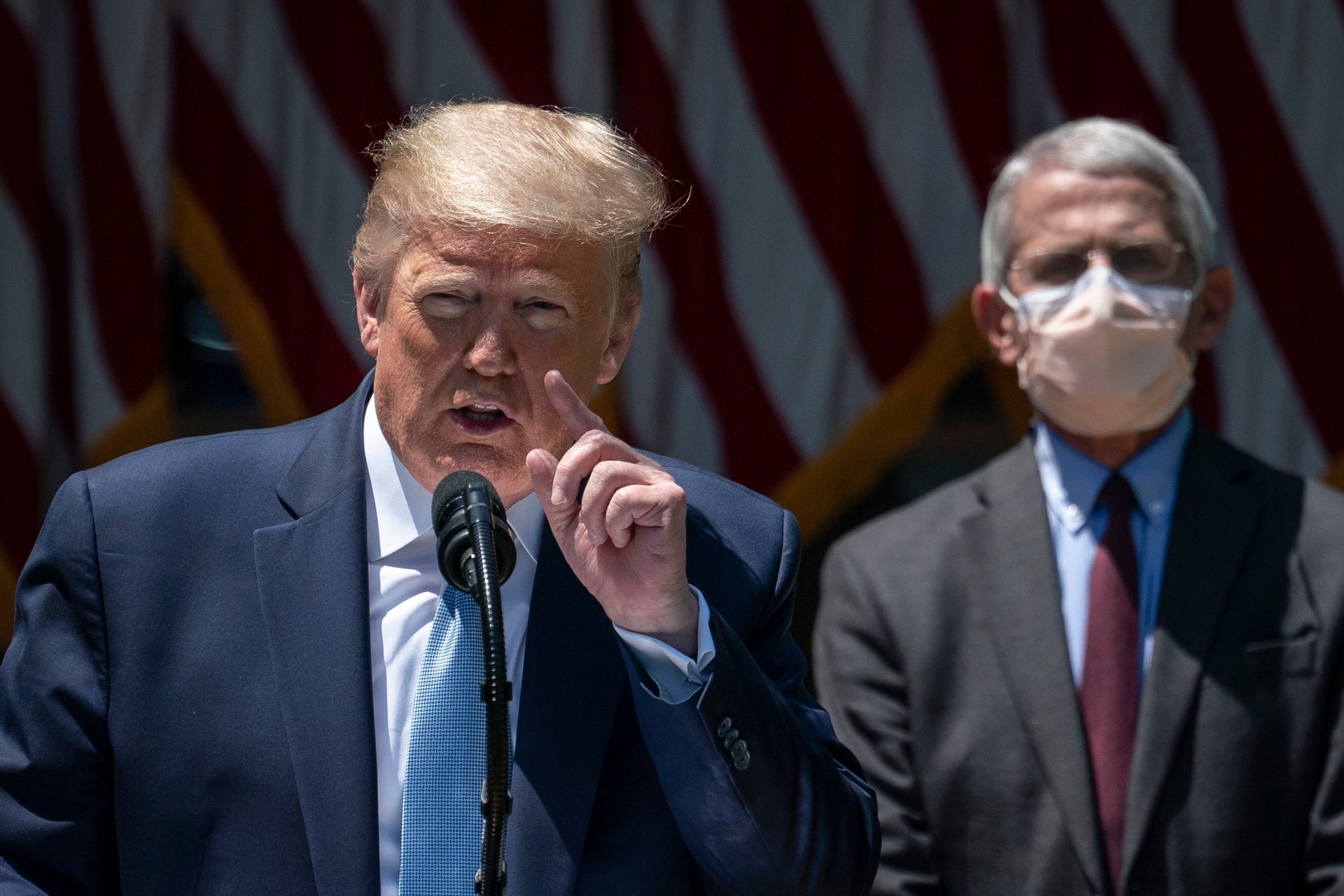 Key Takeaways
57% of voters disapprove of President Trump's handling of the spread of the coronavirus, a record high, while 38% approve.

The CDC, state and local governments get good marks from roughly 3 in 5 voters.

Former Vice President Joe Biden maintains an 8-point lead over Trump, 47% to 39%.
Dr. Anthony Fauci has taken flak from President Donald Trump in recent days as he's continued to warn the country about the coronavirus, but the director of the National Institute of Allergy and Infectious Diseases continues to earn much better reviews from the public than the president. 
According to a new Morning Consult/Politico poll, 62 percent of voters rated Fauci's handling of the coronavirus "excellent" or "good," compared with 36 percent who rated Trump similarly. Positive figures for both men fell slightly since a poll conducted in mid-April, as more voters formed opinions and larger shares rated their handling as "poor."
The July 10-12 survey, which has a margin of error of 2 percentage points, was conducted after Trump told Fox News host Sean Hannity in an interview that Fauci is a "nice man, but he's made a lot of mistakes" as the administration presses to keep the economy moving and reopen schools as soon as next month. 
Fauci, who has reportedly not met with Trump since the first week of June but met with White House chief of staff Mark Meadows on Monday, has been largely absent from the largest U.S. media platforms. But in interviews with other outlets, he has said the United States is "knee-deep" in its first wave of the COVID-19 outbreak and that "we're just not" doing great in response, reportedly irking the White House.
To Fauci's point, the coronavirus case curve that looked like it was flattening throughout May has taken an upward turn, according to a database maintained by The New York Times. The surge in cases is predominantly happening in parts of the country that avoided big numbers early in the pandemic, such as the Midwest and the South, with Florida breaking New York's record of single-day cases with more than 15,000 reported Sunday.
A separate Morning Consult poll, conducted July 9-12, found 64 percent of voters believe coronavirus is a severe health risk in the United States, up 8 points in a month, including a 10-point bump among Republicans (to 48 percent), an 11-point increase among independents (to 62 percent) and a 7-point hike among Democrats (to 79 percent). Almost half of voters (45 percent) said the coronavirus was a severe health risk in their state, up 8 points over the same time period, while it increased 7 points among Republicans (to 34 percent). 
The president has for months pushed Americans to move on from their fears of the virus, downplaying its threat and advocating for a return to normal. That rhetoric appeared to sway some Republicans for a time, but the surge of cases over the past month has reversed that momentum.
Forty-seven percent of GOP voters in the new Morning Consult/Politico poll said they were more concerned by COVID-19's economic impact than its effect on public health, down 14 points from mid-June. Asked whether it's more important for the government to address the economy or the spread of coronavirus, the share of Republicans who said the former is down 15 points, to 46 percent. And while only a slim majority (51 percent) of GOP voters last month said Americans should continue social distancing as long as is needed, even if it means continued damage to the economy, 66 percent now support that course of action.
The bulk of voters -- 36 percent -- mostly blame Trump for the spread of the virus into the United States, more than the share who blame China (31 percent), as has been the case since the third week of June.
Fifty-seven percent of voters disapprove of Trump's handling of the coronavirus, a record high, while 38 percent approve. For the second week in a row, Trump received his worst marks to date with Republicans: 78 percent approve and 18 percent disapprove. Among independents, his coronavirus approval also decreased by 5 points, to 29 percent, and his disapproval rating jumped 7 points, to 62 percent, since a survey conducted late last month, pushing him farther underwater with that voting bloc.
Only Congress received worse evaluations, with 33 percent of voters approving of their handling of the COVID-19 spread, while roughly 3 in 5 have positive views of the responses of the Centers of Disease Control and Prevention or their state and local governments. 
With coronavirus continuing to dominate the country's psyche, voters' misgivings about Trump's handling of the disease continues to threaten his re-election chances.
Morning Consult's latest weekly survey tracking the race -- conducted July 6-13 among 32,514 registered voters nationwide --  found 47 percent said they would vote for former Vice President Joe Biden if the election were held today, while 39 percent would vote for Trump. That 8-point lead is consistent with the presumptive Democratic nominee's average standing against Trump in the national polling since the second week of June.
Eli Yokley is Morning Consult's U.S. politics analyst. Prior to his current role, Eli was Morning Consult's senior reporter covering U.S. politics. Eli joined Morning Consult in 2016 from Roll Call, where he reported on House and Senate campaigns after five years of covering state-level politics in the Show Me State while studying at the University of Missouri in Columbia, including contributions to The New York Times, Politico and The Daily Beast. Follow him on Twitter @eyokley. Interested in connecting with Eli to discuss his analysis or for a media engagement or speaking opportunity? Email [email protected].
We want to hear from you. Reach out to this author or your Morning Consult team with any questions or comments.
Contact Us