As Vaping-Related Lung Illnesses Worsen, Public Holds E-Cigarettes Like Juul Culpable
The share who believe vaping is 'very harmful' up 20 points since June 2018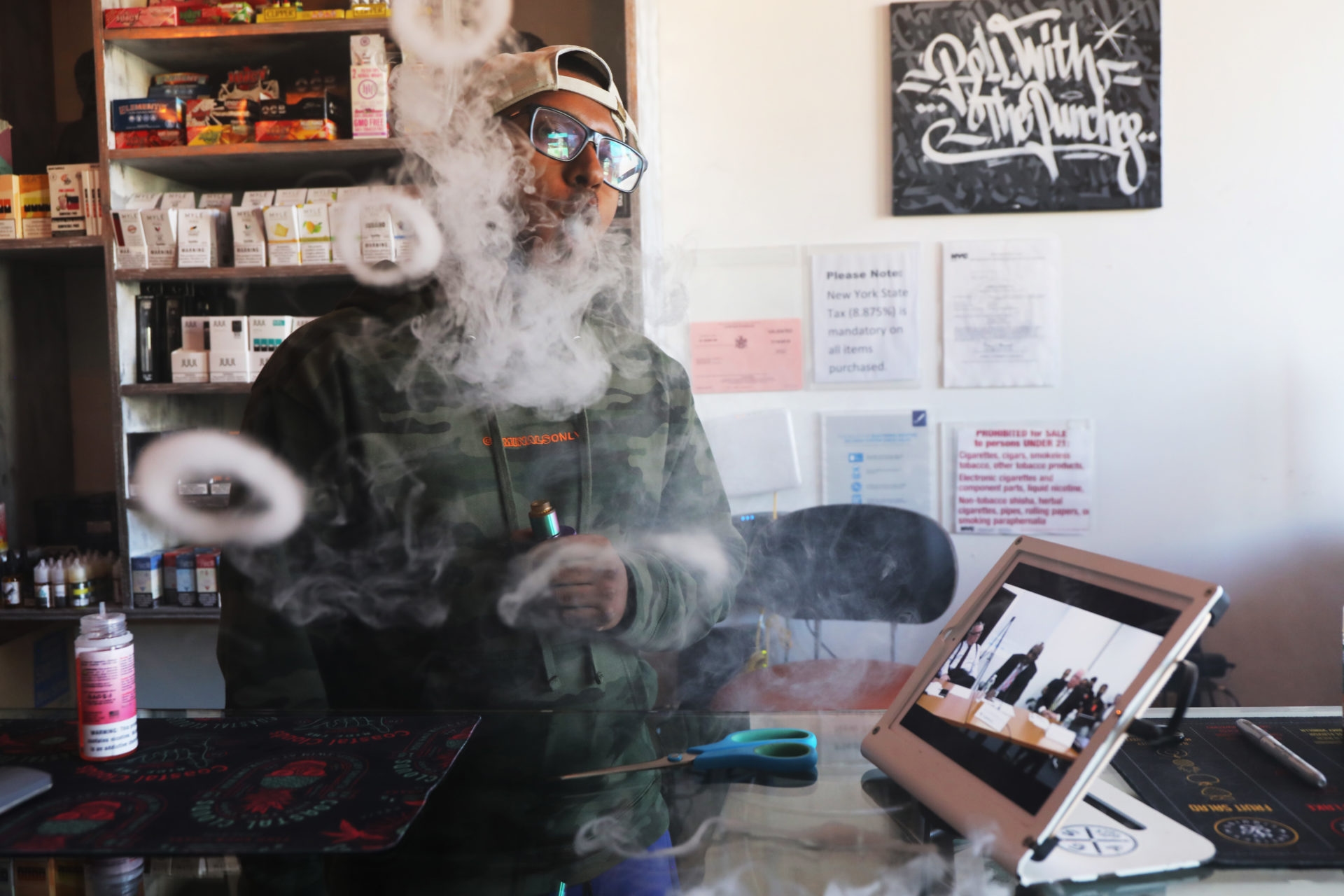 Key Takeaways
Nearly 3 in 5 Americans think recent deaths from lung disease are related to using e-cigarettes such as Juul (58%).

About a third think the fatal lung illnesses are linked to THC- and marijuana-containing vapes (34%).

The share of adults who think e-cigarettes are a healthier alternative to tobacco cigarettes has fallen since June 2018 to 22%.
Amid a multitude of reports about severe lung illnesses associated with vaping, federal health agencies have urged everyone to avoid electronic cigarettes and cautioned that pointing blame at any one brand, chemical or substance in isolation is premature. But even while federal officials say the investigation is inconclusive for now, Americans are drawing their own conclusions, largely coding the outbreak as a crisis of conventional e-cigarettes like those made by Juul Labs Inc.
While 34 percent of adults believe the lung disease deaths are related to using marijuana and THC-containing vapes, 58 percent say nicotine e-cigarettes such as Juul are to blame. That's from a new Morning Consult survey of 2,200 U.S. adults, conducted Sept. 12-14, suggesting Americans grasping for answers are attributing the outbreak to the vaping products they know better — even as experts say most affected patients were using vapes to smoke THC, the psychoactive substance in cannabis.
The growing spate of sickness in vape users has pushed the Food and Drug Administration to open a criminal probe into the supply chain of vaping products, seeking clarity on the cause of the illnesses that have impacted at least 530 people and killed seven so far. That coincides with new data from the Centers for Disease Control and Prevention detailing a rise in e-cigarette use among minors, prompting the Trump administration to expedite the process of pulling flavored products from shelves that health officials worry have put a new generation at risk of nicotine addiction. 
As images of young people blowing clouds of vapor have flooded newspapers and screens for the past several months, it has proven challenging to differentiate between the two related but distinct crises: the mysterious illnesses, and the surge in teen usage.
But on both fronts, the alarming news cycle has had a swift and powerful effect on public opinion of vaping.
The majority of Americans continue to believe electronic cigarettes are harmful, and with growing intensity: Asked to rate the harmfulness of vaping on a scale of 1 to 7, with 7 being "very harmful," 58 percent of Americans chose the highest score in the September survey, which has a margin of error of 2 percentage points. That's up 20 points from June 2018, the first time Morning Consult collected data on the subject.
It's also tilted the scales enough to cut the share of Americans who view e-cigarettes as less harmful than traditional tobacco cigarettes from 36 percent last June to 22 percent in the recent poll.
Juul is an obvious and familiar target for Americans seeking an explanation for the outbreak. It's been a difficult year for the e-cigarette giant, as it pays for increased brand awareness with its diminishing reputation.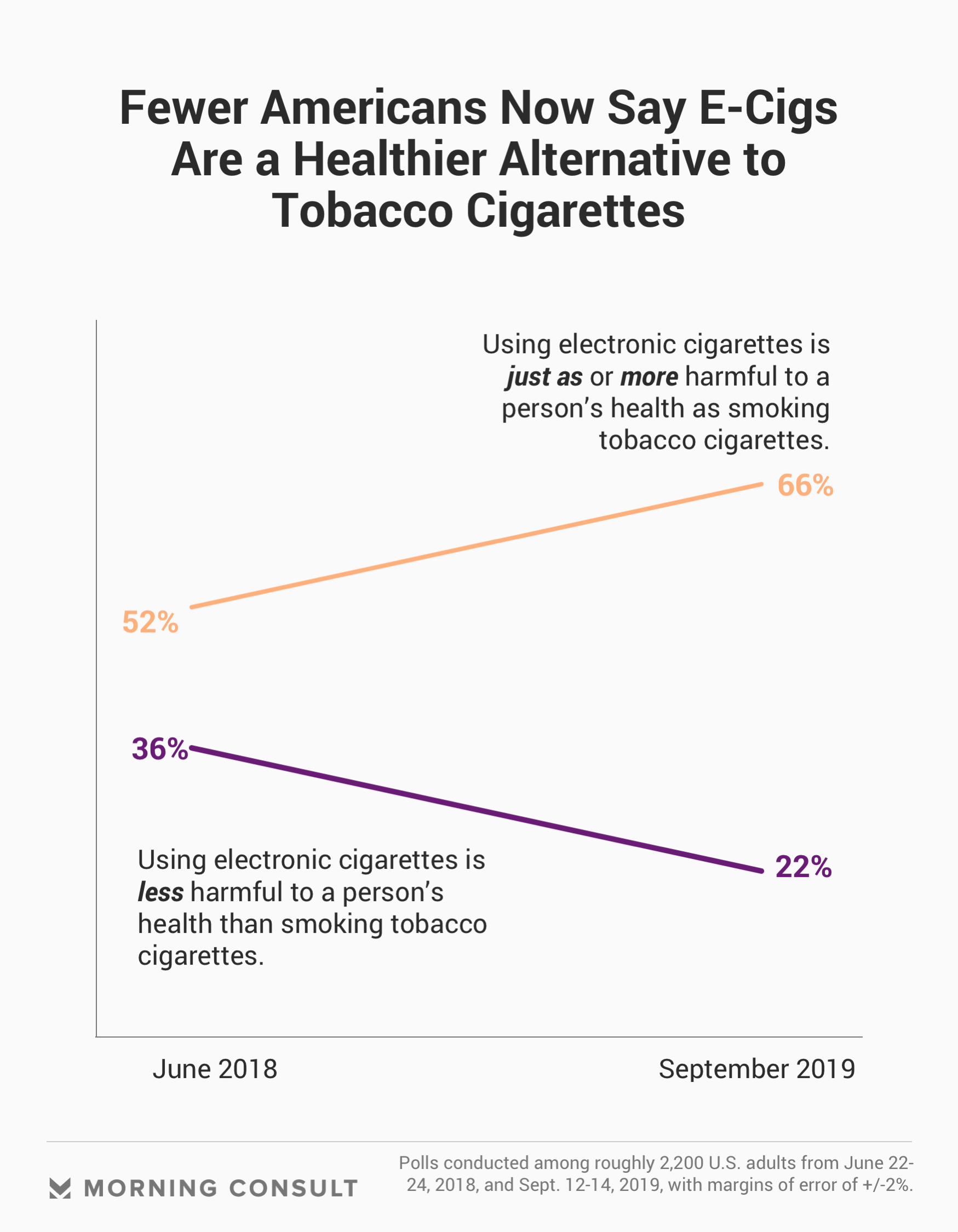 An e-cigarette company like Juul, which has positioned itself as a healthier alternative for adult tobacco cigarette smokers, now has to reckon with the fact that nearly two-thirds of the public holds e-cigarettes in the same or worse contempt as tobacco cigarettes. Given that the deleterious consequences of smoking tobacco cigarettes are well-known, the rising perception that vaping is not an improvement suggests people take the surging use among minors to be a serious public health threat.
In an email to customers this week, Juul President Bob Robbins attempted to assuage users' concerns about the lung illnesses, writing to confirm that Juul "does not manufacture products with THC, any compound derived from cannabis, or vitamin E compounds like those found in some cannabis-related products."
A vitamin E derivative was flagged by the FDA as a potential culprit after the agency found vitamin E acetate in cannabis vapes turned in by patients affected by the illness. While no substance or compound — including vitamin E — has been consistent across all FDA-tested samples thus far, the FDA is recommending everyone avoid THC vapes due to the possibility that they include vitamin E acetate, while the CDC is pressing Americans to avoid any and all e-cigarettes until investigators have some clarity.
Yusra Murad previously worked at Morning Consult as a reporter covering health.
We want to hear from you. Reach out to this author or your Morning Consult team with any questions or comments.
Contact Us