As Wildfires Rage, Divide Widens Between Democratic, GOP Voters on Climate Change
Majority of Republicans in poll now unconcerned over issue, while Democratic concern grows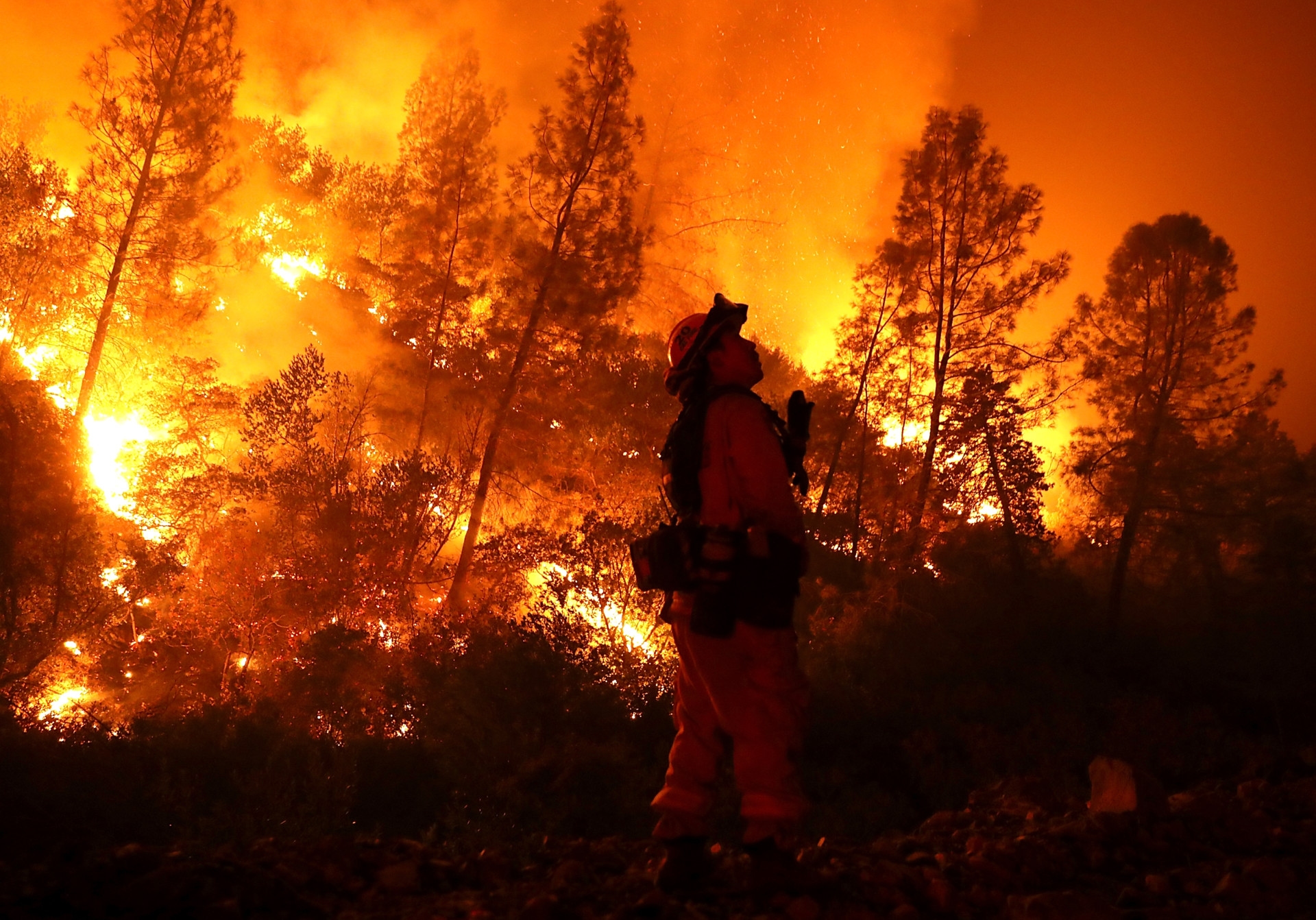 Key Takeaways
51% of Republicans are not concerned about climate change, up from 39% in September, during hurricane season.

88% of Democrats worry about climate change, an increase of 9 points from September.

Share of GOP voters who are concerned about the issue has fallen to 44%, from 57% in September.
When hurricanes battered the Gulf Coast last year, a majority of Republican voters expressed concern about climate change in a Morning Consult/Politico poll. Now, during this year's destructive wildfire season, which scientists have attributed partially to hotter weather patterns, a majority of Republicans say they are not worried about climate change, according to a new poll.
A total of 51 percent of GOP voters say they are either not too concerned or not concerned at all about the impacts of a changing climate on the U.S. environment, in a survey conducted Aug. 16-18 of a national sample of 1,974 registered voters. The survey's margin of error is 2 percentage points.
Of these respondents, 44 percent of Republicans now report being concerned -- receding 3 points from May and 13 points since September 2017. Last fall, at the height of last year's hurricane season, Republican concern about climate change hit 57 percent, a rise of 7 points from an April 2017 poll.
By contrast, Democratic voters' concern over climate change increased to 88 percent from 79 percent in September. The margin of error for the subsamples of the two parties in the latest poll is 3 percentage points.
Research has shown that "people's attitudes can be impacted by extreme weather events, but at least so far, we've seen that those attitudes revert to form, as it were, after a couple months," said Charles Kaylor, assistant professor at Temple University, by phone Tuesday.
Kaylor and fellow researchers have explored the impact of experiencing extreme weather events on people's climate concern and support for climate change adaptation policies. While Kaylor and his colleagues have not yet looked specifically at wildfires' impact on climate opinion, "it's bound to be budging opinion," he said.
In recent weeks, media outlets have widely covered the wildfires that are raging throughout the West; together, the dual Mendocino Complex fires in California's Lake and Mendocino counties have grown into the largest fire in the state's recorded history. Many of these stories have explored climate change's possible impact on the fires' intensity and frequency. 
Eighty-four percent of voters said they had heard some or a lot about this year's wildfire season, but the wildfires do not seem to have raised Republicans' climate concerns in the manner witnessed after Hurricane Harvey and amid Hurricane Irma.
The relationship between a more volatile climate and hurricanes is "a more intuitive connection for people," Jad Daley, president and chief executive of the conservation nonprofit American Forests, said by phone Monday. In comparison, one must "connect a couple of dots" to see the links between the changing climate and an increase in wildfires, he said.
Meanwhile, the Trump administration has framed the Western wildfire problem in terms unrelated to climate change. In tweets, President Donald Trump blamed California's fires on water restrictions, while Interior Secretary Ryan Zinke told Breitbart News that "environmental terrorist groups" are responsible for blocking active forest management practices.
Daley called the current debate over climate change and natural disasters a "blip," rather than a long-term trend.
"What we have right now is a political moment where the real consensus on climate change in the forest sector has never been stronger," he said, but climate change is currently at its most politicized.
Republicans are the only group of voters in which a plurality believes climate change is neither increasing the frequency nor the strength of natural disasters, according to the most recent Morning Consult poll. Majorities of Democrats and independents say they believe climate change is making natural disasters worse in those respects.
Overall, 61 percent of voters said that climate change contributed either some or a lot to recent disasters "such as this year's wildfires throughout the West." The same percentage of people in September said climate change played a role in natural disasters such as the hurricanes that hit Texas and Louisiana.
Broken down by party, 79 percent of Democrats now say climate change contributes to recent disasters, like the wildfires, compared to 39 percent of Republicans. In September, 74 percent of Democrats said it contributed to disasters like hurricanes, compared to 52 percent of Republicans.
Jacqueline Toth previously worked at Morning Consult as a reporter covering energy and climate change.
We want to hear from you. Reach out to this author or your Morning Consult team with any questions or comments.
Contact Us