To Compete With At-Home Workouts, Traditional Gyms Amp Up Virtual Offerings
23% of adults currently belong to a gym, down from 32% pre-pandemic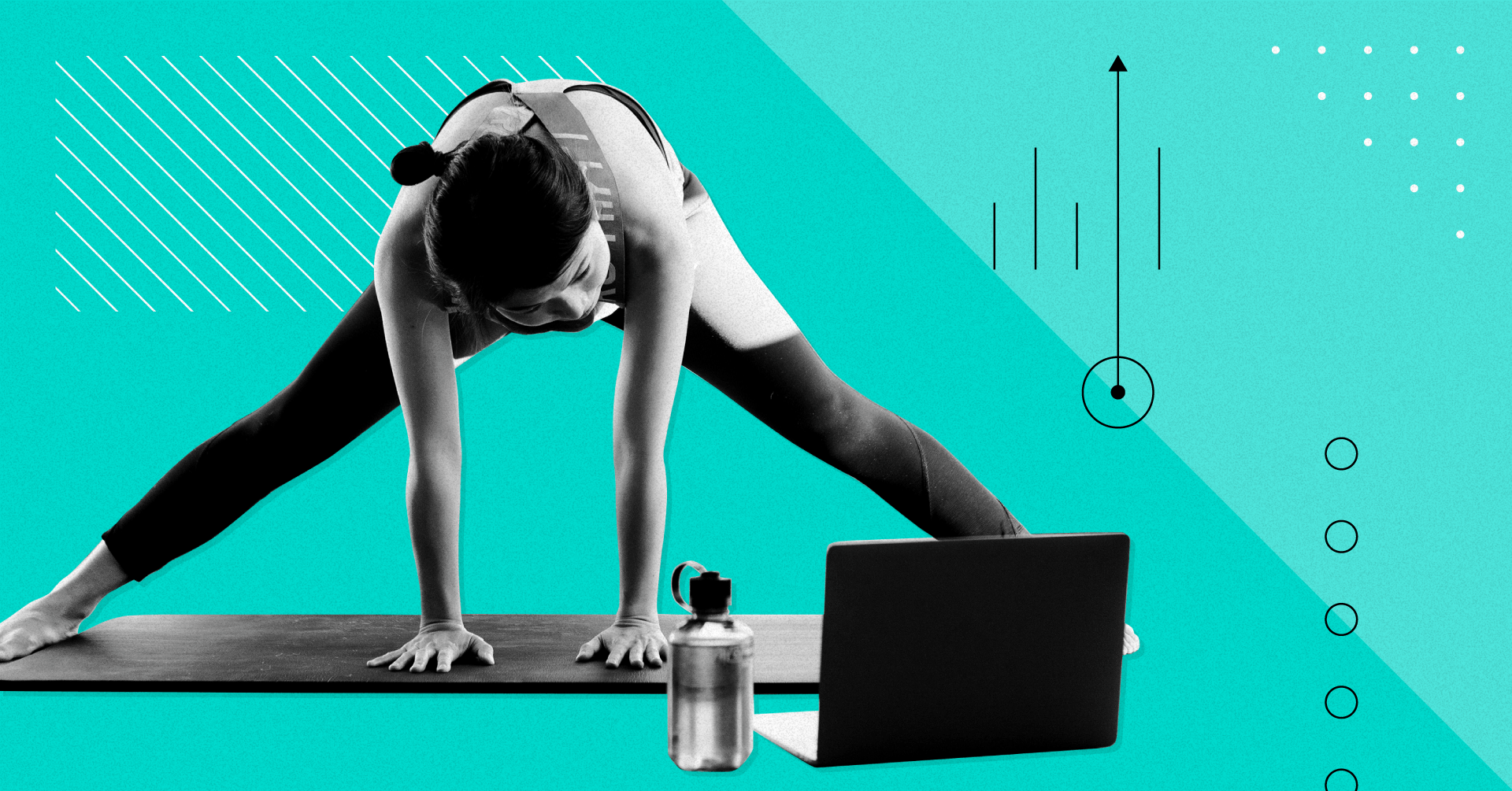 Key Takeaways
43% of U.S. adults said they canceled and then renewed a fitness membership during the pandemic.

18% returned to their regular gym memberships, but 17% now pay to work out online.
In January of any other year, gyms and fitness centers around the country would be packed with people hoping to shed some holiday weight and make good on New Year's resolutions. But this January, many are continuing to find workout solutions in their own homes.
Traditional gyms — including major chains and local boutiques — that have managed to stay afloat after 2020 are catching on to the trend and shifting their business plans to compete with the likes of Peloton Interactive Inc., Lululemon Athletica Inc.'s Mirror and other growing options in the at-home equipment and online workout spaces.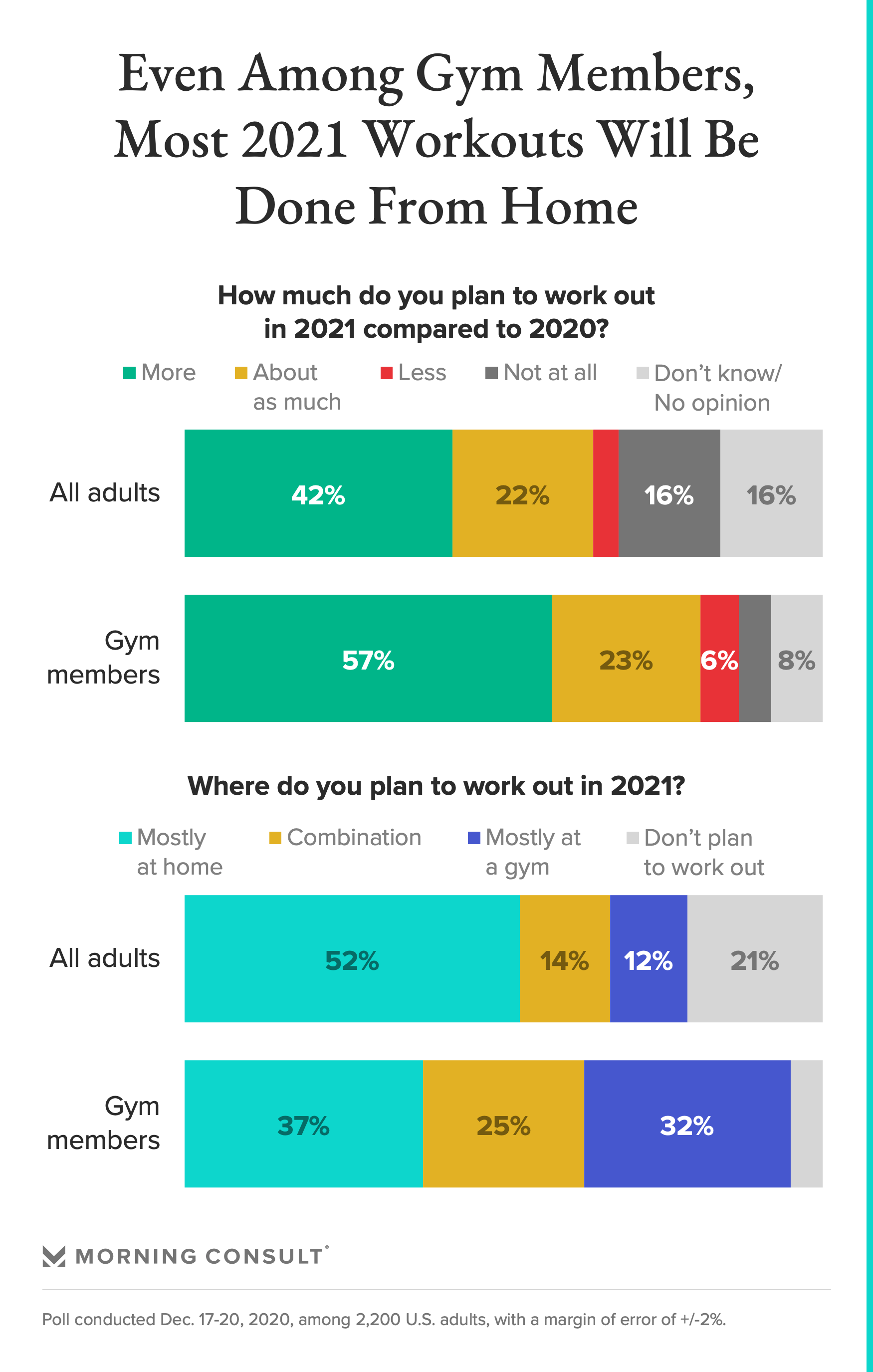 Forty-two percent of U.S. adults said they intend to work out more in 2021 than they did in 2020, according to a new Morning Consult survey conducted Dec. 17-20, 2020, but more than half of the public (52 percent) said they'll keep their workouts mostly at home. 
Even those with a gym membership foresee more living room workouts: 37 percent said they'll mostly work out at home, while 32 percent said they'll mostly exercise at the gym. One-quarter said their plan is a combination of the two.
Executives of brick-and-mortar gyms say providing online classes is helping to keep their members loyal, especially among those seeking to keep the cost of their workouts down.
"The people who have the space and the means to have real, significant exercise equipment in their homes will be the ones who take advantage of the digital-only exercise opportunities," said Todd Magazine, chief executive of Blink Fitness. "The vast majority of our members are looking for a more affordable combination of both." 
The global virtual fitness industry is growing steadily, with a market size valued at more than $6 billion in 2019 and expected to reach $59 billion by 2027, according to a report from Allied Market Research.
The at-home exercise industry was already growing before the global pandemic but has since skyrocketed as Americans look to avoid crowds. Similar to Peloton, Tempo, a company that provides home gym classes and products powered by artificial intelligence, reported an almost 500 percent increase in sales from February through July. And Tonal, another AI-powered personal training platform, said sales were up by more than 12 times year over year as of September.
The traditional health club industry, on the other hand, has already suffered losses amid the pandemic, with chains 24 Hour Fitness and Gold's Gym International Inc. filing for bankruptcy last year. 
Less than one-quarter (23 percent) of survey respondents said they currently belong to a gym, as of the December poll. That's down from the nearly one-third (32 percent) who said they belonged to one before the pandemic.
Among those who said they canceled a fitness membership at some point during the pandemic, 43 percent said they have, in some form, since re-upped it. Eighteen percent said they did so by returning to their regular gym, while 17 percent said they're now working out online, a trend that industry insiders say will likely continue in 2021. 
While many brick-and-mortar gyms still prioritize the in-person workout experience today, they also say they're prepared to meet members online for however long they need.
Crunch Fitness has offered streaming workout content within certain membership levels since 2013 through a platform called Crunch Live, and saw a thousand-fold increase in daily users when it made the platform available to all members in March 2020, said Chad Waetzig, Crunch's executive vice president of marketing and branding.
Activity on the platform, which includes more than 100 pre-recorded workout options that can be streamed from devices such as Apple TV and Samsung TV, dropped off in June when many gyms reopened, Waetzig said, but still remains several hundred times higher than it ever was before the pandemic. 
The vast majority of active users were already Crunch members when the pandemic hit, not newcomers specifically seeking at-home workout classes, Waetzig said. But Crunch isn't necessarily looking to recruit: It aims to retain existing members to compete with streaming fitness platforms such as Peloton, which posted a 100 percent jump in 2020 revenue to $1.8 billion.
"It was a way to stay engaged with members when we were closed, and now for members that don't feel comfortable enough coming back into the gym," Waetzig said. 
Consumers continue to express hesitation in returning to normal routines, including heading back to their gym. 
To keep step, Blink Fitness — which has 140 locations open or in development across the country — is taking a similar approach as Crunch. Early in the pandemic, Blink opened up its app with more than 500 on-demand classes to all members.
Since then, 65 percent of its members have downloaded the app, said Chief Executive Magazine. Members have logged almost 5 million workouts in person since the beginning of the pandemic, too, but Blink remains dedicated to the virtual space. Magazine said he's seen a pick-up in sales and check-ins since the New Year.
While Blink tends to appeal to consumers in lower- to middle-level income brackets — those who likely aren't spending thousands of dollars on trendy equipment instead of monthly gym memberships — other fitness companies are going after those who don't typically spend any money on exercise.
BurnAlong Inc., a wellness platform designed to make exercising more accessible to people of all ages and backgrounds, is working with nearly 900 fitness instructors and hundreds of local gyms such as YMCAs to help them pair physical workouts with at-home options, said Co-Chief Executive Daniel Freedman.
The goal, he said, is to engage people who don't normally work out at all — such as those who don't feel welcomed by the traditional fitness space or can't afford expensive at-home gear and equipment — while they're comfortable in their homes. Then BurnAlong encourages users to find local instructors they like enough to take their classes in person.
"If you want to get people to do something, you have to meet them where they are," Freedman said. "Gyms see us as an ally because they need to have online options."
BurnAlong has seen steady growth for the past three years, he said, including an especially rapid rise last year, when BurnAlong partnered with universities and major corporations seeking to provide online fitness access to their communities and employees. 
Boutique workout studios have moved into the digital fitness space as well.
In July, Boston-based fitness studio Turnstyle Cycle and Bootcamp started offering on-demand spin and bootcamp classes through video-hosting platform Wistia. Customers can access Turnstyle's content on the platform for $39 per month, a move that has added more than 100 active users per month so far, said Chief Executive Maggi Muirhead.
"It's definitely not what we would be making if we were open in person at full capacity, but any dollar helps," Muirhead said. "There are so many other competitors out there, because everyone has moved a lot of their offerings online, but it's a good way to keep people engaged, even if it's not a huge moneymaker."
This week, Turnstyle plans to expand its virtual workout catalog with one live-streamed class per day, in addition to the classes already available on Wistia, and intends to keep the programming available after the pandemic in anticipation of continued demand, she said.
While many across the fitness industry believe interest in in-person workouts will rebound after the pandemic, they also agree that online fitness classes are here to stay.
"People are going to want to go in person again," Freedman said. "The future of the fitness industry is symbiotic between the online and the offline, like it is with other industries."
Alyssa Meyers previously worked at Morning Consult as a reporter covering brands and marketing.
We want to hear from you. Reach out to this author or your Morning Consult team with any questions or comments.
Contact Us