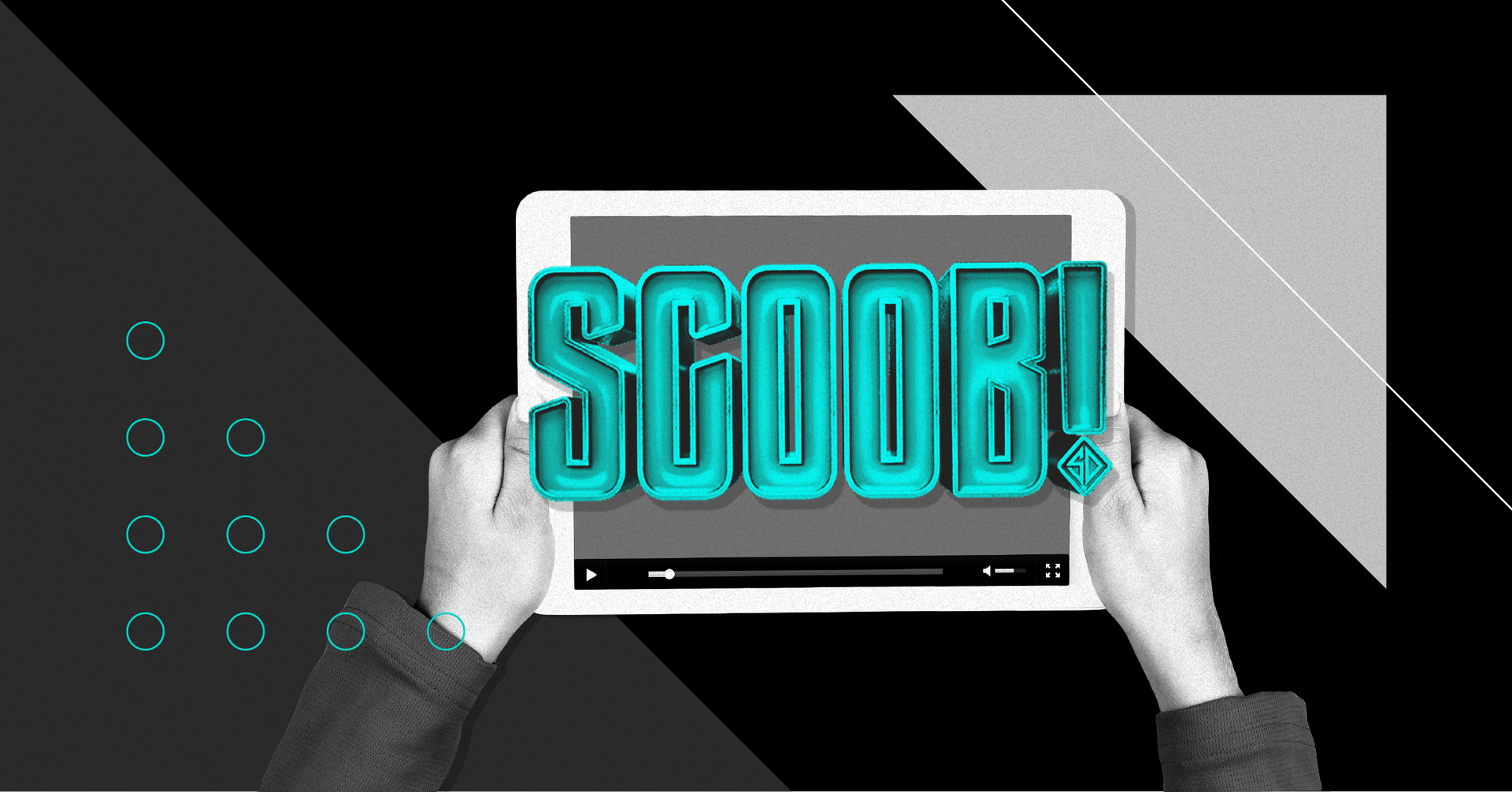 As the coronavirus pandemic shuttered movie theaters across the country in early 2020, Universal Pictures announced a dramatic move: It would break the window of theatrical exclusivity and make its recently released and upcoming titles immediately available via video on-demand platforms. This unprecedented move resulted in "Trolls World Tour," released April 10 as many states were still under shelter-in-place policies, reportedly becoming the highest-grossing opening day and weekend release ever for a film released digitally.
Universal Pictures subsequently announced that it will now release films day-and-date -- on-demand and in theaters at the same time -- igniting a feud with the two largest theater chains in the country, AMC Entertainment Holdings Inc. and Cineworld Group PLC, both of which said they would no longer screen films from the studio.
But analysis of the top video-on-demand titles in recent years illuminates Universal's decision: Data from The Numbers, a movie industry data website, finds that eight of the 20 top VOD films since 2014 are animated. Three in four films on the list had a PG-13 or PG rating, and half of the PG-13 titles are superhero movies. All of the animated films are Walt Disney Co. titles, with just one Universal film -- the R-rated "50 Shades of Grey" -- making into the top 20. And as Universal prepares to release its next big title on-demand, "The King of Staten Island," a non-animated flick, industry insiders are unsure of how the movie will perform digitally.
Looking at Comscore Inc. data since 2015, the average number of monthly set-top box VOD transactions peaked at 749.2 million in 2016, before steadily decreasing to a low of 664.1 million in 2019. Average monthly transactions have ticked up for 2020, averaging 708.8 million through May 2020. And PwC and Digital TV Research cited by Axios projects that VOD revenue will increase in the coming years, with transactional video on-demand revenue expected to total $10.7 billion by 2023. And analysts are not surprised by the success of the animated genre on VOD platforms. 
Parents have often looked to VOD films to entertain children at home, but new quarantine lifestyles have added an entirely different level to family viewing, said Bruce Nash, founder and owner of The Numbers.
"One of the big drivers for a lot of those films is that it's sort of a spur-of-the-moment purchase in order to satisfy an immediate need. And the type of films that do very well under that scenario are the ones that are very well known," he said. 
"Trolls World Tour," a sequel to 2016's "Trolls," took in $100 million in rentals in its first three weeks, according to a Wall Street Journal report, with the studio able to pocket 80 percent of the digital rental or purchase price compared to about 50 percent of box-office earnings.
Other studios have followed Universal's lead: Warner Bros. released "Scoob!" on VOD platforms on May 15 and Walt Disney Co. plans to stream "Artemis Fowl," a live-action family film, exclusively on Disney+ beginning June 12. Universal Pictures and Warner Bros. did not respond to requests for comment.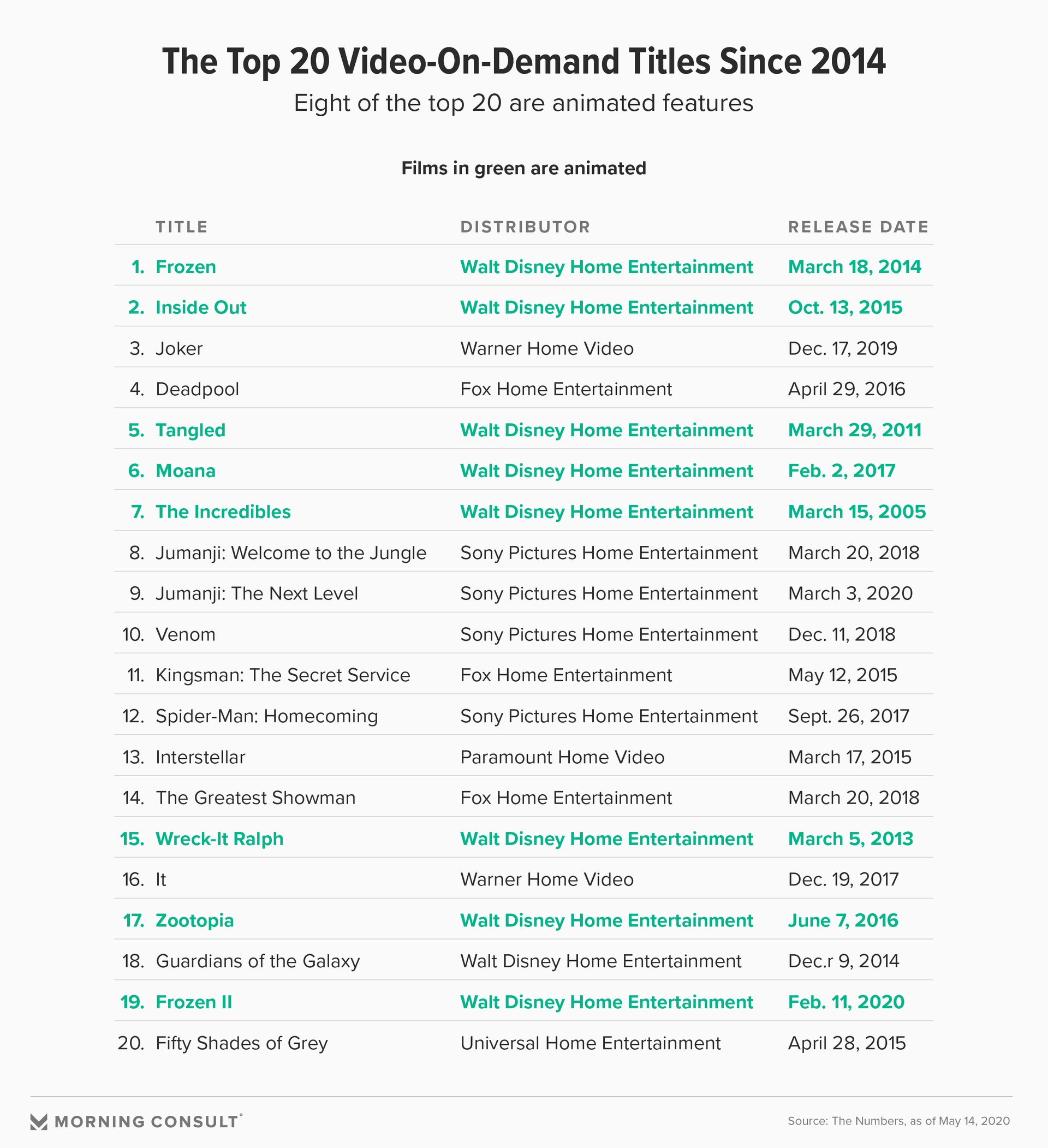 Even as movie theaters prepare to reopen ahead of the July 17 release of "Tenet," much of the public doesn't feel safe returning to their normal routines. A May 21-25 Morning Consult poll found that just 7 percent of adults -- as well as 8 percent of parents -- said they would feel comfortable going to a movie theater in the next two months.
Jeff Bock, senior box office analyst with Exhibitor Relations Co., noted that cost and affordability has bolstered the animated genre in the past and continues to do so during the pandemic. 
"A lot of times families can be priced out of going to the movies, which has always been an issue," Bock said in an email. Twenty dollars "for an entire family to view a film is a very reasonable breakdown in terms of price." 
"Trolls World Tour" and "Scoob!," along with other recently released live-action films, each retail for $19.99 on VOD platforms. A March 19-21 Morning Consult/The Hollywood Reporter poll found that while 53 percent of consumers would prefer to watch a new film for the first time at home, they want to pay no more than $8 to watch the movie. 
And though animated films have traditionally performed well in the at-home setting, the path for other genres is less certain, especially those with more select and restricted audiences. 
That includes Focus Features' "The High Note" and "Irresistible" -- rated PG-13 and R, respectively -- which will debut directly on VOD platforms. Films like these are targeted to a smaller audience than animated films, said Paul Dergarabedian, senior media analyst with Comscore, so their performance amid a pandemic is less certain. 
As some theaters across the country begin to reopen, studios will have to decide whether they will release their films on VOD or in theaters, especially as the global theatrical market opens at different rates. Some studios, for example, could release a film theatrically in countries where reopening has started and on VOD in others where movie theaters remain closed.
Bock added that without knowing how big blockbusters will perform with a simultaneous theatrical and VOD release, it's challenging to gauge how successful they will be with a home release -- but this doesn't signal the end for movie theaters. 
"Content wears the crown," he said. "If you give folks incentive to go to theaters because your product is Pixar-quality, then they'll show up. That's always been the key to success in the movie business."
Sarah Shevenock previously worked at Morning Consult as a reporter covering the business of entertainment.
We want to hear from you. Reach out to this author or your Morning Consult team with any questions or comments.
Contact Us