'Best of the Year!': Movie Blurbs Edge Out Festival Laurels in Increasing Film's Appeal
28% of those who saw poster featuring review quotes would see that movie vs. 23% for poster touting festival picks
Key Takeaways
30% of those who saw the poster with critic's quotes said the movie appeared prestigious, compared to 28% who said the same about the laurels and 25% for the plain poster.

On average, more than 46% of adults said they've heard nothing at all about film festivals such as Sundance and Toronto.
The Cannes Film Festival, which begins May 14, and the rest of the international film festival circuit are popular stops for films looking to make a splash during awards season come fall. But new polling shows that the laurels that denote a festival selection on a film poster appear to may have less of a role in attracting audiences than other factors such as reviews and award nominations.
The Morning Consult/The Hollywood Reporter survey of 2,201 U.S. adults split the sample so three groups each saw a different poster for a nonexistent film called "Missing Window." One poster featured the title only, another included laurels touting the film's inclusion in prestigious festivals such as Cannes, Sundance and Toronto and the third poster dropped the laurels in favor of fictitious excerpted quotes from several publications praising the movie.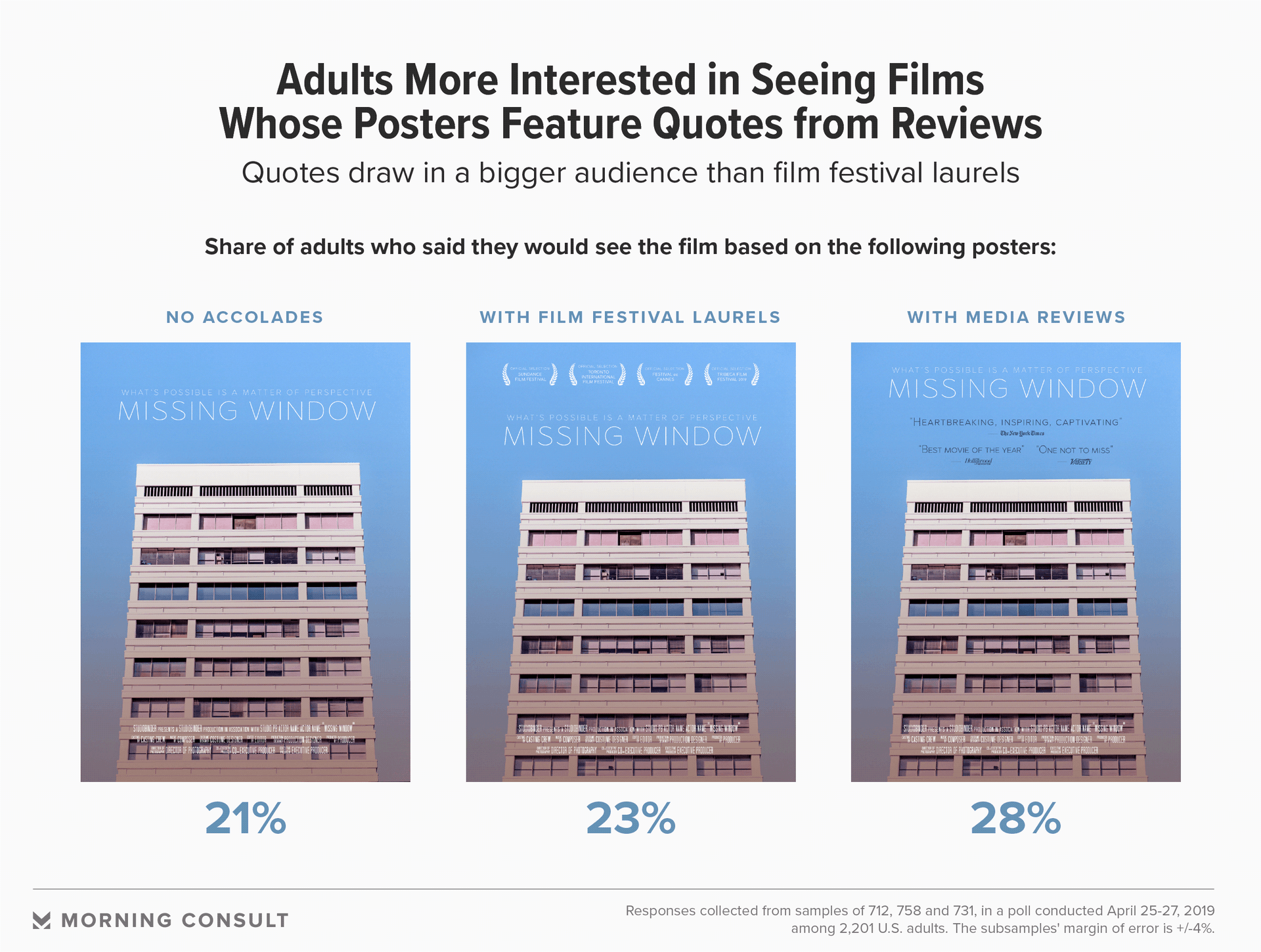 The April 25-27 poll found that 21 percent of adults who were shown the plain poster said they would see the film, while 23 percent of the adults that saw the laurel posters said they would see the film, well within each subsample's 4 percentage-point margin of error. But the poster with the review blurbs had 28 percent saying that they would see "Missing Window."
The blurbs also helped elevate the movie's profile in the viewers' eyes. A quarter said the plain poster was for a prestigious film, defined as "artistic and celebrated by the film industry." Twenty-eight percent said the poster with laurels was for a prestigious film, and 30 percent said the same for the poster with the quotes.
When respondents were not shown the mock posters and were simply asked what would have to appear on a movie poster make them want to see a movie, 39 percent said positive reviews from movie critics would make them more likely to see a movie, while 28 percent said the same about awards or official selections from film festivals. But 42 percent said the positive reviews from critics would have no effect on them either way, while 50 percent said the same about festival selections. The margin of error for these questions, which were answered by 2,201 people, was 2 percentage points.
Golden Globe and Oscar nominations or wins also influenced some consumers' interest in seeing a film, with 33 percent and 36 percent respectively, saying those wins would make them more likely to see a film, though these made no difference to more than 40 percent of respondents for each question.
Gary Faber, president of ERm Research, a research and marketing firm specializing in the film industry, said that even if laurels don't seem to impact an audience's desire to see a film, they can play an important role in a film's initial marketing.
"From a marketing standpoint, laurels are mainly used to give credibility, prestige and elevate a film's brand for a core, wave 1 audience — the audience that will drive word-of-mouth for the type of film," he said in an email, noting that most films that would use laurels on a poster are relying on word-of-mouth marketing to stand out from other films.
"Studios and filmmakers are proud when their films get selected into a festival, so why not shout it from the rooftops?" he said.
Ira Deutchman, a Columbia University film professor and film marketer and distributor, said laurels, in conjunction with other factors, can indicate that a film is important, but he cautioned that such importance may not be enough to drive audience interest.
"To say a movie is important alone does not give you enough information to be interested in a film," he said. "Whereas if you add it to a bunch of other information, then it actually can make a difference."
Among all adults, awareness of the major film festivals was low: Over half (53 percent) had heard nothing at all about the Toronto Film Festival, where eventual Best Picture Oscar winner "Green Book" won the People's Choice Award last year. Forty-five percent had seen, read or heard nothing about the Festival de Cannes, which has introduced Oscar-winning films such as Quentin Tarantino's "Pulp Fiction." The Sundance Film Festival, where recent Oscar winners "Call Me by Your Name" and "Get Out" have played, had the highest name recognition, with 46 percent of adults saying they had seen, read or heard some or a lot about the festival.
Anna Feder, film curator for the Bright Lights film series at Emerson College, said film festivals play an important role in marketing and build fans to promote a film's release.
"For filmmakers, it is an opportunity for them to learn how their film plays with a variety of audiences and to test out ways of marketing their film and to find new audiences they may not have even thought of," she said.
This story has been updated to restore a missing paragraph.
Sarah Shevenock previously worked at Morning Consult as a reporter covering the business of entertainment.
We want to hear from you. Reach out to this author or your Morning Consult team with any questions or comments.
Contact Us