Biden's $1.8 Trillion American Families Plan Is Supported by Nearly 60% of Voters
While just 1 in 4 Republicans back the package, they expressed more support for the proposal's individual provisions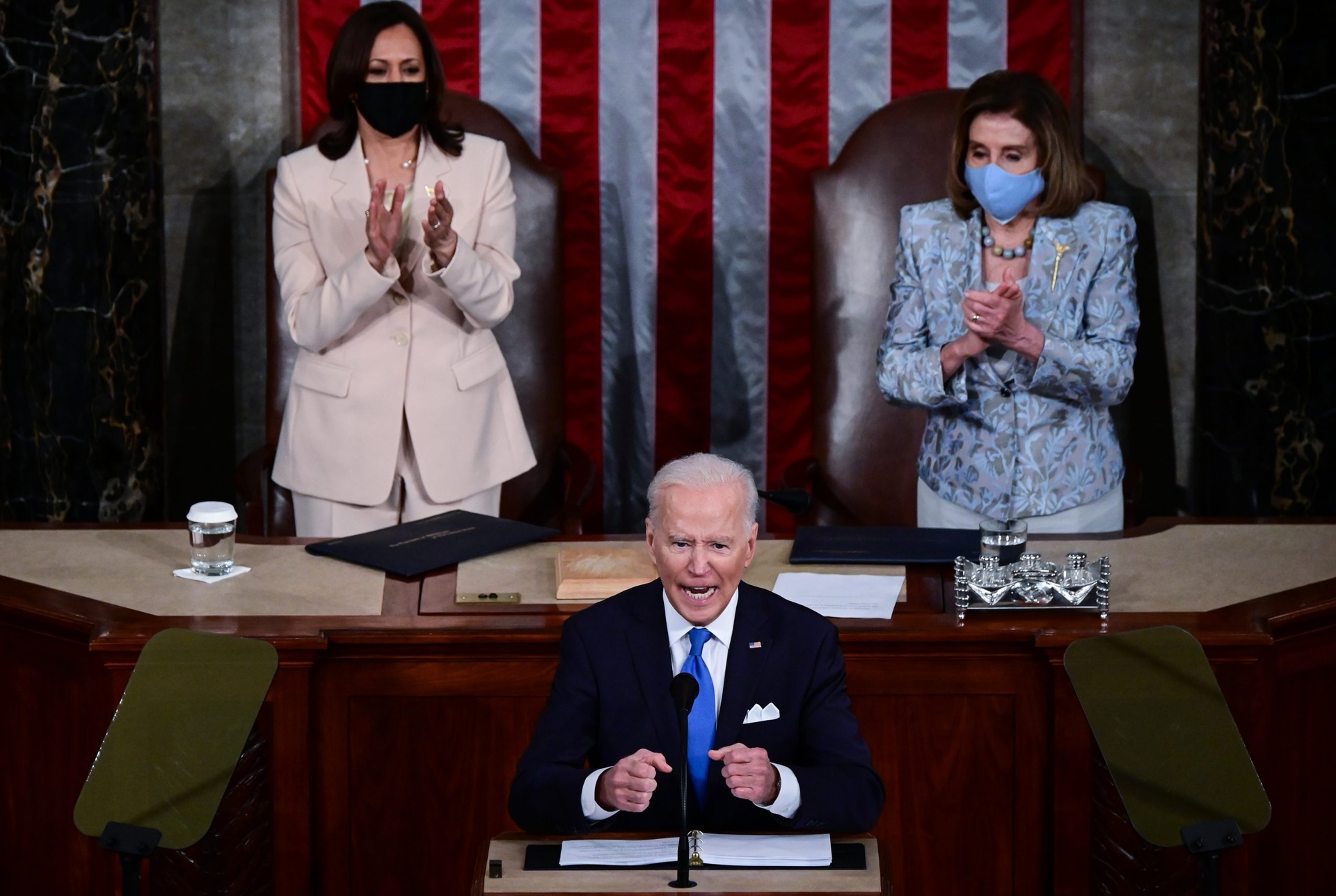 Key Takeaways
86% of Democrats support Biden's plan, compared with 54% of independents and 25% of Republicans.

Over 3 in 5 voters support child care subsidies for low- and middle-income workers and free preschool for 3- and 4-year-olds.

Two years of free community college is backed by 59% of voters.
President Joe Biden has spent the past week touting his $1.8 trillion economic spending plan that would reshape how the country thinks about a wide swath of domestic policies, from child care to free community college.
While Biden's plan faces a long road in Washington, it doesn't appear to be a hard sell for the electorate. According to a new Morning Consult/Politico poll, 58 percent of voters say they support the package. 
GOP lawmakers, who've raised concerns from the price tag to the scope of the proposal, appear increasingly likely to uniformly oppose the package; Senate Minority Leader Mitch McConnell (Ky.) recently said Democrats can expect "zero" support from Republicans in Congress. Among voters of that party, only a quarter say they support Biden's families' plan.
That's a far cry from polling on Biden's earlier economic policies, which saw high levels of support from Republican voters.
Biden's latest proposal, branded as the American Families Plan, is overwhelmingly popular with Democrats at 86 percent support, while 54 percent of independent voters back the plan. A good portion of independents (19 percent) don't know or have no opinion.
The poll, conducted in the days after Biden's address to Congress unveiling the plan, shows that most of the individual provisions in the package are more popular among voters than the plan overall -- something to keep in mind as Biden reportedly considers splitting his proposal into multiple parts to reach a bipartisan compromise. 
One provision -- ensuring that low- and middle-income families pay no more than 7 percent of their income on child care -- garnered support from 64 percent of voters, followed closely by free preschool for all 3- and 4-year-olds at 63 percent.
Even the least popular measure listed -- two years of subsidized tuition for low- and middle-income students at historically Black colleges and universities and other minority-serving institutions -- garnered support from 56 percent of voters.
Republicans more strongly support the individual measures over the entire proposal. The most popular measure overall -- capping child care costs at 7 percent of low- and middle-income families' pay -- saw 45 percent backing from GOP voters.
Two years of free community college received 34 percent support from Republicans, and universal free preschool for 3- and 4-year-olds got 42 percent support.
The survey was conducted April 30-May 3 among 1,991 registered voters, and has a margin of error of 2 percentage points. 
Claire Williams previously worked at Morning Consult as a reporter covering finances.
We want to hear from you. Reach out to this author or your Morning Consult team with any questions or comments.
Contact Us