Voters — and Especially Independents — Split Over Biden Order to Revoke Keystone XL Permit
Voters largely back other climate and energy orders, like rejoining Paris deal, reviewing fuel efficiency standards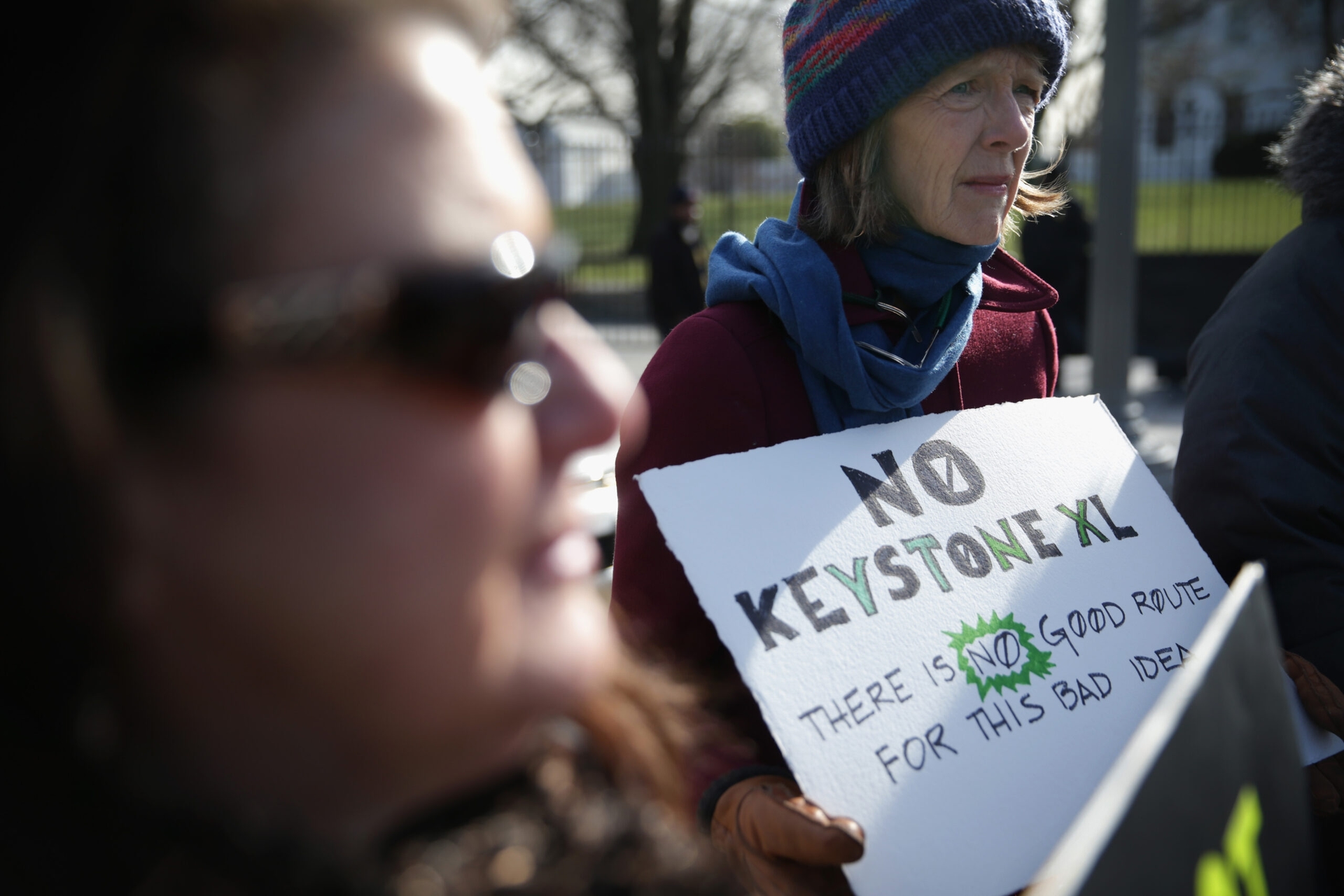 Key Takeaways
Over 3 in 5 voters support Biden's decision to review vehicle emissions standards.

Just 14% of GOP voters support Biden's order on the Keystone XL permit, compared with two-thirds of Democrats.
President Joe Biden's flurry of executive orders in his first week on the job has received a mixed reception, with Republicans predictably more skeptical than their Democrat counterparts.
New Morning Consult/Politico data illustrates a particularly stark divide in the case of Biden's revocation of a permit for the Keystone XL pipeline, which had single-digit net support (percent in support minus percent opposed) among all voters and negative net support from both independents and Republicans.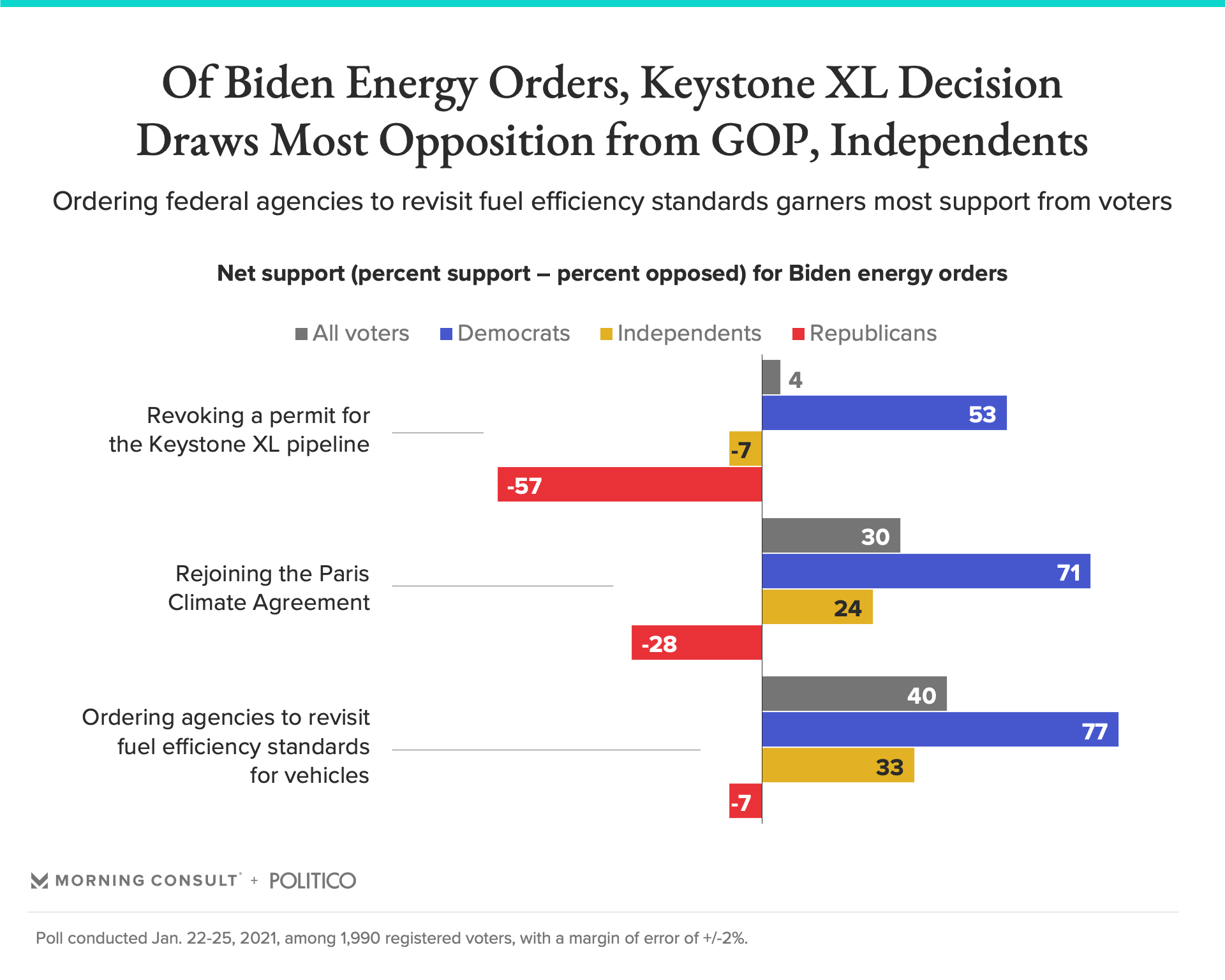 Asked whether they support or oppose three high-profile energy executive orders signed by Biden on his first day in office, voters were most lukewarm toward the Keystone XL decision, with 42 percent in support and 38 percent opposed (net support of plus-4).
This reflects the controversy that has mired the oil pipeline since its start, a project that many Republicans have championed as a support for energy independence, while Democrats have soured on the investment in fossil fuel infrastructure amid the growing impacts of climate change. 
Sixty-six percent of Democrats backed Biden's revocation of the permit (versus 13 percent opposed), nearly the inverse of the just 14 percent of Republicans in support (and 71 percent opposed).
Independents were split: 33 percent in support and 40 percent opposed.
Two of Biden's other energy-related orders -- rejoining the Paris Climate Agreement and ordering agencies to revisit fuel efficiency standards for vehicles -- were more popular, with backing from 56 percent and 62 percent of voters, respectively.
From independents, the Paris agreement executive order enjoyed net support of plus-24 and the fuel economy action was even higher at plus-33. Republicans had negative net support for each of the three orders. 
These orders demonstrate Biden's executive privilege, which will play a significant part in his pledge to speed the transition to a zero-emissions economy.
However, that privilege has its limits, and while Biden ostensibly has a mandate to lead via his party's majorities in both chambers of Congress, the Democrats' margin is small enough that policies appealing to moderates and independents -- such as those related to fuel economy standards -- may have a better chance of becoming reality. 
Biden will reportedly sign another batch of climate-related executive orders today, including one asking federal agencies to determine the scope of a ban on new oil and gas leases on federal land and waters.
The Morning Consult/Politico survey of 1,990 registered voters was conducted Jan. 22-25 and has a margin of error of 2 points.
Lisa Martine Jenkins previously worked at Morning Consult as a senior reporter covering energy and climate change.
We want to hear from you. Reach out to this author or your Morning Consult team with any questions or comments.
Contact Us