Voters Back Range of Potential Biden Environment Policies by Comfortable Margins
GOP voters are more skeptical than Democrats, but a majority of voters back policies that would reduce emissions, center climate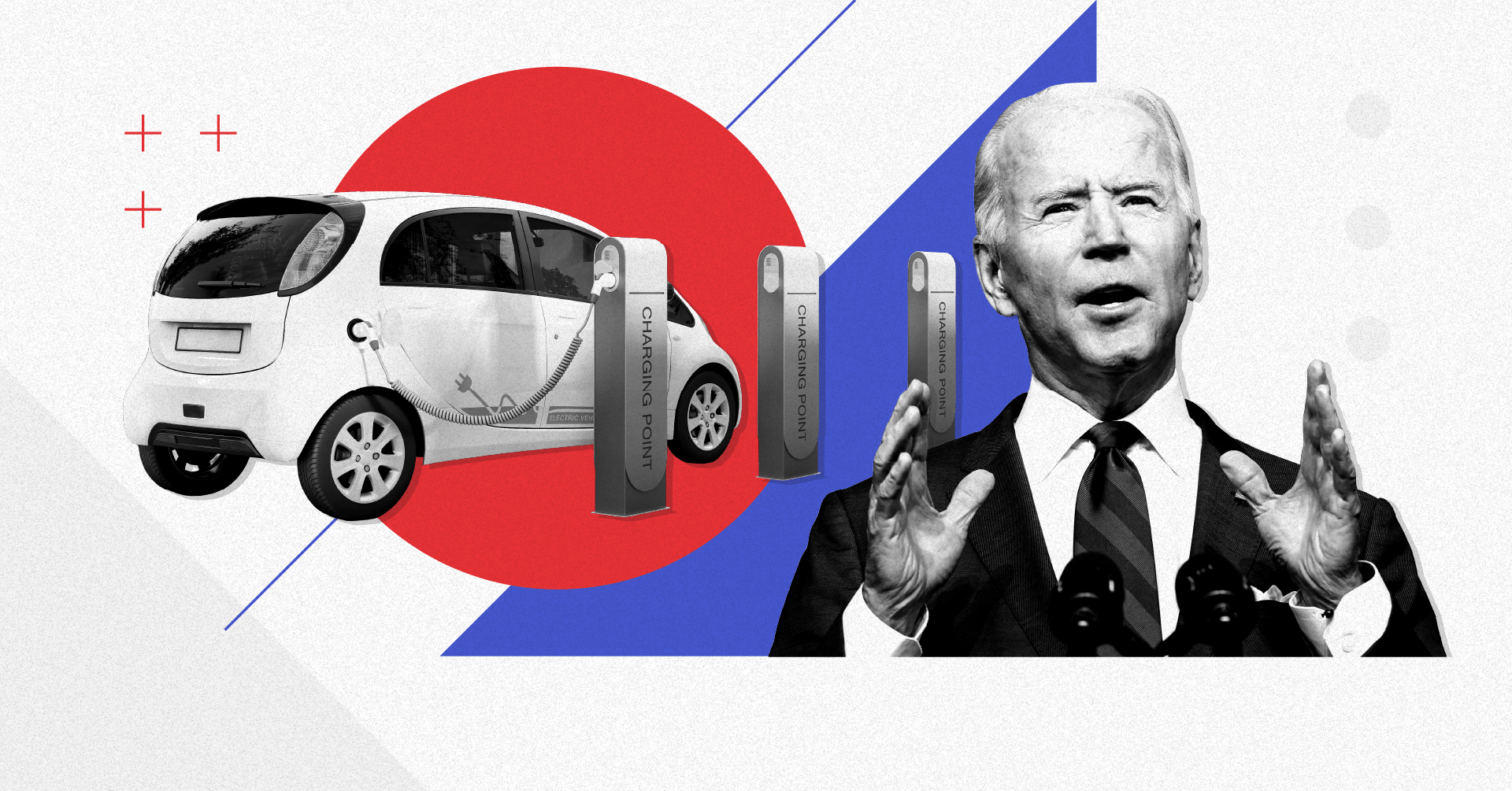 Key Takeaways
Requiring public companies to disclose emissions and increasing fuel economy standards are the most popular policy options, with about 3 in 5 voters supporting each.

Blocking federal permits for proposed energy and mining projects that would threaten vulnerable habitats is next on the list, with backing from 59 percent of voters.

Establishing a new, cross-agency Advanced Research Projects Agency (ARPA-C), focused on climate is lowest on the list, with support from just over half of voters and about a quarter saying they don't know or have no opinion.
This is part of a suite gauging Americans' priorities for the incoming administration on a variety of pressing issues in the political, policy and business spaces. See our other work analyzing voters' preferences on health care, the economy, finance, housing and the general approach to governing, as well as how marketing leaders can look to flourish in a political landscape that is growing increasingly divided.
As a candidate, Joe Biden made climate action a central part of his campaign, and it is consequently no surprise that the swaths of Democrats who voted him into the White House supported such action. But does the partisan backing for his campaign pitches translate into broader support for the policy options confronting a President Biden upon his inauguration? 
A new Morning Consult poll finds that indeed it does. Faced with a list of nine policy options that a Biden administration could take on the environment, at least half of registered voters were in support of all of them. 
The most popular of these -- requiring that public companies disclose climate risks and the greenhouse gas emissions from their operations and supply chains -- garnered support from 63 percent of voters. Meanwhile, the least popular -- establishing a new, cross-agency Advanced Research Projects Agency (ARPA-C), focused on climate -- had the backing of 51 percent of the electorate, and 24 percent reported that they didn't know or had no opinion on the somewhat wonky proposal. For all options, opposition hovered around a quarter of respondents.
Other options include increasing fuel economy standards for new vehicles, blocking federal permits for proposed energy and mining projects that would threaten vulnerable habitats, placing limits on methane emissions from oil and gas operations and making public investments in automobile infrastructure, including 500,000 electric vehicle charging stations.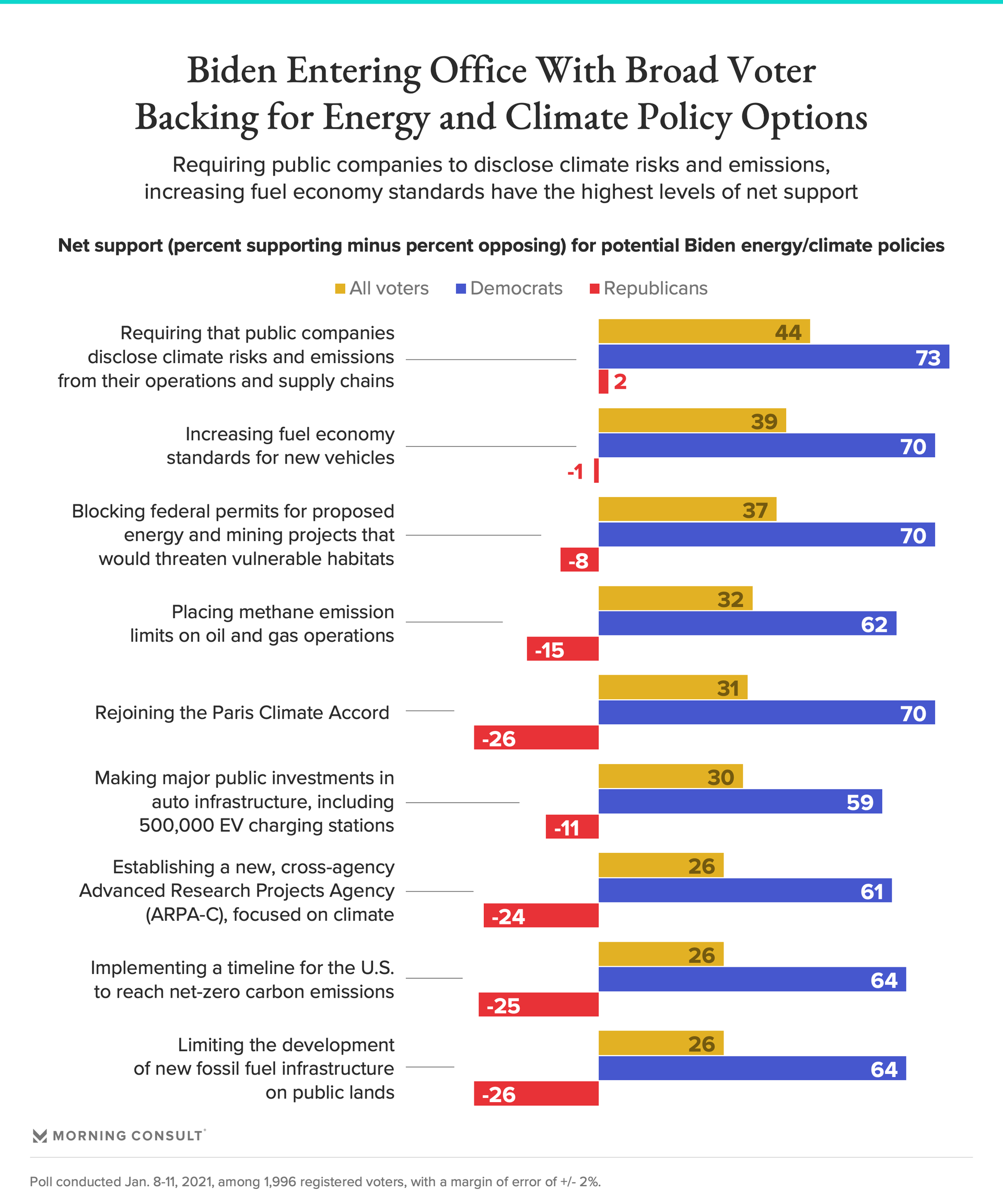 Net support (percent in support minus percent opposed) from voters for all of these options was comfortably above water, though from Republicans just one policy -- requiring climate risk and emission disclosure -- held net positive support. 
And in total, at least 25 percent of Republicans backed all the proffered policies.
The other options that Republicans seemed most skeptical of are those that saw the spotlight during Biden's campaign, like rejoining the Paris climate accord (which Biden has said he will do on his first day in office); implementing a timeline for the country to reach net-zero carbon emissions (Biden's campaign floated 2050 as an economy-wide goal); and limiting fossil fuel infrastructure development on public lands (as Biden committed to amid controversy over his refusal to say he would like to ban natural gas development outright).
While Biden can make progress on many of these policies via executive order, to fully realize some of his goals of reducing emissions and focusing on climate action, cooperation with the legislature will be a necessity. With Democrats Jon Ossoff and Rev. Raphael Warnock winning their respective Georgia Senate races earlier this month, Biden will be entering office alongside a slim Democratic majority in Congress, meaning a number of more ambitious climate and energy policies that once seemed improbable are likely more doable. 
This is especially true of those that appeal to moderate Senate Democrats like Joe Manchin (W.Va.) and even to Republican Lisa Murkowski (Alaska), who led the Senate Energy and Natural Resources committee in the 116th Congress and has said she is considering leaving the GOP. 
The Jan. 8-11 poll surveyed 1,996 registered voters and has a margin of error of 2 percentage points.
Lisa Martine Jenkins previously worked at Morning Consult as a senior reporter covering energy and climate change.
We want to hear from you. Reach out to this author or your Morning Consult team with any questions or comments.
Contact Us