With Unexpected Senate Twist, Biden Is Facing Tricky Political Landscape on Student Loan Forgiveness
Biden's $10,000 student loan forgiveness plan more popular than progressive-backed $50,000 plan
Key Takeaways
56% of adults say they strongly or somewhat support the $10,000 student loan forgiveness plan Biden endorsed during his campaign.

About 3 in 10 say they strongly or somewhat oppose Biden's plan.

46% say they support the plan preferred by progressive lawmakers to cancel $50,000 in student loan debt per borrower.
This is part of a suite gauging Americans' priorities for the incoming administration on a variety of pressing issues in the political, policy and business spaces. See our other work analyzing voters' preferences on health care, the environment, the economy, finance and the general approach to governing, as well as how marketing leaders can look to flourish in a political landscape that is growing increasingly divided.
President-elect Joe Biden is inheriting an electorate in debt. Unlike his last tenure in federal office, much of that debt is in student loans, and how to grapple with that will be one of the most significant economic policy issues his administration will face in the next four years.
Since the 2008 financial crisis, student loans have grown more than any other kind of consumer debt, reaching nearly $1.6 trillion. Delinquencies for student loans also run much higher than other kinds of loans, and unlike other debt, borrowers can't shrug it off, even if they go through bankruptcy.
Not only is this a problem for borrowers, but proponents for student loan forgiveness have argued that policies geared toward relieving student debt burdens would help the economy overall. During his campaign, Biden said he would sign legislation that canceled $10,000 in student debt for borrowers who make less than $125,000 a year. And in the runup to his inauguration, the first concrete promise Biden made for his incoming administration was centered on student loans -- a transition official said that on "Day One," the president-elect would direct the Department of Education to extend the pause on federal student loan payments.
So far, Biden's $10,000 proposal, along with the idea of student debt relief, has proved popular among the public, according to a new Morning Consult poll.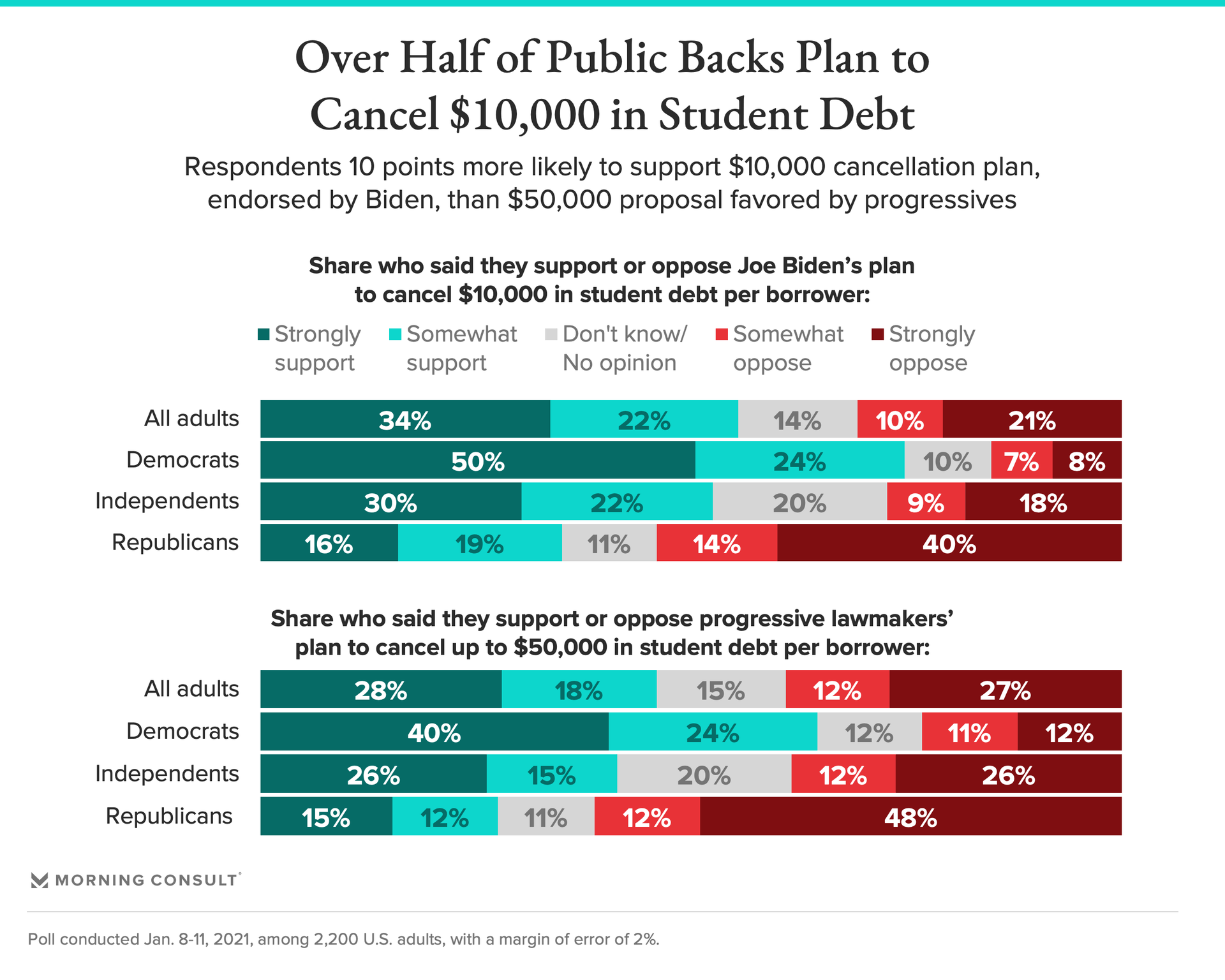 Thirty-four percent of adults said they "strongly" support the plan Biden endorsed during his campaign. Another 22 percent said they "somewhat" support the plan, while 31 percent said they either strongly or somewhat opposed it.
The levels of support were higher among Democrats, with half saying they strongly support the plan, and another 24 percent saying they somewhat support it. Only 15 percent said they strongly or somewhat opposed Biden's student debt relief plan.
Support among Republicans was markedly lower: 35 percent said they support the plan, while 54 percent said they oppose it.
Independents swayed more toward backing the student debt relief plan at 52 percent versus 27 percent opposing it.
But fulfilling the more opaque pledge to address student debt could be a tricky political prospect. With an unexpectedly split Senate, passing some form of long-term relief is suddenly a more realistic possibility, and Biden will likely have to balance the calls from progressives in his party to seek more ambitious levels of forgiveness, with caution from moderates.
Progressives in Congress, including Sen. Elizabeth Warren (D-Mass.) along with Minority Leader Chuck Schumer (D-N.Y.), have advocated for high levels of debt forgiveness, up to $50,000 per borrower -- likely a higher figure than Biden will want to pursue. Others, meanwhile, have argued that student loan forgiveness would be an expensive bailout for some individuals, particularly the wealthy and well-educated.
In comparison to Biden's plan, progressive lawmakers' proposal of up to $50,000 in relief per borrower had less support among the public. Overall, 28 percent said they strongly supported the $50,000 plan, and 18 percent said they somewhat supported it. Thirty-nine percent said they oppose the $50,000 relief proposal.
Party split trends were similar for the more ambitious student debt relief plan: A combined 64 percent of Democrats support canceling up to $50,000 in student debt per borrower, compared to 27 percent of Republicans and 41 percent of independents.
There could, however, be some argument that criticisms of student debt relief are resonating with Americans. 
More than half (52 percent) said they somewhat or strongly agreed that student debt relief would largely help those who are already better off economically, including 47 percent of Democrats and 58 percent of Republicans. Forty-eight percent of adults disagreed with that statement.
A larger share thought that student debt relief would offer broader economic benefits. Sixty-five percent said that forgiving some student debt would improve the economy, compared to 35 percent who disagreed with that idea. 
Claire Williams previously worked at Morning Consult as a reporter covering finances.
We want to hear from you. Reach out to this author or your Morning Consult team with any questions or comments.
Contact Us