Voters Increasingly Likely to Prioritize a Person of Color as Biden's VP Pick
Heightened importance comes amid demonstrations for the popular Black Lives Matter movement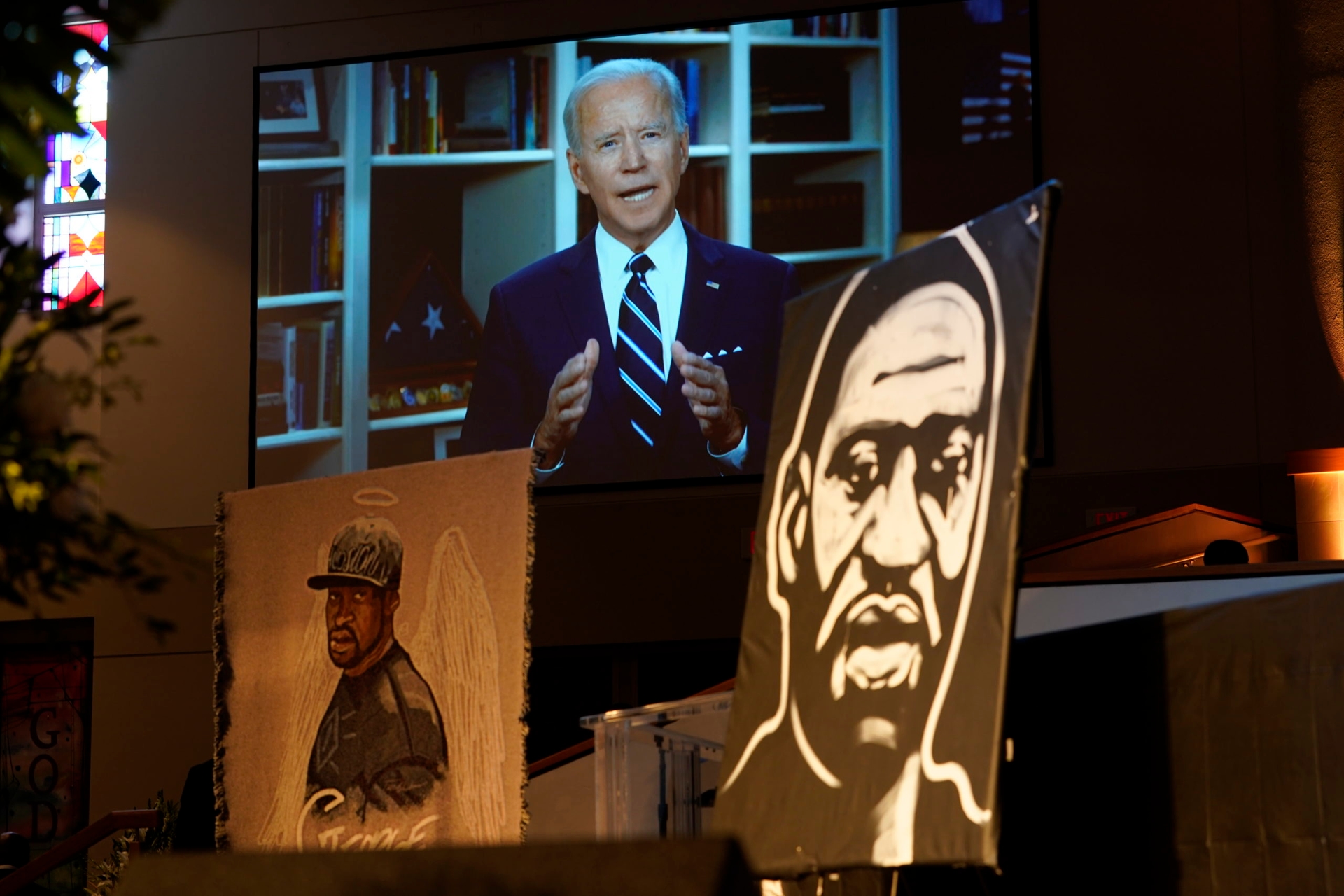 Key Takeaways
29% of voters said it was important for Biden to pick a person of color as his running mate, up 7 points from April, a change driven by whites and liberals.

61% view Black Lives Matter favorably, compared to 37% in August 2017.
Presumptive Democratic presidential nominee Joe Biden is facing more pressure to pick a woman of color as his vice presidential running mate as racial issues rise to the forefront amid nationwide demonstrations for the increasingly popular Black Lives Matter movement.
A new Morning Consult/Politico poll found 29 percent of registered voters said it was very or somewhat important for Biden to pick a person of color as his vice presidential nominee, up 7 percentage points from an April survey, while the share who said it was not important fell 5 points to 48 percent. Both polls surveyed roughly 2,000 registered voters each, with 2-point margins of error.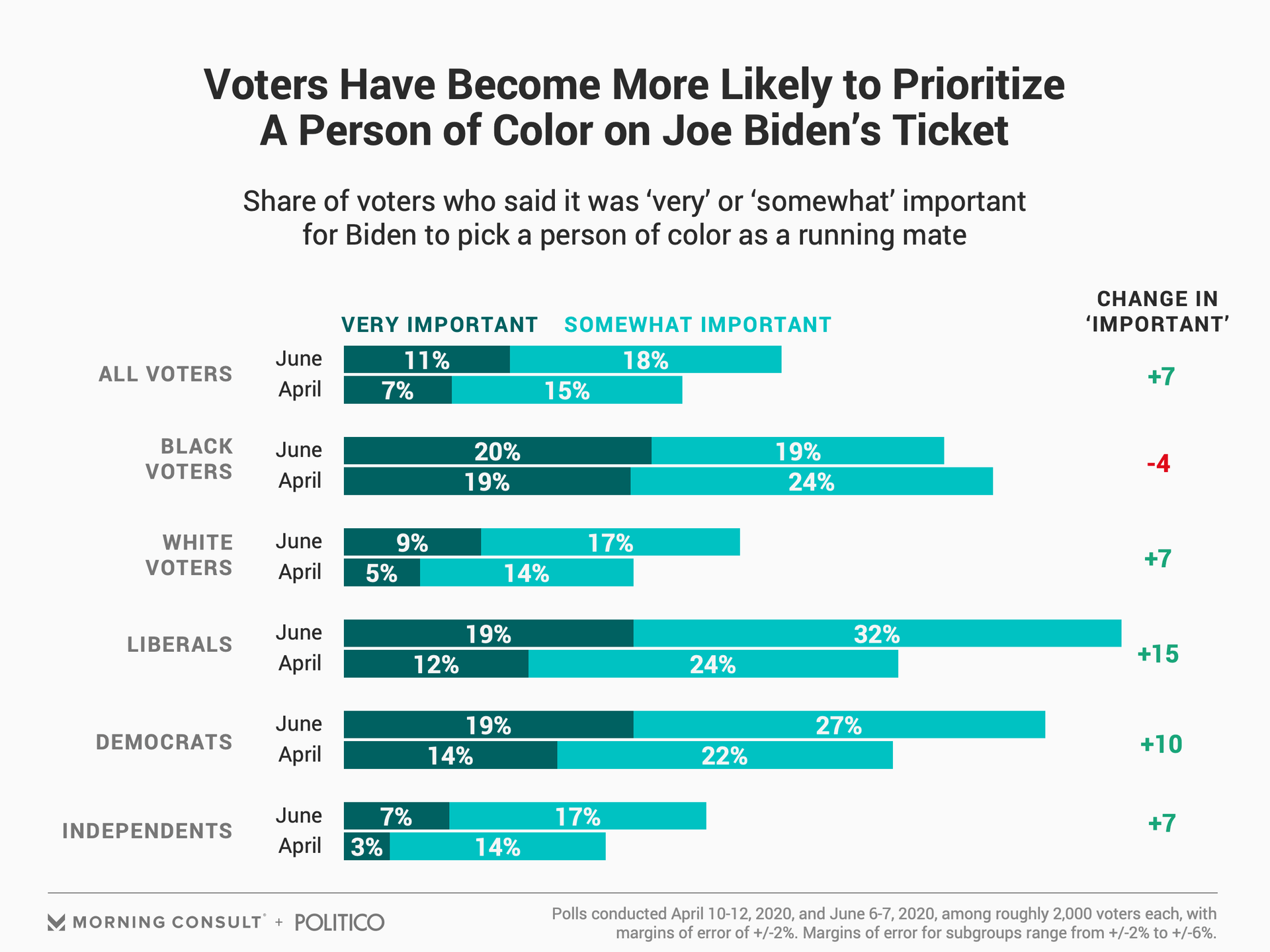 The shift was not driven by black voters, as roughly 2 in 5 already prioritized putting a person of color on the ticket. Rather, white voters have become more likely to say it's important for Biden to pick someone who isn't white -- with that number rising 7 points to 26 percent since the April 10-12 poll.
Biden has already pledged to choose a woman to join his ticket, and has faced calls to pick a black running mate. The list of potential choices is said to include Sen. Kamala Harris (D-Calif.) and Rep. Val Demings (D-Fla.), as well as Atlanta Mayor Keisha Lance Bottoms and her fellow Georgia Democrat, Stacey Abrams. 
The protests sparked by the alleged murder of George Floyd by a Minneapolis police officer last month have increased that pressure. Aimee Allison, founder and president of She the People, a group that advocates for women of color in politics, said the moment begs for a black woman's leadership.
"Joe Biden needs to inspire historic turnout among communities of color to win in November and needs a police accountability and racial justice champion on the ticket," she said in an email. "It is clear that a Black woman on the ticket is not only strategic for the campaign, but is the missing link in guiding the country through this crisis." 
All four potential vice presidential candidates hold the characteristics that the broader electorate is most likely to prioritize: legislative or executive experience. But Demings, a former police chief, and Harris, a former state attorney general, also have experience in law enforcement -- a quality which, at 49 percent, black voters are 11 points more likely to describe as important in Biden's prospective No. 2 than the overall population.
Muriel Bowser, mayor of Washington, D.C., has also sparked recent interest. A supporter of former New York City Mayor Mike Bloomberg's brief presidential campaign, Bowser caught national attention when she pushed back on President Donald Trump's militarization of her city's streets during protests, ordered D.C.'s public works department to paint "Black Lives Matter" in bright yellow letters on a stretch of road leading up to the White House and renamed that part of the street "Black Lives Matter Plaza."
While her views on policing have raised alarms among some black activists protesting in the nation's capital, Bowser's signaled embrace of the "Black Lives Matter" movement taps into its growing popularity. 
Compared with a Morning Consult/Politico poll conducted in August 2017 following a deadly clash between white supremacists and counter-protesters in Charlottesville, Va., the share of voters who view the movement favorably has increased 24 points, to 61 percent, while the share with unfavorable views has dropped 18 points to 30 percent. The most recent poll found that Black Lives Matter is more popular among voters than either Trump -- whose net favorability is 18 points underwater -- or Biden, whose net favorability is even, with 46 percent each viewing him favorably or unfavorably. 
The rise in positive perceptions of Black Lives Matter was driven by double-digit upticks among Democrats, Republicans and independents. And while most white voters had unfavorable views of Black Lives Matter after Charlottesville, a majority now views the movement favorably. 
Eli Yokley is Morning Consult's U.S. politics analyst. Prior to his current role, Eli was Morning Consult's senior reporter covering U.S. politics. Eli joined Morning Consult in 2016 from Roll Call, where he reported on House and Senate campaigns after five years of covering state-level politics in the Show Me State while studying at the University of Missouri in Columbia, including contributions to The New York Times, Politico and The Daily Beast. Follow him on Twitter @eyokley. Interested in connecting with Eli to discuss his analysis or for a media engagement or speaking opportunity? Email [email protected].
We want to hear from you. Reach out to this author or your Morning Consult team with any questions or comments.
Contact Us