Ahead of Midterm Elections, Biden's Net Approval Rating Is Underwater in 45 States
Despite the president's weight on the political environment, many vulnerable Democrats are maintaining their popularity
Key Takeaways
Between the second and third quarters of 2022, Biden's net approval rating declined the most in Utah, Alaska, Hawaii and Oregon.

Voters in Arizona are 10 points more likely to approve of Democratic Sen. Mark Kelly's job performance than they are to approve of Biden's.

Split tickets look more likely in New Hampshire and Kansas, where at least 1 in 5 voters approve of both their governor and senator from the opposing party who are on the same ballot next month, than in Georgia and Wisconsin.
If voters interpret next month's midterm elections as a referendum on President Joe Biden's job performance, Morning Consult Political Intelligence tracking suggests Democrats are in for a shellacking, with majorities of voters in 41 states disapproving of his work in office in the third quarter of 2022.
The surveys indicate Biden may be weighing down the environment his party's vulnerable senators are facing even further as they endure consistent attacks from their Republican challengers. However, those lawmakers also look positioned to share at least some votes with Republican governors who are also on the ballot next month. 
Biden's 50-state standing
Biden's net approval rating — the share who approve of his job performance minus the share who disapprove — is underwater in 45 states, per daily tracking surveys conducted July 1-Sept. 30. In terms of the president's popularity in national surveys, July was one of his worst months, before things improved for him in August and leveled out a bit in September.
Tracking Biden's Popularity Among Voters in All 50 States
Between the second and third quarters of 2022, Biden's net approval has declined the most in Utah, Alaska, Hawaii and Oregon, and his disapproval rating reached 50% in Hawaii for the first time in his presidency, pushing his net approval into the red.
Biden's net approval is still in the black in Vermont, California, Maryland, New York and Massachusetts, though less than half of voters residing in the Bay State approved of his job performance in the third quarter — another first for his term.
In states that will be key to the Democratic Party's chances of maintaining its narrow grip on the Senate next month, Biden is underwater by double digits.
Solid majorities of voters disapprove of Biden's job performance in Arizona (58%), Nevada (56%), New Hampshire (60%), North Carolina (58%), Ohio (60%), Pennsylvania (58%) and Wisconsin (57%). In each of these states, voters are at least twice as likely to "strongly disapprove" of Biden than they are to strongly approve of him. It's a severe warning sign for Democrats: If voters who head to the polls in November are chiefly motivated by Biden's job performance, Republicans can expect a turnout advantage.
How Biden's weighing on vulnerable senators
However, other data suggests voters may be adjudging this midterm election cycle differently than most. For example, despite Biden's diminished standing across the Senate battleground, a handful of Democratic incumbents — most notably, Sen. Mark Kelly of Arizona — appear to be resisting the downward tug.
Warnock, Hassan See Their Popularity Dip Ahead of the Midterms
Quarterly net approval* ratings of the following Democratic senators among registered voters in each state:
*Net approval is the share who approve minus the share who disapprove.
Quarterly surveys conducted in 2021 and 2022 among representative samples of registered voters in each state, with unweighted margins of error of +/-1 to 2 percentage points.
Kelly, once seen as the most vulnerable Senate Democrat, is outpacing Biden's approval rating 50% to 40%, and far fewer voters are giving the freshman lawmaker negative marks (42% to 58%). These numbers mark a modest improvement for Kelly ahead of his contest against Republican Blake Masters next month — a rarity when compared with other Democratic incumbents.
But while other Democratic incumbents aren't increasing their popularity during the homestretch of their contested re-election campaigns, they aren't necessarily suffering either.
In Washington, Sen. Patty Murray's approval rating (48%) went unchanged between the two quarters as Republicans have reached to target her seat with Tiffany Smiley. It's a similar story for Colorado Sen. Michael Bennet (47% approval), who will face Republican Joe O'Dea next month. The two lawmakers, whose seats are viewed as bigger reaches for the GOP, hold similar approval ratings to the president but have much lower disapproval ratings.
The third-quarter surveys showed the environment in Nevada to be essentially unchanged from the prior quarter, with Democratic Sen. Catherine Cortez Masto strongly outpacing the president's popularity. Things have gotten slightly worse for Democrats in Georgia, where Sen. Raphael Warnock faces Republican Herschel Walker, and in New Hampshire, where Sen. Maggie Hassan is pitted against Republican Donald Bolduc.
In Georgia and New Hampshire, Biden's net approval rating has continued to decline. Still, as is the case in Arizona and Nevada, both Warnock and Hassan are outpacing Biden's approval rating while keeping their disapproval ratings much lower than the president's.
Where senators may get some crossover support
Hassan and Warnock face voters next month on ballots that will feature a governor of the opposite political party also up for re-election. The quarterly data suggests ticket splitting — where voters pick Republican and Democratic candidates on the same ballot — could factor into these races.
Potential for Crossover Support Is Largest in New Hampshire, Kansas
Share of voters in each state who approve of both of the following officials appearing on the same ballot in November: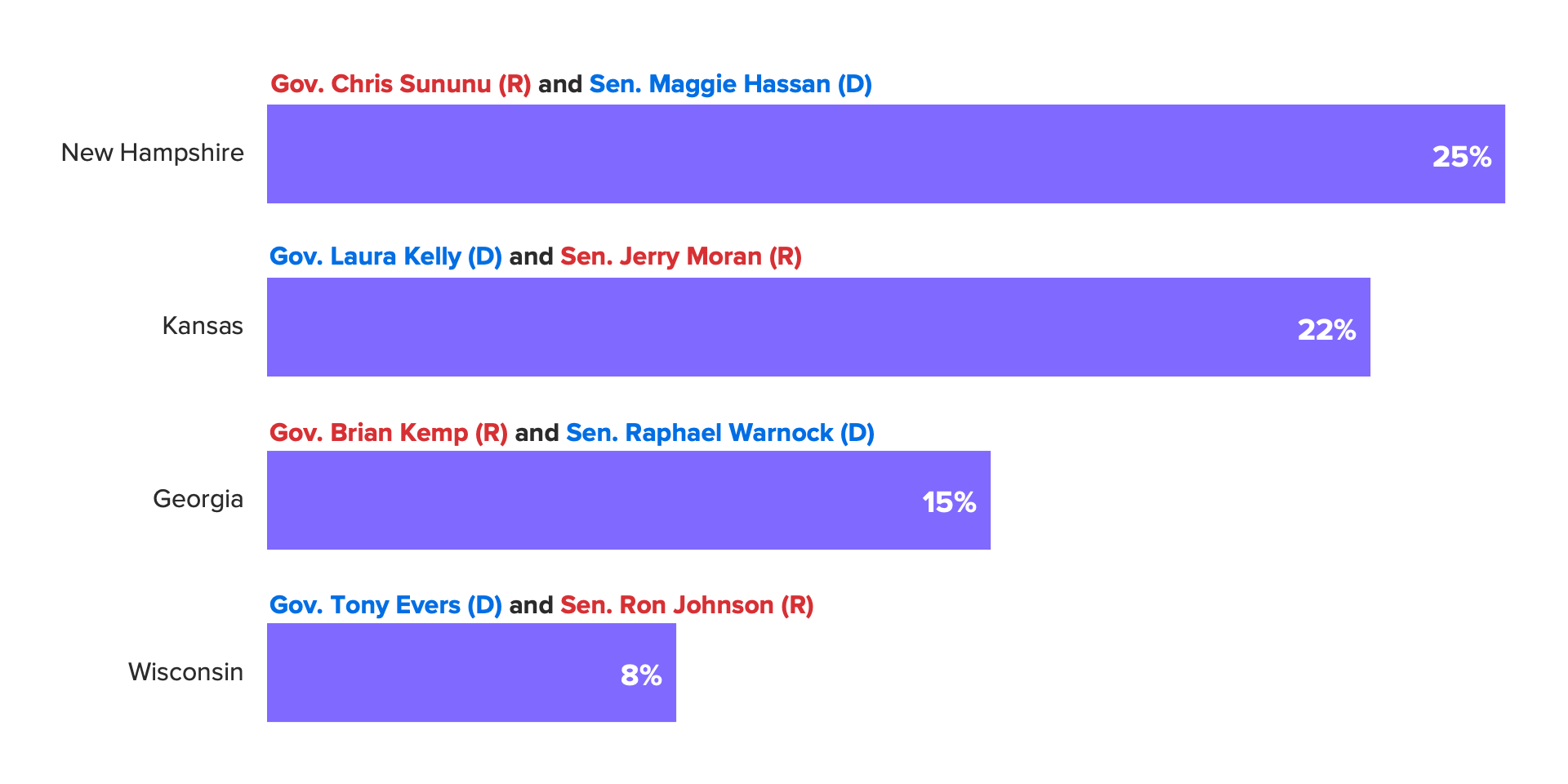 Surveys conducted July 1-Sept. 30, 2022, among representative samples of registered voters in each state, with unweighted margins of error of +/-1 to 3 percentage points.
A quarter of New Hampshire voters, for example, approve of the job performance of both Hassan and Gov. Chris Sununu (R). A demographic profile of these voters indicates that they are more likely than the broader electorate to be 65 or older, and to identify as unaffiliated with a major political party.
There are also crossover opportunities in Georgia, where 15% of voters approve of Warnock and Republican Gov. Brian Kemp. In the Peach State, these voters who approve of both politicians are more likely to be Black and to say they hail from urban communities.
In both cases, those who approve of the Democratic senator's job performance are more likely to approve of the Republican governor's job performance than the other way around. But in Warnock's case, even having the chance to convert a small chunk of Kemp's supporters to his camp could matter in what the latest polling shows to be a dead heat, with no candidate receiving enough support to advance to a runoff.
While Warnock and Hassan can likely count on some form of across-the-aisle support next month, the same does not appear to hold true for Republican Sen. Ron Johnson of Wisconsin, where fewer than 1 in 10 voters approve of both him and Democratic Gov. Tony Evers. Those who approve of Johnson are more likely to approve of Evers than the inverse.
Beyond the contested Senate map, ticket splitting is also worth watching in Kansas, where Democratic Gov. Laura Kelly faces a tight re-election bid and a third of voters approve of Biden's job performance.
Despite Kansas' red bent and her race being a "toss up" according to elections analysts, Kelly is among the 20 most popular governors in the country. She also benefits from the fact that 22% of Sunflower State voters approve of both her and Republican Sen. Jerry Moran, who is expected to stroll to another term next month. This voting group is made up of more independents and residents who identify as living in rural communities than the overall population of the state, two demographics that will be key to Kelly's attempt to hold on to the governor's mansion this fall.
For Morning Consult's state-level survey data, weights are applied to each state separately based on age, gender, education, race, home ownership, marital status, presidential voting history and — for a subset of states — race by education as well as an age-by-gender interaction.
Margins of error for responses from all voters in each state range from 1 to 5 points. For more detailed information, you can download the 50-state data set for Biden's approval ratings among all voters here.
Eli Yokley is Morning Consult's U.S. politics analyst. Prior to his current role, Eli was Morning Consult's senior reporter covering U.S. politics. Eli joined Morning Consult in 2016 from Roll Call, where he reported on House and Senate campaigns after five years of covering state-level politics in the Show Me State while studying at the University of Missouri in Columbia, including contributions to The New York Times, Politico and The Daily Beast. Follow him on Twitter @eyokley. Interested in connecting with Eli to discuss his analysis or for a media engagement or speaking opportunity? Email [email protected].
We want to hear from you. Reach out to this author or your Morning Consult team with any questions or comments.
Contact Us