For Voters, Bolton's Book Ranks No. 1 in Credibility Among Trump Tell-Alls
Former national security adviser's name gives weight to anecdotes about Trump White House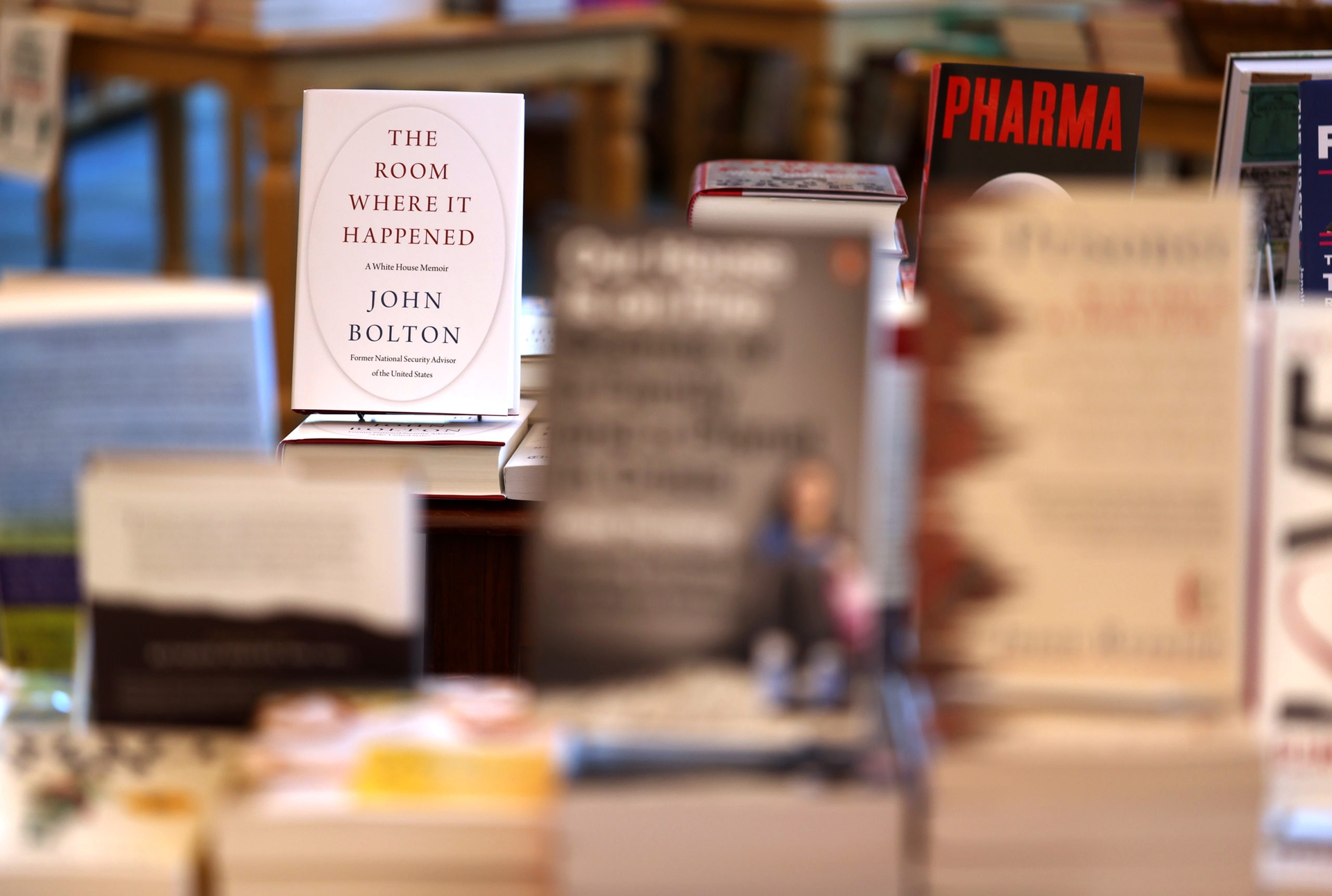 Key Takeaways
45% of voters consider former national security adviser John Bolton's book to be credible, larger than the share who said the same about accounts published by Bob Woodward, Omarosa Manigault Newman and Michael Wolff.

Of the anecdotes featured in the book, voters were most likely to consider credible the one alleging that the president pushed to withhold U.S. assistance to Ukraine until it shared documents on his political opponents.

Voters were more likely to believe the charge that Trump told China's president he should continue building internment camps for Uighur Muslims when Bolton's name was attached to the report.
President Donald Trump and his allies have sought to discredit John Bolton as he promotes a book about his time as the 45th president's national security adviser, turning to a playbook deployed against other printed accounts of Trump's tumultuous presidency. But compared to works by other high-profile authors, Bolton has a surfeit of credibility with the American people.
A new Morning Consult poll found 45 percent of voters believe Bolton's book to be credible, 10 percentage points higher than the share who said the same of former White House adviser Omarosa Manigault Newman's insider tell-all and 4 points higher than the share who considered acclaimed journalist Bob Woodward's book credible, according to similar surveys at the time.
Books published by former staffers generated stronger reactions among the electorate: About 3 in 4 voters expressed opinions about Bolton's "The Room Where It Happened" following a rollout that featured television appearances including a widely watched ABC News special and repeated attacks from the president. That's similar to the share who reported having an opinion about "Unhinged" by Manigault Newman, who supplemented her book launch with the release of audio conversations she had surreptitiously recorded with Trump and White House staffers. 
Roughly 3 in 10 voters (29 percent), including 52 percent of Republicans, said Bolton's book isn't credible. That's 10 points less than the share who said the same of Manigault Newman's book, but larger than the share who deemed Woodward's and author Michael Wolff's books unbelievable.
Bolton's book airs a number of allegations against Trump, including that he dismissed human rights protests in Hong Kong, was willing to intervene in federal investigations involving foreign companies to help dictators he liked and pushed to withhold U.S. assistance to Ukraine until it handed over investigative materials related to former Secretary of State Hillary Clinton and former Vice President Joe Biden, the issue at the heart of the president's impeachment.
Voters were most likely to call the Ukraine account credible (47 percent), followed by the claim that Trump urged Attorney General William Barr to prosecute former Secretary of State John Kerry for talking with Iranian government officials about an agreement regarding the development of nuclear weapons (42 percent) and that Trump asked Chinese President Xi Jinping to buy U.S. agricultural products in order to help him win re-election (40 percent).
The poll found Bolton's name, which has reverberated through conservative media for years, tended to add a small amount of weight to his anecdotes. In the survey, half of the respondents were asked whether they thought a dozen claims framed as "reports" were credible, and the other half were told the accounts came from Bolton.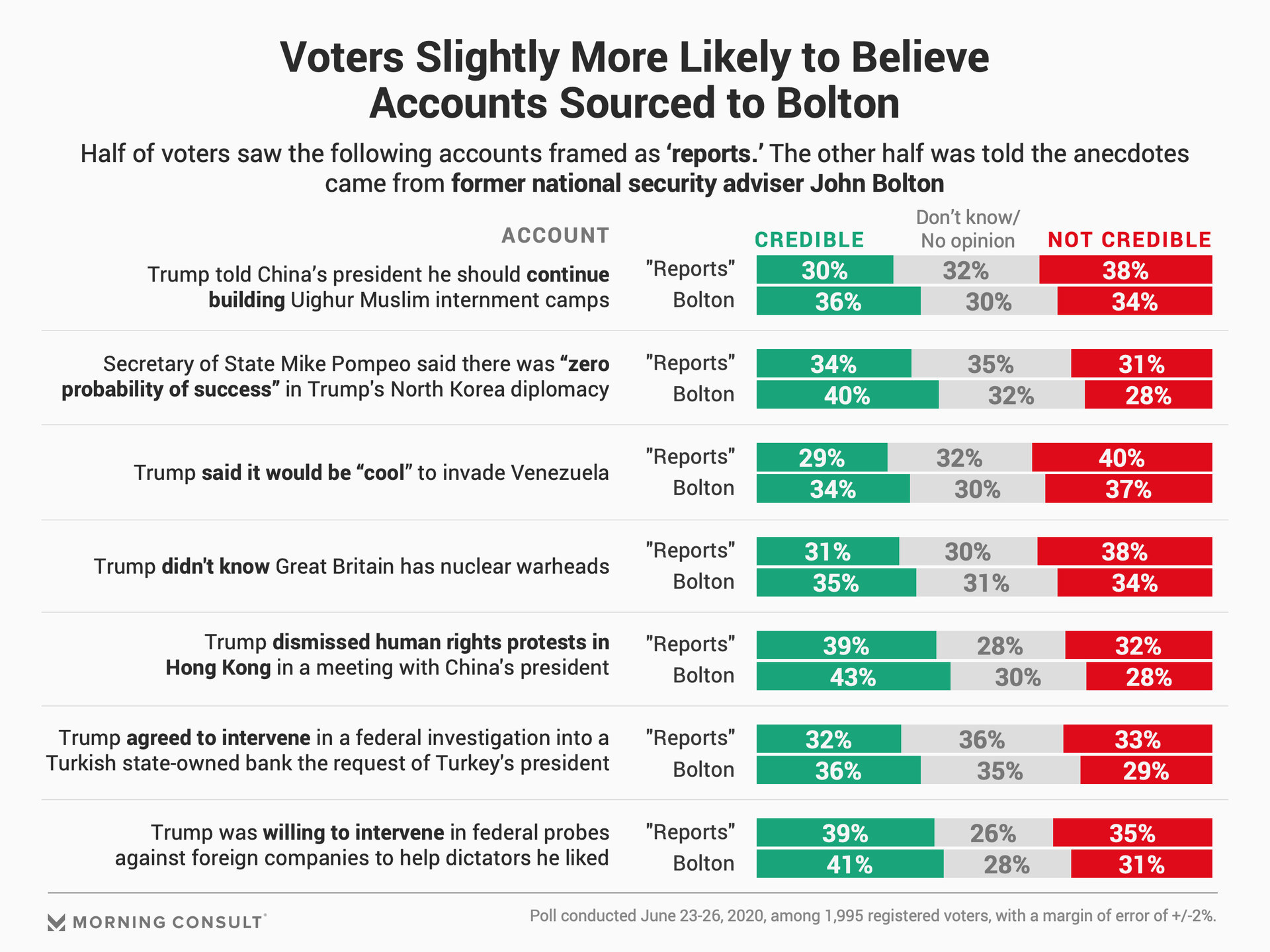 When the charges were sourced to Bolton, voters were slightly more likely to believe allegations that Trump told China's president that he should continue building internment camps for Uighur Muslims, that Secretary of State Mike Pompeo said the president's North Korea diplomacy had "zero probability of success" and that Trump said it would be "cool" to invade Venezuela.
Bolton, a foreign policy hawk who has worked for every Republican president since Ronald Reagan, has been pummeled by both sides of the aisle as he's pitched his book. Republicans have attacked his motivations for publishing the book, while Democrats are criticizing him for refusing to provide impeachment investigators with key information when it could have made an impact on the proceedings to remove Trump from office, only to turn around and profit from the story now. 
Driven by roughly 3 in 4 Democrats, half of voters (51 percent) said Bolton should testify if called on by members of Congress who are investigating the Trump administration, while the bulk of Republicans (38 percent) said they did not know whether he should appear and 34 percent said he should not. 
House Judiciary Committee Chairman Jerrold Nadler (D-N.Y.) has dismissed the idea of beginning another round of impeachment proceedings, and voters are with him: Roughly half (49 percent) said Congress should not begin another round of impeachment proceedings, based on what they know, while 31 percent said it should.
Roughly half of Democrats (52 percent) would support the move, while 27 percent said they would oppose it. Half of independents and 76 percent of GOP voters are opposed to new impeachment proceedings. 
Eli Yokley is Morning Consult's U.S. politics analyst. Prior to his current role, Eli was Morning Consult's senior reporter covering U.S. politics. Eli joined Morning Consult in 2016 from Roll Call, where he reported on House and Senate campaigns after five years of covering state-level politics in the Show Me State while studying at the University of Missouri in Columbia, including contributions to The New York Times, Politico and The Daily Beast. Follow him on Twitter @eyokley. Interested in connecting with Eli to discuss his analysis or for a media engagement or speaking opportunity? Email [email protected].
We want to hear from you. Reach out to this author or your Morning Consult team with any questions or comments.
Contact Us