Sentiment Toward Drew Brees, Colin Kaepernick Shifts in Wake of George Floyd Protests
Brees, the most popular player in the league earlier this year, has dropped three spots since February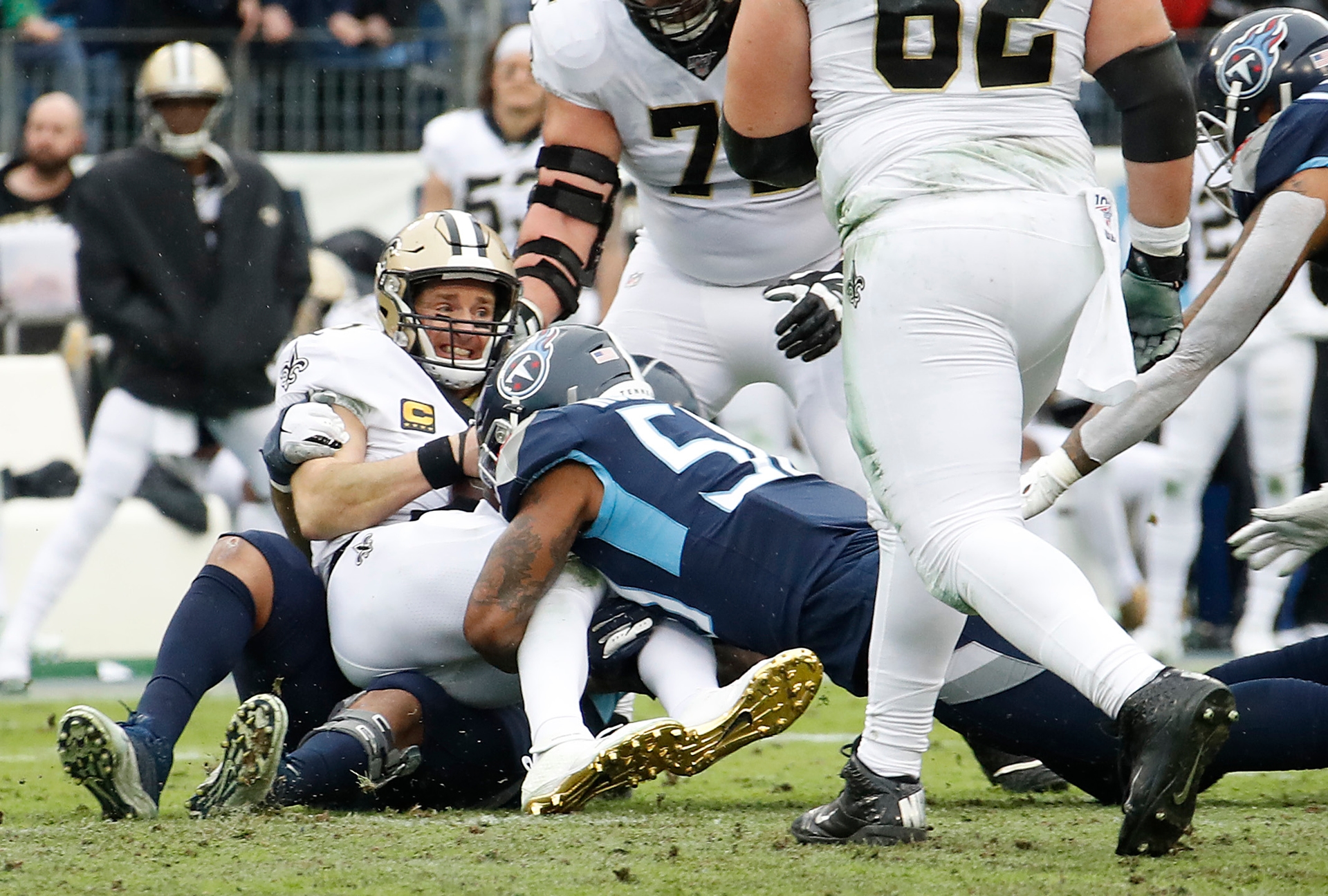 The resurgence of the Black Lives Matter movement following the alleged murder of George Floyd has impacted the way NFL fans view some of the sport's most prominent figures.
Recent Morning Consult polling shows that both New Orleans Saints quarterback Drew Brees and former San Francisco 49ers quarterback Colin Kaepernick have both seen significant shifts in favorability among NFL fans in the wake of protests drawing attention to police brutality in Black communities.
Brees, who polled as the most popular skill position player among NFL fans both before the 2019-20 NFL playoffs and after Super Bowl LIV in February, saw his net favorability drop from 73 to 41 percentage points, to the No. 4 position in a June 9-11 survey, following a Yahoo interview in which he said NFL players were "disrespecting the flag" by kneeling during the national anthem. (Net favorability represents the share of NFL fans with a favorable opinion of a player minus the share with an unfavorable opinion.)
Several prominent Black athletes, including some of Brees' own Saints teammates, criticized him for that characterization of the gesture. Brees subsequently apologized, saying his comments were "insensitive and completely missed the mark," a move that led President Donald Trump to criticize the quarterback on Twitter for backing down.
In February, only 3 percent of NFL fans had an unfavorable opinion of Brees, a Super Bowl champion and the league's all-time leader in passing yards. In the June 9-11 survey, 16 percent of fans viewed Brees unfavorably, including 29 percent of non-white fans.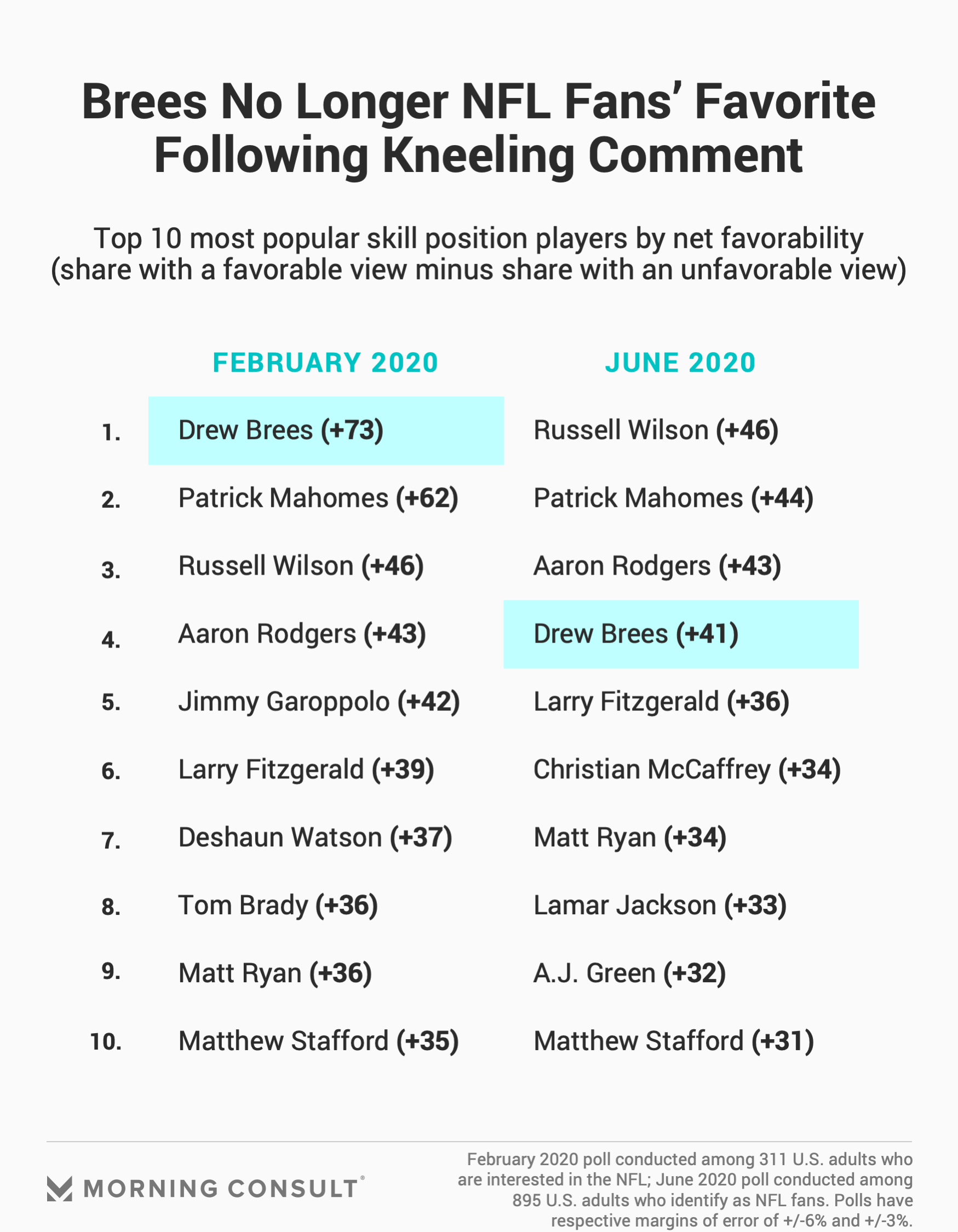 While Brees' stock dipped amid the wave of demonstrations earlier this month, the movement has benefited the perception of Kaepernick, the quarterback-turned-activist who started the kneeling movement back in 2016. In November 2020, prior to his planned workout for NFL teams that became the subject of a dispute between Kaepernick and the league, Kaepernick's net favorability among NFL fans was negative-8 percentage points, indicating more fans viewed him unfavorably than favorably.
Floyd's alleged murder by a Minneapolis police officer, however, appeared to vindicate Kaepernick and his cause in the eyes of some Americans, and the public has become more receptive to political speech by athletes. Even among white Americans, Republicans and members of military households, opposition to kneeling during the national anthem has softened.
As a result, Kaepernick's net favorability among NFL fans in a June 16-18 poll was 7 percentage points in positive territory, representing a 15-point swing from February.
In the June 9-11 survey, the margin of error among 895 self-identified NFL fans is 3 percentage points. The margin of error among 1,058 NFL fans in the June 16-18 poll is also 3 percentage points.
Alex Silverman previously worked at Morning Consult as a reporter covering the business of sports.
We want to hear from you. Reach out to this author or your Morning Consult team with any questions or comments.
Contact Us