Climate Change Seen as Hot Topic for Democrats in 2020
But strategists say voters could have icy reception to scope of climate plans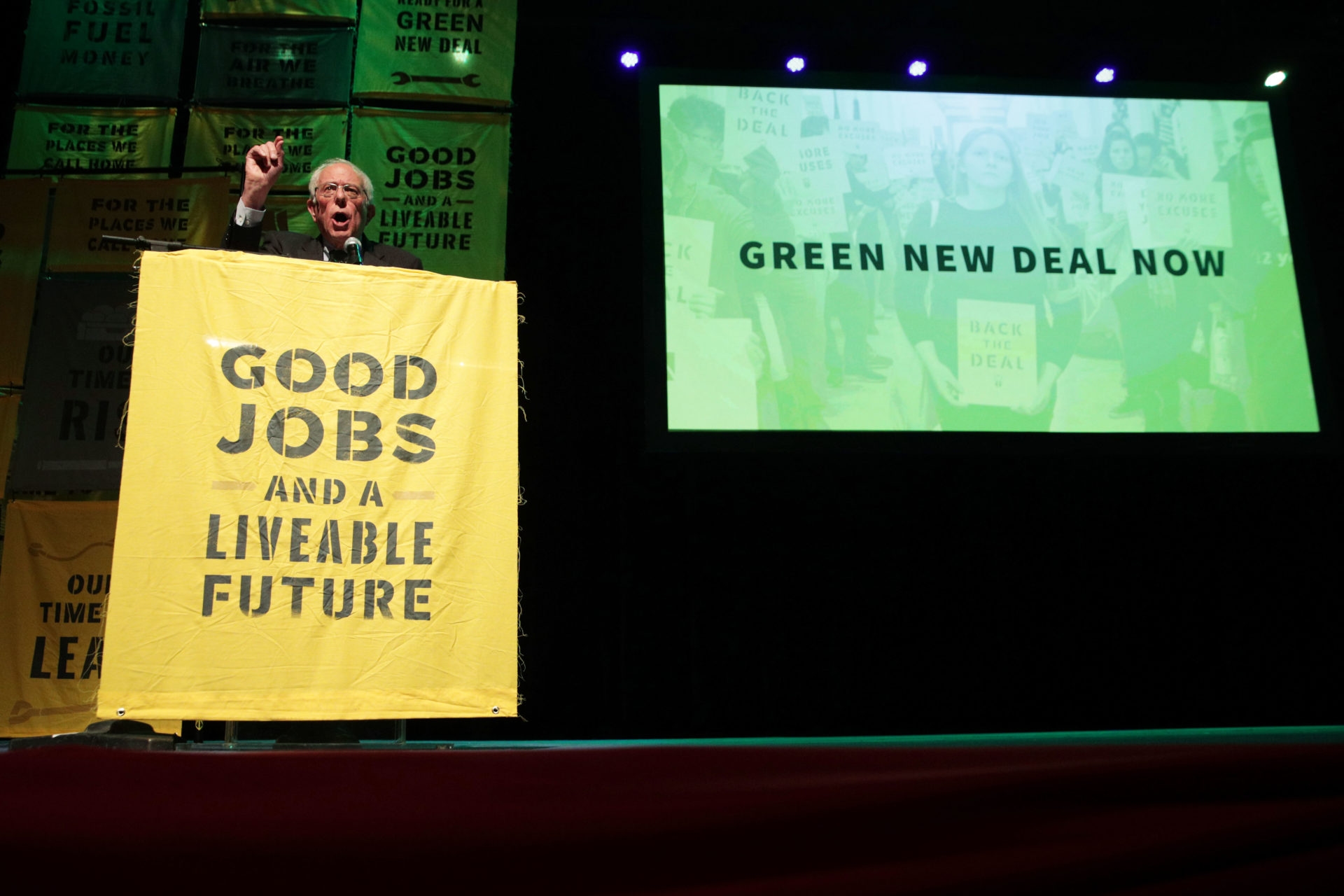 Climate and energy issues are having their time in the sun in U.S. politics, with Democratic presidential candidates releasing multitrillion-dollar climate platforms, contenders promising not to take fossil fuel donations to power their campaigns and senators and candidates calling for a climate-focused presidential debate.
Political strategists say they expect climate change to be more of a focus in the upcoming congressional and presidential elections than in years past. However, while the Democratic Party may have an opportunity in 2020 to capitalize on a voter population that places more faith in them on energy and environmental issues, some observers say Democrats could alienate potential voters if their climate platforms' scopes are too broad and if price tags rise too high.
"We have a perfect confluence of both political and real-world events" for climate to play a bigger role in the next major national election, said Josh Freed, senior vice president of the Clean Energy Program at the Washington-based think tank Third Way. Candidates, select political leaders and activists are all underlining the issue just as the country experiences extreme weather events worsened by a changing climate, Freed said.
Other events have also brought climate talk to the fore. Since the 2018 election season, the United Nations issued a report forecasting dangerous global warming as soon as 2030; the U.S. National Climate Assessment warned of hundreds of billions of dollars in annual losses by 2100; the newly minted House Democratic majority brought back a select committee on the matter; and the introduction of a Green New Deal resolution further polarized climate change dialogue.
U.S. voters are registering concern about climate change: A March 22-24 Morning Consult poll of 1,994 registered voters found that 44 percent of voters consider climate change a critical threat to the vital interests of the United States in the next 10 years, while another 26 percent called it an important but not critical threat. Two-thirds of Democrats said climate change poses a critical threat, compared to one in five Republicans. The poll's margin of error is 2 percentage points.
The economy, health care and immigration are likely to rank as signature issues in the election, said Ryan Clancy, chief strategist at the bipartisan policy group No Labels and a former speechwriter for then-Vice President Joe Biden. But something such as the occurrence of natural disasters further into the campaign "will inevitably drive some coverage" toward climate change, said Clancy, who has no formal affiliation with Biden's 2020 presidential campaign.
While voters' top issue might not be climate change, that doesn't mean they don't want congressional action on the issue, said House Transportation and Infrastructure Chairman Peter DeFazio (D-Ore.).
"We're not going to win with a supermajority saying that their No. 1 concern is climate change," but the party can attract those who do, as well as others who do not object to climate action, DeFazio said.
Since Morning Consult began regularly tracking voters' trust in Democrats and Republicans on a number of issues, congressional Democrats have consistently had a net advantage over Republicans on both energy and environment.
In the latest Morning Consult/Politico poll, a 45 percent plurality of voters said they trust congressional Democrats more than Republicans to handle energy matters, and 52 percent of voters place more trust in Democrats on environmental issues. The poll, conducted among 1,995 registered voters May 17-19, has a margin of error of 2 percentage points.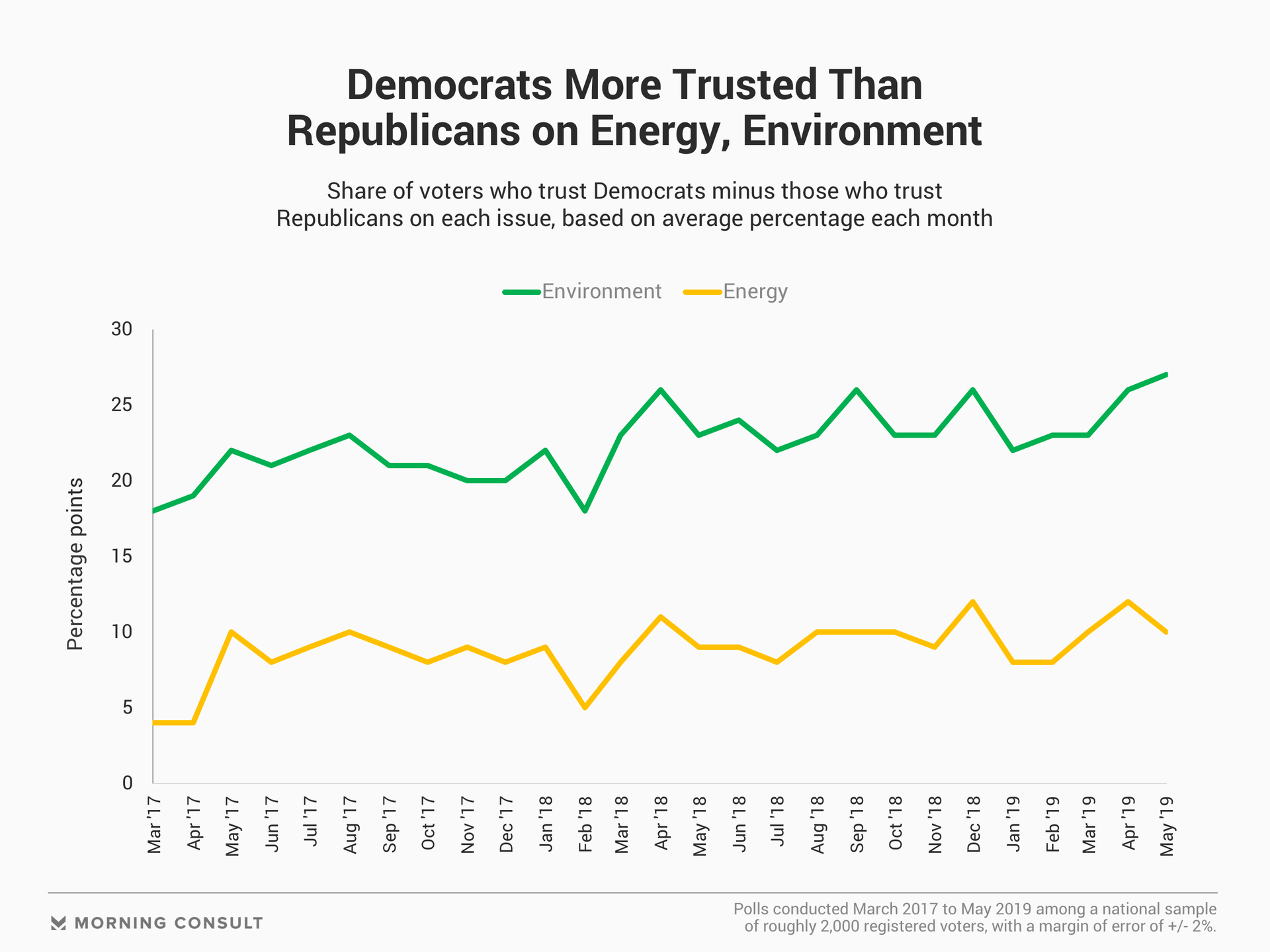 Democrats could benefit in the 2020 election from the edge they have in voter trust, but it depends on whether they talk about these issues in the right way, Clancy said. A winning candidate, he said, has to move beyond the "extreme binary choices" discussed over climate right now and convince voters that he or she cares about the issue and has a realistic solution without a radical societal or economic disruption.
Some Americans will be scared by the price tag behind some Democratic presidential contenders' proposals and the tax increases necessary to fund them, said Susan Del Percio, a New York-based Republican strategist. 
Voters will be turned off by candidates who "go too far and say Washington is going to seize control of every major sector of our economy," Clancy said. That, in turn, could strengthen Republicans in what is otherwise a weakened position for the party.
And in swing states such as Pennsylvania, Wisconsin and Michigan -- which are critical for a presidential candidate to win in 2020 -- Democrats may not perform as well if they take a stauncher, left-leaning position on climate, Clancy said.
The first instance where energy and environmental issues will have a raised profile is in some Democratic primaries, where a wave of progressive challengers to congressional incumbents will run, Del Percio said.
"I don't think that Ocasio is a one-off," Del Percio said, referring to Rep. Alexandria Ocasio-Cortez (D-N.Y.), who sponsored the Green New Deal resolution and defeated Joe Crowley, then-chairman of the House Democratic Caucus, for the 14th District seat in a 2018 upset. But not all of those primary challenges will be in swing districts, Del Percio added.
As they await a chance to gain the executive branch in 2020, Democrats are putting forward the most wide-reaching climate proposals, from the Green New Deal in Congress to numerous plans from Democratic presidential candidates detailing trillions in funding aimed at the issue.
Until the United States has a president that recognizes the importance of the climate crisis, "we have to keep making this case with the American people" about the "ramification of elections, what happens on the climate issue," House Speaker Nancy Pelosi (D-Calif.) said at the Commonwealth Club on Wednesday.
Democrats can turn climate concern into votes by giving the American people a choice, said House Natural Resources Chairman Raúl Grijalva (D-Ariz.). "But if we don't provide a choice, then people won't be able to make the distinction," he said. "We have to provide the contrast."
Voters in many districts see the Democratic Party as having stood up in support of the environment, said Rep. Derek Kilmer (D-Wash.), who noted that he is hearing about climate change more often at town hall meetings now than in the past.
Some Republicans in Congress are putting forward ideas to address climate change, emphasizing market-based policies and innovation geared in part at reducing emissions from the use of fossil fuels. Rep. Matt Gaetz (R-Fla.) introduced a "Green Real Deal" resolution backing carbon capture investments, while Sen. Lamar Alexander (R-Tenn.) has called for a five-year, research-heavy "Manhattan Project for Clean Energy."
However, "on the issue of climate, the difference between parties couldn't be more stark," Freed said. Trump casting doubt on climate change is at direct odds with Democrats, and much of the Republican caucus does not want to talk about climate. "One or two members making some efforts to differentiate themselves borders on meaningless," he said.
Jacqueline Toth previously worked at Morning Consult as a reporter covering energy and climate change.
We want to hear from you. Reach out to this author or your Morning Consult team with any questions or comments.
Contact Us