Climate Talk Isn't on the Thanksgiving Menu for Most People
Concern about climate change doesn't always translate into conversations with family and friends
Key Takeaways
Only 9% plan to bring up climate change at Thanksgiving, but 48% said they have started a conversation about it with their friends or family in the past year.

34% of parents said they have talked with their children about climate change; 29% said their children had raised the issue with them.

45% want climate science instruction to begin in elementary school. 8% said it should never be taught at school.
Thanksgiving is quickly approaching, which for many Americans means food, family and uncomfortable political conversations that could involve climate change for some adults this year. 
While only about 1 in 5 adults expect to have a climate change discussion this holiday, 42 percent said in a new Morning Consult poll that they are now more likely to start a conversation with friends or family compared to a year ago. And almost half of adults (48 percent) said they have started a conversation about the issue with friends or family in the past year, according to the Nov. 6-8 poll of 2,187 U.S. adults, which had a margin of error of 2 percentage points.
But the proportion of Americans that reports ever having initiated a climate conversation with various people in their lives is significantly lower than the share of Americans concerned about climate change, according to Morning Consult polling. A June survey found 71 percent of adults were very or somewhat concerned about climate change and its impact on the U.S. environment.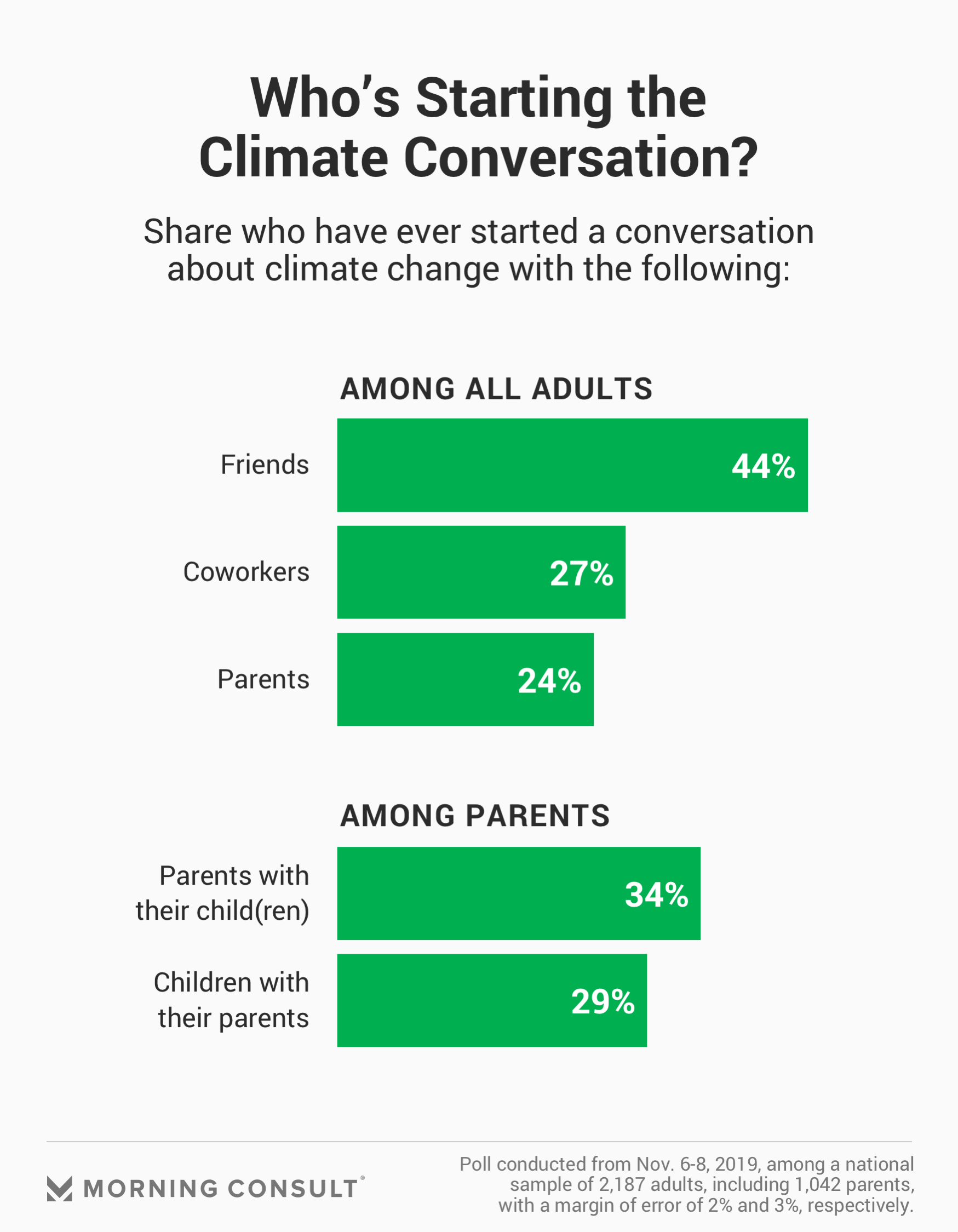 "Most people don't perceive a social norm in favor of taking climate action, and so I think that sort of feeds into this reluctance to talk about it," said Parrish Bergquist, a researcher at the Yale Program on Climate Change Communication. "This is a risky subject." 
Just 9 percent of respondents said they planned to bring up climate change at Thanksgiving this year, while 13 percent said they expected someone else to mention it. Forty-seven percent said they will not discuss climate change, while 13 percent are not visiting with anyone this holiday.
"How do you start potentially awkward conversations in a way that makes people comfortable?" posed Edward Maibach, a professor and director of George Mason University's Center for Climate Change Communication. "I suspect most people are not expecting to start a conversation because they don't know how to make people comfortable." 
The share of respondents who have started climate conversations with family and friends in the past year is highest among Democrats (60 percent), followed by independents (46 percent) and Republicans (38 percent).
"It really pokes a hole in the assumption that Republican voters don't care about climate change," said Stephen O'Hanlon, spokesman for the youth-led Sunrise Movement environmental group. If "millions of Republicans around the country are having conversations about climate change, I think that could have ramifications for Donald Trump in 2020 and other Republicans down-ballot." 
Alex Bozmoski, managing director of the George Mason-affiliated free market climate group RepublicEn.org, said he is "ecstatic" that 38 percent of GOP adults specifically reported starting these conversations.  
For people who have yet to see climate solutions that fit their worldview, it is a "bummer problem to talk about, because in a political context, it feels like capitulation," Bozmoski said. "You need to have a solution set that you'd like before the issue really is something you want to discuss." 
Overall, 17 percent of adults said that compared to a year ago, they are much more likely to start a conversation about climate change with friends or family, along with 25 percent who are somewhat more likely. Thirty-eight percent said they are neither more nor less likely to do so, while 12 percent are somewhat or much less likely. 
Climate conversations are also playing out between parents and their children. Of the 1,042 parents surveyed, about a third (34 percent) said they had started a conversation with their kids about climate change. Twenty-nine percent said their children had initiated a climate conversation with them.
A plurality of adults also wants climate instruction to begin at an early age. Forty-five percent of respondents said teachers should start instruction on the science and causes of climate change in elementary school, followed by 24 percent in middle school and 9 percent in high school. Just 8 percent -- including 15 percent of Republicans -- said the topic should never be taught in school.
"We are definitely in a real moment of climate awakening," with ever more Americans accepting that climate change is happening, that it is due to human activity, that scientists are in accord on climate science and that it is harmful, Maibach said. "Conversation about climate change is a lagging indicator." 
Jacqueline Toth previously worked at Morning Consult as a reporter covering energy and climate change.
We want to hear from you. Reach out to this author or your Morning Consult team with any questions or comments.
Contact Us