Brands That Ignore Biden's Vaccine Mandate Have a Lot to Lose
59% of U.S. adults said they support the new requirement for large companies
Key Takeaways
31% of adults said they would consider boycotting companies that ignore the rule.

41% said they'd feel less favorably about a brand that doesn't comply, while 34% said they'd be more likely to purchase from one that does.

56% of employed Americans said they support vaccine requirements for in-person work at their own companies.
Last week, President Joe Biden announced a mandate stipulating that large businesses require their employees to be vaccinated against COVID-19 or undergo weekly testing. Companies that comply are likely to reap the benefits from consumers, while those that don't could suffer, according to new polling from Morning Consult.
A majority of U.S. adults (59 percent) said they support corporations with more than 100 employees requiring their staffs to be vaccinated or enforcing weekly testing, according to the Sept. 10-13 survey of 4,400 respondents, which has a margin of error of 1 percentage point.
That majority support holds true across several demographic groups, including all generations. Baby boomers were the strongest proponents among the four generations, with 66 percent saying they support the requirement. 
Those with high levels of education and high incomes were more likely to support the vaccine mandate than their counterparts. White-collar workers were also more in favor of the measure than blue-collar workers, while urban residents and suburbanites more strongly supported it than rural dwellers. Given the survey's margin of error, there was not much separating support among hourly workers (56 percent) from that of salaried ones (61 percent).
The biggest divide, unsurprisingly, fell along party lines: 36 percent of Republicans support corporate vaccination mandates, according to the poll, compared to 81 percent of Democrats. 
While most consumers (70 percent) said they wouldn't go so far as to boycott companies that ignore the mandate, 31 percent said they would consider taking that action against brands that resist Biden's new rule. (Numbers may not add up to 100 percent due to rounding.) White-collar workers were more likely to say they would participate in a boycott than blue-collar workers, 37 percent to 28 percent.
Workers in the technology sector were more likely than the general public to boycott companies that resist the rule, with about half (49 percent) of that group saying they would consider it.
Even if it doesn't spark many all-out protests, the decision to ignore the mandate might also impact brand image. The longer corporations wait to comply with the new rule, the more they risk reputational damage, the survey suggests. 
Roughly 2 in 5 adults (41 percent) said they would feel less favorably about a brand that did not comply with Biden's plan within the next three months, and that number ticks up to 45 percent for companies that don't comply within a year. Nineteen percent said they would feel more favorably toward a brand that does not comply in both instances.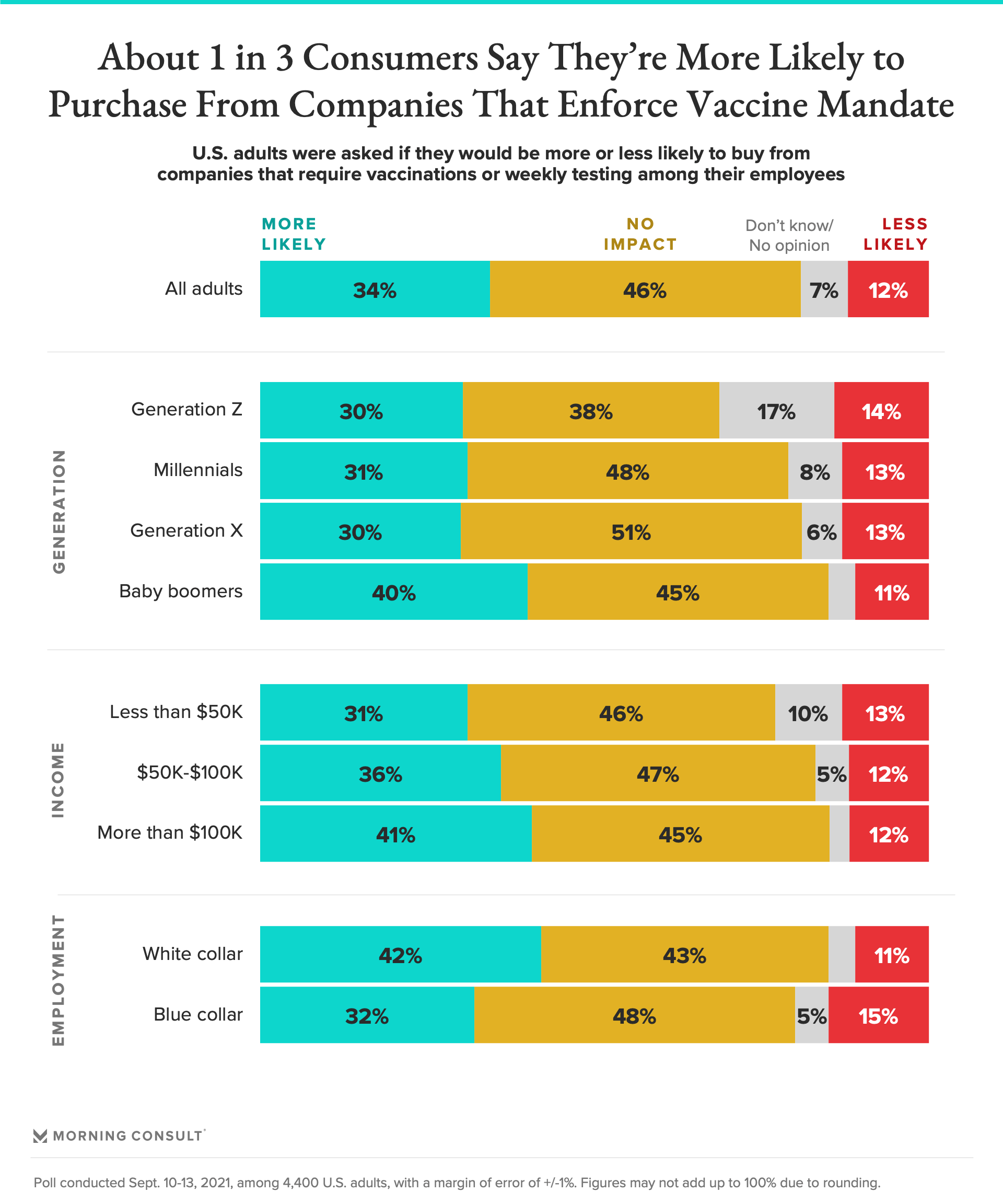 And for those that do fall in line, it could ultimately help their bottom line. 
Roughly 1 in 3 consumers (34 percent) said they'd be more likely to buy products from companies that adhere to Biden's plan, compared with 12 percent who said they'd be less likely to purchase from those businesses. Baby boomers, those who earn more than $100,000 per year and white-collar employees were especially likely to spend money with brands that abide by the rule. 
The same share of tech workers who said they might boycott companies that ignore the mandate also said they'd be more likely to buy products from the ones that enforce it (49 percent).
Companies could face internal ramifications based on how they handle the new vaccine mandate. Twenty-nine percent of adults said they would consider leaving their jobs if their employers ignored Biden's mandate. Meanwhile, 27 percent of adults said they would consider leaving for a smaller company that's not included in the mandate.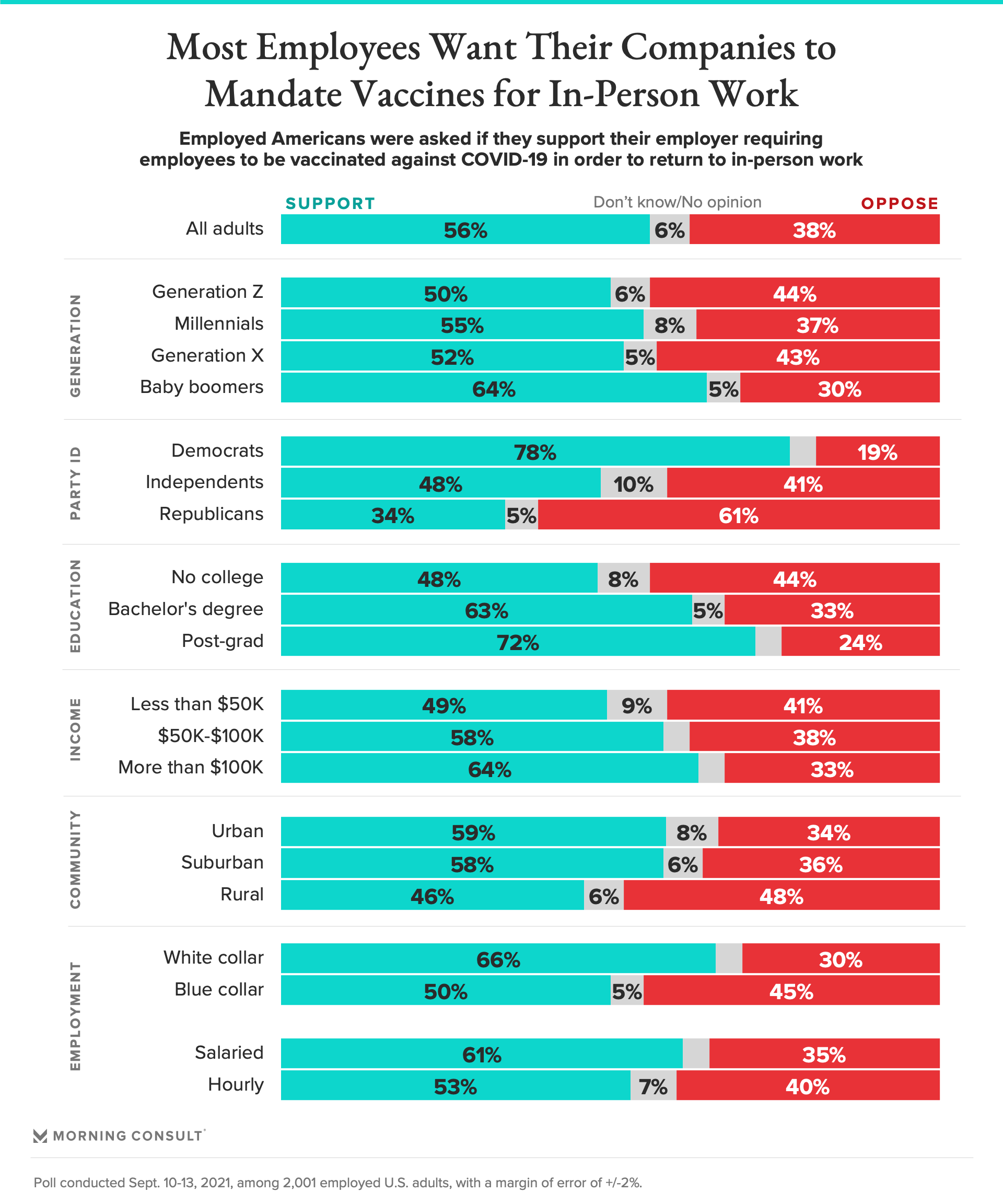 Morning Consult asked employed adults how they feel about their own organizations requiring vaccines against COVID-19 for those returning to in-person work, and a majority (56 percent) said they support the move. That's roughly the same share who agreed when asked in June (58 percent).
Again, the strongest support in the latest survey came from baby boomers, Democrats, those with higher levels of education, high earners, urban dwellers, suburbanites, white-collar employees and salaried workers.
Alyssa Meyers previously worked at Morning Consult as a reporter covering brands and marketing.
We want to hear from you. Reach out to this author or your Morning Consult team with any questions or comments.
Contact Us