Conflict on Fetal Rights Lies at the Heart of America's Abortion Debate
Thirty-eight percent of U.S. adults believe life begins at conception, shaping how views on legislation are formed
Key Takeaways
Supporters of state-level abortion bans are far more likely to believe life begins at conception (67%) than opponents (19%).

1 in 2 Republican women say a fetus should have the full legal rights of a person at conception.
As lawmakers across nearly a dozen Republican-led states double down on passing the most restrictive bans on abortion in almost 50 years, new polling reveals that the politicized debate is rooted in clashing viewpoints about the status and rights of a fetus at different stages of pregnancy.
Consequently, talking points on both ends of the spectrum don't appear to be resonating with most Americans, according to Morning Consult data surveying the public on the issue. The "pro-choice" and "pro-life" labels that have long defined abortion have splintered, exposing a stratified web of moral and political convictions about human rights, health care and the sanctity of life that prove nearly impossible to tease apart.
The poll's findings tell a more holistic story about how Americans judge these new laws, bringing to the surface conflicts about when life begins, whether the fetus has rights and how to square those rights with those of the person carrying the pregnancy.
Omar Suleiman, founder and president of the Yaqeen Institute for Islamic Research who has studied the Islamic view on abortion, said the dichotomy between "pro-life" and "pro-choice" is a vast oversimplification, forcing people to take a nonnegotiable stance on an issue that requires more thoughtful analysis.
Most Americans are suspended between the two extremes because they disagree on when exactly life begins.
Almost 2 in 5 U.S. adults believe life begins at conception. And those who support the restrictive state-level laws that have dominated recent headlines are three-and-a-half times more likely to hold this belief than opponents of the bans (67 percent to 19 percent).
Katey Zeh, executive director of the Religious Coalition for Reproductive Choice, said the data speaks to one challenge in fostering productive discourse on abortion: Advocates are talking past one another on the crux of the issue.
"For opponents of abortion, it's focused on the fetus; for supporters of abortion, it's about the person carrying the pregnancy," Zeh said. "It's 'murder of a baby' versus 'woman's right to choose.'"
That dissonance is reflected in the survey: Seventy-six percent of adults who favor restrictions said abortion is murder, while nearly everyone against stricter legislation aligned themselves with the sentiment that all women have a right to choose what to do with their bodies (93 percent of strict abortion law opponents agreed, compared to 51 percent of strict abortion law supporters).
Abortion has long been a contentious subject, but never this divisive, said Melissa Deckman, chair of the political science department at Washington College in Maryland and the Public Religion Research Institute's board. Around 2010, when Republicans gained control over state legislatures, she said, the "pro-life" movement began strategically limiting access to abortion, creating obstacles for providers intended to make administering the procedure as difficult as possible. At the time, Deckman noted, leaders of that movement "made a calculation that the American public wouldn't stand for more extreme measures."
That changed after the election of President Donald Trump, whose promise to nominate pro-life judges helped clear his path to the White House, emboldening abortion opponents "to go all in," Deckman said, and galvanizing Democrats to protect what they view as increasingly tenuous rights to reproductive health care.
Zeh speculated that even though some Democrats have dissonant moral and political convictions, many can accept a spectrum of theological and religious beliefs without imposing their ethical leanings on others. Eighty-three percent of Democratic women say they are unsure whether they would terminate a pregnancy but support the right of others to do so -- roughly twice the share of Republican women who say the same.
But both for people who believe life begins at conception and those who deny there is life in the womb at any stage, there is no room for compromise, Deckman said.
Ann Scheidler, vice president of the Pro-Life Action League, said exceptions should not be made in cases of rape or incest because "all life must be protected," noting that Republicans only include such exceptions in order to get legislation passed.
Last month, Alabama Gov. Kay Ivey (R) signed into law the first piece of legislation criminalizing abortion at every stage of a pregnancy, including in cases of rape or incest.
Melanie Israel, an expert at the Heritage Foundation, said that the debate is largely a question of protecting the life of every fetus with the full weight that any other human would be protected.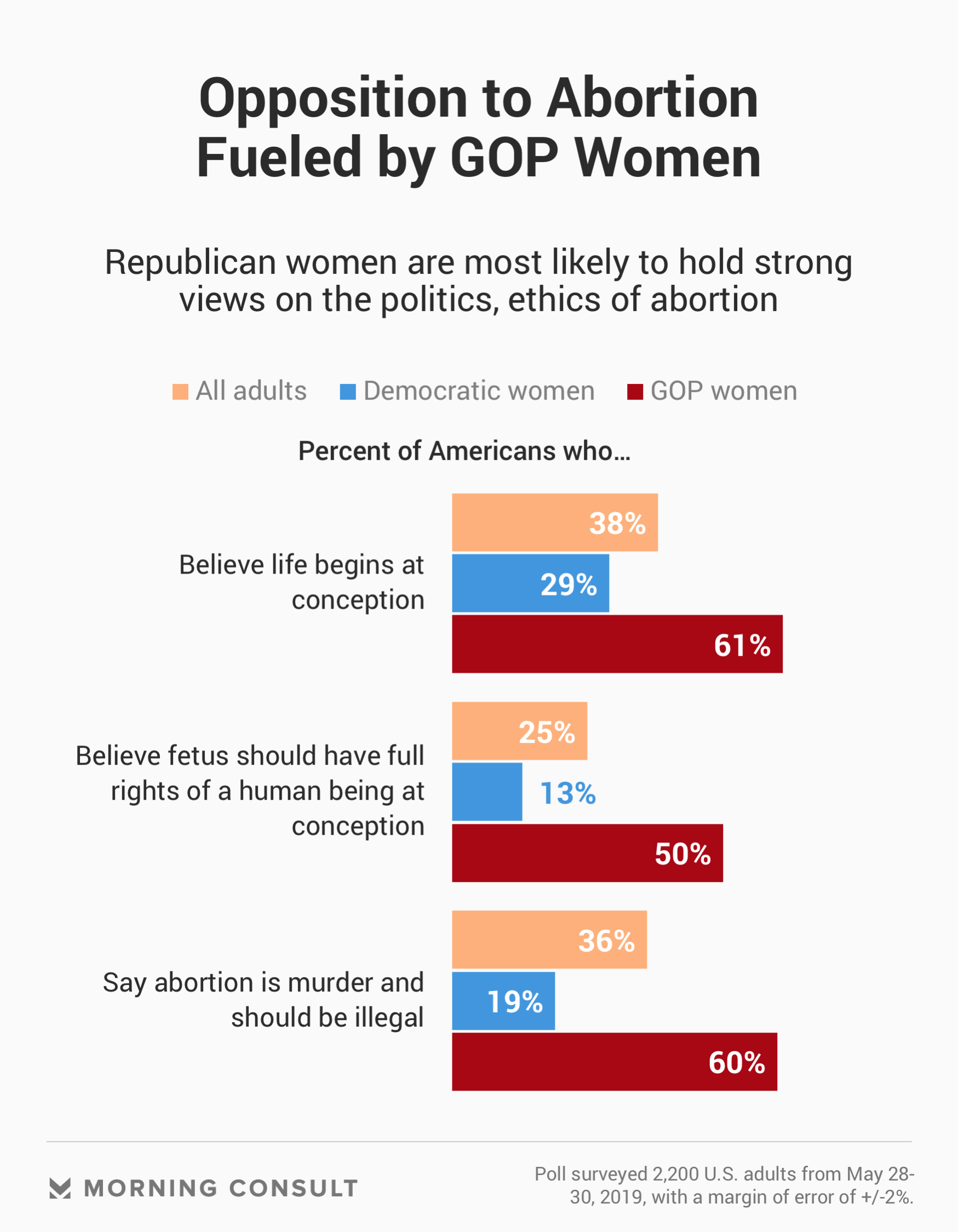 All experts agreed that one group in particular fuels the pro-life movement: Republican women.
Seven in 10 Republicans believe life begins at or before six weeks, with Republican women 10 percentage points more likely than men to hold that belief.
Among men and women of all political parties, GOP women are the most likely to say that abortion is murder and that life begins at conception. Over a third (35 percent) disagreed that all women have a right to make choices about their bodies.
Half of Republican women said a fetus should have the full legal rights of a person at conception, shedding light on the use of provocative language -- such as "infanticide" -- to describe abortion.
Suleiman and Zeh said the pointed focus on advocating either for unconditional legality or sweeping prohibition overlooks broader conversations about the entire reproductive justice framework, including access to birth control and health care for children and parents after birth.
"Any decent human being would identify as being 'pro-life,'" Suleiman said. "The debate is, what about the quality of life of the pregnant person? And at what point do you start treating the fetus like a human being?"
Yusra Murad previously worked at Morning Consult as a reporter covering health.
We want to hear from you. Reach out to this author or your Morning Consult team with any questions or comments.
Contact Us