Most GOP Voters Approve of $2 Trillion Stimulus as Conservative Activists Hold Fire
Club for Growth declines to include coronavirus vote on scorecard; Norquist says this time is different from 2008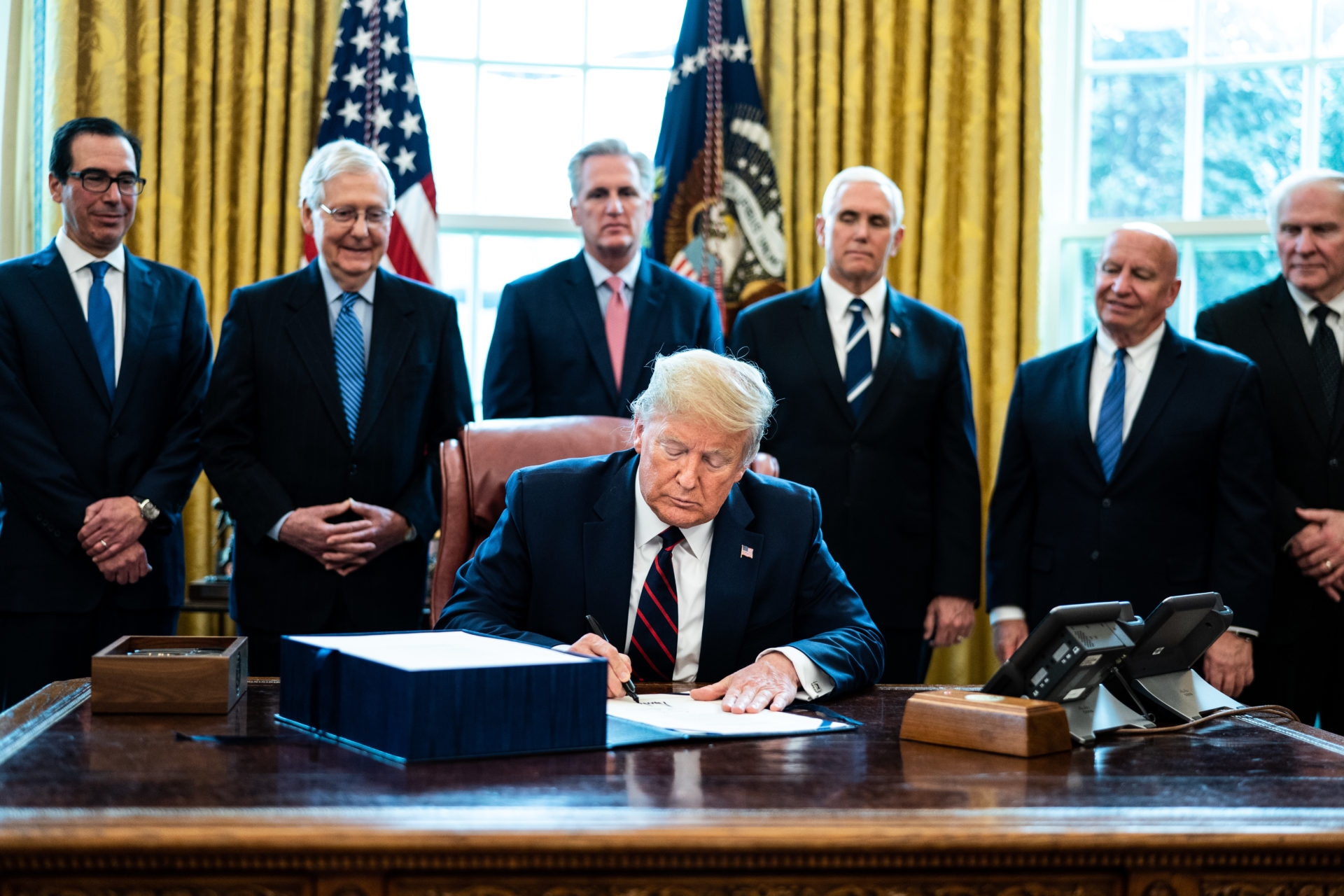 Key Takeaways
87% of Republican voters approve of the coronavirus spending package; 8% disapprove.

Among all voters, 86% approve and 8% disapprove.

Law's most popular provisions include money for food assistance, health care providers and for businesses to keep paying workers.
The conservative movement has so far given its elected officials a pass for last week's nearly $2 trillion coronavirus stimulus law, a far cry from the community's response to the 2008 push to bail out big banks under a Republican president and efforts under President Barack Obama to spur the economy with government money during the Great Recession.
Club for Growth President David McIntosh, whose organization counts reducing the size of the federal government and cutting spending among its top priorities, said in an interview that while his organization had qualms about the measure, it chose not to include the vote in its influential congressional scorecard because "we understand the politics of needing to show the public we're doing everything we can."
The reluctance from leaders on the right to criticize Republicans for the massive package has been joined by support for the measure among GOP voters, suggesting little, if any, immediate political pain for conservative lawmakers who stepped aside and let the measure become law with President Donald Trump's signature last week.
A Morning Consult/Politico poll conducted March 27-29 found that Republican sentiment on the stimulus is on par with that of Democrats and voters over all: Eighty-seven percent of Republican voters approve of the $2 trillion package to combat the financial effects of the coronavirus. Fewer than 1 in 10 Republicans disapprove of the measure, virtually matching the views of self-identified conservatives and those who voted for Trump in 2016. The poll surveyed 1,997 registered voters, with a 2 percentage point margin of error.
At the moment the $700 billion Troubled Asset Relief Program was signed into law by President George W. Bush (R), Gallup found half of Republicans supported it, while fewer than 3 in 10 backed Obama's American Recovery and Reinvestment Act.
Grover Norquist, president of Americans for Tax Reform and a conservative critic of the bailout and stimulus measures a decade ago, said there's a difference this time around: Unlike the failures of the banking system that tanked the economy in 2008, the current economic crisis came after the government pushed Americans to stay home, forcing a halt to an otherwise booming economy.
"There isn't a bad guy – it's a virus," he said. "It's a lot of money, but it's not going to somebody who stole it. It's going to people who have been damaged by government decisions."
That view is being reflected on the campaign trail. 
Bob Good, who's mounting a bid against incumbent Rep. Denver Riggleman for the party's nomination in Virginia's 5th District, said in an email that despite his concerns about many provisions in the bill, an "unprecedented shutdown of our economy has required unprecedented action." He added that lawmakers should take a "true vote on the record to take responsibility for the legislation that is passed." Riggleman has said he's proud of Congress' action.
Rep. Thomas Massie (R-Ky.), who came to Washington in 2012 after a campaign fueled with Tea Party support, was the only Republican -- and the only incumbent endorsed by the Club for Growth -- to stand up against the bill when it went to the floor. 
It earned him backlash: Trump called for him to be thrown out of the Republican Party, while his GOP primary challenger, Todd McMurtry, criticized Massie for trying to "make it all about him" at a "time of unprecedented crisis," and sought to peel off conservative support. 
Massie, in a local radio interview Tuesday, acknowledged Trump's criticism but argued the move was about principle and not political gain, and said he put the president in a better position for any future spending negotiations by showing that lawmakers will have to show up to vote.
McIntosh, a former Indiana congressman who took over the Club for Growth in 2014, said the price tag of the stimulus is "outrageous," but urged candidates not to get "caught up on a yes or a no" vote. Candidates endorsed by his group, such as Massie, have taken varying positions, with some staying silent on the package.
Like Norquist, McIntosh said a saving grace in the measure is how it gives businesses money in loans and tax cuts, which are popular among voters.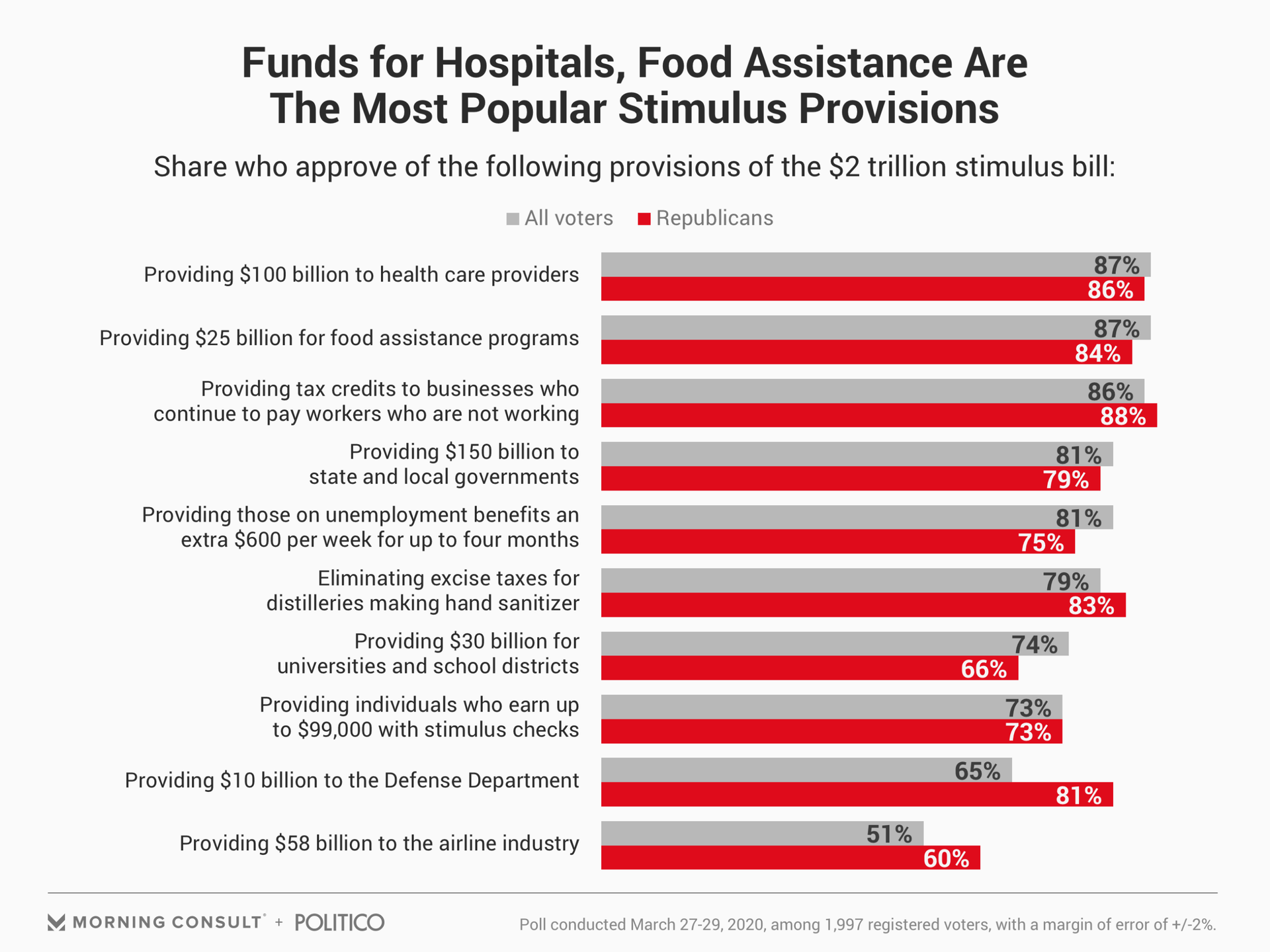 Some conservative criticism of the measure has emerged, particularly over smaller provisions that give funding to the arts. But conservatives across the board take solace in the fact that the broader stimulus plan introduced by House Democrats last week was rejected by negotiators.
McIntosh said the next potential political pain-point for people who supported the measure could come as the Treasury Department implements support for businesses such as the airline industry.
"If it's viewed as just a massive stimulus to favored companies, over time, the reaction will be it's a bad bill," he said. "If it's viewed as, 'they did what they needed to and tried to get as much repaid as possible,' people will say that's understandable and move on to the next issue."
With Congress not set to return to Washington until April 20 at the earliest, it's possible "the next issue" could be another spending measure, as signaled by House Speaker Nancy Pelosi (D-Calif.) in recent interviews and hinted at by Trump in a tweet noting a "phase 4" bill. While Republican leaders on Capitol Hill have suggested pressing the brakes as the latest law is implemented, there is an understanding on the right that another bill may be on its way.
Gregg Keller, a Republican strategist and former executive director of the American Conservative Union, said another stimulus measure is likely. But he warned that "all attempts to load it up with unnecessary giveaways to political cronies will and should be resisted by Republicans."
Eli Yokley is Morning Consult's U.S. politics analyst. Prior to his current role, Eli was Morning Consult's senior reporter covering U.S. politics. Eli joined Morning Consult in 2016 from Roll Call, where he reported on House and Senate campaigns after five years of covering state-level politics in the Show Me State while studying at the University of Missouri in Columbia, including contributions to The New York Times, Politico and The Daily Beast. Follow him on Twitter @eyokley. Interested in connecting with Eli to discuss his analysis or for a media engagement or speaking opportunity? Email [email protected].
We want to hear from you. Reach out to this author or your Morning Consult team with any questions or comments.
Contact Us