COVID Fees Are Cropping Up at Businesses. Majorities of Consumers Are Not Happy About It.
Roughly 59% of U.S. adults, on average, oppose fees aimed at recouping pandemic-related costs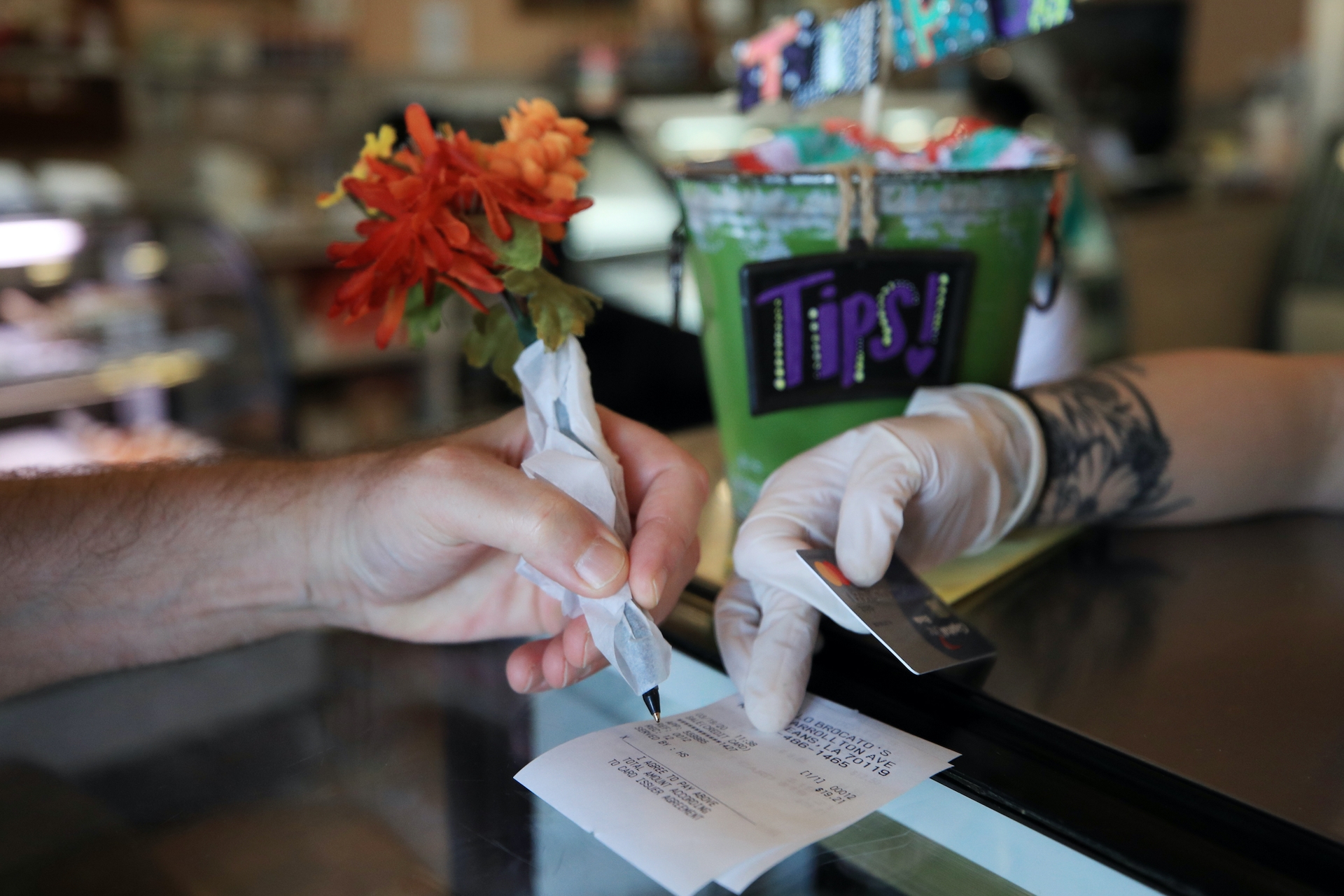 Key Takeaways
16% of Americans said they have paid a COVID fee since March, and some businesses have been criticized for the practice.

Respondents said they're more likely to support COVID fees at minority-owned businesses, but opinions do not differ much between local and national institutions.

To avoid backlash, some industry experts suggest covering additional costs with different methods, such as upping menu prices.
The coronavirus pandemic has created a number of additional costs for businesses and institutions, many of which are already grappling with fewer customers and shrunken sales. To help stay afloat, some are tacking on charges known as COVID fees, a move that is not exactly popular among consumers, according to Morning Consult data.
Sixteen percent of U.S. adults said they have paid a COVID fee at least once since the start of stay-at-home orders in the country in March. Media reports of the fees show they're common in service industries, such as beauty salons and restaurants, as well as for medical services such as dentistry.
"If you want to add a surcharge and you think that will mitigate your costs and help you, then definitely do that," said Amit Mehrotra, an assistant professor in the New York City College of Technology's hospitality management department. "But there is a danger of losing customers. There might be some sort of an outrage."
Many businesses have already come under fire for tacking COVID fees onto the end of receipts, and the Morning Consult polling suggests that more consumer backlash is a real possibility. Across a variety of businesses and institutions, both national and local, majorities of consumers expressed opposition to the idea of being charged a COVID fee.
"Hiding it in the checkout or hiding in the receipt is where it's a problem," said Anna Laitin, director of financial fairness and legislative strategy for Consumer Reports Inc. "Shoppers are also facing a crisis of their own, so to be struck with a hidden fee at a time like this can be hard for the consumer. It goes both ways."
Industry experts suggest alternative routes to recoup costs, such as increasing menu prices at restaurants, a practice that most consumers likely already accept as a necessary move for businesses dealing with increased product costs.
For businesses that do decide to implement COVID fees, they should keep them as low as possible to keep consumers happy. Sixty percent said that zero to 1 percent is a fair fee, a number that drops to below half (46 percent) for a 2 to 5 percent fee, and below a quarter (22 percent) for a 6 to 10 percent fee.
Laitin said that when it comes to local businesses, consumers might show more understanding for added fees. A majority (52 percent) of consumers said they would be more likely to support COVID fees for local businesses, but analysis of split sample polling found that, for the most part, attitudes are statistically unchanged when respondents are asked about local businesses versus national companies. 
Consumers, especially Generation Z adults, are more accepting of COVID fees at minority-owned businesses. Thirty-one percent of all adults said they would be more likely to support the policy at a business they knew was owned by someone from a racial or ethnic minority group, and nearly half (46 percent) of Gen Z adults said the same.
Businesses might also consider making any additional fees optional, as 60 percent of consumers said they would be more supportive of COVID fees if they had the option not to pay them.
The Manchester Grill in Washington state has been testing a version of this policy since reopening for takeout only.
The restaurant has been doing good business selling mixed drinks, said owner Laurieann Aladin, but packaging them in Mason jars is more expensive than serving a drink in the dining room, so the restaurant has also been charging a bottle fee. But if customers come back and return their jars, the fee is refundable.
"You don't want to gouge the customer," she said. "No one wants to feel like they're being gouged, especially when it's takeout and you can't offer the same ambiance."
While The Manchester Grill is not charging a COVID fee in the traditional sense, since it shifted to takeout only, the restaurant has been charging customers a small takeout fee, usually about 75 cents per meal, to make up for added costs associated with the service and avoid raising menu prices.
"It covers the cost of packaging because we're no longer utilizing our in-house silverware and dishes, but that is clearly stated," Aladin said. "If we were to do a COVID fee on top of that, I would imagine it would be met with outrage."
That policy — being upfront about the fee and how it's used — is likely a good practice across industries. More than half (51 percent) of consumers said they would be more supportive of COVID fees if they knew how the money was being used.
Jim Williams, chief executive of MustHaveMenus, a company that provides marketing services to about 10,000 restaurants in the country, said small menu price hikes have been much more common among his clients as they strive to adjust their business without alarming customers.
"It's absolutely standard practice to make adjustments to your pricing based on cost, and sometimes it works in the consumer's favor," he said. "Who's going to mention an extra 25 cents, or even notice?"
While COVID fees are unlikely to stick around post-pandemic, other changes that came about as a result of the pandemic could be more long-lasting for restaurants and other businesses that were used to interacting with customers in person.
"We are not thinking that all is better in January," Williams said. "We think this is a long haul, new normal, through 2021, and restaurants are going to be in a similar situation as they are today where they have to communicate and present safety plans."
Alyssa Meyers previously worked at Morning Consult as a reporter covering brands and marketing.
We want to hear from you. Reach out to this author or your Morning Consult team with any questions or comments.
Contact Us