COVID-19 Changed Campaigns. Some of Those Changes Are Here to Stay
Leaders of 2020's top congressional campaigns say tech advancements allow candidates to turn down fewer opportunities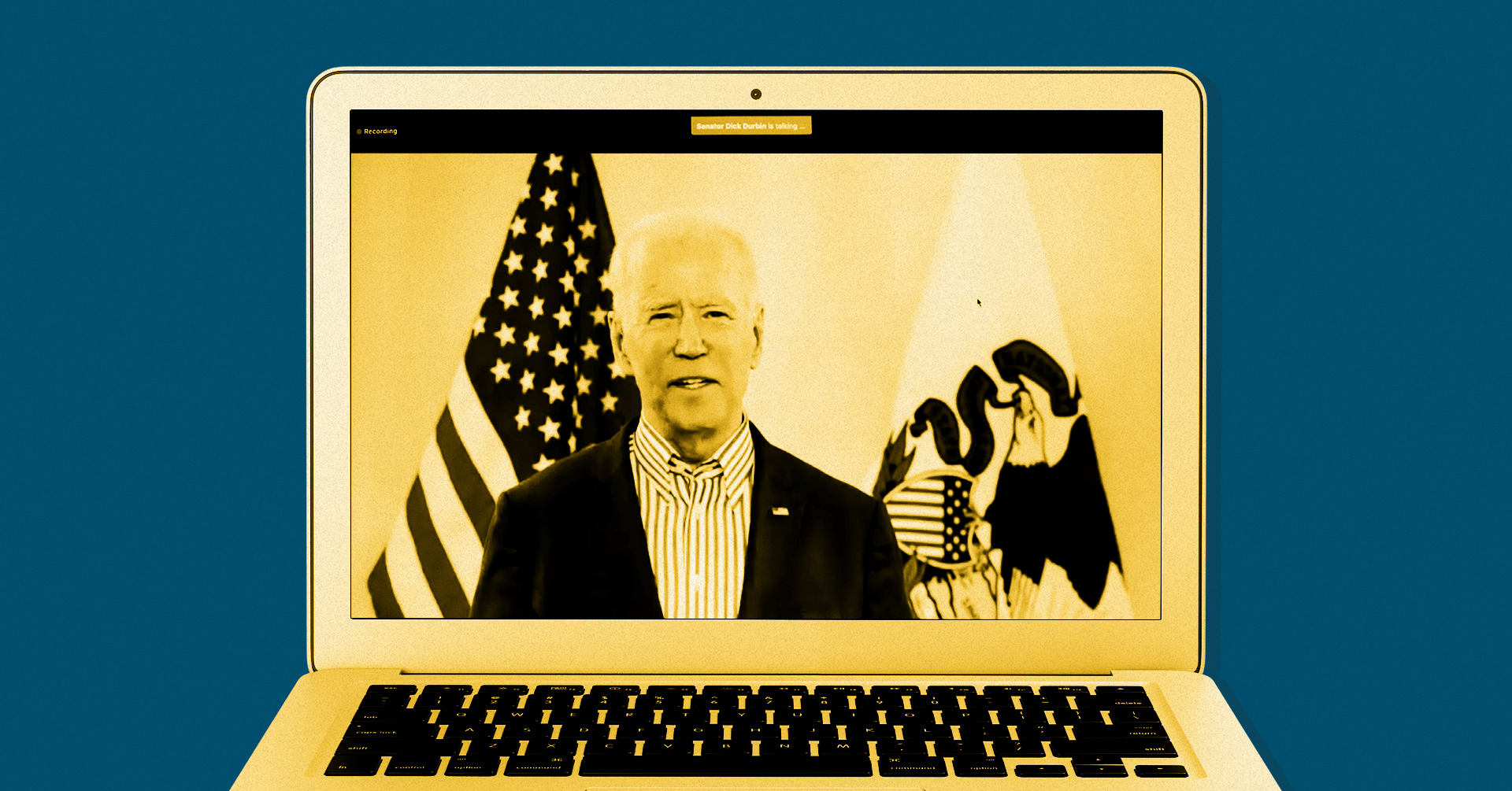 Key Takeaways
Digital outreach works best for core supporters, but doesn't replace a handshake for persuadable voters.

Major donors are expected to want candidates to show up in person rather than for Zoom fundraisers.

Campaigns are considering more opportunities for remote work, but lure of the bullpen likely to bring young staffers back in.
Morning Consult is commemorating the one-year anniversary of when the World Health Organization declared COVID-19 a global pandemic. Read our data-driven pieces about how the novel coronavirus has transformed the movie theater, restaurant and sports industries.
The rise of the coronavirus pandemic came at a time when many of 2020's political contests were getting real, forcing on-the-fly reassessments from campaign managers on everything from staffing decisions to voter-contact plans and how to allocate a candidate's time.
As the 2022 midterm elections start to take shape and America inches toward a return to some semblance of normalcy, political operatives involved in several of the top races last cycle said the coronavirus-era campaigns forced a digital evolution that won't likely ever be reversed. But they hope it will never again be embraced in full. 
"It showed us there's a lot we can do," said Ali O'Neil, who managed Democrat Jill Schupp's competitive but ultimately unsuccessful campaign to unseat Republican Rep. Ann Wagner last year in Missouri. "By combining with a hybrid model, I think it could create more opportunities, not less."
Virtual tools "will allow us to say 'no' a little less."
Zack Carroll, campaign manager for Jaime Harrison
That new reality might be most applicable for how and where campaigns choose to allocate a candidate's time. While many House districts, like Wagner's suburban St. Louis perch, are relatively compact, that isn't the case in places like Texas' competitive 23rd District, which spans much of the state's border with Mexico – let alone for a campaign across an entire state like the one Jaime Harrison ran against Republican Sen. Lindsey Graham.
For Zack Carroll, a Democratic strategist who led Harrison's 2020 efforts, America's newfound comfort with online video conferencing platforms such as Zoom has reduced logistical challenges, allowing candidates to attend canvas kickoff events or county party meetings in one part of the state when the schedule calls for them to be in another.
"On a campaign, you have finite resources, finite money and finite time, so you have to say 'no' a lot – that is your job as a campaign manager," he said. "On Zoom, that will allow us to say 'no' a little less."
But looking into a candidate's eyes on a computer screen doesn't replace the intimacy of a handshake, and those involved in the 2020 campaigns said that is particularly true for outreach efforts looking to persuade voters at the coffee shop or county fair who may not be inclined to go to the trouble of logging in to a virtual event. 
"There's something so sterile about how these online things operate – you give remarks then do a Q&A – so I'd like to do less of that," said Mara Mellstrom, who managed freshman Republican Rep. Nancy Mace's winning campaign against Democratic incumbent Joe Cunningham in South Carolina. "There's no substitute for meeting voters where they are."
That's also true of interactions with the major donors that held a big role underwriting past campaigns, who will likely expect post-pandemic candidates to return to the dominion of their homes or rented banquet rooms to kiss the ring and collect their checks.
"The Zoom stuff is just kind of awkward for that sort of thing," said Parker Hamilton Poling, the executive director of the National Republican Congressional Committee during the 2020 cycle. "You're like: 'I want my terrible food and my handshake.' It doesn't work virtually."
Still, campaign operatives across the aisle expressed optimism that the natural growth in small-dollar contributions during the 2020 campaign – though not directly caused by the pandemic – could lessen some candidates' reliance on high-dollar events. 
Sam Oh, a vice president at the Republican digital firm Targeted Victory who worked directly with the winning GOP campaigns of Reps. Young Kim and Michelle Steel in California, said that while the schmoozy gatherings will inevitably return, the pandemic underlined the benefits of building an online fundraising base for a party that has traditionally leaned on in-person events to raise money. 
"Digital fundraising spiked after 2018, and after what we saw with the 'Green Wave,' there's been a lot of focus and emphasis put on it. But you only saw some of the candidates really invest early in it in 2019," he said of the GOP. "People now – even more – have a stronger conviction to invest in small-dollar contribution programs." 
"You're like: 'I want my terrible food and my handshake.' It doesn't work virtually."
Parker Hamilton Poling, executive director of the NRCC during the 2020 cycle
Along with online fundraising, the pandemic forced campaigns to get creative with voter outreach traditionally done by door-knocking. Lucinda Guinn, former executive director of the Democratic Congressional Campaign Committee, said in-person campaigning matters, but it was hard for campaigns to pull off "when you're following the rules" of COVID-19 safety.
Some Democrats have criticized the party for its diminished in-person canvassing efforts, accusing it of ceding the stoops and porches of potential voters to Republicans, especially early in the pandemic. Guinn stands by the decision, and said it will ultimately benefit their voter-outreach programs in some ways following a heightened focus on updating databases that fuel the Democrats' digital and texting outreach efforts. 
"We are smarter and better for it," she said. "And just because we're going to go back to canvassing doesn't mean any of that should go away." 
In St. Louis, O'Neil said the Schupp campaign organized virtual "text-banking" events, where volunteers would log on to a video conferencing platform to try to reproduce the feeling of in-office phone banking for voter outreach events. In Charleston, S.C., Mellstrom said Mace's campaign led similar efforts from volunteers who had success in engaging voters by text message, which she and others expect to continue in some capacity – at least until voters feel overloaded by it.  
The 2020 campaign also saw more paid campaign staffers work remotely – with some prominent campaign players only meeting their bosses in person several months after signing on. Like much of corporate America, the political class is wondering if that kind of remote work will continue as more Americans get vaccinated and trickle back to the physical workplace. 
While some campaign leaders spoke of delayed deployment for senior staff or more openness to remote work, particularly from campaign research or fundraising workers, most described the lure of the campaign office bullpen as irresistible to young, hungry staffers. 
"I feel bad for the kids who worked at the NRCC this cycle, because I do think they missed out on an element of camaraderie that is part of the fun of working on a campaign," said Poling. "Eating cold pizza at the conference room at 10 o'clock at night – a lot of the reason people do that is part of the team atmosphere, and that does not work over Zoom." 
Eli Yokley is Morning Consult's U.S. politics analyst. Prior to his current role, Eli was Morning Consult's senior reporter covering U.S. politics. Eli joined Morning Consult in 2016 from Roll Call, where he reported on House and Senate campaigns after five years of covering state-level politics in the Show Me State while studying at the University of Missouri in Columbia, including contributions to The New York Times, Politico and The Daily Beast. Follow him on Twitter @eyokley. Interested in connecting with Eli to discuss his analysis or for a media engagement or speaking opportunity? Email [email protected].
We want to hear from you. Reach out to this author or your Morning Consult team with any questions or comments.
Contact Us