A Mixed Grade for COVID-19 Vaccine Rollout: More People See It as Effective but Frustration Is Still High
Adults most likely to describe effort as frustrating, effective, disorganized and too slow
Key Takeaways
57% of adults say the COVID-19 vaccine rollout has been effective, up from 39% in early January, though 62% also say it's been frustrating, unchanged since January.

There was no clear consensus among unvaccinated people on when they thought they'd be able to access a shot, with a plurality of 20% saying it would be within two to three months.

41% of unvaccinated adults 65 and older said they were eligible for a shot but having a hard time signing up for an appointment.
Two and a half months into the country's COVID-19 vaccine rollout, the public's opinion of the effort has improved markedly -- though they still want it to go faster.
As of March 2, about 20 percent of U.S. adults have gotten at least one COVID-19 shot, according to the CDC, with an average of 1.9 million doses administered per day over the past week as the Biden administration sprints toward its goal of 100 million shots in its first 100 days. 
New Morning Consult polling shows the public has taken notice: 57 percent of adults said they think the vaccine rollout has been effective, up from 39 percent in early January.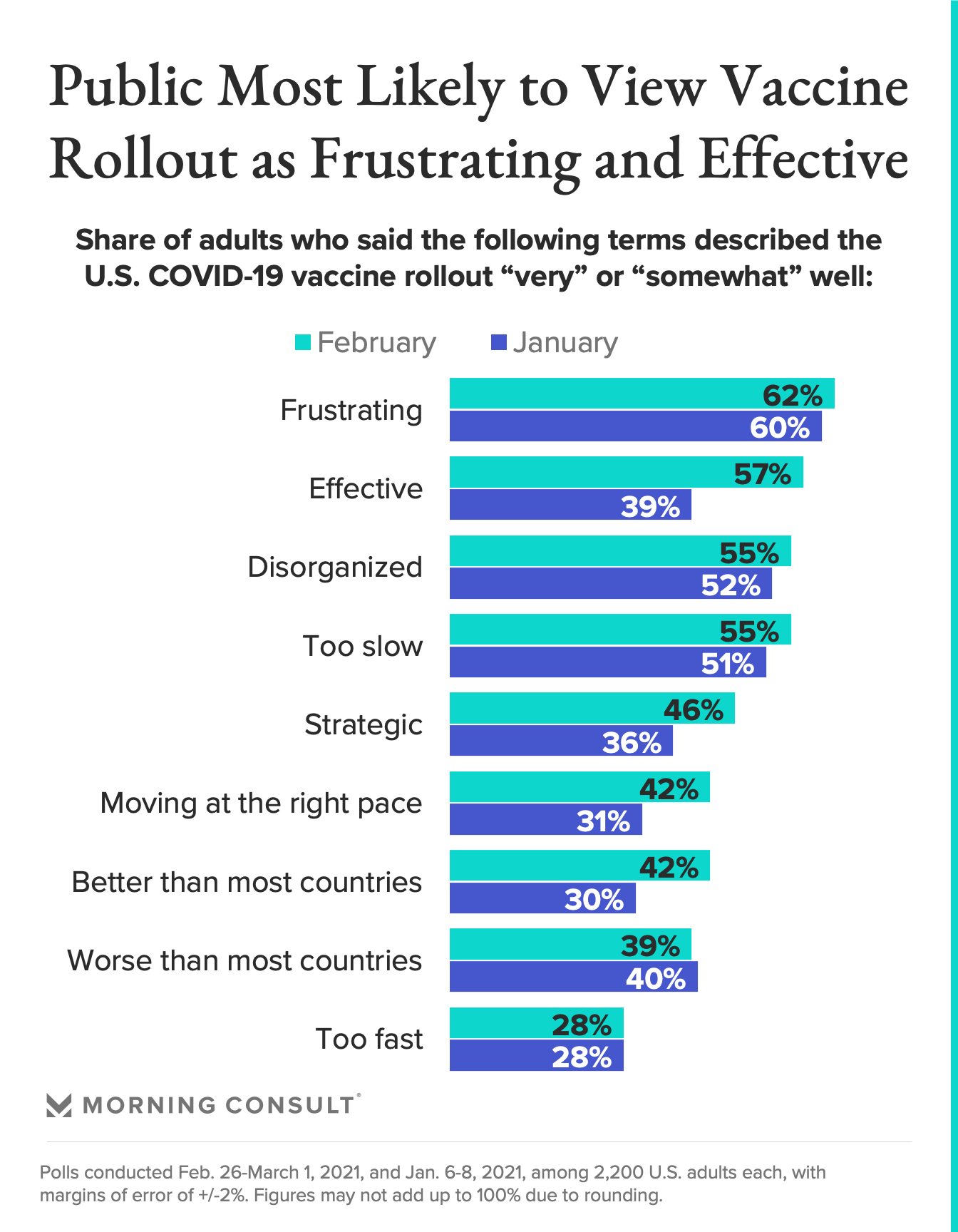 Even so, 62 percent of adults said the rollout has been frustrating, a level virtually unchanged from January, while another 55 percent of adults said the vaccination effort is going too slow and the same share said it's been disorganized. 
And they were split on whether the United States was doing better or worse than other countries, 42 percent to 39 percent. That perception clashes with data from Bloomberg's global vaccine tracker showing the United States is toward the front of the pack when it comes to vaccinating its population.
The findings come days after federal regulators authorized Johnson & Johnson's one-dose COVID-19 shot, adding to the country's arsenal of vaccines from Moderna Inc. and Pfizer Inc.-BioNTech SE. Together, the drugmakers could boost U.S. vaccine supply to have enough doses for every American adult by the end of May, President Joe Biden said Tuesday.
But Biden and other administration officials have previously predicted vaccines will be widely available in the United States anywhere from early spring to mid-summer, and the shifting timeline appears to have left many unvaccinated adults uncertain about when they can expect a shot.
In the poll, 13 percent of unvaccinated people said they thought they'd get a shot in the next two weeks or month, while 20 percent said it would be two to three months, 10 percent said it would be in the next six months and 8 percent said it would be more than six months from now. Twenty-two percent said they didn't know or had no opinion. 
Older adults generally thought they'd get vaccinated sooner than younger adults did, but there were few other differences among groups.
The public was also divided on whether they think the government has done a good job letting them know when they'll be eligible, with 49 percent of adults saying it has and 40 percent of adults saying it hasn't. 
Still, the latter figure is down from January, when 55 percent of adults said the government hasn't done well at letting them know when they'll be eligible.
Asked about the main reason they haven't yet gotten a shot, 36 percent of unvaccinated adults said they weren't yet eligible and 30 percent said they don't plan to get vaccinated.
But others are facing challenges, with 12 percent of unvaccinated adults saying they were eligible for a COVID-19 vaccine but couldn't get an appointment, including 41 percent of those 65 and older.
Advocates for older adults have been raising alarm bells for weeks, warning that barriers with technology, transportation and other logistics were making it difficult for seniors who don't live in nursing homes to get their shots.
Some eligible people have opted to delay vaccination. Another 12 percent of unvaccinated adults said they were eligible but were waiting until more high-risk people got their shots. Public health professionals and medical ethicists have recommended eligible people get vaccinated even if they don't believe they're particularly vulnerable.
Gaby Galvin previously worked at Morning Consult as a reporter covering health.
We want to hear from you. Reach out to this author or your Morning Consult team with any questions or comments.
Contact Us