Dr. Anthony Fauci's Vaccine Guidance Most Likely to Encourage Voters to Get Vaccinated
The nation's top infectious disease expert trumps CDC, FDA, politicians on voters' vaccine trust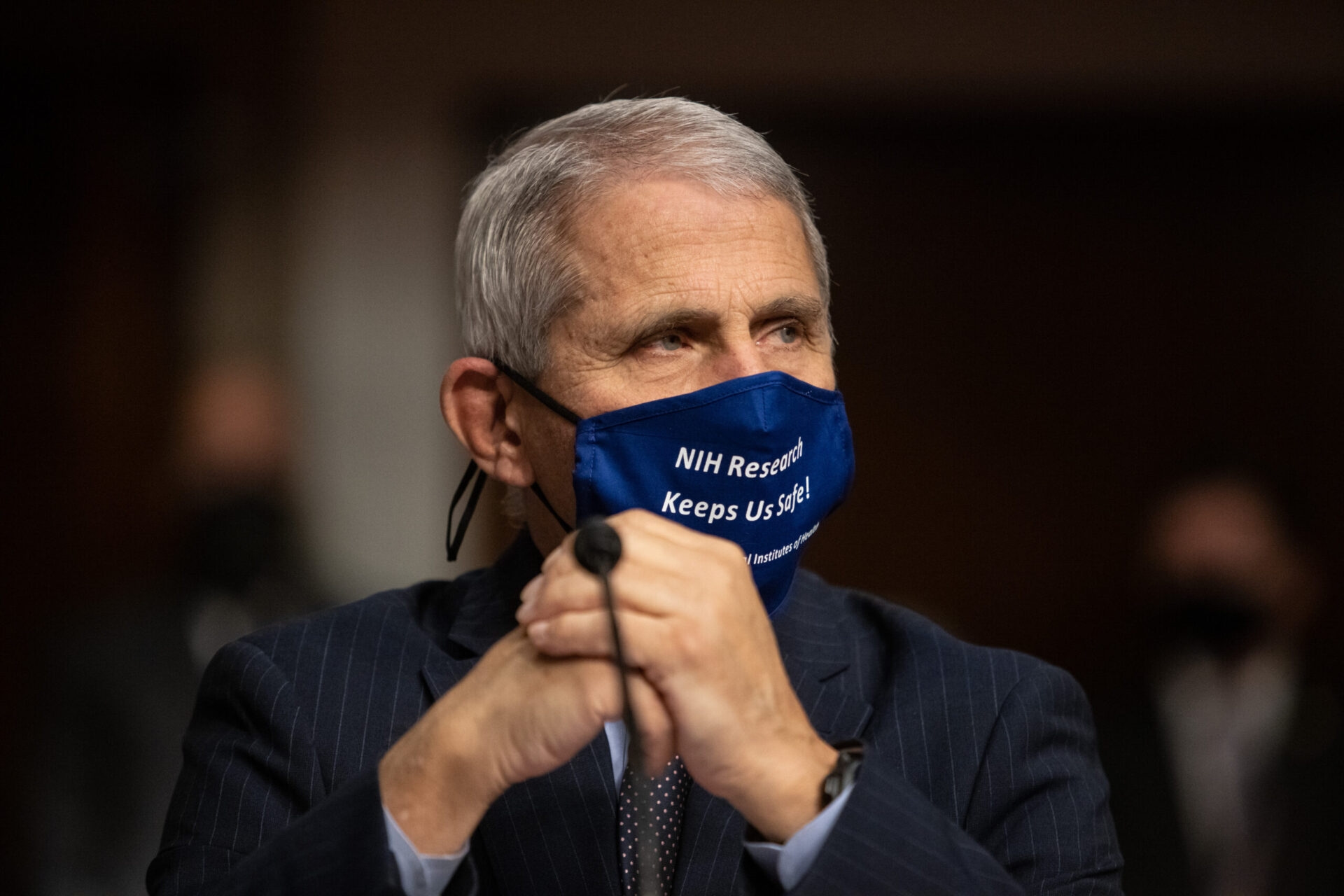 Key Takeaways
47% of voters said they'd be more likely to seek a coronavirus vaccine if Fauci suggested it.

1 in 5 voters would be more likely to get vaccinated if President Donald Trump recommended it, compared with 26 percent of voters who would follow Democratic presidential nominee Joe Biden's guidance.
When it comes to voters' willingness to seek a coronavirus vaccine, recommendations from federal health agencies hold significantly more weight than guidance from politicians, and nobody's word is valued above that of the nation's top infectious disease expert, Dr. Anthony Fauci.
That's the consensus of a new Morning Consult/Politico poll that surveyed voters' trust in institutions including the Centers for Disease Control and Prevention and the Food and Drug Administration, politicians such as President Donald Trump and Democratic presidential nominee Joe Biden and top officials from the Department of Health and Human Services, the CDC and the FDA, as well as pharmaceutical companies, scientists working outside of the government and the media.
In general, voters were more likely to say they'd be influenced to seek a coronavirus vaccine by agencies such as the CDC (45 percent), National Institutes of Health (41 percent) and FDA (36 percent) than by Trump (19 percent), Biden (26 percent) or their running mates, with Vice President Mike Pence at 19 percent and Sen. Kamala Harris (D-Calif.) at 23 percent.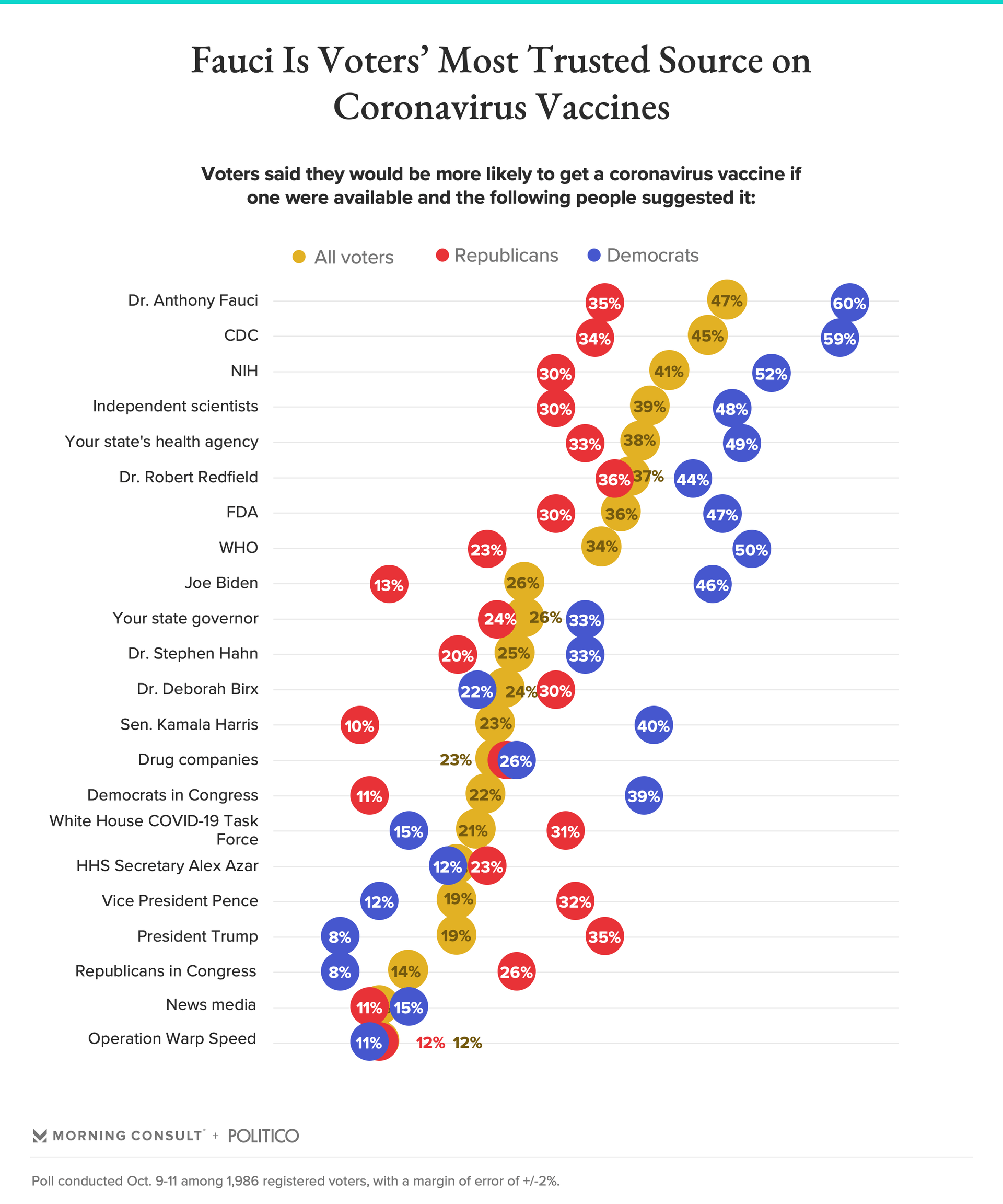 The 7-percentage-point Trump-Biden split is narrower than the divide between the two men when it comes to whom voters say they trust more to oversee the development, testing and release of a coronavirus vaccine, with Biden at 47 percent to Trump's 36 percent. Multiple clinical trials for coronavirus vaccines and treatments have been paused for potential safety concerns recently, including Johnson & Johnson's vaccine trial and Eli Lilly & Co.'s antibody treatment study this week, while AstraZeneca PLC's vaccine trial has yet to resume in the United States after being put on hold Sept. 8. It's not uncommon for drug companies to pause clinical trials, but these types of holds have garnered increased attention amid the pandemic.
Which candidate voters say would sway them to get a vaccine is heavily influenced by political affiliation, with 46 percent of Democrats saying they'd be more likely to seek a vaccine if Biden said they should and 35 percent of Republicans saying they'd probably follow Trump's recommendation.
Thirty-five percent of voters overall said a vaccine endorsement from Trump would make them less likely to seek a vaccine, while the same share said it would have no impact on their plans. When it came to Biden, 21 percent of voters said his urging would make them less likely to get vaccinated, while 38 percent said it wouldn't affect their decision.
The survey was conducted among 1,986 registered voters from Oct. 9-11 and has a margin of error of 2 points.
Twenty-one percent of voters said they'd be more likely to seek a vaccine if the White House coronavirus task force recommended it. Yet Fauci, perhaps the task force's most famous member, had the highest level of influence among all 22 people and groups included in the survey, with 47 percent of voters saying they'd be more likely to seek a vaccine if the longtime director of the National Institute of Allergy and Infectious Diseases suggested it.
Fauci is the most influential person for Democrats and the second-most influential person for Republicans after CDC Director Dr. Robert Redfield. Both Democrats and Republicans also put a lot of stock in the CDC and their state health departments, and have little confidence in each other's political representatives, Operation Warp Speed or the news media.
Overall, 11 percent of voters said they'd be more likely to seek a vaccine if Operation Warp Speed, the federal government's vaccine effort, suggested it — tied for last place with the news media. HHS Secretary Alex Azar and Republicans in Congress would influence fewer than 1 in 5 voters.
For each of the people and groups featured in the survey, between 34 percent and 47 percent of voters said they'd have little influence on their decision to get vaccinated, and few of these entities were likely to turn sizable shares of voters away from a vaccine with their endorsement. In a separate Morning Consult poll conducted Oct. 8-10, 48 percent of adults said they'd seek a coronavirus vaccine if one were available today — a record low.
The new survey also shed light on voters' expectations for a coronavirus vaccine: 7 percent of voters think a vaccine will be available within the next month, as Trump suggested as recently as the presidential debate on Sept. 29, while 35 percent think a vaccine will be available more than six months from now.
Meanwhile, 48 percent of voters said they think Trump is pressuring the FDA to prematurely approve coronavirus treatments and vaccines to help his re-election effort, while 34 percent said that the president's political opponents are spreading anti-vaccine misinformation to undermine the Trump administration's vaccine efforts.
Those responses were almost entirely split along party lines, though 1 in 5 Republicans said Trump is pressuring the FDA, while 13 percent of Democrats said Trump's opponents are spreading misinformation.
Gaby Galvin previously worked at Morning Consult as a reporter covering health.
We want to hear from you. Reach out to this author or your Morning Consult team with any questions or comments.
Contact Us