One Strike, They're Out: Disgraced TV Hosts Won't Get a Second Chance From the Public
59% of U.S. adults say they support removing a host who has defended racist behavior
Key Takeaways
62% of U.S. adults said they support removing hosts for spreading misinformation about COVID-19; 55% said they support the removal of hosts facing allegations of promoting a toxic workplace.

Roughly half of adults said an interview with a journalist (53%) or talk show (52%), or a break from the public eye (51%), would be effective apology methods.

On average, 58% of respondents said a host should not be given a chance to return to their role if they committed certain offenses, including being arrested for a felony or major crime or defending racist behavior.
No TV host is safe in the year 2021. Just ask Chris Harrison and Ellen DeGeneres. 
The respective hosts of "The Bachelor" and "Ellen" both stepped away from their television roles after scandals involving defending racist actions (Harrison) and a toxic workplace (DeGeneres), cast the beloved personalities in a new light. And TV networks' shunning of talent could become more commonplace as viewers become less forgiving of crimes, misconduct and medical misinformation and as brands affiliated with the shows look to protect their reputations.   
A June 30-July 6 Morning Consult survey asked 2,193 U.S. adults if they support or oppose removing hosts from their roles for a variety of reasons, including allegations of sexual misconduct or abuse, defending racist behavior and allegations about a toxic workplace. For most of the offenses, the majority of respondents supported firing the hosts.
While being arrested for a felony and facing allegations of sexual misconduct were seen as the most egregious offenses, more than half of adults supported removing hosts who defended racist behavior (59 percent) or those who face accusations of fostering a toxic workplace (55 percent), according to the survey, which has a margin of error of 2 percentage points. 
After allegations that DeGeneres' producers committed microaggressions and fired employees for taking medical or bereavement leave surfaced last summer, DeGeneres, who said she learned of the accusations in the press, said in May she would end "Ellen" in 2022 after its 19th season. (Explaining her decision to The Hollywood Reporter, DeGeneres said she "needed something new to challenge me.") 
And last month, ABC announced longtime "Bachelor" host Harrison would step down after he publicly defended a contestant's attendance at an antebellum plantation-themed party in 2018.
According to data from Critical Mention shared by Stacy Jones, CEO of Hollywood Branded, an entertainment marketing agency, the allegations surrounding DeGeneres and her show earned more than 23,000 media mentions and 154 billion media impressions, along with a negative publicity value of more than $3 billion. 
Hosts are just one aspect of a show that contributes to a network's larger brand, and brands have become more sensitive in recent years, said Alice Sylvester, a partner at Sequent Partners, a brand and media metrics consultancy, partly due to the rise of social and political movements, including #MeToo and Black Lives Matter.   
Reaction to controversies related to social issues "seems a lot more punitive," Sylvester said. "There's a high level of activism, there's an impatience" from the audience. As a result, "the marketers, and the networks, have become hypersensitive to issues like this."  
Sixty-two percent also supported removing hosts who spread misinformation about COVID-19 or vaccines. In February, former "Jeopardy!" contestants penned a letter on Medium stating their opposition to Dr. Mehmet Oz as a guest host of the quiz show, citing his history of sharing controversial medical advice, including using hydroxychloroquine to treat the coronavirus.  
This type of action is seen as more egregious than allegations about a toxic workplace, something Amiee Watts, a partner at public relations and marketing firm Zito Partners, attributed the results to the public's heightened emotions surrounding the pandemic and its death toll.
"A toxic workplace is not a positive thing," Watts said, "but it's not going to cause people to die the way that a deadly virus will."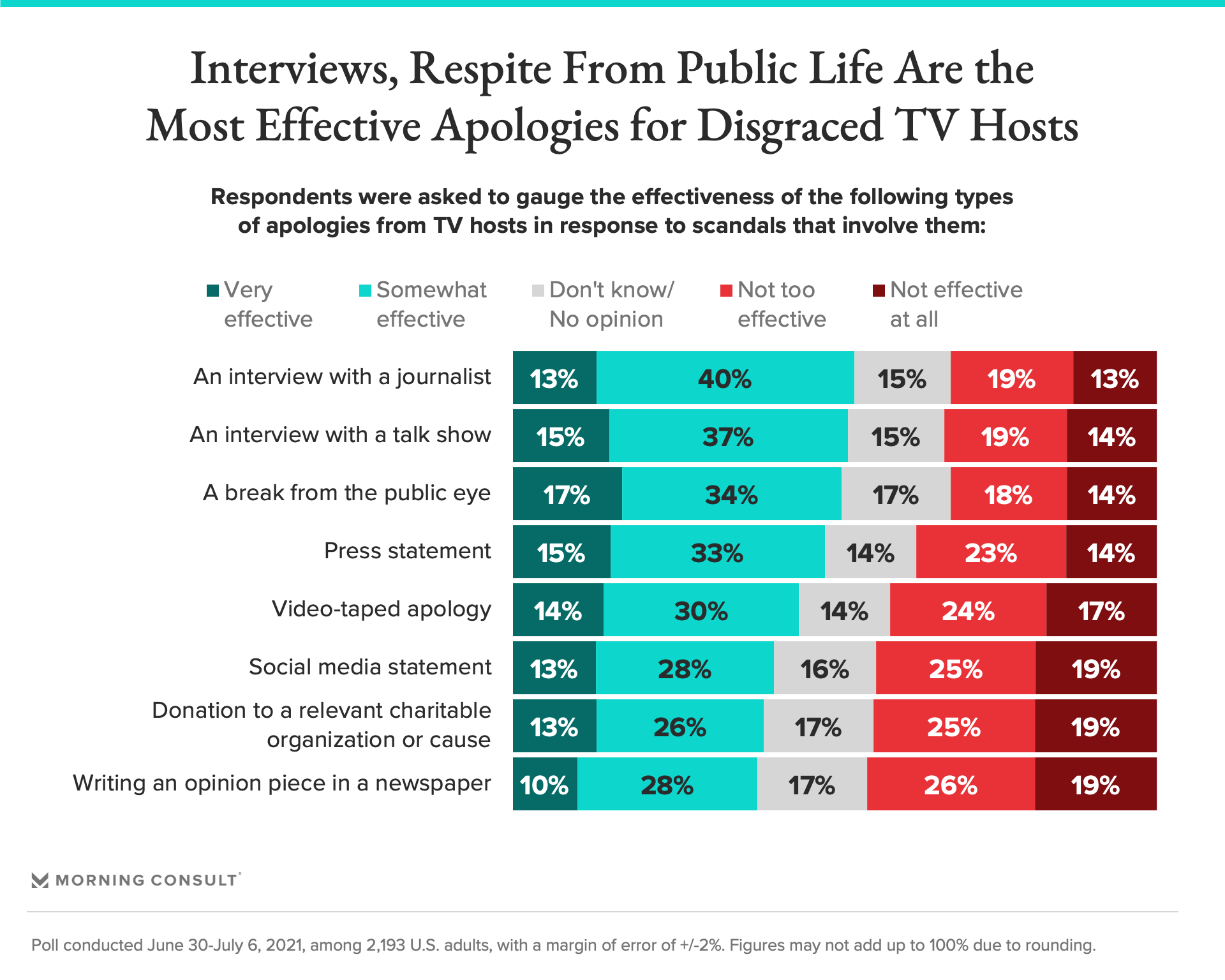 These controversies have consequences, as DeGeneres learned when her talk show and digital content reportedly lost sponsors following the workplace allegations. Often, those accused of misdeeds make an apology, but polling reveals that not every mea culpa is created equal.  
Roughly half of adults said an interview with a journalist or talk show, or a break from the public eye, would be effective methods of penance. In specific instances, an interview discussing previous racist behavior or an open letter addressing allegations of creating a toxic workplace, were deemed effective apologies by 46 percent and 42 percent of adults, respectively. 
A host's scandal can be mitigated with a thoughtful apology and clear acknowledgment of indiscretions, according to Jones. 
When celebrities are being proactive in admitting their mistakes, "they are better safeguarding their brand," Jones said, adding that the public often wants the star to ensure it won't happen again.
Sometimes, an apology works. After "Wild 'N Out" host Nick Cannon was fired by ViacomCBS Inc. for making antisemitic remarks on a podcast, the company rehired Cannon in February following his apology on Twitter. Cannon's antisemitic comments earned 14,000 media mentions, 52 billion impressions and a negative publicity value of $2 billion, according to Critical Mention data. 
Jones said some hosts are easier to recast than others, noting that fans of a reality show such as the "Bachelor," are likely more focused on the contestants and storylines than the host, while talk show hosts, whose specific personality is often the main draw for viewers, can prove difficult to replace. 
The survey's results, however, suggest apologies aren't seen as get-out-of-jail-free passes. 
In general, an average of 58 percent of respondents were largely against giving disgraced hosts another chance at reclaiming their jobs. What garnered the most opposition to a host's return was an arrest for a felony or allegations of sexual misconduct or abuse, at 68 percent and 67 percent, respectively. 
Jones said the standards in which viewers hold hosts get higher the more they watch them and familiarity builds, so when a controversy occurs, they're less interested in giving the hosts another shot. 
"We, as a society, put personalities such as hosts on such a high pedestal that we hold them to a higher regard of being perfect," Jones said. "And if they fall, they fall really hard."
Sarah Shevenock previously worked at Morning Consult as a reporter covering the business of entertainment.
We want to hear from you. Reach out to this author or your Morning Consult team with any questions or comments.
Contact Us