E-Scooters Rely on China for Parts. Here's How the Industry Is Weathering Coronavirus
Micromobility businesses say they're watching the pandemic closely for supply chain impact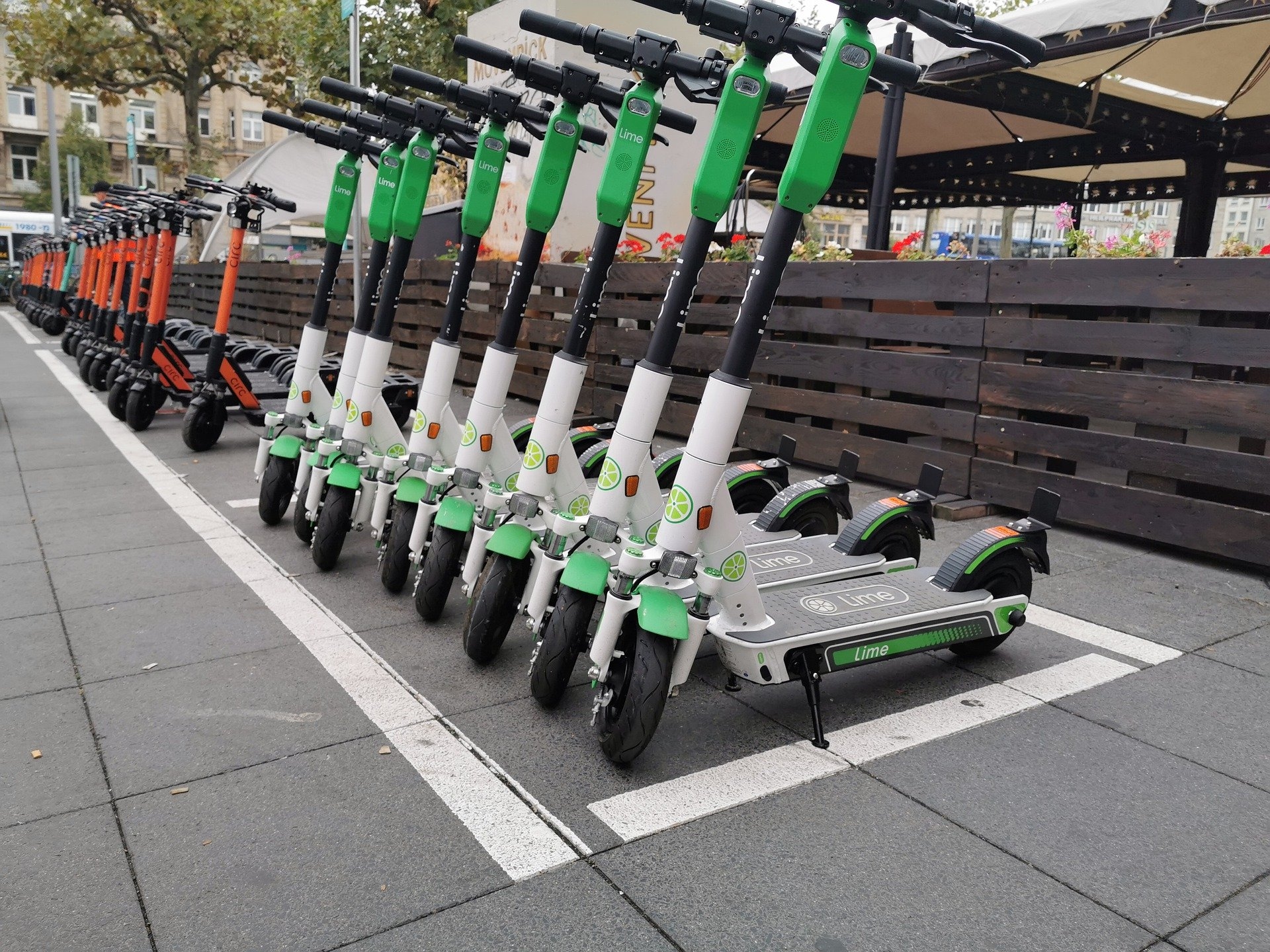 Apple Inc. isn't the only hardware company voicing concerns about slowed production estimates as the coronavirus pandemic spreads across the world. Companies that count electric scooter and bike rental services as a part of their business, such as Uber Technologies Inc. and Lyft Inc., aren't necessarily hurting yet, but they're keeping a close eye on how the virus could impact both supply and demand for their vehicles -- especially given the micromobility industry's reliance on Chinese factories for vehicle parts.
"What you might not realize about micromobility, at first glance, is that it's much more dependent on the supply chain than other transportation companies," especially compared to ride-hailing services, said Sanjay Dastoor, chief executive of e-scooter rental startup Skip Transport Inc. 
Lyft didn't respond to a request for comment but warned in an annual securities filing on Feb. 28 that coronavirus has already caused production delays for bikes, scooters, autonomous vehicles and other automotive parts, and it could "lead to further supply chain disruption or other business interruptions." 
And Frank Reig, CEO and co-founder of Revel Transit Inc., which operates rental mopeds in five U.S. markets, said in a statement that his company is in "close contact" with China-based Niu Technologies, which manufactures Revel's vehicles, and that while the pandemic hasn't impacted Revel's operations so far, "there may be delays on their production line."
As it stands now, most of the micromobility industry depends on China to manufacture the parts and components for their vehicles. But Tony Ho, the vice president of global business development at Segway Inc., noted that these parts are largely made in areas near Shenzhen and Shanghai -- not Wuhan, where the coronavirus first emerged. Because of that distance, Ho said Segway, which provides vehicles for many of the scooter operators like Lyft, has already returned to full production capacities in China, though it's unclear how much of an impact the slowdown during the Chinese New Year holiday will have on future shipments. 
Dastoor, whose company operates e-scooter rentals around Washington, D.C., said there was a slowdown on the supply side following the two-week Chinese New Year holiday that started on Jan. 25, but that production through their Chinese partners is "roughly" expected to be back up to full capacity by the end of the month. And despite what ended up being a one-month production lag, Dastoor said his startup had enough inventory to weather the changes. 
Several other companies also credited ample inventory with helping them wait out a manufacturing halt. Avra van der Zee, director of market entry at Uber's e-scooter and bike unit JUMP, said in a statement that while she expects the coronavirus will impact the company's supply chain "to some degree much like others in the micromobility space," the company remains confident that any near-term market launch in the United States remains "largely unaffected due to sufficient inventory." 
And although each of the companies contacted by Morning Consult declined to provide specific forecasts and sales numbers, a Lime spokesperson said in an email that the coronavirus hasn't impacted its business because the e-scooter provider relies on multiple suppliers and has adequate inventory in-market. 
Skip also has another advantage against a supply chain disruption, according to Dastoor: The startup doesn't prioritize disposable, low-quality scooters that much of the industry operated on when they first hit city streets in 2017. Instead, Dastoor said, Skip focuses on building a vehicle that will last much longer than a few weeks' time by viewing it like a vehicle: Each part of the scooter has an expiration date and requires regular maintenance to keep it in top shape. By operating scooters with a longer lifespan, Dastoor said the company has been able to be more flexible to any supply side issues that come their way.
As the virus continues to spread, Ho says Segway is turning its attention to how demand for the vehicles will change in the next few weeks with an increase in self-quarantining, leaving ridership for scooters and other vehicles dwindling. 
"Naturally, with the virus going around, people will probably stay at home more, and there are much fewer tourists going around, as well," Ho said. "Our industry is about commuting, and if everyone is commuting at home, there is less need for micromobility." 
Dastoor said that Skip officials will "expect fewer trips from tourists and more trips from residents, but have no comment on total demand patterns over the coming weeks and months."
A previous version of this story misstated Tony Ho's job title. He is the vice president of global business development at Segway. The story also misstated where most of the industry's vehicle parts are made. The parts are largely made in areas near Shenzhen and Shanghai.
The story has been updated with new comments from Sanjay Dastoor, chief executive of e-scooter rental startup Skip Transport Inc.
Sam Sabin previously worked at Morning Consult as a reporter covering tech.
We want to hear from you. Reach out to this author or your Morning Consult team with any questions or comments.
Contact Us