During Coronavirus Crisis, More Voters Hold Trump, Not Obama, Responsible for the Economy
Share of voters who point to president for current state of economy has risen 8 points since August to 63%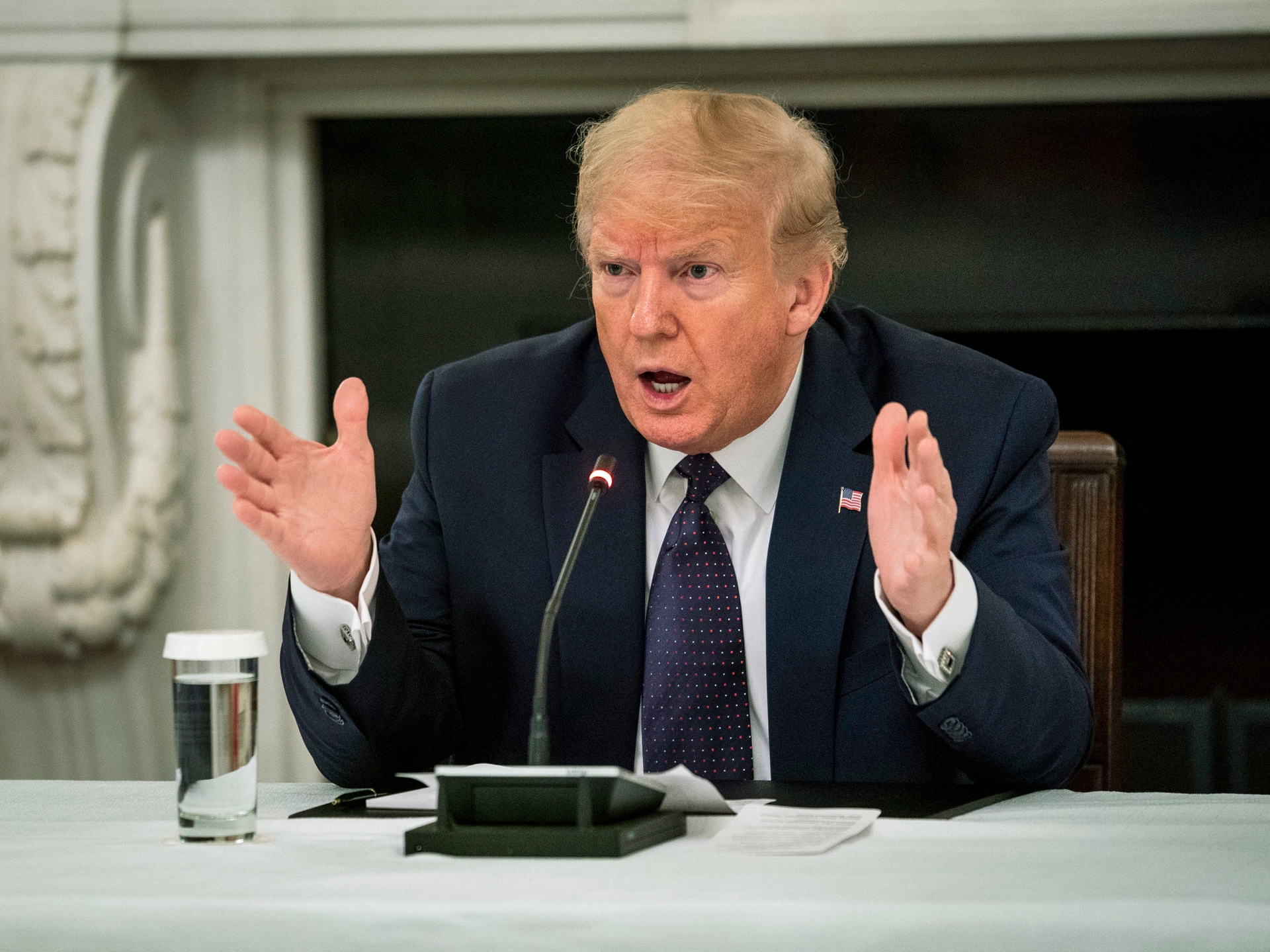 Key Takeaways
16% of voters say Obama is most responsible for the current state of the economy, down from 27% in August.

7 in 10 Democrats said Trump is most responsible, up from 49% who said the same in August.

Fewer Republicans are attributing the state of the economy to Trump now (62%) than they did nine months ago (69%).
In August of last year, the economy was humming along in the midst of its longest expansion ever, with the unemployment rate near its lowest level since 1969. Nine months later, unemployment has skyrocketed and consumer spending has ground to a halt amid the turmoil caused by the coronavirus pandemic. 
This stark change could weaken what was expected to be one of Trump's biggest bragging points in the 2020 presidential election: a booming economy for which he has repeatedly claimed credit. Meanwhile, he has often criticized the economic policies of the previous administration, saying he "inherited a mess" from his predecessor, President Barack Obama. 
A new Morning Consult/Politico survey shows that voters do pin the economy on Trump — but maybe not in the way he would want. Now that the economy is in worse shape than it was in August, more voters say the president, not Obama, is most responsible for the current economic situation.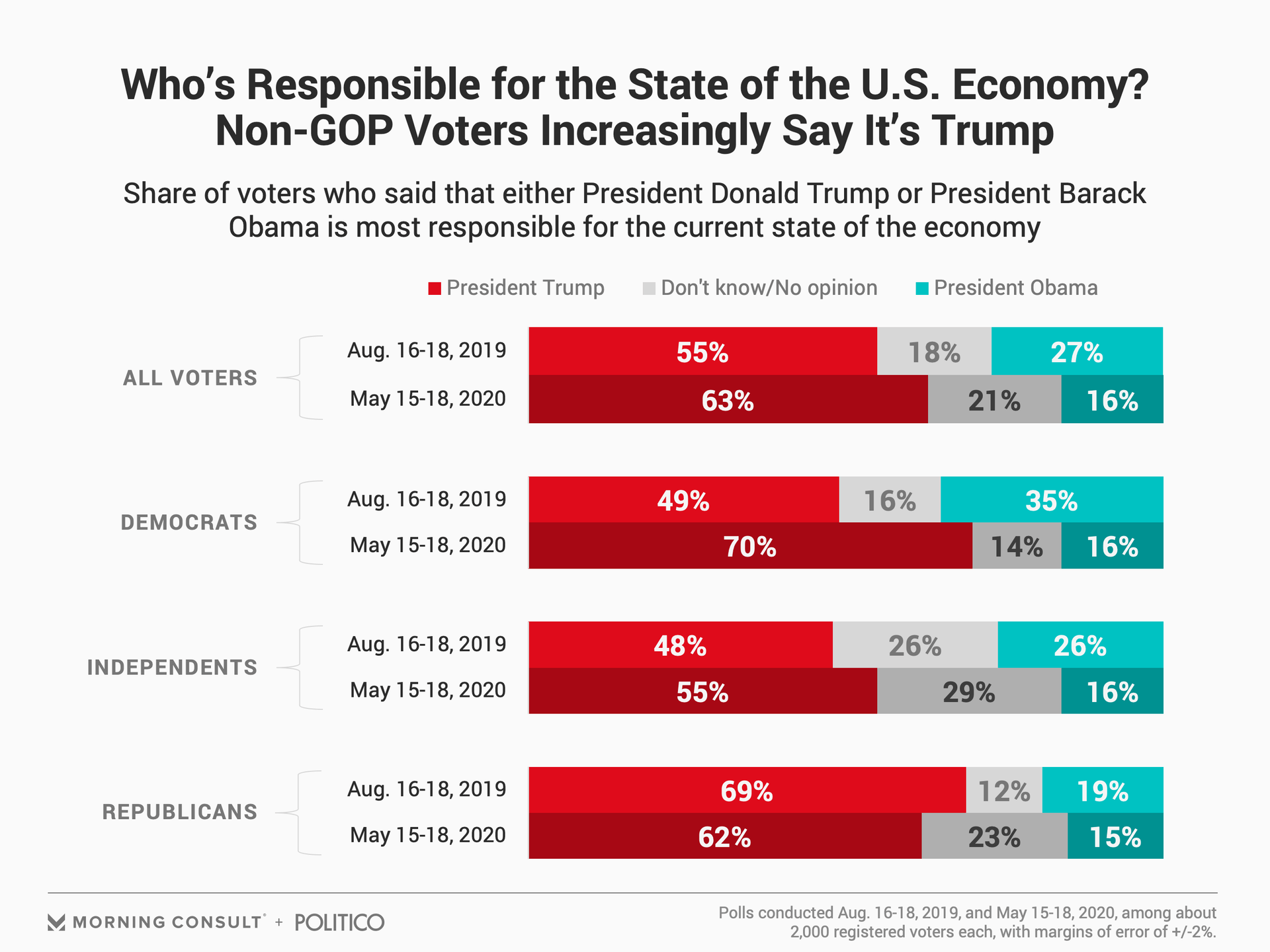 In a May 15-18 survey of 1,994 registered voters, 63 percent say that Trump is most responsible for the current state of the economy, compared to 16 percent who said Obama. 
That's an 8-point jump from an Aug. 16-18, 2019, survey of 1,998 voters asking the same question, when 55 percent of voters said that Trump was most responsible for the economy and 27 percent said Obama. (Both polls carry a 2 percentage point margin of error.) 
Most of the shift comes from Democrats, with 70 percent saying that the economy is Trump's responsibility, up from 49 percent in August. The share of independents who said the same also rose, with 55 percent attributing the economy to Trump this month compared to 48 percent in August. 
Crediting the economy to Trump fell slightly among Republicans over the course of nine months, from 69 percent in the August survey to 62 percent most recently. Fewer GOP voters also assigned responsibility for the economy to Obama, to 15 percent from 19 percent, while the share of Republicans who didn't have an opinion nearly doubled.
While Trump hasn't directly tied Obama to the economic downturn resulting from the pandemic, he has blamed, without evidence, the former president for the Centers for Disease Control and Prevention's problems with COVID-19 testing system. 
Claire Williams previously worked at Morning Consult as a reporter covering finances.
We want to hear from you. Reach out to this author or your Morning Consult team with any questions or comments.
Contact Us