Republicans See Education as a Key Midterm Wedge, but Polling Shows They're on Better Footing With the Economy
Republicans have gained a 10-point trust advantage over Democrats on economic issues since January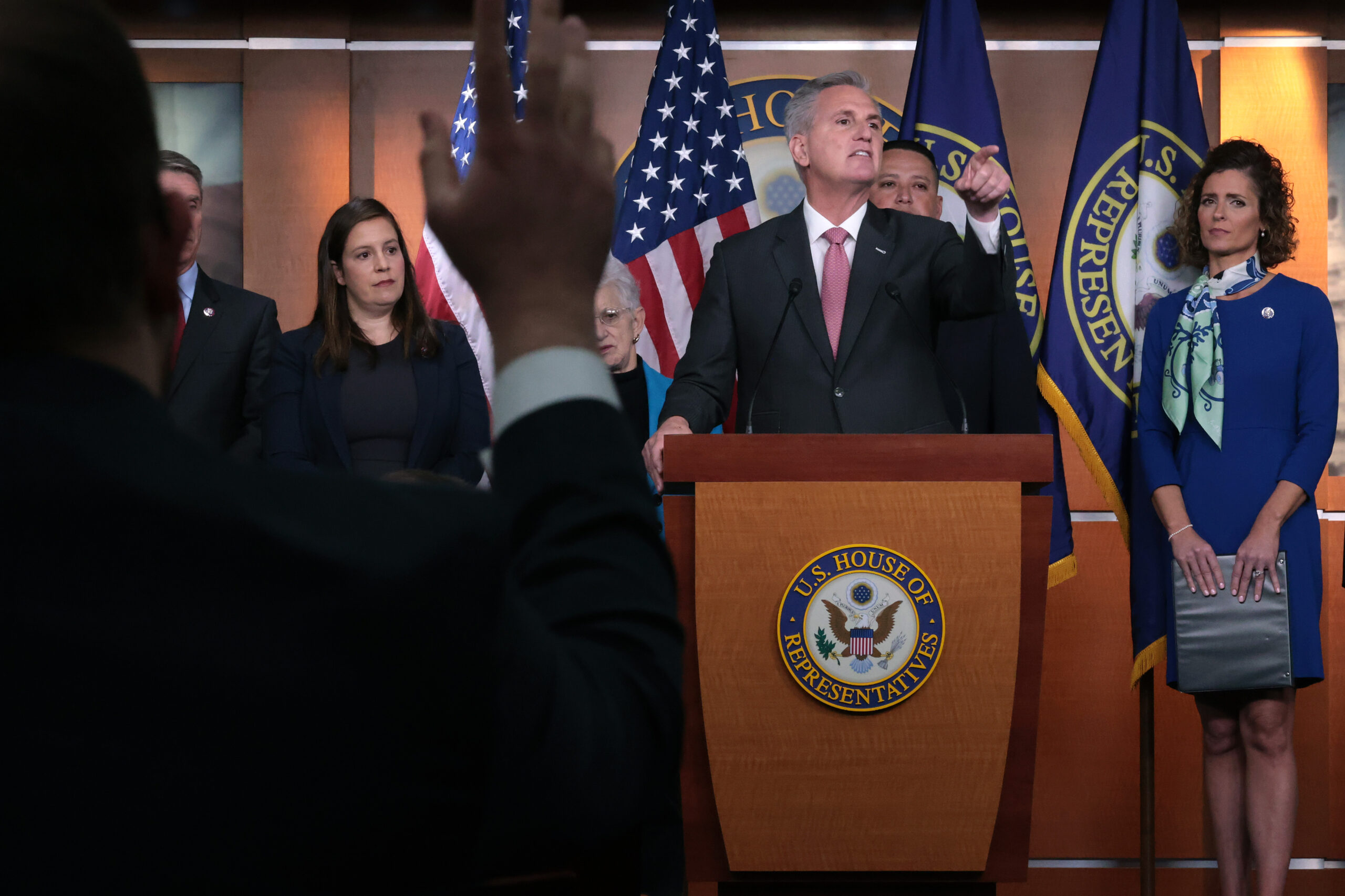 Key Takeaways
While congressional Republicans have made gains in voter trust on education, Democrats are still favored on the topic.

By contrast, Republicans enjoy a double-digit edge in trust on the economy, which widens among suburbanites.

The erosion in trust on education is also mirrored with other topics, and appears to be part of a more general shift in trust away from the party in power.
House Minority Leader Kevin McCarthy (R-Calif.) is looking to channel the energy around schools that the GOP has underlined as it touts its victorious showing in this month's Virginia gubernatorial race, pushing for a "parents' bill of rights" and declaring the GOP "the party of education."
But when it comes to the fight over control of Congress, the decline in voter trust toward Democrats on educational issues looks to be part of a broader erosion rather than a specific topical advantage, according to Morning Consult/Politico polling, which shows that Republicans continue to sport one of their best advantages on voters' top concern: the economy.
The latest survey, conducted Nov. 5-7, found that Democrats in Congress are still more likely to be seen as the party of education: 45 percent of voters trust them to handle that issue, versus 38 percent who trust congressional Republicans. Democrats have lost ground on the issue since President Joe Biden's first month in office, but it's not happening in a vacuum — and it doesn't appear to be a catalyst for the broader declines in trust. 
Voters' Waning Trust in Democrats on Education Mirrors Decline on Other Topics
Share of voters who said they trust Democrats in Congress or Republicans in Congress more on the following issues:
Noneducation is made up of an average of the following topics: COVID-19, climate change, energy, gun policy, health care, immigration, jobs, national security, protecting Medicare and Social Security, the economy, the environment and voting rights.
Monthly averages of polls conducted in 2021 among roughly 2,000 registered voters each, with margins of error of +/-2%.
A thermostatic reaction
The downturn in voter confidence regarding Democrats' handling of education – and the increased likelihood of trust in Republicans – largely tracks with voter sentiment on a dozen other issues, from the COVID-19 pandemic to immigration. The gap in trust on the average noneducation issue has swung 14 percentage points in the GOP's favor since January (roughly matching the change on education), with the bulk of the movement coming after April, when Democrats were benefiting from Biden's strong first 100 days. 
The near uniformity of the change in public opinion about Congress, in addition to a late summer decline in sentiment about Biden's job performance, suggests voters nationwide may not be reacting to a particular issue, but are instead offering a thermostatic response to the status quo in Washington: Because Democrats have full control of Congress and the White House, public opinion and its electoral benefits are swinging away from the party — just like they did four years ago when Republicans were in charge.
In the latest survey, congressional Democrats' average 3-point trust advantage on all 13 issues is roughly in line with their standing in the generic ballot, which found Biden's party leading the GOP in Congress, 44 percent to 42 percent.
Very Few Voters Cite Education as Top Concern at the Ballot Box
Share of voters who said each of the following is their top set of issues when voting for federal office:
"Other" label includes those who prioritize birth control, abortion, equal pay and energy issues.
Monthly averages of polls conducted in 2021 among roughly 2,000 registered voters each, with margins of error of +/-2%.
The GOP's economic advantage
While Republicans have used former private equity executive Glenn Youngkin's successful gubernatorial campaign in the Old Dominion as evidence that they should lean into education as they seek to unite a coalition of Donald Trump acolytes and Trump-weary suburbanites, the data shows economic concerns have, and continue to be, the electorate's most pressing concern. 
The most recent polling found 39 percent of voters say the economy is their top issue when thinking about their vote for federal office, while just 4 percent say it's education, mirroring perceptions among suburban voters. Both figures are roughly in line with where they have been throughout Biden's presidency.
Youngkin's strategists pointed to the issue as the real driver of voter sentiment in Virginia in a Washington Post op-ed published Monday, citing "the increasing cost of living — rising fuel prices, skyrocketing housing costs, higher grocery prices."
That issue, which is not unique to the commonwealth, appears to be prime territory for Republicans nationwide to tap into the concerns among the overall electorate, as well with the suburban voters who have driven the decline in public sentiment about Biden's presidency. 
Republicans Perform Better Than Democrats on Economic Issues, Particularly in the Suburbs
Share of voters who said they trust Democrats in Congress or Republicans in Congress more on the following issues:
Poll conducted Nov. 5-7, 2021, among 1,998 registered voters, including 975 suburban voters, with margins of error up to +/-3%. Figures may not add up to 100% due to rounding.
According to the latest survey, roughly half of voters (48 percent) trust Republicans more to handle economic issues, while 38 percent have faith in the Democrats. Nationwide, Republicans in Congress have gone from a 5-point trust deficit on economic issues to a 10-point trust advantage over the Democrats since Morning Consult/Politico polling conducted in January, with most of the movement coming over the past few months. 
The GOP's advantage with the overall electorate on the question is exceeded by its standing with suburbanites, who trust Republicans over Democrats on the economy by a 16-point margin, 51 percent to 35 percent.
Eli Yokley is Morning Consult's U.S. politics analyst. Prior to his current role, Eli was Morning Consult's senior reporter covering U.S. politics. Eli joined Morning Consult in 2016 from Roll Call, where he reported on House and Senate campaigns after five years of covering state-level politics in the Show Me State while studying at the University of Missouri in Columbia, including contributions to The New York Times, Politico and The Daily Beast. Follow him on Twitter @eyokley. Interested in connecting with Eli to discuss his analysis or for a media engagement or speaking opportunity? Email [email protected].
We want to hear from you. Reach out to this author or your Morning Consult team with any questions or comments.
Contact Us