How Republicans Facing Re-Election, With or Without Trump's Backing, Are Faring Among Their Bases
Trump's engagement isn't a sure predictor of a Republican incumbent's popularity with GOP voters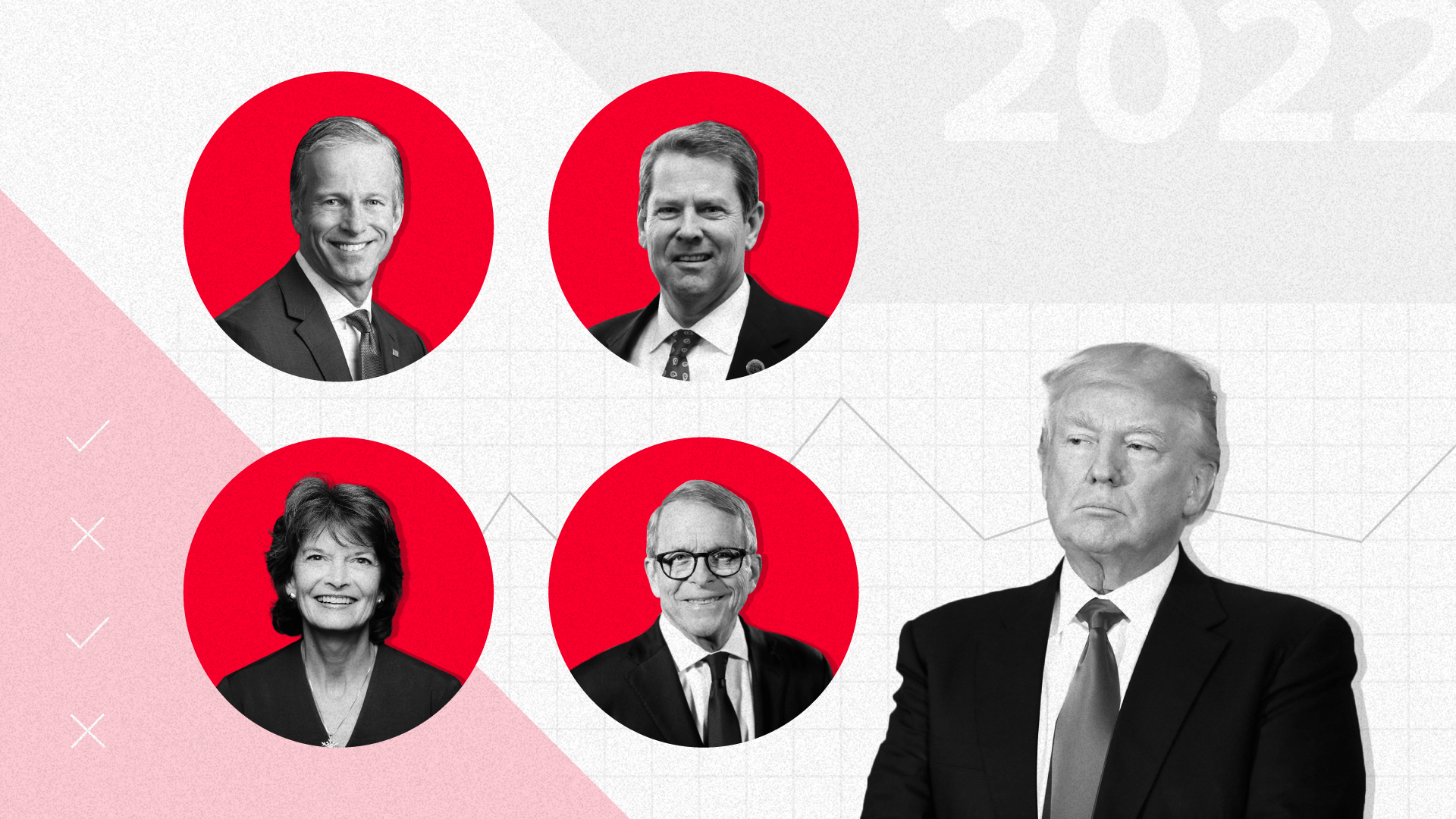 Key Takeaways
Despite Trump's calls for a primary challenger, John Thune of South Dakota has seen a sharper recovery among GOP voters than any other Senate Republican up for re-election next year.

Georgia Gov. Brian Kemp, who has faced Trump's ire since the 2020 race, has also seen his standing with Peach State Republicans improve amid his own re-election bid.

Sens. Mike Crapo of Idaho, Jerry Moran of Kansas and John Boozman of Arkansas have not seen sizable upticks in popularity in the wake of endorsements by Trump.
Former President Donald Trump remains the most popular and influential figure in Republican politics, and he has sought to brandish that strength with his unusually active and early engagement with the party's primary campaigns.
A Trump endorsement — or perhaps more so, his wrath — has been cast as pivotal for Republican officials. But at least when it comes to how GOP voters view the job performance of the party's governors and senators who are up for re-election next year, Morning Consult Political Intelligence's quarterly tracking shows a more convoluted picture, calling into question the lasting power of Trump's condemnations given the diminished bully pulpit of the former president, who has been banned from major social media platforms.
How those attacked by Trump are faring
Among the Republican senators facing re-election next year, nobody felt the political sting of Trump's attacks harder at home than Senate Minority Whip John Thune of South Dakota. His criticism of several conservative House Republicans who sought to challenge President Joe Biden's Electoral College victory in December led the 45th president in January to urge the state's Republican governor, Kristi Noem, to challenge him.
Noem isn't doing that — nor is any other prominent candidate — and the former president's attacks on Thune do not appear to have much staying power with South Dakota Republicans.
Polling conducted in the third quarter of Biden's presidency found that 88 percent of Republicans in the Mount Rushmore State approve of Thune's job performance, up from 69 percent in the first quarter of the year. This marks the best quarterly improvement of any governor or senator up for re-election in 2022, according to surveys in each state conducted from Jan. 21, Biden's first full day in office, through Oct. 20. (The responses are segmented on a quarterly basis to provide comparisons between states with larger and smaller populations.)
This leaves Thune roughly matching Noem's popularity among GOP voters in the state (86 percent approval), though they are less likely to strongly approve of their senior senator than they are their governor (33 percent to 53 percent).
Like Thune, Republican Gov. Brian Kemp of Georgia became a target of Trump's post-election rage as well as calls for a 2022 primary challenger. While former Sen. David Perdue is reportedly considering a bid, Republican strategists see no serious rival yet in the mix, and Trump has not endorsed a challenger. Kemp has also seen his standing improve.
In the third quarter, 76 percent of Georgia Republicans approved of Kemp's job performance, up 7 points since the first quarter. Much of that improvement came after he signed the state's controversial election law, though he hasn't fully recovered to his standing before the presidential election last year.
One strategist involved in protecting GOP incumbents said the two have been able to recover some of their lost ground because of Trump's smaller platform as well as their own established brands at home. Thune has served in the Senate since 2005 (and in the House before that), and Kemp won the Georgia governor's mansion three years ago in a contest over Democrat Stacey Abrams, where he spent big to cast himself as the epitome of a rock-ribbed conservative with Trump's backing during the 2018 primary.
Trump also appeared to welcome challengers to Ohio Gov. Mike DeWine following his election-related comments last year, but the governor also remains fairly strong with his political base. In Ohio, 65 percent of GOP voters approve of DeWine's job performance — roughly in line with where he has been all year. Former Rep. Jim Renacci is challenging DeWine for the nomination but has not received Trump's endorsement.
However, Trump has endorsed Republican challengers to Gov. Charlie Baker of Massachusetts and Sen. Lisa Murkowski of Alaska, but this hasn't appeared to change how the public views them. Baker has maintained support from over half of Bay State Republicans throughout the year, while Murkowski's job performance is backed by just 24 percent of Alaska Republicans.
Murkowski has bucked a primary challenge before with a successful write-in campaign at the height of the tea party movement, and is running this time against Trump-backed Kelly Tshibaka in a ranked-choice contest that could benefit the incumbent. In Massachusetts, Baker ranks among the most popular governors among all voters in his state, boasting strong support among Democrats and independent voters.
How Trump's endorsements are playing
A Trump endorsement alone does not appear to correlate with a higher intraparty approval rating for incumbent Republican senators and governors.
"He's definitely still a big figure in the Republican Party, but his endorsements aren't going to have the same juice as they used to," said Andy Ballard, an assistant professor of government at American University who studied the impacts of Trump's endorsements on the 2018 midterms. "I can imagine a scenario in which a Trump admonishment is more effective than an endorsement in today's political climate, particularly since negative rhetoric was such a big part of his presidency."
The third-quarter data shows that 80 percent of Republican voters approve of the average Trump-endorsed governor — almost matching the standing of those whose 2022 contests he hasn't weighed in on. On the Senate side, the average incumbent without Trump's 2022 backing has slightly higher support from Republicans at home than those favored by the former president (77 percent to 71 percent).
How GOP Voters Feel About Their Officials up for Re-Election in 2022
Republican voters in each of the following officials' states were asked whether they approved or disapproved of their job performance:
Responses gathered July 21-Oct. 20, 2021, among registered Republican voters in each state, with margins of error of up to +/-8%. Figures may not add up to 100% due to rounding.
Part of this is driven by the candidates' profiles. The people Trump has yet to back include high-profile and popular governors such as Ron DeSantis of Florida, Kim Reynolds of Iowa and the aforementioned Noem, while those who received his early backing are lesser-known senators such as Jerry Moran of Kansas, Michael Crapo of Idaho and John Boozman of Arkansas.
The more modest standing of many Trump-endorsed incumbents makes it more important for them to tout his backing on their own, absent any actual campaigning by the former president, who has focused more public attention on the Republicans he's against than those he's for. Crapo, who saw the biggest decline in approval among GOP voters between the first and third quarters of any 2022 hopeful, and Moran have for now fended off serious primary challengers, but Boozman's case is perhaps the most noteworthy. The incumbent senator faces a legitimate challenge, according to another GOP consultant working on the 2022 races, from Jake Bequette, a former NFL pro out of the University of Arkansas and an Iraq war veteran.
Boozman, speaking at a Washington Post forum Monday, steered clear of talk about the 2020 presidential election, leaning instead on Trump's economic wins as he hinted at his re-election message for Arkansas Republicans.
"I voted with him almost all the time in the sense of the issues that came about. Because of that, we did a lot," he said. "I'm very proud of his support, and it will be helpful to me in my re-election."
Eli Yokley is Morning Consult's U.S. politics analyst. Prior to his current role, Eli was Morning Consult's senior reporter covering U.S. politics. Eli joined Morning Consult in 2016 from Roll Call, where he reported on House and Senate campaigns after five years of covering state-level politics in the Show Me State while studying at the University of Missouri in Columbia, including contributions to The New York Times, Politico and The Daily Beast. Follow him on Twitter @eyokley. Interested in connecting with Eli to discuss his analysis or for a media engagement or speaking opportunity? Email [email protected].
We want to hear from you. Reach out to this author or your Morning Consult team with any questions or comments.
Contact Us