Endorsement Week Gives Biden a Boost With Younger Voters
Former VP's popularity improves amid backing from Sanders, Obama and Warren
Key Takeaways
Former Vice President Joe Biden saw his net favorability tick up by 9 points among the youngest Democratic primary voters.

68% of primary voters under the age of 45 now have a favorable view of the presumptive Democratic nominee.

Biden leads President Trump by 5 points, 47% to 42%, among registered voters.
Former Vice President Joe Biden is on the upswing with younger voters following endorsements from three of the Democratic Party's leading figures, a move meant to help unify the party ahead of a general-election campaign against President Donald Trump.
Sixty percent of Democratic primary voters ages 18-29 said they viewed the party's presumptive nominee favorably in polling conducted April 13-19, up 5 percentage points from responses collected the week prior. The share of voters under 30 who have an unfavorable view of Biden decreased by 4 points, amounting to a 9-point increase in net favorability.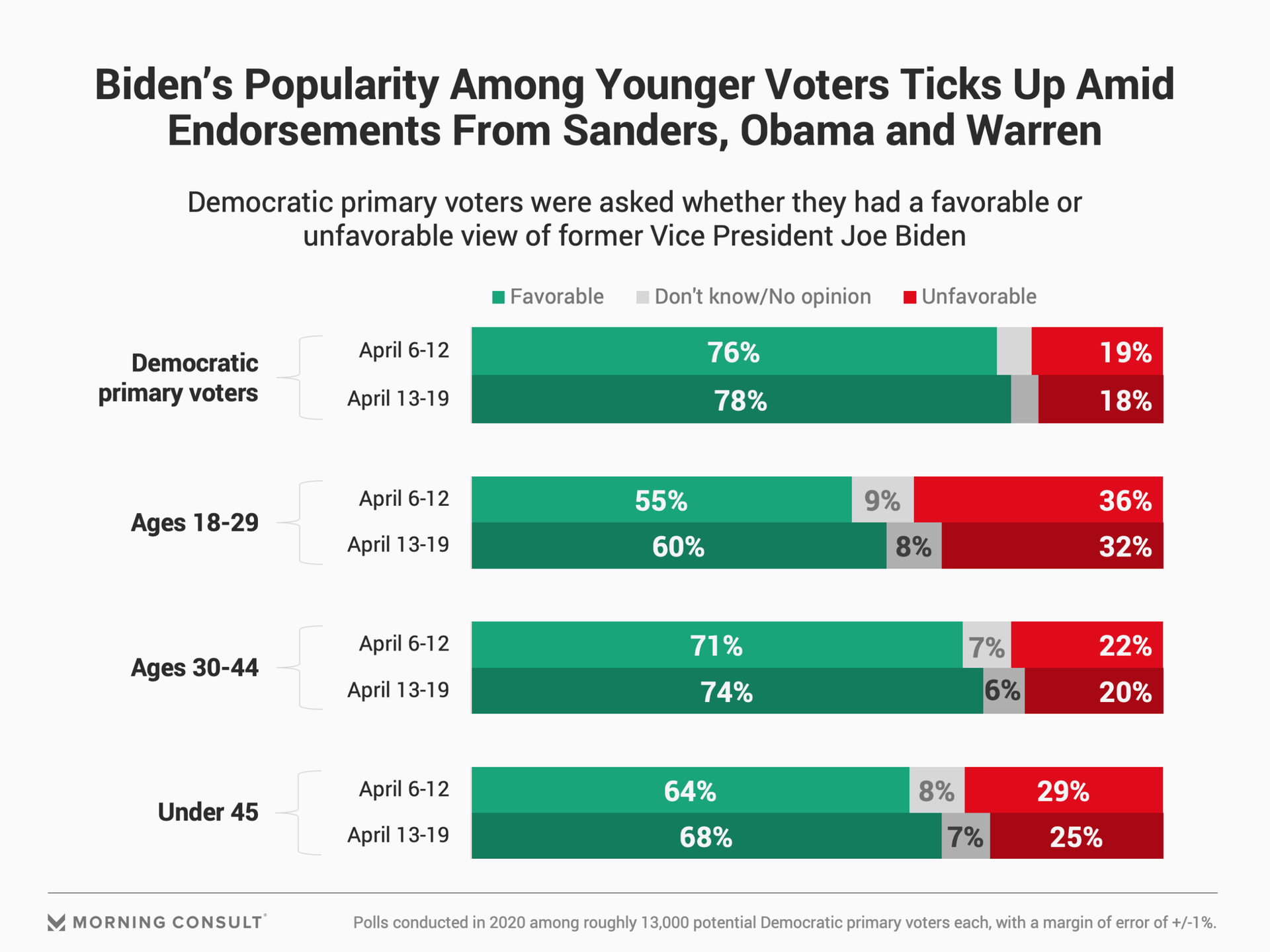 Those improvements came as Sen. Bernie Sanders (I-Vt.) -- who had been the preferred candidate for most younger Democratic primary voters -- kicked off the week by endorsing his former Senate colleague on April 13, days after dropping his own presidential campaign.
Responses were collected among roughly 13,000 Democratic primary voters each week, including approximately 2,500 of those ages 18-29 and 3,000 of those ages 30-44, with margins of error ranging from 1 to 2 points.
The next two days saw two other extremely popular Democratic figures, former President Barack Obama and Sen. Elizabeth Warren (D-Mass.), give their own full-throated endorsements of the Delaware statesman. Morning Consult/Politico polling conducted April 18-19 indicates their shows of support made waves with Democratic voters: Roughly three-quarters said they'd seen, read or heard at least some about Obama's and Sanders' endorsements and 60 percent said the same of Warren's. (The poll carries a margin of error of 2 points.)
Among all Democratic primary voters under the age of 45, Biden's net favorability ticked up over the past week by 8 percentage points: Sixty-eight percent view him favorably, compared with a quarter who have an unfavorable view.
And as Democrats look to rally behind their presumptive nominee, the latest Morning Consult polling also found the former VP widening his lead against Trump: Forty-seven percent of registered voters overall said they'd back Biden if the presidential election were held today, compared to 42 percent who said they'd vote for the Republican incumbent. That 5-point edge for Biden is up 2 points from the previous week's margin. Each of those polls had 1-point margins of error.
Cameron Easley is Morning Consult's lead analyst for U.S. politics. Prior to moving into his current role, he led Morning Consult's editorial coverage of U.S. politics and elections from 2016 through 2022. Cameron joined Morning Consult from Roll Call, where he was managing editor. He graduated from the University of North Carolina at Chapel Hill. Follow him on Twitter @cameron_easley. Interested in connecting with Cameron to discuss his analysis or for a media engagement or speaking opportunity? Email [email protected].
We want to hear from you. Reach out to this author or your Morning Consult team with any questions or comments.
Contact Us