Sanders Supporters Don't Love Joe Biden. How Much Will That Matter?
Biden is underwater with youngest Sanders backers, but they can't stand Trump
Key Takeaways
2 in 3 Bernie Sanders supporters are under the age of 45, more than twice the share of Biden's supporters.

47% of the youngest Sanders backers have an unfavorable view of Biden vs. 44% who have a favorable view.

Youngest Sanders supporters are slightly more inclined to opt out of a Biden-Trump choice in November than older backers.
Hours after Sen. Bernie Sanders (I-Vt.) dropped his bid for the Demoratic presidential nomination, a group of eight organizations representing young liberals came out with a warning for Joe Biden, who had just become the party's presumptive nominee.
In an open letter Wednesday, the groups said Biden's message of a "return to normalcy" isn't enough for younger voters, and called on him to embrace the kind of revolutionary change sought by Sanders and his supporters and viewed with some skepticism by the broader Democratic electorate.
The letter highlights a challenge for Biden as his campaign works to unify the party and avoid the drop in support from young voters that hindered Hillary Clinton's 2016 campaign against Donald Trump after a bruising primary against Sanders. 
"There is a trust gap between Biden and voters under 45, just like there was with Hillary Clinton," said Waleed Shahid, a spokesman for Justice Democrats, one of the letter's signatories, in an interview prior to Sanders' exit from the race.
The Biden campaign did not respond to a request for comment.
New Morning Consult data shows two-thirds of Sanders supporters in the Democratic primary are under the age of 45, more than twice the share of Biden's supporters who are the same age. But that demographic seems to have contributed to Sanders' downfall this year: Exit polling conducted on Super Tuesday showed younger Americans did not vote for Sanders at the rate they did in 2016. However, their presence at the polls in the fall is "necessary to defeat Trump and will only become more essential to the Democratic Party's future," Shahid said. 
Sanders supporters are more likely to hold a dimmer view of Biden than the average Democrat -- especially those ages 18-34, 47 percent of whom view Biden unfavorably.
The responses were collected March 18 through April 7 among roughly 15,000 Democratic primary voters who said they would vote for Sanders even as it became increasingly clear that Biden was en route to clinching the nomination. The polling has a margin of error of 1 percentage point.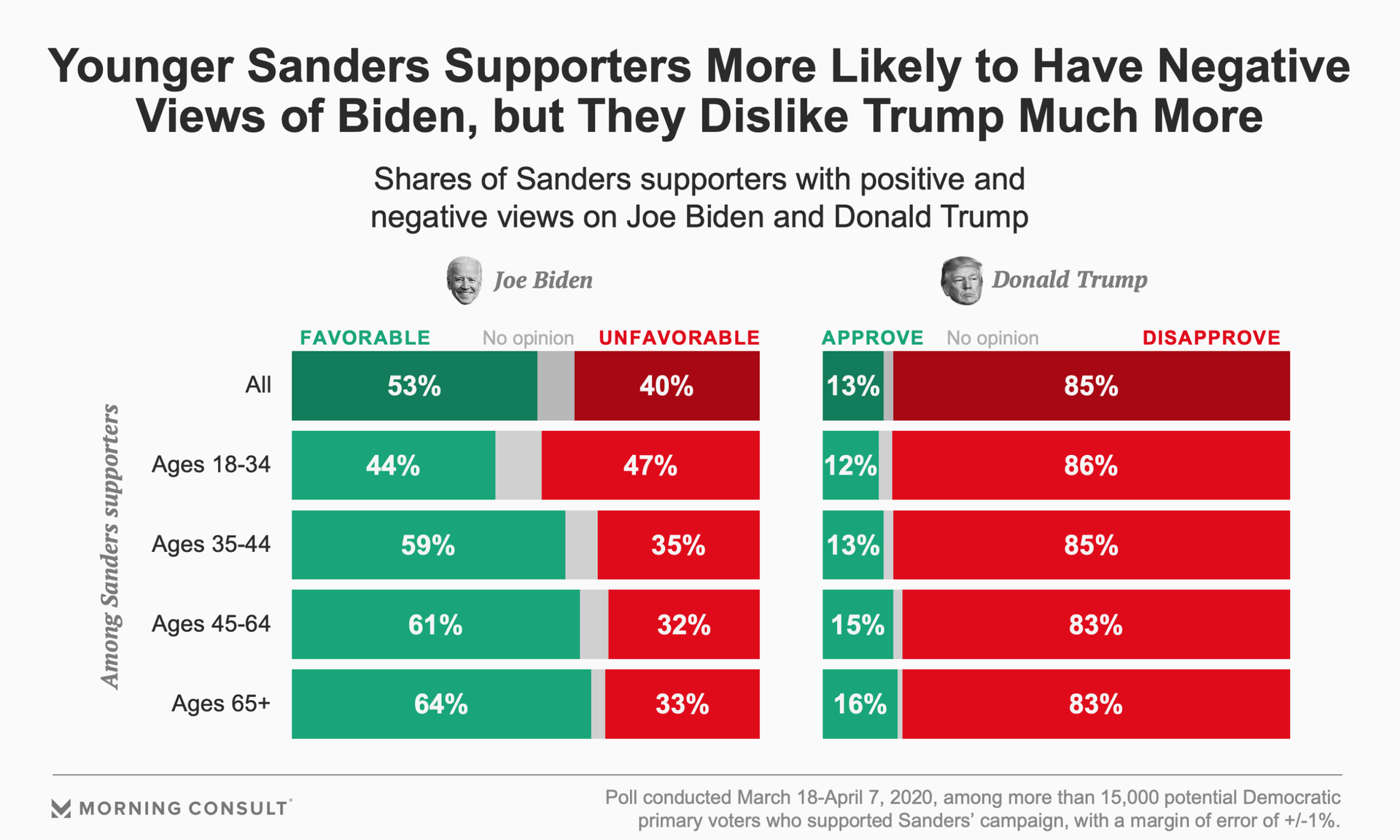 While Sanders supporters have mixed views about Biden, they're more certain about their antipathy toward the president, regardless of age. Overall, about 85 percent of both Sanders' supporters and Democrats disapprove of Trump's job performance, and more than 7 in 10 do so strongly, 30 points more than the share who have somewhat or very unfavorable views of Biden.
Nathan Gonzales, a nonpartisan political analyst and publisher of Inside Elections, said the best person to shore up Biden's backing among Sanders supporters is Trump himself. 
"They spent months trying to defeat Biden, so it's not a surprise they're slow to liking the guy," he said. "It might take time for Sanders supporters to say they'll support Biden, but it will happen. The vast majority of them will prefer Biden over four more years of President Trump."
In a head-to-head matchup, only 7 percent of Sanders supporters said they would vote for Trump in November, according to the latest tracking, down from the 12 percent estimated to have done so in 2016.
There was little difference by age; if anything, younger Sanders voters were slightly less likely to say they would vote for Trump in November or hold favorable views of the president than older voters who backed Sanders. But younger Sanders supporters were also more inclined to opt out of the two-person choice, with 15 percent of those ages 18-34 saying they did not know whom they would vote for in November.
Exit polling in 2016 found lower turnout among the youngest American voters, along with an uptick in support for third-party candidates. Sarah Audelo, who served as Clinton's millennial vote director in 2016 and now leads Alliance for Youth Action, which signed the Wednesday letter, said young people are "issues-first" voters disenchanted by both parties. For them, she said, being "anti-Trump has never been enough" to beat him.
Audelo, who said Clinton's campaign leadership "decided not to invest in fighting for young people's votes in the primary," is worried that Biden has not done enough to understand and engage them this time around. 
"Young people want their votes to be fought for like anybody else," she said. "He needs to be talking about the issues in a different way."
Those younger Sanders supporters are more likely than the average Democrat to say the economy is their top issue (31 percent to 24 percent), though they're roughly as likely to prioritize health care (29 percent to 32 percent).
Biden has already made overtures to the more progressive wing of the party within the past month or so, taking up a tuition-free college plan backed by Sanders and a bankruptcy plan proposed by Sen. Elizabeth Warren (D-Mass.). On Thursday, he embraced a student debt forgiveness plan and announced he's developing a pitch to expand Medicare by lowering the eligibility age.  
But those leftward steps may not be enough without Sanders' full backing. The Vermont independent, who has not endorsed Biden, signaled to supporters in a video announcing the end of his campaign that he is seeking to retain influence on the party's platform.
"You saw him signaling in a big way during that livestream that he's going to do what he can to make sure Trump is out of office, but it's going to take many others to engage to make sure we have the turnout that's necessary," Audelo said.
Eli Yokley is Morning Consult's U.S. politics analyst. Prior to his current role, Eli was Morning Consult's senior reporter covering U.S. politics. Eli joined Morning Consult in 2016 from Roll Call, where he reported on House and Senate campaigns after five years of covering state-level politics in the Show Me State while studying at the University of Missouri in Columbia, including contributions to The New York Times, Politico and The Daily Beast. Follow him on Twitter @eyokley. Interested in connecting with Eli to discuss his analysis or for a media engagement or speaking opportunity? Email [email protected].
We want to hear from you. Reach out to this author or your Morning Consult team with any questions or comments.
Contact Us