Amid Push to Replace Natural Gas, Public Is Split on Whether to Electrify Their Homes
Proposals to ban the fuel in new buildings elicit just as much division
Key Takeaways
47% of U.S. adults say they use natural gas to heat their home, and 42% use it for cooking.

The public is split on whether they would back banning natural gas in new construction in their own communities, with 44% in support and 37% opposed.

Half of the respondents unlikely to buy an electric stove said a major reason why is that they've used them previously and found them less effective than gas alternatives.
What comes to mind when natural gas enters the conversation differs from person to person: A bridge fuel to a zero-carbon electricity grid? A necessity for heating alongside an electric stove? A non-negotiable ingredient in a chef's kitchen but not worth the emissions to heat a home? 
Regardless of how they feel about it, roughly half of the public (47 percent) uses natural gas for heat and nearly as many (42 percent) use it to cook, a Morning Consult survey found. But as multiple cities propose phasing out natural gas hookups in new construction, consumers are roughly split both in their support for such restrictions and for installing certain electric alternatives in their own homes.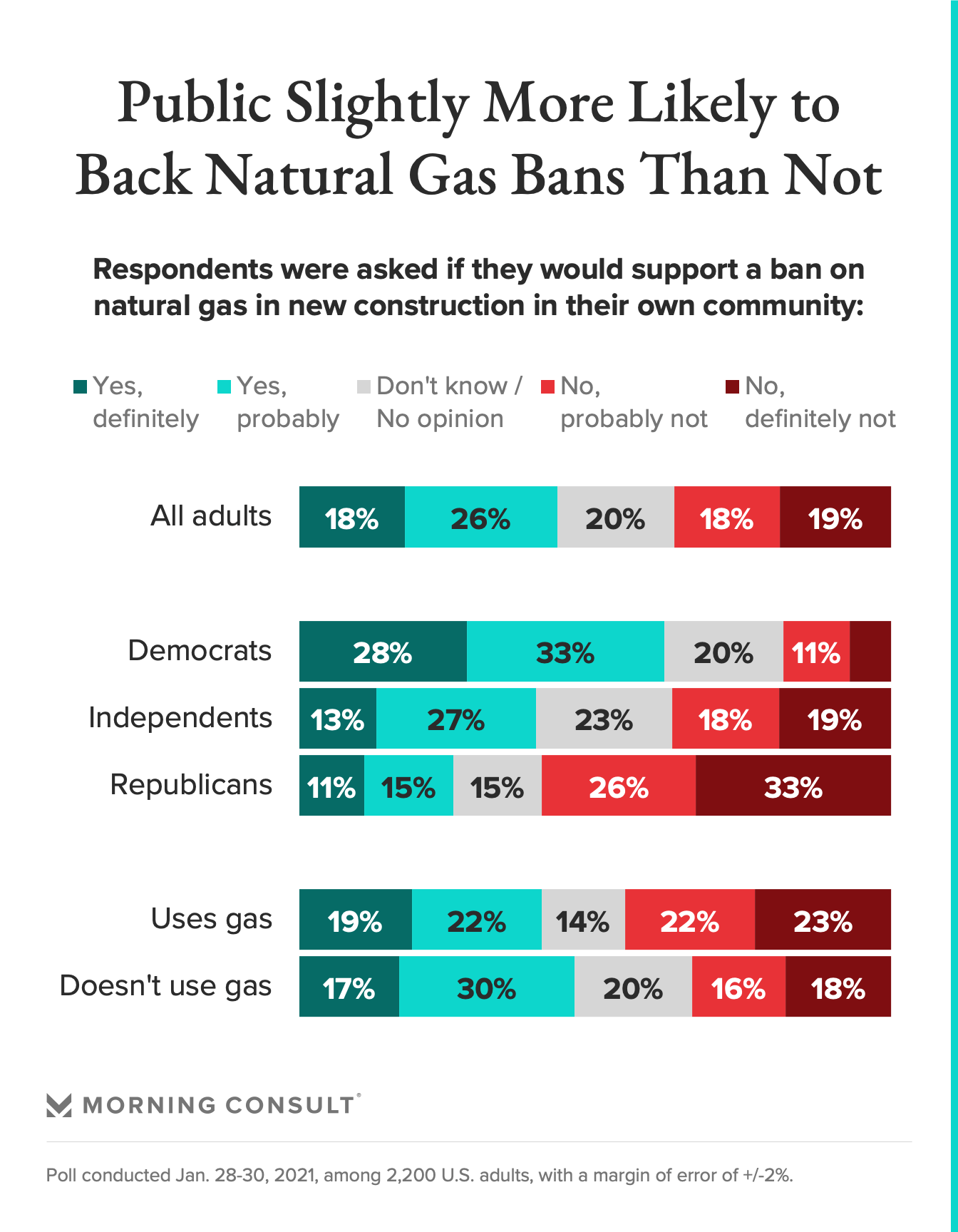 Forty-four percent of adults said they would "definitely" or "probably" back banning natural gas hookups in new construction in their own communities, while 37 percent said they were opposed. This reflected a marked partisan split -- 61 percent of Democrats and 26 percent of Republicans in support -- but little divide based on income. Forty-two percent of those making less than $50,000 per year said they would be in support, compared with 48 percent of those making more than $100,000 annually who said the same. 
And while those who currently use natural gas to heat their homes were less likely to support the potential bans than those who do not, the margin was similarly small, at 41 percent and 47 percent, respectively. 
Climate and public health activists have encouraged these bans, citing the potential emissions reductions from building electrification as well as recent research showing that indoor air pollution from stoves and other gas appliances can contribute to asthma, heart disease and other health problems. The latter point led the California Air Resources Board to vote to support all-electric building policies in November.
Unsurprisingly, these proposed bans have seen stiff resistance from the gas industry, which has enjoyed a reputation for providing a fuel for electricity and heating with emissions significantly lower than those of coal. For now, they have staked their chips on the public's ambivalence about leaving natural gas behind.
"Policies that force customers to give up their natural gas appliances in favor of inferior alternatives are running headlong into the reality that Americans like natural gas and enjoy the comfort and savings that it delivers," said Karen Harbert, president and chief executive officer of the American Gas Association.
Indeed, the polling results found that, though some say they would switch to electric or other systems if given the chance, at least 1 in 4 say they would be unlikely to even consider it. 
Asked to assume that they would be in the market for a new cooktop or range in the next decade or so, 67 percent of respondents said they would be likely to consider buying or leasing an electric model, compared with 55 percent who said the same about a gas model. 
Thirty-two percent said they would likely consider an induction stovetop or range, a comparably new electric option that uses an electromagnetic field to transfer heat directly to magnetic cookware. While induction stoves tend to heat cookware faster and more effectively than a conventional electric stove, they also tend to be more expensive. 
Frank Maisano, a senior principal at Bracewell LLP who works with a wide range of energy clients, including the American Gas Association, said that this dynamic -- wherein many people regard gas stoves as more effective than zero-emission alternatives in terms of both performance and cost -- reflects consumers' attitudes toward the energy transition more broadly.  
"You have to get buy-in from people, and I just don't see, on any of these issues, that consumers are ready to move as fast as environmental advocacy is demanding," Maisano said. "You just don't rip out your stove for no reason when it seems to be operating just fine."
Indeed, half of the electric stove-skeptical respondents said a major reason for their reluctance is that they have tried using non-gas options and found that they simply do not work as well. And more than 1 in 3 cited concern over not being able to use their stove during a power outage. 
Induction stovetops and ranges fared the worst, considering that much of the public seems not to know that they exist: Of those who said they are unlikely to consider an induction option, 41 percent cited lack of information on the products as a major reason why.  
More complicated than changing stove types, however, would be moving away from natural gas heating systems in the many households that have relied on its infrastructure for decades. However, there seems to be at least some appetite for doing so.
While 47 percent say they use natural gas to heat their home at present, 42 percent say they do not; just 25 percent said they would install or reinstall a gas furnace given the opportunity to replace their current system. The electric furnace appealed to 29 percent, and the heat pump to 11 percent. Four percent said they would rely on space heaters alone, while 6 percent said something else. The remaining 25 percent said they did not know or had no opinion.  
In many parts of the country, tax incentive programs exist to nudge homeowners to switch to electric heat pumps, offering rebates for the often complicated home infrastructure overhaul. However, Maisano points out that these programs have so far largely excluded lower-income communities.
"The people who are benefiting are wealthier people who have higher incomes and can afford to take the upfront costs and then take the incentive back," he said. "They have a long way to go to figure out how they can engage" with lower-income communities. 
The Jan. 28-30 poll surveyed 2,200 U.S. adults and carries a margin of error of 2 percentage points. 
This is the final piece in our series exploring the individual consumer's relationship to energy and climate. The entire series can be found here.
Lisa Martine Jenkins previously worked at Morning Consult as a senior reporter covering energy and climate change.
We want to hear from you. Reach out to this author or your Morning Consult team with any questions or comments.
Contact Us