Fast Food Restaurants Look to Turn Plant-Based Burgers Into Cash Cows
Though these entrees come with higher costs, industry bets on demand for vegetable-centric options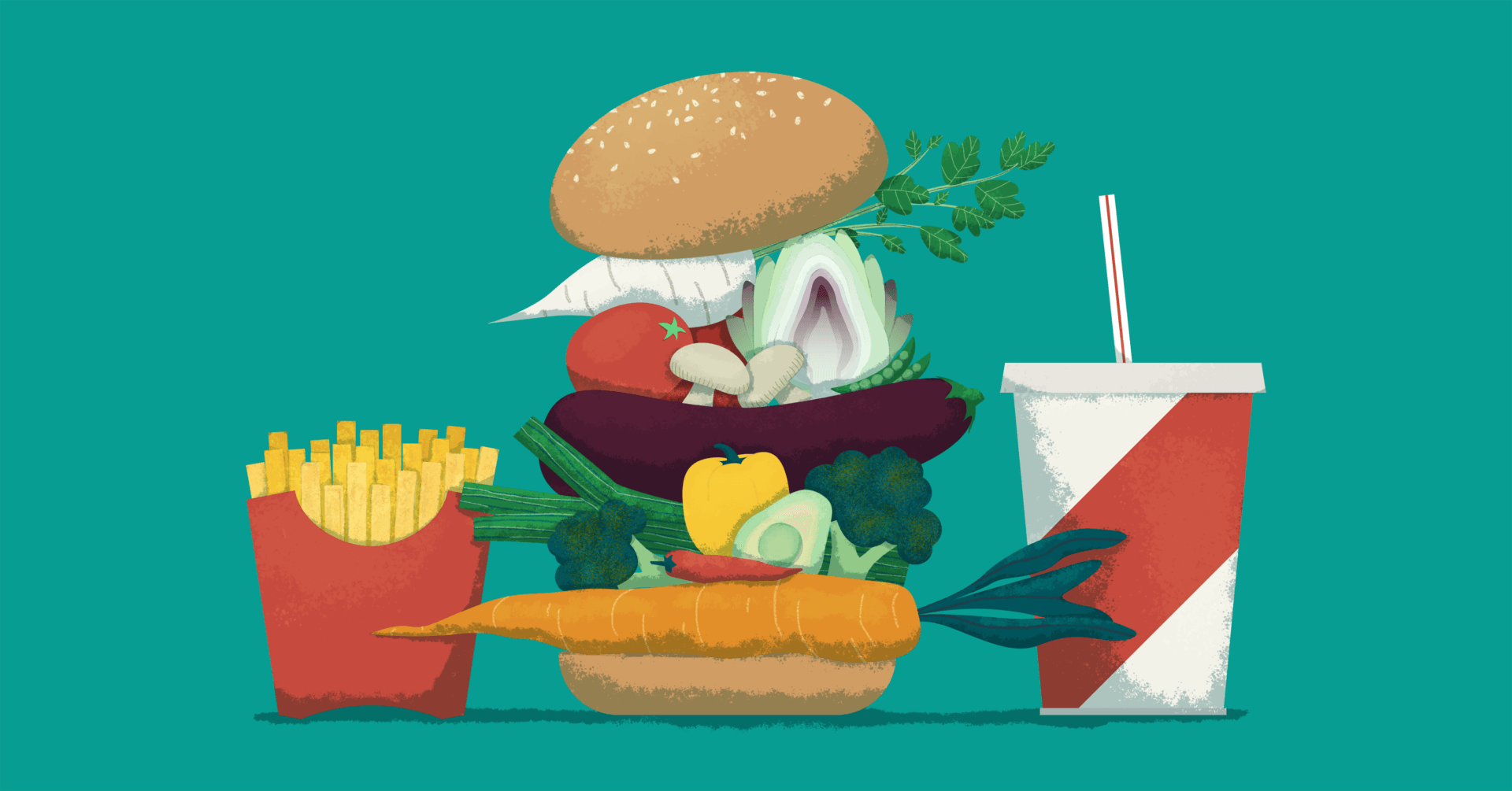 Key Takeaways
Plant-based burgers cost restaurants $3.63 apiece, compared with $1.58 for beef versions.

Demand for vegetarian burgers has jumped 29% from 2014-2018.

In a poll, the youngest adults were most likely to say they rarely or never eat meat when they dine out.
The explosion of vegetarian and vegan options at fast food and quick service restaurants such as Carl's Jr. and White Castle, along with investors' growing interest in alternative meat makers such as Beyond Meat Inc., shows that businesses see consumer interest in non-meat items as the foundation of a U.S. market that could be worth $34 billion by 2030 by one analyst's estimate.
But in an industry that operates on thin profit margins, adding these options is a gamble. The plant-based trend not only comes with a heftier price tag but also logistical challenges, as restaurants will also have to deal with a new supply line that could increase food waste, one of the largest costs in the industry.
And as fast food and quick service restaurants pass on much of those costs to price-sensitive customers, they have to figure out how to change consumers' perceptions of value.
"Plant-based alternatives are not always cheaper than meat, even though it seems like it should be," said Marie Molde, a registered dietician at food industry market research company Datassential, who led a panel on plant-based meals at this year's industry conference Chain Operators EXchange. Operators are fighting the misconception that vegetables and plant-based meals should be less expensive than the meat entrees that they're often replacing, she said.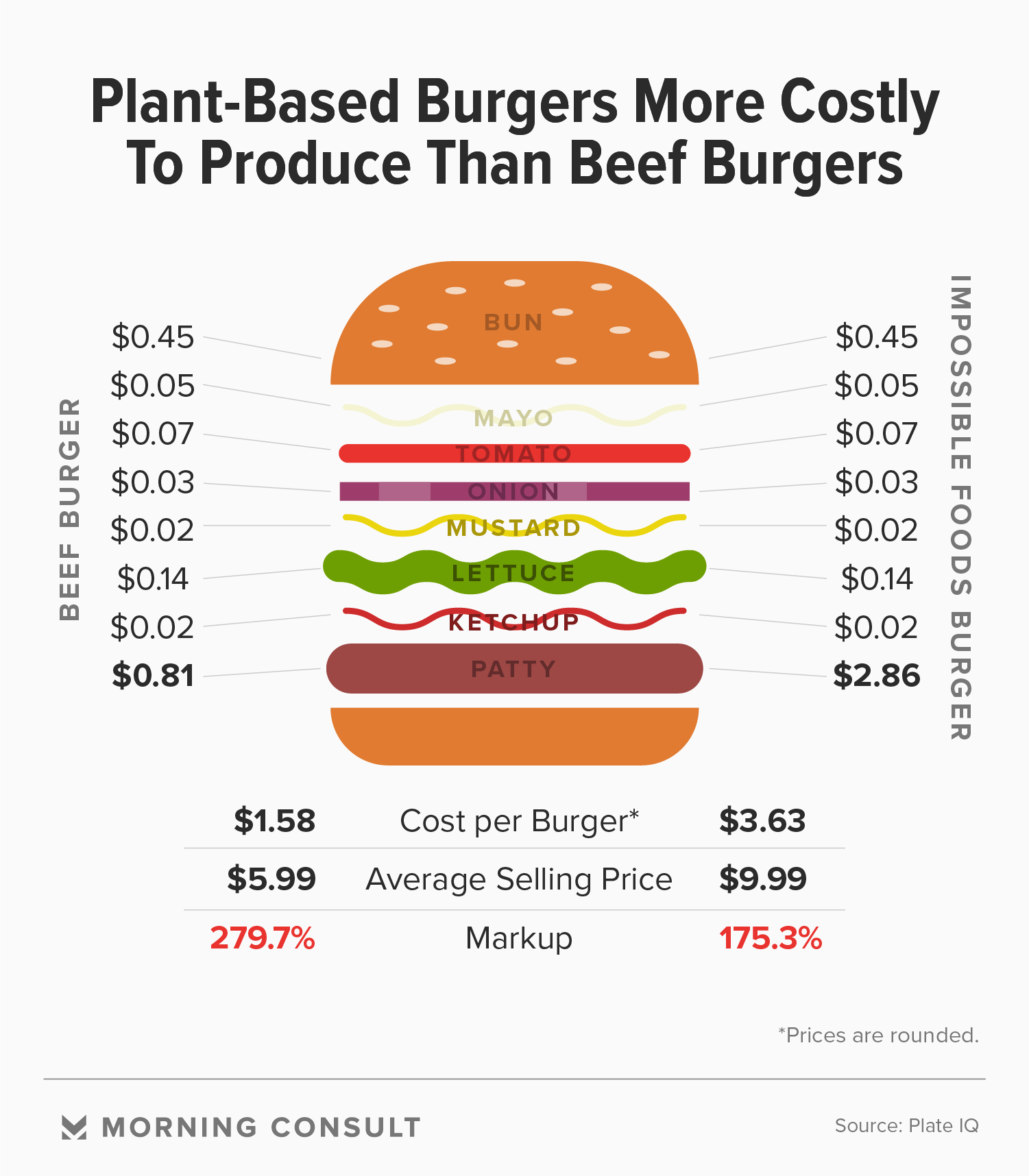 The new non-meat options are designed to taste and have the same mouthfeel like real beef, and all that engineering isn't cheap. Vegan burgers cost restaurants roughly three times as much as traditional ground chuck burgers in terms of ingredients, according to data from Plate IQ, a tech company that estimates restaurant spending. Impossible Foods Inc.'s vegan patty -- made of wheat, soy, coconut and potatoes -- costs standard restaurants $3.63, compared to a meat burger's price tag of $1.58.
That means restaurants are able to earn more from beef burgers, with the right pricing. A Plate IQ analysis finds that traditional burgers, if priced at $5.99 (what Plate IQ said is the national average), have a 280 percent markup compared to plant-based burgers, which are marked up 175 percent at a $9.99 average pricing.
The price of Carl's Jr.'s vegan burger from Beyond Meat starts at $6.29, and charges $2 if customers want to swap in a vegan patty for any burger on the menu. Burger King's Impossible Whopper costs $1 more than its regular Whopper, and diners at White Castle have to pony up a dollar more if they want a vegan slider instead of beef.
Bhavuk Kaul, CEO of Plate IQ, said he expects that as more restaurants buy in to the plant-based trend, vegan patty prices will drop closer to competing beef patty prices.
White Castle's chief marketing officer, Kim Bartley, said by email that it's typical for new products to incur higher costs at first but that White Castle's research showed that "many people believe it is worth paying a little more" to have the meatless option. (Burger King and Carl's Jr. did not respond to requests for comment, and Impossible Foods and Beyond Meat did not comment.)
The plant-based trend goes beyond burgers. Like with most food trends, non-meat options started at the top with fine dining and have trickled down to fast food, said Michael Schaefer, global lead of food and beverage at market research company Euromonitor International. It's the latest disruption in an industry that "has changed more in the last five years than it has in the last 20," he said, urged along by customer requests.
That growing demand, said Chef Neil Doherty, a senior director of culinary development at Sysco Corp., is pushing the industry to diversify its menus, with plant-based proteins proliferating in the food service world.
Market research company NPD Group found shipments of plant-based proteins, such as tofu and lentils, from distributors to food service operators grew 20 percent in the year ending November 2018 compared to a year earlier.
Fifty-one percent of chefs added vegan menu items to their menus in June 2017 to June 2018, up 31 percent from the prior-year period, according to a July 2018 report from the food service-focused social data index Foodable Labs, which surveyed nearly 90,000 chefs and more than 126,000 restaurant owners and operators. Plant-based food items increased traffic 13 percent year over year, the group said, while overall restaurants counts are down.
It's still a fairly nascent movement: Of the operators cited in a March 2018 Datassential's report who had added plant-based meat alternatives, most (67 percent) did so in the past five years.  
Datassential's Molde said that if restaurants are going to dip into the plant-based world, they should start with burgers as they're the most common plant-based entree in restaurants.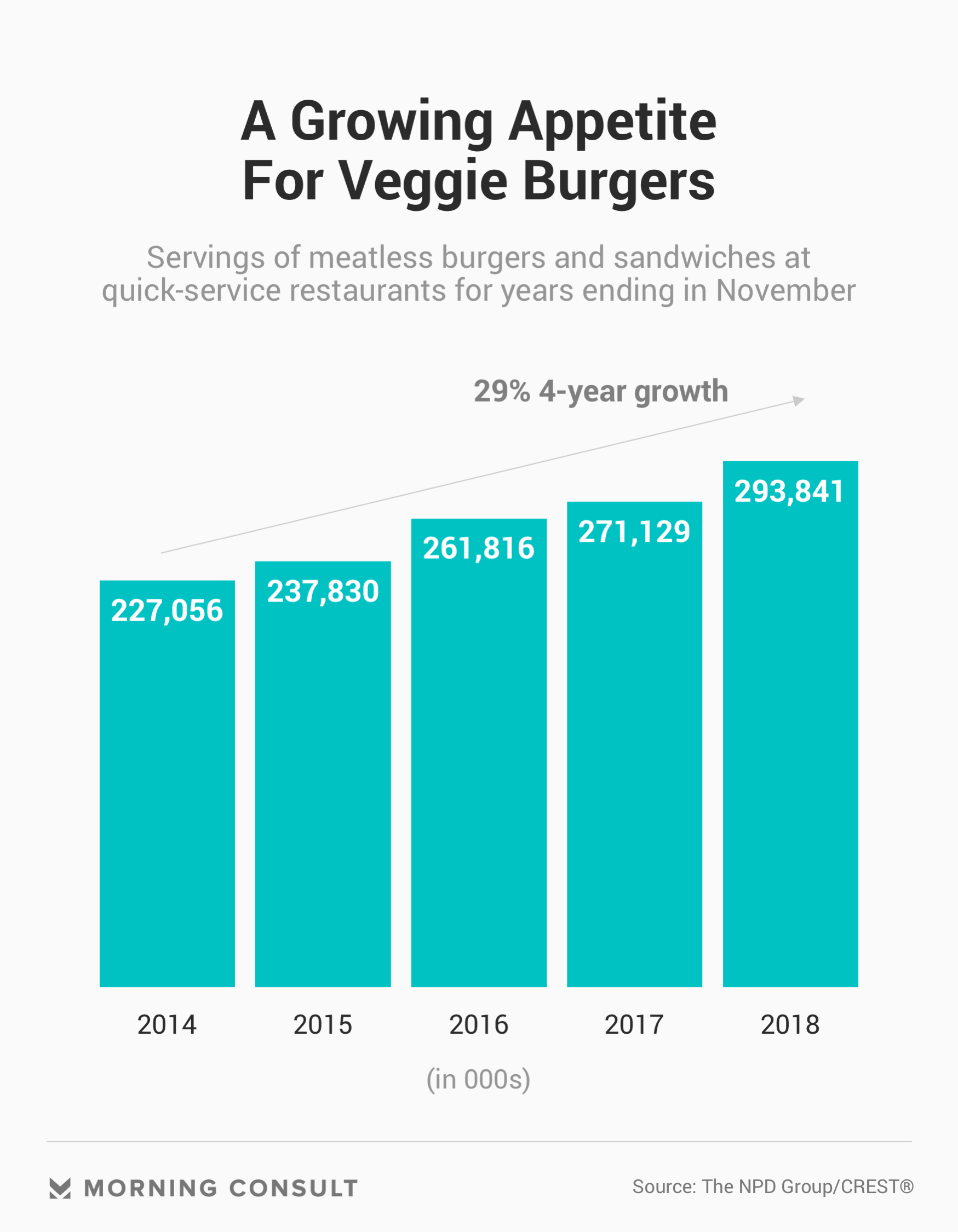 Non-meat burgers are the most common plant-based dish, according to NPD Group; the dish's popularity has jumped 29 percent in quick-service restaurants from 2014 to 2018.
Most (82 percent) operators still rely on pre-made plant-based burgers, according to Datassential, an important metric for companies such as Impossible Food and Beyond Meat.
But all these options are worthless to restaurants if they don't appeal to customers' palates, Schaefer said.
An admittedly unscientific taste test was conducted at a Washington, D.C., Bareburger, which offers both an Impossible Burger and a Beyond Meat burger, to compare the plant-based patties to a typical beef burger. The Impossible burger was a dead ringer for a beef patty, while the Beyond patty had a slight chemical taste. It went half uneaten.
Notably, operators that have introduced plant-based meat products are roughly four times more likely to say their sales have increased as opposed to decreased, according to the Datassential report. Most (54 percent) say they've remained the same.
As fast food restaurants explore vegan or vegetarian offerings that go beyond meat alternatives, Schaefer and others said that while portioned non-organic -- and even organic -- produce can be cheaper than many meats, restaurants taking on new foods will have to adjust to new supply lines and the elevated possibility of food waste, one of the biggest costs to restaurants' bottom line.
"Smaller restaurants with fewer supply lines that don't have to, say, source lettuce over 30 states" are best poised to increase their vegetable-based offerings, said Schaefer.
New polling shows that much of the public is hankering for these new options, and excluding them from menus could mean leaving customers -- and their friends -- behind.
While the share of U.S. adults who said they followed a vegetarian or vegan diet were in the single digits, nearly 3 in 10 said they're trying to reduce the amount of meat they eat and eat more fruits and vegetables, per a recent Morning Consult poll.
Thirty-nine percent of the public wished more restaurants would offer vegetarian options, and 36 percent said they'd order that option if it were available. For vegan dishes, those percentages shrink to 31 percent and 28 percent, respectively. The March 14-18 survey was conducted among 2,201 U.S. adults with a margin of error of 2 percentage points.
Although Gallup polling shows that the share of adults identifying as vegetarian is relatively unchanged between 1999 and 2018, the Morning Consult poll finds the youngest generation is the most likely to forgo meat — at least while dining out.
Twenty-one percent of 18- to 29-year-olds said they rarely or never consume meat when eating at restaurants, higher than any other age group.
The fast food industry is far from fully embracing vegan products. Carl's Jr.'s vegan burger, for example, automatically comes with cheese and mayonnaise, and the bun is made with eggs. Burger King's vegan slider is also served with mayo.
But the industry's plant-based trend appears to be unstoppable for now: Burger King parent Restaurant Brands International Inc. on Tuesday announced plans to expand the Impossible Whopper -- starting with Miami, Columbus, Ga., and Montgomery, Ala. -- after a testing period in 59 St. Louis locations in April.
One takeaway experts offer to restaurants, from fast food to fine dining, is that no matter the cost, they must diversify or face the consequences.
"We just hear over and over again that consumers are working toward or looking to shift toward that flexitarian lifestyle," said Datassential's Molde, adding that restaurants should show that the industry is behind them.
Joanna Piacenza leads Industry Analysis at Morning Consult. Prior to joining Morning Consult, she was an editor at the Public Religion Research Institute, conducting research at the intersection of religion, culture and public policy. Joanna graduated from the University of Wisconsin-Madison with a bachelor's degree in journalism and mass communications and holds a master's degree in religious studies from the University of Colorado Boulder. For speaking opportunities and booking requests, please email [email protected].
We want to hear from you. Reach out to this author or your Morning Consult team with any questions or comments.
Contact Us