Polling Shows Consistently Positive Views of Fauci as Trump, Biden Embrace Infectious Disease Expert
Throughout the pandemic, voters have been much more likely to approve of Fauci's COVID-19 handling than that of Trump, Pence or Congress
Key Takeaways
32% of registered voters said Dr. Anthony Fauci's handling of the coronavirus is "excellent," while 20% said the same of President Donald Trump.

79% of Democrats said Fauci has done a good or excellent job handling the pandemic, compared with 56% of independents and 54% of Republicans.
As an election centered squarely on health care and the government's pandemic response approaches, both President Donald Trump and Democratic presidential nominee Joe Biden are seeking to align their candidacies with Dr. Anthony Fauci, the nation's top infectious disease expert who's known for his blunt public health guidance.
But the two White House contenders have taken different tacks: Trump's campaign ran an ad in which Fauci, the longtime director of the National Institute of Allergy and Infectious Diseases, seemed to praise the president's coronavirus response, which Fauci said quoted him without his permission and "out of context." Biden, on the other hand, has said he would ask Fauci to "stay on" as a coronavirus adviser and frequently promises to elevate the doctor's pandemic recommendations.
According to six months of Morning Consult/Politico data, the candidates' efforts to place Fauci in their corners is a wise strategy. Voters have consistently rated Fauci's handling of the pandemic above that of Trump, Vice President Mike Pence, their state's governor, the Centers for Disease Control and Prevention, the World Health Organization, Congress and lawmakers from both parties.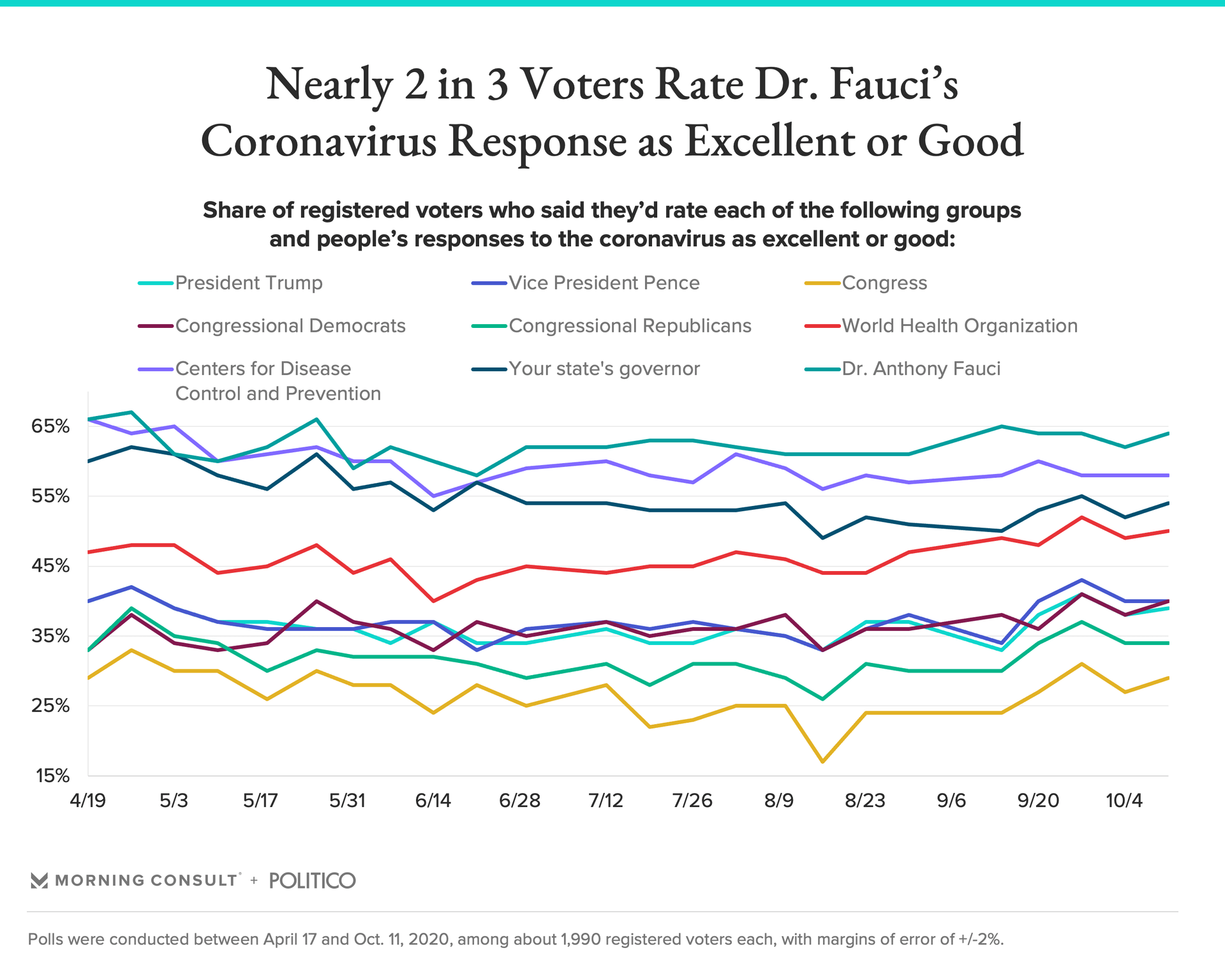 Thirty-two percent of voters said Fauci's handling of the coronavirus has been "excellent" and the same share said his response has been "good," according to the most recent poll, conducted Oct. 9-11. Meanwhile, 47 percent of voters said Trump's handling of the virus has been "poor," while 11 percent said it was "just fair."
The share of voters who said Fauci's response was "good" or "excellent" has slipped below 60 percent just twice since mid-April, both times in June. Notably, Democrats, at 79 percent, are at least 20 percentage points more likely to say he's done a good or excellent job than independents (56 percent) and Republicans (54 percent), according to the October poll.
Trump, meanwhile, has never topped the 42 percent of voters who said his coronavirus response was good or excellent in late April, though the 39 percent who said as much in the most recent survey ranked among his highest ratings since the spring. Four in 5 Democrats said Trump's response has been "poor," while 48 percent of independents and 9 percent of Republicans said the same.
Voters' "good" or "excellent" ratings of Pence and congressional Democrats have hovered around the same level as Trump, while congressional Republicans and Congress overall fared worse. In the Oct. 9-11 survey, 29 percent of voters said Congress was doing at least a good job at handling the virus.
Voters have consistently rated the WHO, the CDC and their state governors above lawmakers and the president.
The Oct. 9-11 poll surveyed 1,986 registered voters and has a margin of error of 2 points.
Gaby Galvin previously worked at Morning Consult as a reporter covering health.
We want to hear from you. Reach out to this author or your Morning Consult team with any questions or comments.
Contact Us