Companies See Negative Responses to Cutting Business Ties With NRA
Poll shows unfavorable ratings rose for firms that severed ties with the NRA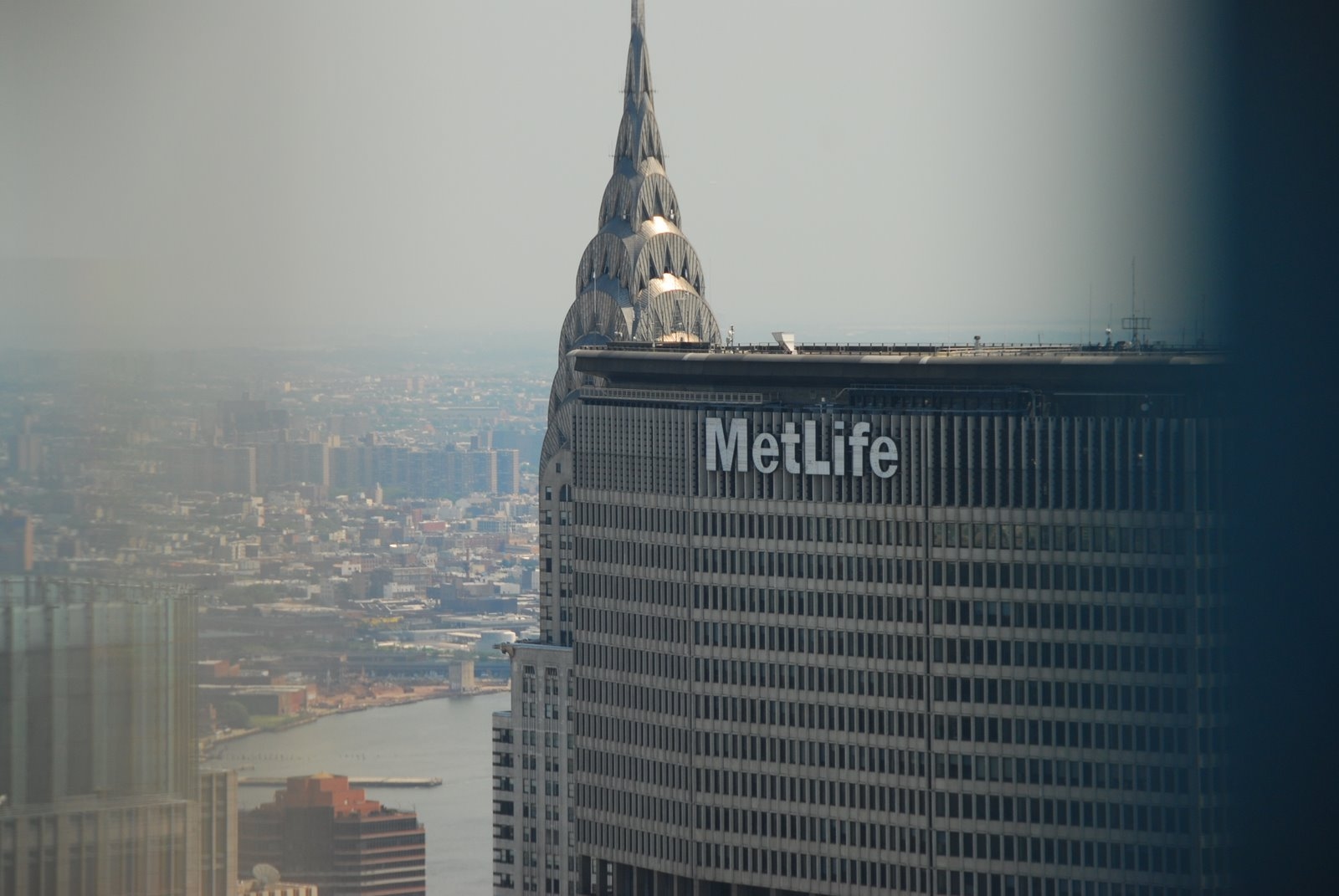 After the Parkland, Fla., high school shooting, several prominent companies ended their businesses relationships with the National Rifle Association -- and some are facing backlash in public opinion, according to a new poll.
A Morning Consult survey of 2,201 U.S. adults conducted Feb. 23-25 found increases in negative views of businesses that severed ties with the NRA after consumers learned of them. The poll's margin of error is plus or minus 2 percentage points.
MetLife Inc., the insurance giant that ended a discount for NRA members last week, had a 45 percent favorable rating, compared to a 12 percent unfavorable rating, before survey participants were informed of that move. After learning of it, respondents with an unfavorable view of the company increased to 25 percent, while its favorability rating rose 1 percentage point.
Among Republicans, the firm's favorability ratings flipped after participants learned of the decision regarding the NRA. Beforehand, 50 percent of Republicans said they had a favorable view of the company, compared to 10 percent with an unfavorable view. After being informed of MetLife's decision, the ratings changed to 29 percent favorable and 44 percent unfavorable.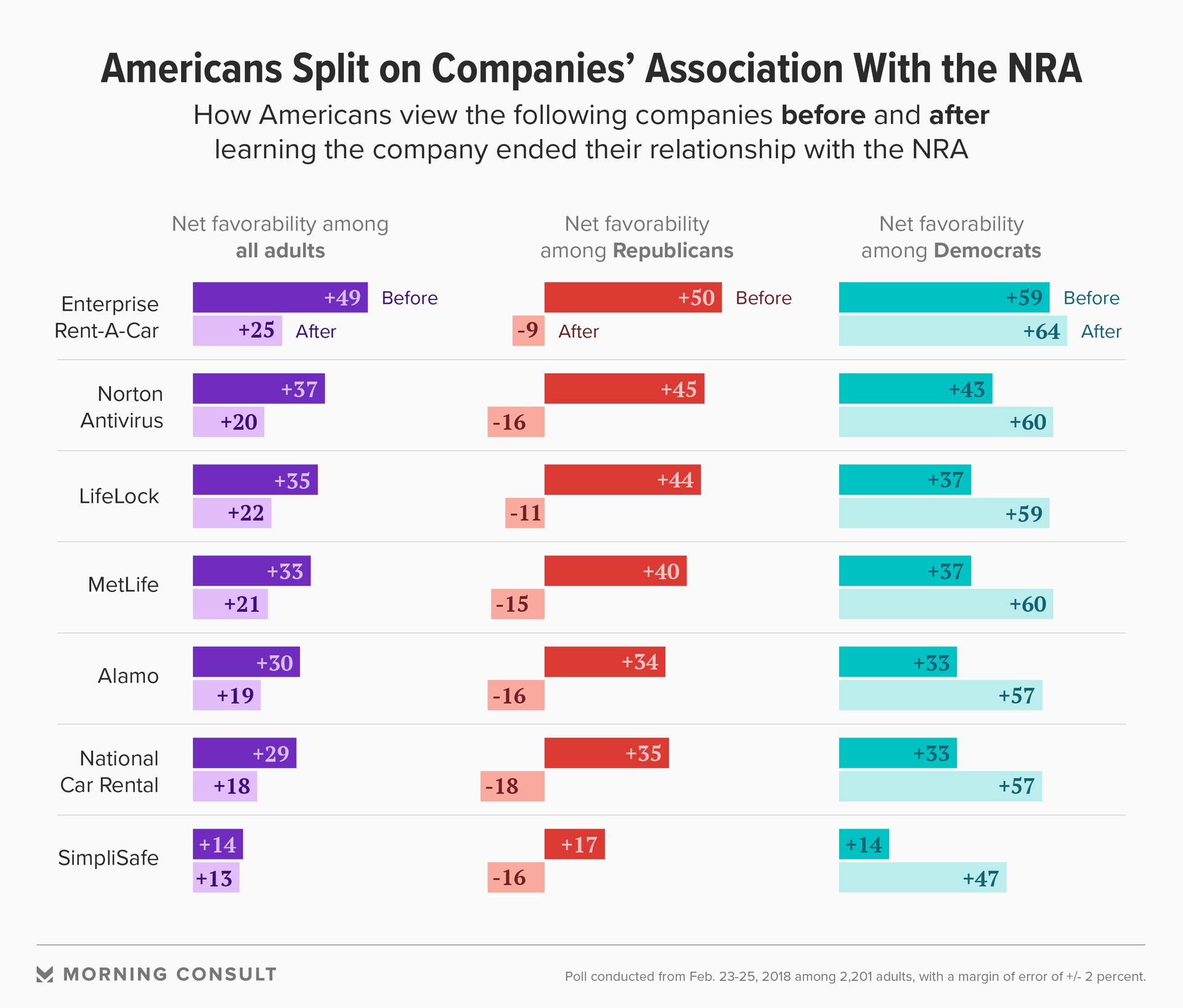 Mimi Chakravorti, executive director of strategy at the brand-consulting firm Landor, part of WPP PLC, said in a Feb. 27 phone interview that firms are making fast decisions about their affiliations with politically controversial groups like the NRA because consumers are reacting quickly to how brands respond to political controversies.
"Brands are being held to a higher standard than they have been in the past," Chakravorti said. "People are making decisions on the brands that they choose to affiliate with based on how brands behave."
Christopher Stern, a MetLife spokesman, declined to provide an additional statement beyond the insurer's initial Feb. 23 announcement that it was discontinuing its discount for NRA members.
Unfavorability ratings for the three major rental car brands associated with Enterprise Holdings Inc. — Enterprise Rent-A-Car, Alamo and National Car Rental — all more than doubled among surveyed adults after they learned about the companies ending discounts for NRA members.
Enterprise Rent-A-Car's favorability rating slid from 61 percent to 50 percent, while its unfavorability rating jumped from 12 percent to 25 percent. For Alamo and National Car Rental, favorability was little changed, whereas unfavorability ratings increased from 10 percent to 24 percent and 11 percent to 25 percent, respectively.
Representatives for Enterprise Holdings did not immediately respond to a request for comment.
Lynda Maddox of the George Washington University School of Business said in a Feb. 27 interview that companies might also make the decisions strategically because they want to attract a politically engaged demographic, particularly millennials.
"They gain more in the positive goodwill they get from disaffiliating than they would even from being silent, or certainly with supporting the NRA," Maddox said.
Correction: A previous version of this story misstated the level of unfavorability and the change in favorability for MetLife., and the accompanying chart misstated the net favorability of companies that decided to end their business relationships with the NRA.
Ryan Rainey previously worked at Morning Consult as a reporter covering finance.
We want to hear from you. Reach out to this author or your Morning Consult team with any questions or comments.
Contact Us