Wynn Allegations Hurt Brand Standing, But Experts Say Long-Term Impact Unlikely
Company founded by casino mogul took hit in brand reputation, but could be on the upswing
Key Takeaways
2% of respondents polled on Jan. 26 said they had heard something negative about Wynn Resorts within the past two weeks.

By Feb. 9, 15% reported hearing something negative about the company.
Sexual misconduct allegations against casino magnate Steve Wynn increased some U.S. adults' negative perceptions of Wynn Resorts, Morning Consult Brand Intelligence shows. But experts suggest damage to the Las Vegas-based company's reputation could be limited.
Wynn is responsible for the development of some of the country's most well-known casinos, including The Mirage, Treasure Island and Bellagio in Las Vegas. The company he founded, Wynn Resorts, currently operates properties in Las Vegas and Macau and employed 24,600 people as of December 2016.
Wynn was serving as finance chairman of the Republican National Committee when The Wall Street Journal published a Jan. 26 story detailing allegations of sexual misconduct against him from Wynn Resorts employees and others. Wynn, a casino industry rival-turned-political supporter of President Donald Trump, denied what he called "preposterous" allegations.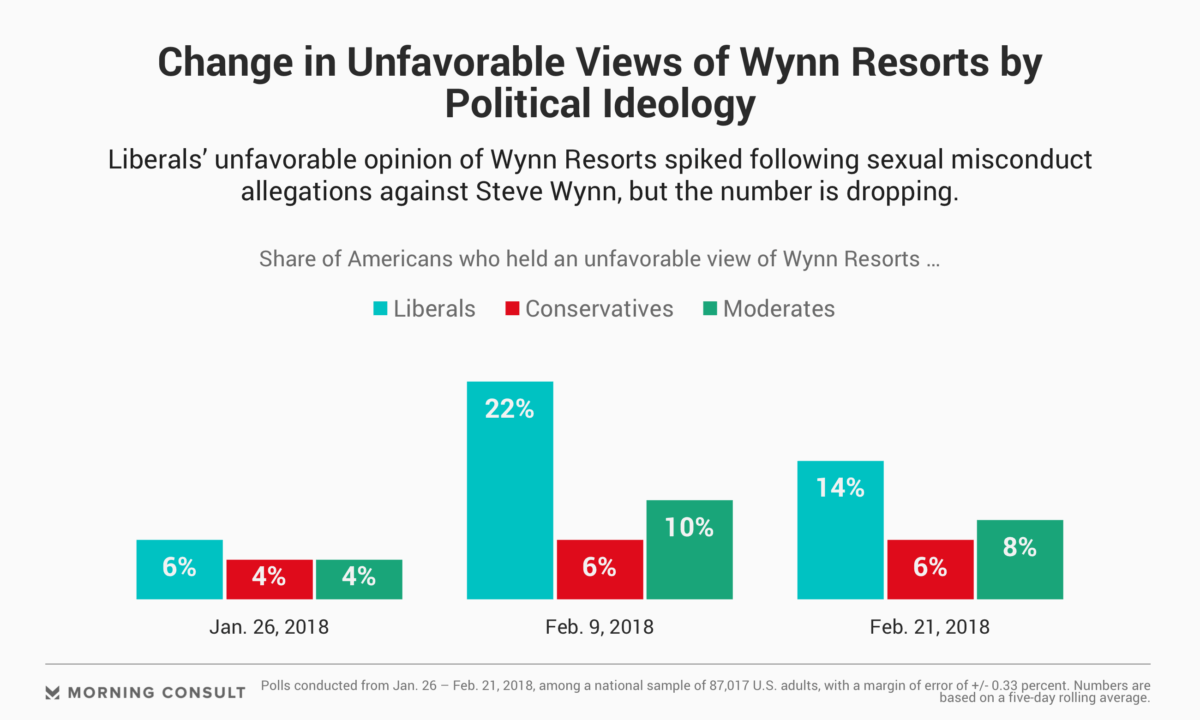 Morning Consult Brand Intelligence polling on Jan. 26 found that a five-day rolling average of 23 percent of respondents held a favorable view of Wynn Resorts, while 5 percent held an unfavorable view. By Feb. 9, consumers' unfavorable views of the company had risen to 12 percent.
Two percent of respondents on Jan. 26 said they had heard something negative about Wynn Resorts within the past two weeks. On Feb. 9, 15 percent of respondents reported hearing something negative about the company.
Wynn stepped down from his RNC role on Jan. 27, following the misconduct allegations. He resigned as CEO and chairman of Wynn Resorts' board on Feb. 6, saying in a statement, "I have reached the conclusion I cannot continue to be effective in my current roles." In a Feb. 15 filing with the Securities and Exchange Commission, Wynn Resorts said the casino mogul was "not entitled to any severance payment or other compensation from the Company under the employment agreement."
Gaming industry experts say they do not expect the allegations against Wynn to negatively impact the company's standing in the long term.
A.J. Singh, a professor of international lodging, finance and real estate finance at Michigan State University's School of Hospitality Business, said in a Tuesday email that "it did not appear that consumers are reacting adversely to the brand and name 'Wynn.'"
Singh noted that "a large part of convention hotel business is locked in." People "typically don't pull out their meetings for incidents like this," he said.
Political ideology may have played a role in in negative perceptions of Wynn Resorts. A higher percentage of liberals in particular said they had unfavorable views of the company after the allegations against Wynn came to light. Liberals' unfavorable attitudes toward the company rose from 6 percent to 22 percent over the two weeks from Jan. 26 to Feb. 9, while unfavorable attitudes among conservatives rose from 4 percent to 6 percent in the same time period.
However, unfavorability among liberals has dropped by 8 percentage points as of Feb. 21, when 14 percent said they had an unfavorable view of the company.
William Thompson, a professor emeritus of public administration at the University of Nevada, Las Vegas, and a gaming industry expert, suggested a forgiving ethos among many Nevada residents will likely mitigate brand damage.
"We embrace Howard Hughes and we embrace Bugsy Siegel here, so I don't think there's going to be anything prevalent," Thompson said in a Tuesday phone interview. "In Las Vegas, the Wynn name is still held in high regard for quality and for excellence and luxury, so the name's well-established. It's a brand name, and I don't think his personal behavior can rip all of that down."
Wynn Resorts said in a Tuesday statement that the company remains "committed to delivering the five-star quality experience that makes the Wynn brand among the best in the world."
"In fact, more than 40 percent of all Wynn Las Vegas management are women; the highest in the gaming industry," the company stated.
Correction: A previous version of this story mischaracterized the allegations against Wynn.
Edward Graham previously worked at Morning Consult as a reporter covering tech.
We want to hear from you. Reach out to this author or your Morning Consult team with any questions or comments.
Contact Us