For 2nd Year in a Row, More People Want Patriots to Lose in Super Bowl
45% plurality in poll favor Philadelphia Eagles over five-time champion New England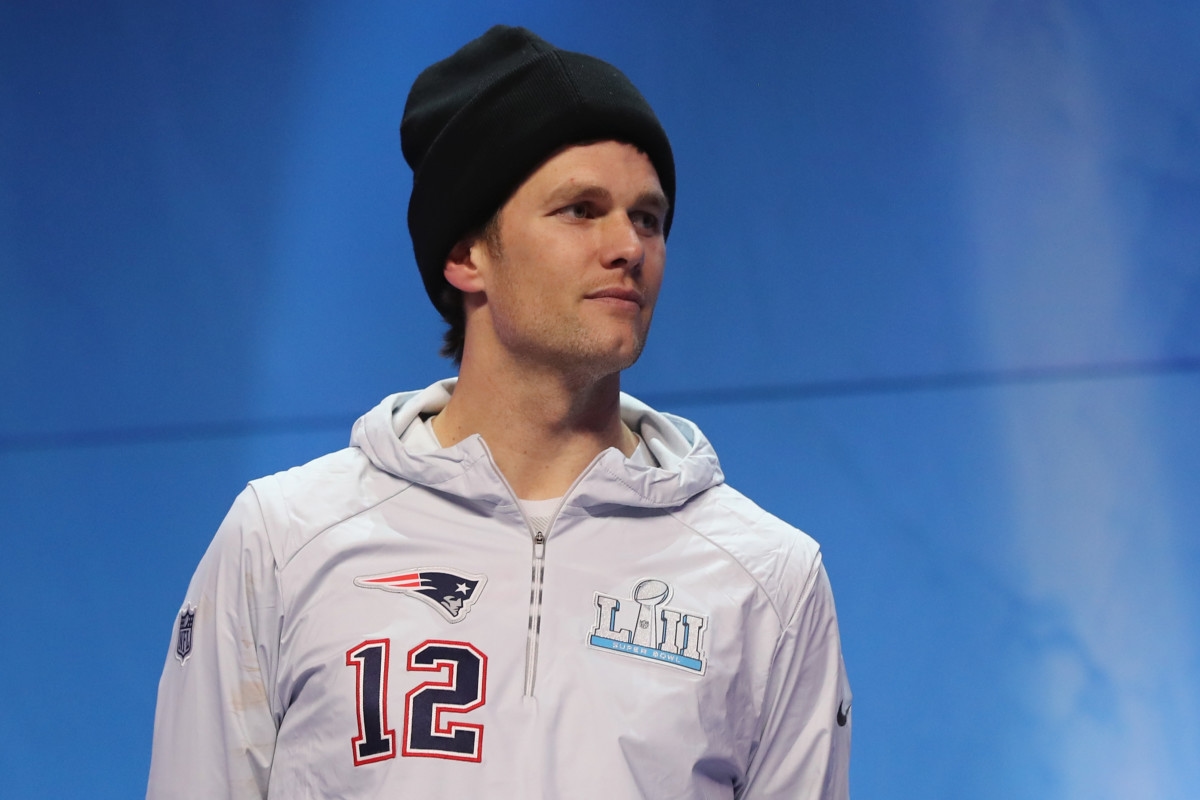 Key Takeaways
In the 2017 Super Bowl, 43% wanted to see the Atlanta Falcons beat the Patriots.

26% of respondents back New England in 2018, the same percentage as in the 2017 poll.
For the second year in a row, the New England Patriots will be in the Super Bowl. And for the second year in a row, a plurality of poll respondents say they want the opposing team to win.
In a Morning Consult survey conducted Jan. 25-26 among 2,202 adults, 45 percent said they want the Philadelphia Eagles to win on Sunday, while 26 percent said they want the Patriots to win their sixth championship title. The Eagles have made two Super Bowl appearances, in 1981 and 2005, but have yet to win the big game. 
The same percentage of people backed the Patriots in a Jan. 26-28, 2017, poll, while 43 percent said they were cheering for their Super Bowl LI opponents, the Atlanta Falcons -- who ultimately lost the game. Both polls have a margin of error of plus or minus 2 percentage points.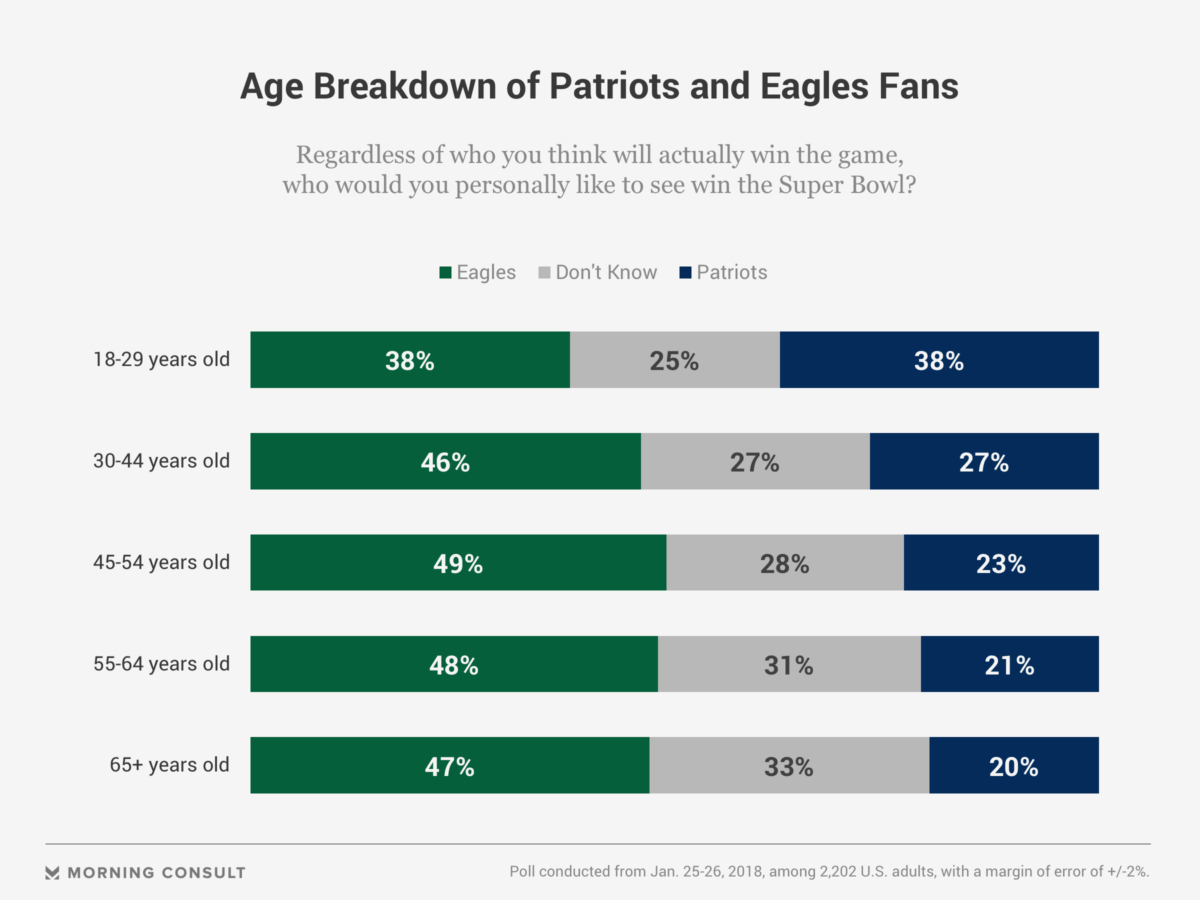 But those aged 18-29 were evenly split between the two teams in the recent poll, with 38 percent saying they would support the Eagles and 38 percent saying they'd support the Patriots. One quarter of that demographic said they did not know or had no opinion.
It's not necessarily that people are against the Patriots so much as they want a new storyline, said Andrew Billings, director of the Alabama Program in Sports Communication and Ronald Reagan Endowed Chair of Broadcasting, in a Jan. 30 phone interview.
Billings noted Patriots head coach Bill Belichick has led the team since 2000. And this Sunday's Super Bowl contest marks the team's eighth National Football League championship appearance with quarterback Tom Brady since 2002's Super Bowl XXXVI.
"The fact that the same coach and same quarterback have been going on since basically the turn of the century makes it seem -- I don't want to say stale, because people do care -- but it makes it seem like a narrative people would like to see shifted in some way," Billings said.
Fifty-nine percent of those surveyed said they plan to watch the game, which is being broadcast on NBC, while 29 percent said they'll skip it.
The percentage of U.S. adults who said they intend to watch Sunday is comparable the 61 percent who told Morning Consult they planned to watch the 2017 game, an overtime nail-biter that ended with a 34-28 victory for the Patriots. According to Nielsen, 111.3 million people tuned into that game on Fox.
"There's two major stories in sports: Big guy wins or big guy loses. And either way we get to see what happens to the big guy, and without question that's the Patriots," Billings said. "Whether that's watching Patriots win or lose, you know it's a story." Billings said he would be rooting for the Eagles.
The Super Bowl caps an NFL season that has been marked by the controversy of players kneeling during the national anthem as a protest against racial and social injustice. The league also faces criticism over how it handles players' concussions and head trauma, and has experienced a drop in regular-season television viewership, which declined from 16.5 million in the 2016 regular season to 14.9 million during the 2017 regular season, according to Nielsen.
The NFL ranked sixth in Morning Consult's Most Polarizing Brands list and people have reported less favorable views of the NFL in recent months.
But the Super Bowl is a "pop culture event" -- not just a football game, so it stands apart from the problems seen in the regular season, said David M. Carter, principal at the consulting firm the Sports Business Group and director of the University of Southern California's Marshall Sports Business Institute.
"I think a lot of people were dismayed with the protests and player safety health issues and all the rest of it, but the Super Bowl is a celebration of pop culture," Carter said in a Jan. 30 phone interview. "It's the social event of the year for a lot of people, and the backdrop happens to be football."
Mike Oriard, author of "Brand NFL" and a retired Oregon State University professor of American literature and culture who played with the Kansas City Chiefs for four seasons from 1970-73, said it would take a "catastrophic event" to make a major dent in Super Bowl viewership.
"If football became more or less widely regarded as too dangerous to play, it would presumably become too dangerous to watch," Oriard said in a Jan. 29 phone interview. "It would create a conflict of conscience over watching it. Even if the Super Bowl exists independently, it couldn't be independent of that. It would be a decisive blow."
The NFL and the New England Patriots did not respond to requests for comment.
Anna Gronewold previously worked at Morning Consult as a reporter covering finance.
We want to hear from you. Reach out to this author or your Morning Consult team with any questions or comments.
Contact Us