The NFL Isn't the Only Divisive Sport in America
Political stances taken by athletes in the NBA and in NASCAR largely in line with those held by fan base
Key Takeaways
The NBA is more popular among Democrats, while more Republicans favor NASCAR.

Experts say demographics play a role: 66% of NBA's TV audience is made up of racial minorities, while NASCAR's is 91% white.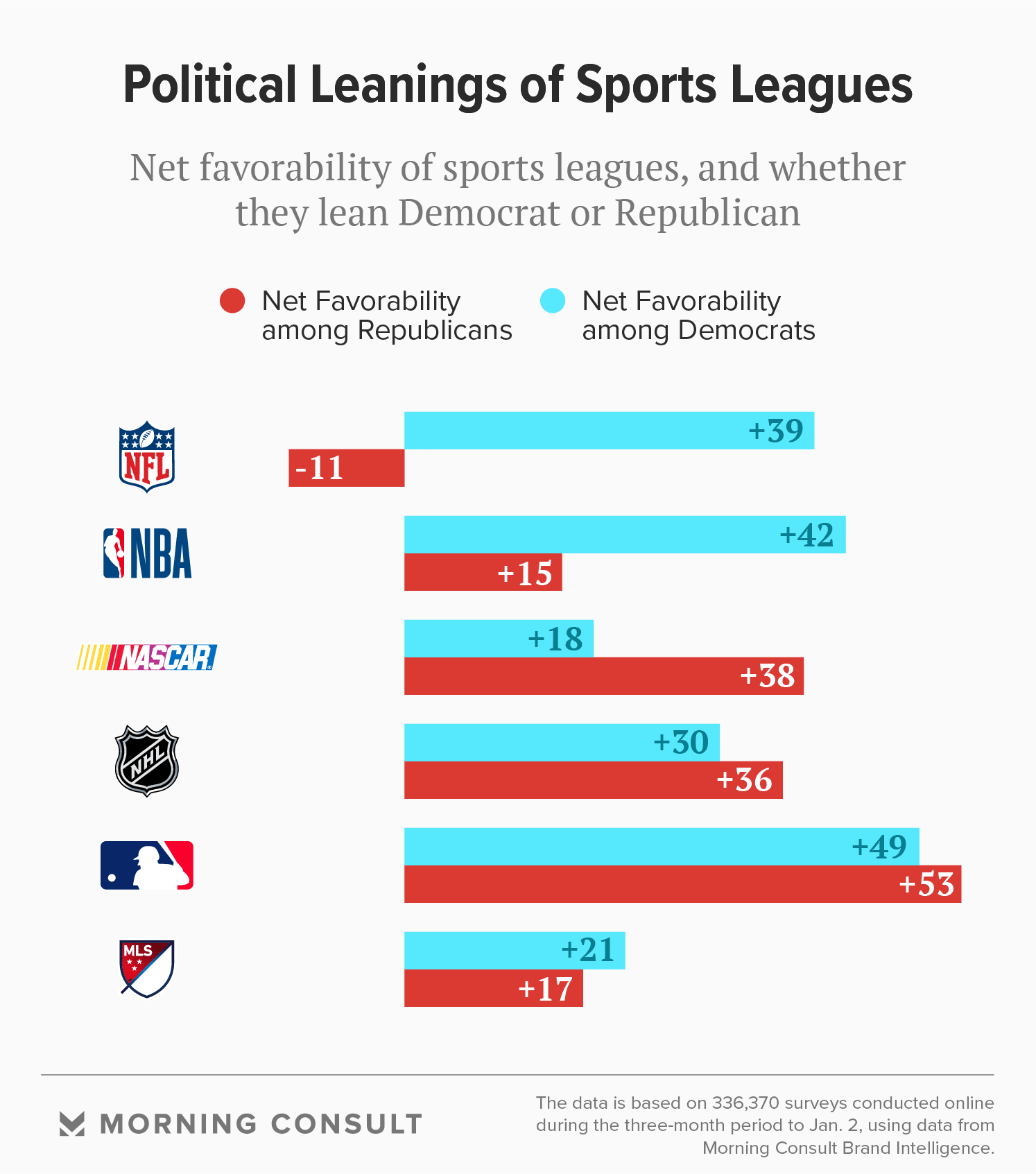 The National Football League drew attention to the intersection of politics and sports last fall, after President Donald Trump criticized the league's players for kneeling during the national anthem to protest racial and social injustice.
But the NFL isn't the only national sport affected by partisan views: Athletes and leaders from the National Basketball Association and the National Association for Stock Car Auto Racing have also waded into politics over the past year by making strong statements about the president.
Morning Consult's list of Most Polarizing Brands in America shows a clear political tilt among each sport's fans, with the NBA dominated by a Democratic fan base and NASCAR's more strongly Republican.
The NBA
The NBA has a net favorability that leans 27 percentage points Democratic, with a 42 percent net approval rating among Democrats, versus 15 percent among Republicans.
"The obvious thing that comes to mind here is race," Robert Edelman, a professor of the history of sport at the University of California, San Diego, said of the Democratic favorability views of the NBA in an interview Jan. 4.
African-Americans made up 74.4 percent of all players in the 2016-17 season, according to a June 2017 report from the Institute for Diversity and Ethics in Sport. 
The political tone of the NBA has been largely set because so many of its megastars are black, said Thomas O'Grady, partner and chief creative officer at Gameplan Creative, a creative strategy firm specializing in sports brands.
NBA players and coaches have publicly criticized Trump during the president's first year in office. In September, Stephen Curry, the star guard with the Golden State Warriors, told reporters he didn't want to visit the White House after his team won the NBA title in June, because he didn't agree with the president's stances. That prompted Trump to post a tweet saying the "invitation is withdrawn!"
LeBron James of the Cleveland Cavaliers, one of the most famous athletes in the country, then called Trump a "bum" on Twitter. Before that, James blamed the president for making hate "fashionable" again.
Given the racial diversity of the NBA's fan base, which is more reflective of the makeup of the Democratic Party than that of the GOP, the politics of its players largely resonate with NBA viewers, O'Grady said in an interview Jan. 9.
During the NBA's 2016-2017 regular season, 66 percent of TV viewers were racial minorities, according to data from ratings provider Nielsen: Blacks made up 47 percent of the audience, Hispanics 11 percent and Asians 8 percent.
Whites made up 34 percent of the NBA's audience, a drop from 40 percent in the 2012-2013 regular season, according to Nielsen's 2013 "Year in Sports Media" report. In 2013, black viewership was 45 percent. The report did not list figures for other minority groups.
Morning Consult data shows black adults (67 percent) are more likely than white adults (44 percent) to hold a positive view of the NBA; and whites are twice as likely as black adults to hold negative impressions of the league (22 percent versus 11 percent).
But the NBA, which did not respond to a request for comment, was not always a progressive stronghold, Edelman said.
Canadian national James Naismith invented basketball for his students at a Young Men's Christian Association in Springfield, Mass., where the sport was "seen as something that carried the values of muscular Christianity," Edelman said.
Basketball's path to diversity began when Jews, Catholics and blacks picked up the sport in the 1920s and '30s, Edelman said. Its history of political and social activism can be seen in figures such as Craig Hodges, a former Chicago Bulls guard who spoke out against racial and economic inequality, and Magic Johnson of the Los Angeles Lakers, who helped destigmatize the human immunodeficiency virus after announcing in 1991 that he was HIV-positive.
NASCAR
On the other side of the political spectrum, NASCAR's net favorability leans 20 percentage points toward Republicans -- its net approval among the GOP sits at 38 percent, versus 18 percent for Democrats. Its viewership and favorability demographics align more closely with those of the Republican Party. According to Nielsen data, 91 percent of viewers of the 2017 Monster Energy NASCAR Cup Series were white.
NASCAR earned praise from Trump in September, when he tweeted: "So proud of NASCAR and its supporters and fans. They won't put up with disrespecting our Country or our Flag - they said it loud and clear!"
This came after several NASCAR drivers tweeted that they disapproved of the NFL national anthem protests occurring at the time, and several NASCAR team owners told the Associated Press they wouldn't want anyone working for them to participate in such protests.
NASCAR's origins are soaked in moonshine, Kevin Burke, a sport psychology professor at Queens University of Charlotte in North Carolina, said in a Jan. 4 interview. Organized racing in the United States began with bootleggers trying to evade authorities during Prohibition, with many drivers racing for audiences by day and for booze by night.
It's a history NASCAR touts on its website, and one that helped shape its conservatism today -- as it was largely Southerners with lower socioeconomic status that were engaging in such revelry, Burke said.
"NASCAR has tended to do things that probably come from these conservative roots," he said, noting that at almost every race, there's some sort of recognition of the armed forces or recitation of a prayer.
NASCAR's CEO, Brian France, and several drivers endorsed Trump in the 2016 election, according to video from a campaign rally in Valdosta, Ga., in February 2016.
"I think they're staying on message with who their audiences are," Gameplan Creative's O'Grady said of NASCAR, which did not respond to a request for comment.
On the other hand, several of the association's decisions in the past few years suggest a more progressive public approach.
NASCAR rebuffed traditional conservative ideology in March 2015 when it condemned Indiana legislation that allowed individuals and companies to discriminate on religious grounds. That same year, it asked fans not to display the Confederate flag at NASCAR facilities or events, and later said it supported South Carolina's then-Gov. Nikki Haley's decision in July 2015 to remove the flag from state grounds after Dylann Roof, a white supremacist, killed nine black churchgoers in Charleston, S.C.
Attendance and viewership trends
Auto racing's audience is shrinking. NASCAR's Cup Series had nearly 1.8 million fewer viewers last year (4 million) compared to 2013 (5.77 million), according to Nielsen. And while NASCAR stopped reporting event attendance numbers in 2013, a July 2017 analysis by Bloomberg of admission revenue as reported by International Speedway Corp., Speedway Motorsports Inc. and Dover Motorsports Inc. shows a decline in attendance beginning in 2009.
Meanwhile, the NBA's attendance has been rising, with 21,997,412 people going to games during the 2016-17 regular season, a new record. That said, its television viewership dipped from an average of 1.4 million four years ago to 1.2 million per game, according to Nielsen.
Racing fans also tend to skew older than the NBA's fan base. According to Nielsen data, 57 percent of the audience for the 2017 NASCAR Cup Series were over the age of 55. Compare that to the 68 percent of the NBA's viewership in the 2016-17 season who were 54 or younger.
NASCAR has made efforts to appeal to a wider audience. The NASCAR Drive for Diversity Program, for example, is designed to recruit more minority and female drivers. (Its 2017 full-time drivers were largely white and male.)
O'Grady said the association should invest in new, engaging technology that would bring in a younger fan base, citing as an example recent efforts from Major League Baseball, such as its data- and technology-heavy StatCast Player Tracking, to cater to a more youthful demographic.
"You always want to market downwards to get a younger audience and grow them into lifelong fans," said O'Grady, but he added that because NASCAR is a family-oriented sport, "that'll keep them just fine for many years to come."
In the end, he said, "I don't think either has much to worry about."
Correction: A previous version of this story misstated the name of the National Basketball Association and the first fiscal year since 2005 in which three NASCAR tracks showed a decline in admission revenue.
Clarification: This story has been updated to clarify NASCAR team owners' opinions on national anthem protests.
Joanna Piacenza leads Industry Analysis at Morning Consult. Prior to joining Morning Consult, she was an editor at the Public Religion Research Institute, conducting research at the intersection of religion, culture and public policy. Joanna graduated from the University of Wisconsin-Madison with a bachelor's degree in journalism and mass communications and holds a master's degree in religious studies from the University of Colorado Boulder. For speaking opportunities and booking requests, please email [email protected].
We want to hear from you. Reach out to this author or your Morning Consult team with any questions or comments.
Contact Us