Fox News' Popularity Slips Among Republicans in Wake of Election
The network's average favorability rating among Republicans dropped from 67% to 54%
Fox News' favorability has tumbled among Republicans since Election Day, as the cable news network has faced a steady drumbeat of criticism from President Donald Trump.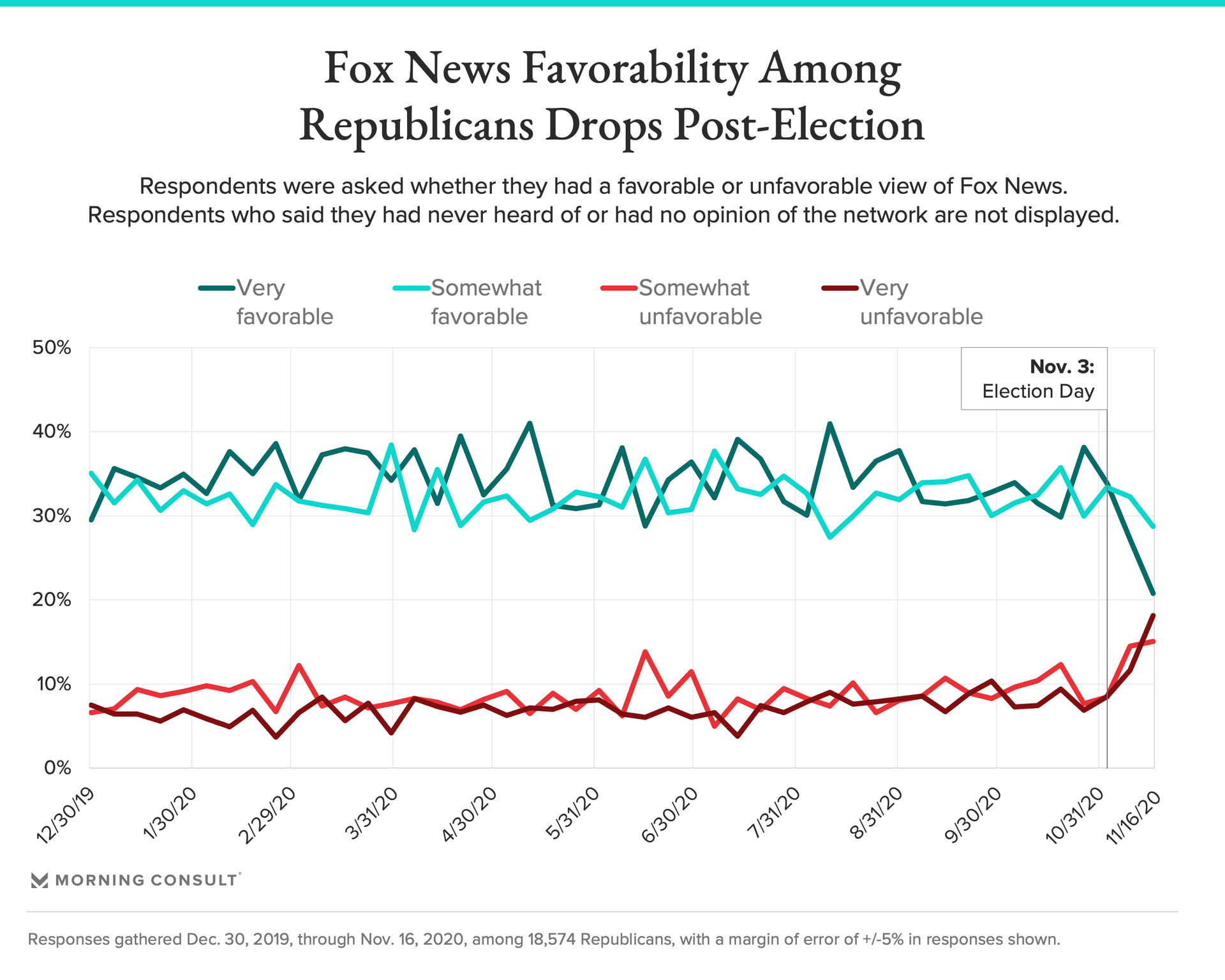 From late December 2019 through Nov. 2, 67 percent of U.S. adults who identify as Republican viewed Fox News favorably, according to Morning Consult's Brand Intelligence, which tracks consumer attitudes of thousands of brands, while roughly 16 percent had an unfavorable view of the cable channel. 
Then came election night, when Fox News was the first news organization to project a Trump loss in the battleground state of Arizona. 
The announcement reportedly enraged the president, and in the days since he has continued to wallop the network on Twitter, saying its ratings have "completely collapsed," criticizing its coverage of his supporters' rally in Washington, D.C., on Nov. 14 and suggesting that his followers turn instead to One America News Network or Newsmax, two conservative cable news networks. 
It appears such rhetoric has impacted public opinion of the brand. In polling conducted Nov. 9-16, the network's average favorability rating among GOP respondents has dropped 13 percentage points, to 54 percent, and the average share of those with an unfavorable view of the network nearly doubled, to 30 percent. 
Even before Nov. 3, the president had been increasingly critical of the network, particularly its news operation, over the years, culminating in an Election Day interview on "Fox & Friends" in which he accused the network of abandoning him.
"Somebody said, 'What's the biggest difference between this and four years ago?' And I say 'Fox, it's much different,'" Trump told the hosts.
Trump supporters have taken their cue from the president. When they marched through the streets of Washington to protest the election, at several points during their demonstration they chanted, "Fox News sucks!" 
The network did not respond to a request for comment.
Conservatives' souring on the network has been reflected in other research: Conservative viewership of Fox News on YouTube dropped the week following the election, according to an independent research project called Transparency Tube. 
Trump reportedly wants to capitalize on this erosion of support for Fox. Last week, Axios reported that Trump has told friends he wants to create a digital media company to "wreck" the network, according to one source. 
Joanna Piacenza leads Industry Analysis at Morning Consult. Prior to joining Morning Consult, she was an editor at the Public Religion Research Institute, conducting research at the intersection of religion, culture and public policy. Joanna graduated from the University of Wisconsin-Madison with a bachelor's degree in journalism and mass communications and holds a master's degree in religious studies from the University of Colorado Boulder. For speaking opportunities and booking requests, please email [email protected].
We want to hear from you. Reach out to this author or your Morning Consult team with any questions or comments.
Contact Us