Free From Memory of the Great Recession, Gen Z Charts Own Economic Path
Entering strong economy, youngest adults have more positive feelings toward socialism than older generations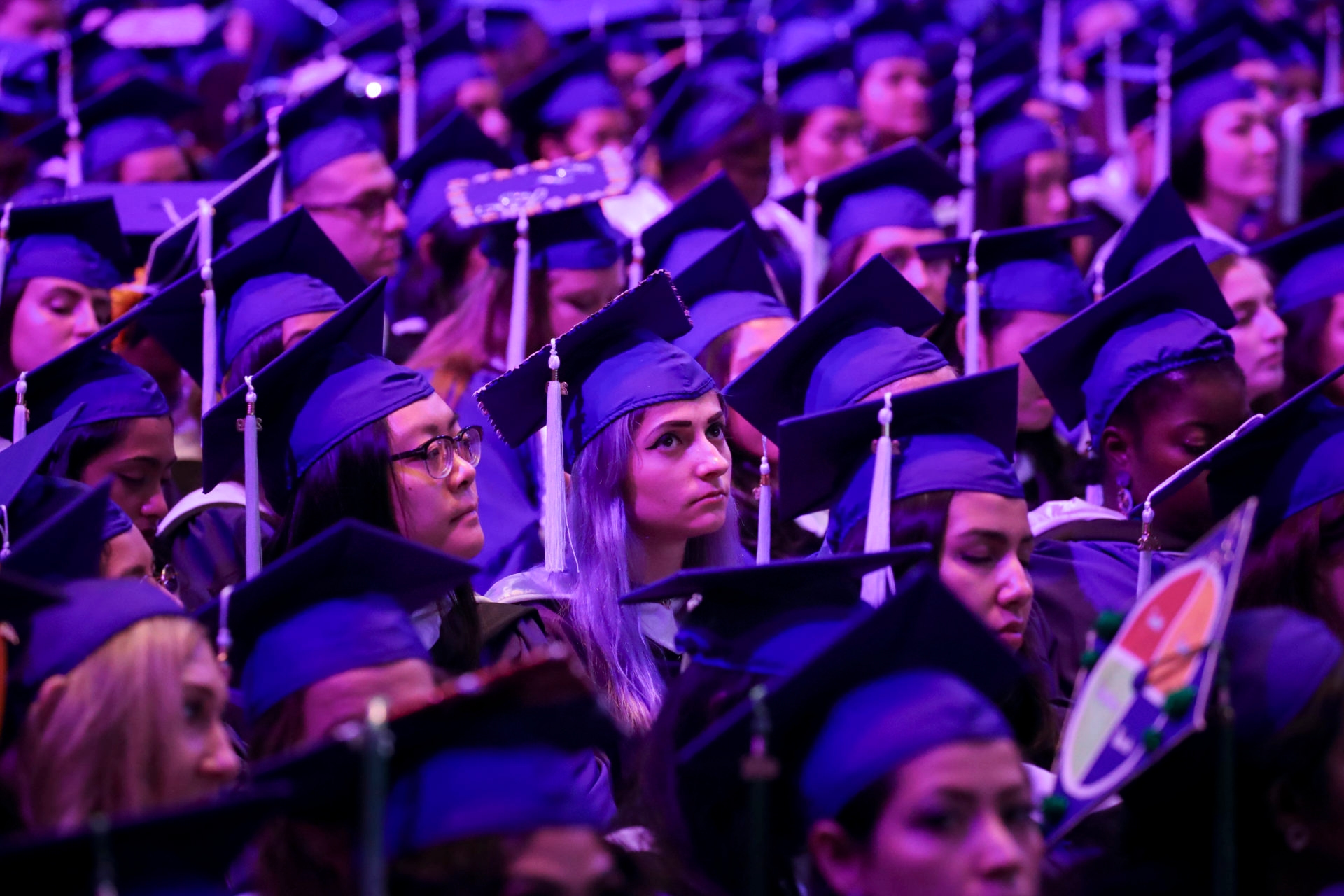 Key Takeaways
Gen Z and millennials are less likely to view capitalism positively than older generations.

The 2008 financial crisis is the major event that Gen Z-ers say is least likely to have shaped their worldview.
America's youngest adults were in elementary school during the country's last major economic downturn, and that distance is having a significant influence on the way they think about money and politics.
Unlike their millennial predecessors, members of Generation Z were too young to personally grapple with the 2008 financial crisis. While the oldest millennials tried to land their first jobs in the midst of a plummeting market and sky-high unemployment, Gen Z is entering the workforce at a nearly 50-year unemployment low and an economy that's on track for its 10th year of expansion -- an auspicious sign for the financial power Gen Z could wield in the near future.
And soon, Gen Z will be the largest cohort in America's economy and its biggest generation of voters. Amid a robust economy and Gen Z's fading memory of the last financial crisis, the generation's economic views could end up being more open-minded than those of recession-hardened millennials and previous generations.
While a small but notable group of politicians, including Democratic presidential hopeful Sen. Bernie Sanders (I-Vt.), embrace the socialist label, some business leaders and Republican politicians continue to raise the specter of socialism in response to some policy proposals from across the aisle.
But young Americans aren't hearing the same alarm bells. Millennials and Gen Z are more likely to feel positively toward socialism and less likely to feel negatively about it compared to older generations, according to recent Morning Consult data.
The Gen Z survey was conducted May 22-27 among 999 Gen Z adults -- ages 18-21 -- and carries a margin of error of 3 percent. The non-Gen Z survey polled 2,023 adults -- millennials, Gen X-ers and baby boomers -- from May 23-26 and has a margin of error of 2 percent.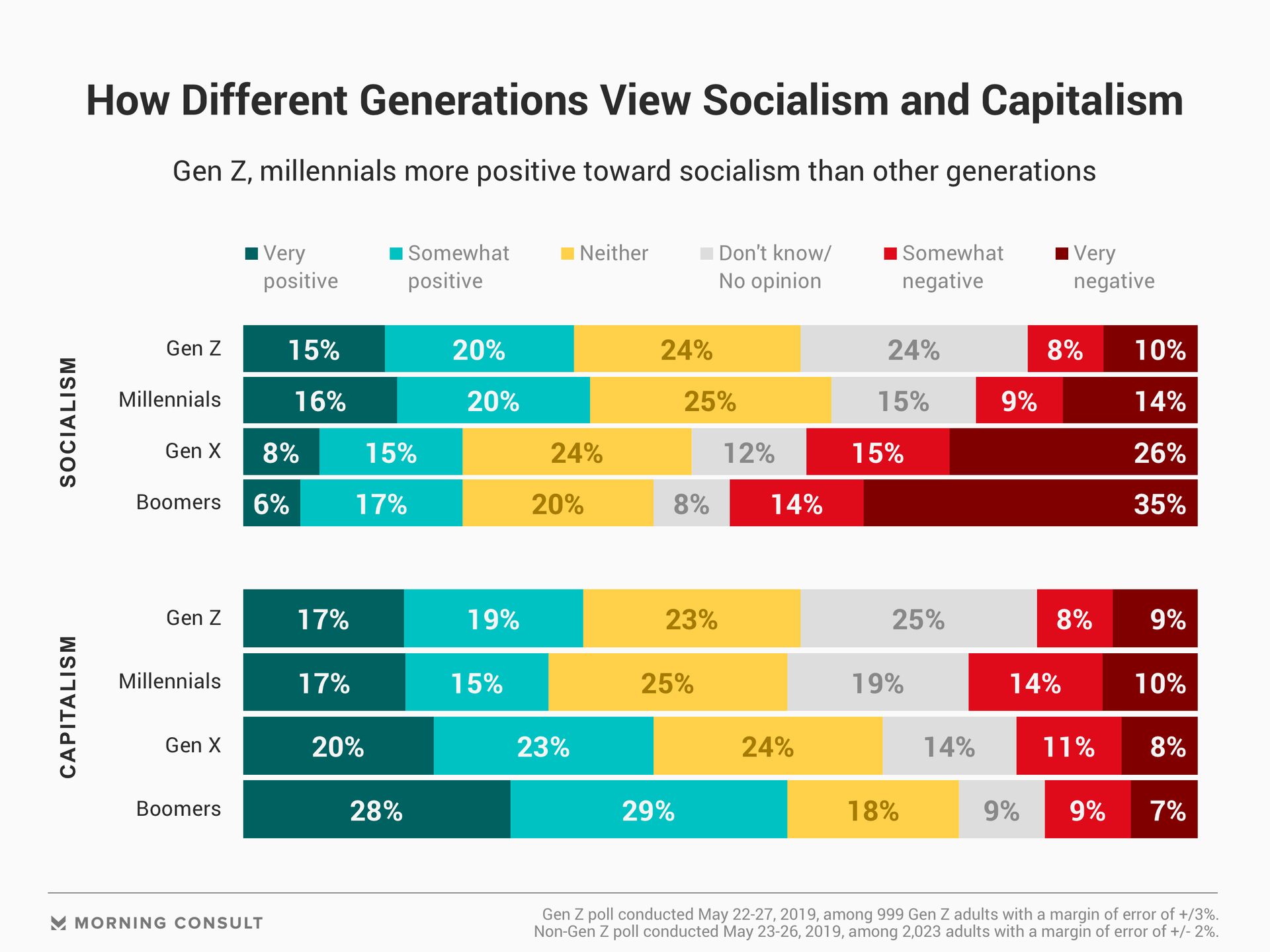 Thirty-five percent of Gen Z had a positive view of socialism. Millennials felt similarly, with 36 percent having a positive view. Eighteen percent of Gen Z felt negatively about socialism compared to 23 percent of millennials.
Those numbers shift for Gen X and baby boomers. Twenty-three percent of Gen X members and baby boomers, respectively, said they have a positive view of socialism. Meanwhile, 41 percent of Gen X feels negatively about socialism, compared to 49 percent of baby boomers.
Some of Gen Z's sentiment could just be due to age -- younger people historically tend to favor more liberal policies.
But most of that divide comes from the life experiences of each generation, experts said. The socialism-capitalism split defined political and economic discourse for baby boomers and the oldest Gen X-ers, but has faded for millennials and Gen Z.
For members of Gen Z specifically, economic crisis hasn't been a major part of their political coming of age, which means interest in a dual-economic framework likely won't be part of their political future, said Simon Blanchard, a marketing professor at Georgetown University.
"It's just not something Gen Z has had to care about in the past," he said.
And while the 2008 financial crisis is so far the defining economic moment in millennials' life, Gen Z doesn't have a comparable event. The oldest Gen Z-ers would have been about 12 years old in 2008 -- too young to really grasp how big economic events impact day-to-day life.
"When you're about 10 years old, the economy is a very broad-based, fuzzy concept," said Aaron Klein, a Brookings Institution fellow in economic studies.
Unlike Gen Z, millennials' economic prospects were hurt by the financial crisis -- and it shows in their views. Millennials were more likely to think negatively about capitalism than any other generation.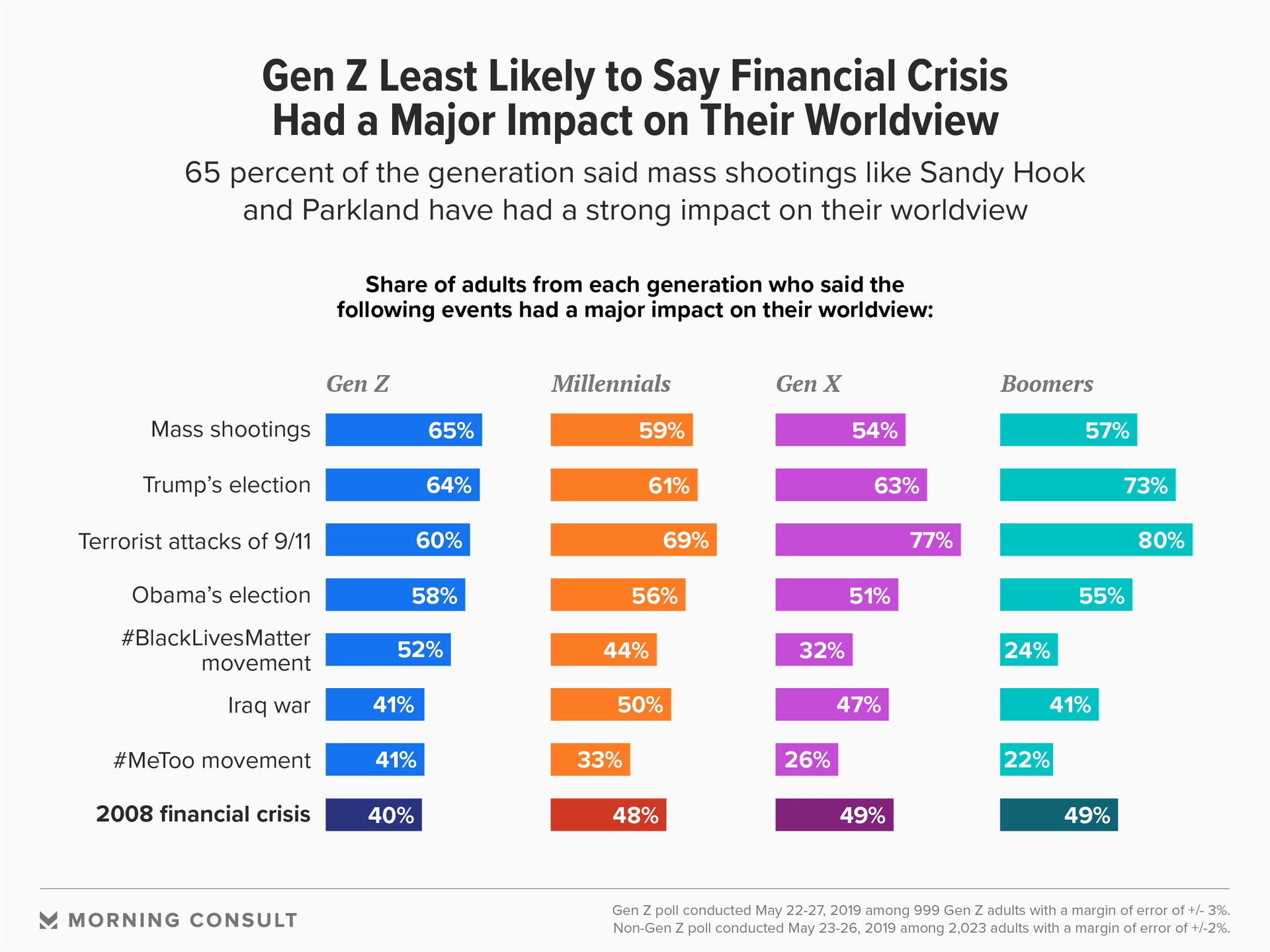 When asked to choose major events that shaped their worldview, 40 percent of Gen Z said the 2008 financial crisis had a major impact -- the lowest-scoring event. Mass shootings like Sandy Hook and Parkland topped the list at 65 percent for Gen Z, followed by President Donald Trump's election at 64 percent.
Older generations assigned a greater weight to the financial crisis. Millennials, Gen X and baby boomers were more likely to say the financial crisis had a major impact than the #MeToo and #BlackLivesMatter movements -- social issues that Gen Z ranked higher than the Great Recession. 
Researchers do note that the financial crisis could have some influence on Gen Z's views on money, event if Gen Z doesn't identify it themselves. At the time of the financial crisis, Gen Z wasn't "old enough to appreciate its magnitude but still conscious enough to see the fragility inherent in the system," Klein said.
Brought up largely by Gen X parents -- who came of age in the 1980s and 1990s and are famously less optimistic than their baby boomer predecessors -- Gen Z learned to be more economically cautious than millennials, who were raised by baby boomers.
So far, studies have shown that Gen Z is concerned with building wealth and seeking stability, possibly because of the lessons they learned from their Gen X parents. 
"Gen X parents are still paying down their loans at the same time that their kids are thinking about college," said Sarah Sattelmeyer, who manages Pew Charitable Trusts' student borrower success project. "That certainly had an effect on the way Gen Z looks at these kinds of things." 
Seventy percent of Gen Z said making money is very important to them, compared to 44 percent of the other generations combined. Fifty-three percent of Gen Z said buying a home -- one way families most commonly build wealth -- is very important, while 42 percent of other generations combined said the same.  
What research exists on the topic suggests that Gen Z is defined as an economic cohort by its pragmatism and desire for stability, as opposed to the baby boomers' unbridled enthusiasm for capitalism and their own economic futures and millennials' post-2008 pessimism. 
"They're a saving generation," Blanchard said. "Money is on their minds." 
Claire Williams previously worked at Morning Consult as a reporter covering finances.
We want to hear from you. Reach out to this author or your Morning Consult team with any questions or comments.
Contact Us