In Consumer Debt Boom, Many Americans Are Using Credit Cards to Shop
More credit card owners said most of their debt is due to discretionary purchases than paying for necessities
Key Takeaways
55% of Americans who own a credit card have credit card debt.

32% of Americans with credit card debt say discretionary spending is the biggest contributor.
Americans are racking up more credit card debt than ever -- higher than even the period during the 2008 financial crisis. According to new polling data, much of that debt is coming from discretionary spending.
Discretionary spending -- such as shopping for new clothes or paying for entertainment -- is the top driver of credit card debt for Americans, according to a Morning Consult/CNBC survey.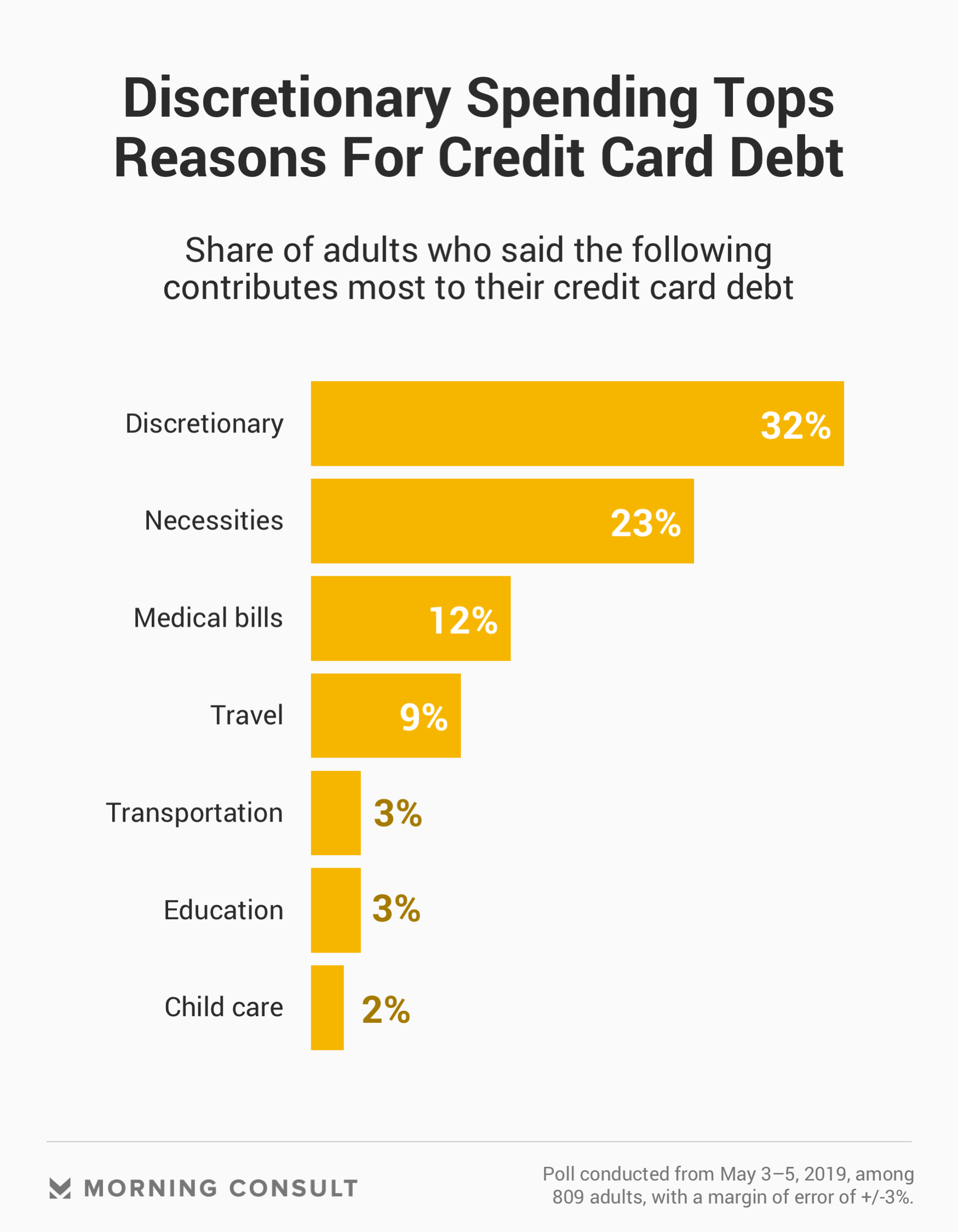 Thirty-two percent of the adults who said they have credit card debt identified discretionary spending as the primary contributor to that debt.
Necessities, such as rent and utilities, followed discretionary spending at 23 percent, while medical bills came next at 12 percent. The poll, conducted May 3-5, surveyed a subsample of 809 U.S. adults who said they have credit card debt, and the subsample has a margin of error of 3 percentage points.
A 44 percent plurality of credit card owners said they have never relied on their credit card to pay for basic living expenses. Twenty-four percent said they currently rely on their credit card for expenses like utilities, groceries and rent, and 28 percent said they don't currently need a credit card to pay those expenses but have done so in the past.
U.S. consumer debt is booming, according to data from the Federal Reserve Bank of New York. Household debt rose for the 19th straight quarter to $13.67 trillion in the first quarter of 2019, higher than the previous peak in the third quarter of 2008 during the recession.
Within household debt, credit card balances rose $33 billion in the first quarter of 2019 compared to the same period last year. In the fourth quarter of 2018 -- which typically sees seasonally high spending and credit card use as Americans shop for the holidays -- credit card balances reached their recession-era peak at $870 billion.
Overall, 55 percent of Americans with a credit card have credit card debt, according to the Morning Consult/CNBC poll. The survey polled 2,200 U.S. adults and has a 2 percent margin of error.
Credit card debt isn't inherently bad, said Catherine Ruetschlin, an economics professor at the University of Utah. Consistently using and paying off a line of credit can help build a credit score, which should help boost the consumer's long-term financial health.
For the individual consumer and for the economy as a whole, it's more important that consumers have the ability to pay it off, she said. While 55 percent of credit card owners report having credit card debt, 78 percent of all credit card owners said they have a savings account, according to the survey.
Claire Williams previously worked at Morning Consult as a reporter covering finances.
We want to hear from you. Reach out to this author or your Morning Consult team with any questions or comments.
Contact Us