FuboTV CEO Hopes to Attract More Cord Cutters With Addition of ESPN as Sports Return
But analysts doubt the Disney-owned networks are enough to turn FuboTV into big virtual MVPD player
FuboTV has signed up hundreds of thousands of sports fans for its live TV streaming service since 2015, even without carrying ESPN in its lineup. Now that the company finally has a deal with Walt Disney Co. to carry a suite of networks that includes the country's most-watched sports channel, co-founder and CEO David Gandler is betting he can bring in a whole lot more as U.S. sports return in the third quarter.
In an interview Thursday, Gandler said FuboTV is now on "equal footing" with well-funded peers like Hulu+Live TV, Dish Network Corp.'s Sling TV, Alphabet Inc.'s YouTube TV and AT&T Inc.'s DirecTV Now, putting the company in a position to capitalize on the return of U.S. sports and an acceleration in cord-cutting during the first half of 2020.
"This fall, as people start to look at bundles, we're going to be part of that consideration set," he said, adding that the lack of ESPN had previously been a "non-starter" for many consumers.  "Many people who have canceled cable are sitting on the sideline waiting for sports to come back, and that's when they're going to make those decisions."
The first quarter of 2020 brought severe subscriber losses for traditional cable and satellite providers due to cord-cutting, with forthcoming second-quarter results expected to be even worse due to the coronavirus pandemic. While that hasn't translated to increases for virtual MVPDs, Gandler said he believes digital platforms will realize that bump as the sports calendar ramps up.
"Q1 was a big disappointment for analysts because they expected cable cord-cutting to result in virtual subscribers," Gandler said. "But my sense is that there was a delayed reaction given the pandemic and people thinking, 'Well, there's no sports, what am I going to sign up for?'"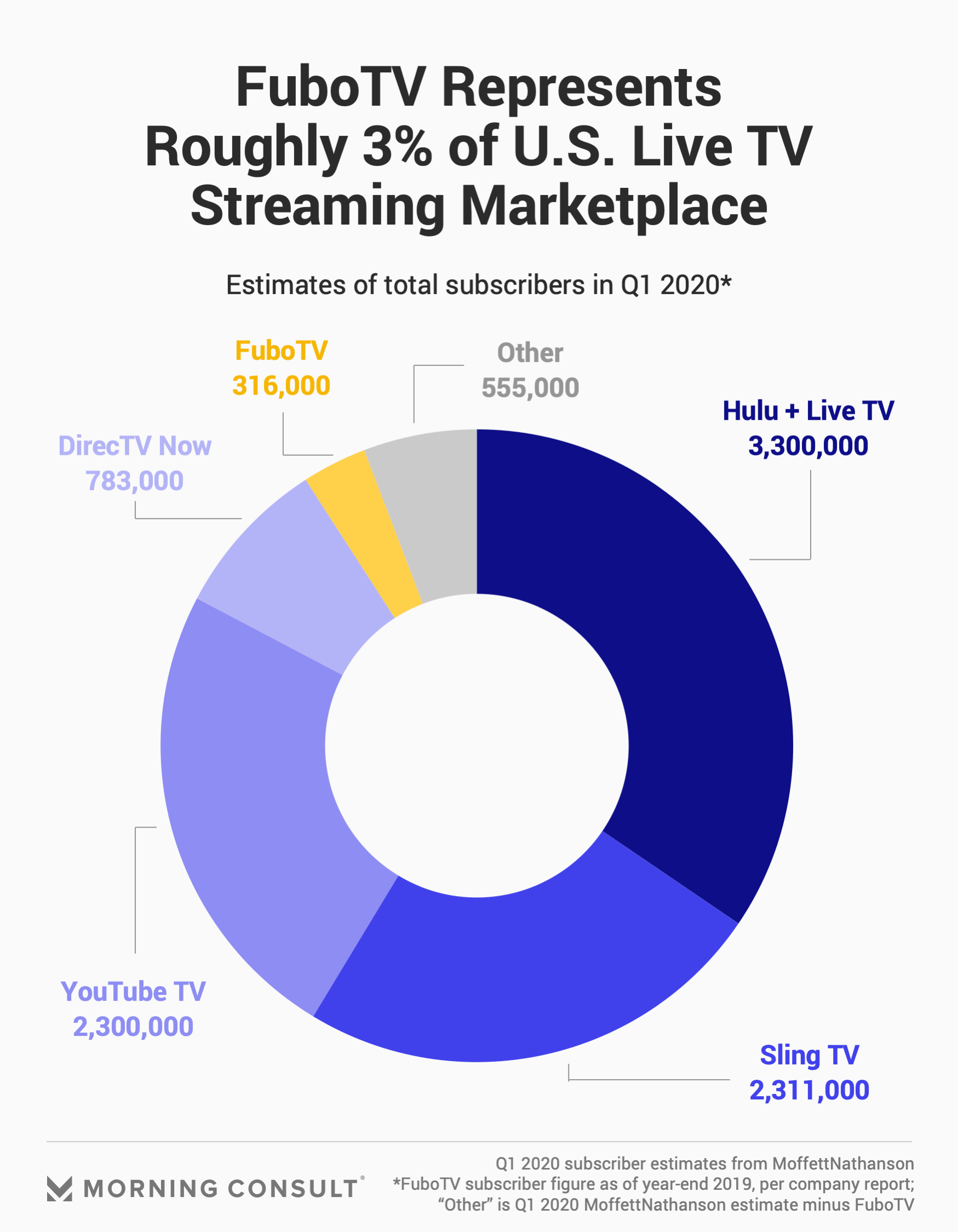 However, analysts expressed some skepticism that the addition of ESPN would be enough to raise the profile of FuboTV, which said it had 316,000 customers at the end of 2019. That represents about 3 percent of the roughly 9.5 million Americans who currently subscribe to virtual multichannel video programming distributor services, per estimates from MoffettNathanson. 
Michael Greeson, president and director of research at TDG Research, said in an email that the company "won't be able to survive for years in a sea of cutthroat, deep-pocketed competitors" in a fairly small virtual MVPD market of around 10 million customers. 
But Gandler said in a follow-up email that rather than trying to compete for existing virtual MVPD customers, he sees a path to growth in siphoning off some of the more than 70 million American households that still subscribe to traditional pay-TV.
"We're looking at this as a 5-to-7-year project, and we think that we'll be able to grow our sub base significantly over that period of time without having to create a lot of risks for the business," he said.
Gandler said FuboTV had been in "ongoing discussions for years" with Disney and is finally at the point where such a substantial investment makes sense. The deal comes months after a merger with FaceBank Group earlier this year that gave the streaming service access to a secured revolving line of credit totaling $100 million, according to an SEC filing. Prior to that deal, FuboTV had raised just over $150 million in investment capital, according to CrunchBase.
Even with the merger and plans to list on the Nasdaq and a subsequent public offering, Rich Greenfield, a partner at media research firm Lightshed Partners, questioned whether FuboTV has "the marketing dollars to go out and build this into a multimillion subscriber company."
The benefits of adding ESPN are clear for FuboTV: With the addition of ESPN's "Monday Night Football" rights, the platform can now offer every NFL game. ESPN also delivers the vast majority of college football bowl games, including the College Football Playoff, and much of the NBA Playoffs. It also now boasts live matches from virtually every major soccer league; Gandler said soccer, the platform's primary focus at launch, remains a top-three sport among FuboTV subscribers, along with pro and college football. 
"In terms of providing a full broad offering, this was a critical step for them," Greenfield said. "The only caveat is what it does to the price of the service, because we've seen the price move up dramatically over the last few years."
When asked how the addition of Disney networks, set to take place later this summer, will impact FuboTV's price point, which is currently at $54.99 a month, a FuboTV spokesperson said the company doesn't have anything to announce right now. But the new networks certainly come at a high cost. The current base package costs consumers $54.99. According to Kagan, the media research unit of S&P Global Market Intelligence, the addition of more than 10 networks to the bundle will cost FuboTV upward of $14 per base subscriber per month. 
ESPN is the most expensive cable network for distributors to carry, with Kagan estimating it costs TV providers $6.81 per subscriber per month. Only a handful of high-profile regional sports networks even come close. Its national cable sports peers, FS1 and NBC Sports Network, go for $1.12 and $0.42 per subscriber, respectively. 
That industry-high fee doesn't include the $1.29 retransmission consent fee per subscriber for ABC, home to some of ESPN's most high-profile sporting events of the year, or $1.04 for ESPN2. Plus, Disney and other large programming groups don't license their networks on an a la carte basis, meaning companies that want to carry ESPN must also pay to carry niche sports networks like the SEC and ACC Networks, as well as non-sports networks like Disney Channel, Freeform, FX and National Geographic (all of which are now coming to FuboTV).
"Others may think that ESPN is too expensive," Gandler said. "It's not for me to say, but we need ESPN; we need the Disney networks."
Correction: A previous version of this story mischaracterized a FuboTV spokesperson's comment on whether the new Disney networks would affect the price of the service.
Alex Silverman previously worked at Morning Consult as a reporter covering the business of sports.
We want to hear from you. Reach out to this author or your Morning Consult team with any questions or comments.
Contact Us